Twelfth Night and What You Will
Twin Bill Double Dips into Comic Masterpiece
Bedlam, Dorothy Strelsin Theatre, New York City, New York
Saturday, April 11, 2015, front left of stage and second row center in studio theater
Directed by Eric Tucker
This double dose of Twelfth Night is not what I was expecting. And for that, I am beyond grateful to Bedlam.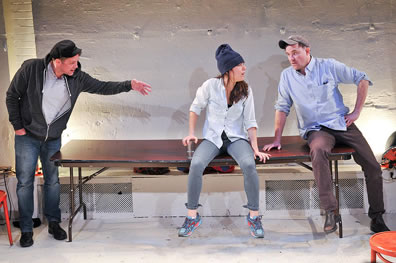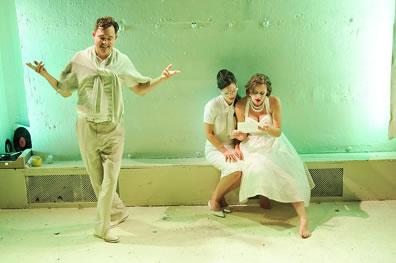 Top, Fabian (Tom O'Keefe, left) and Toby (Eric Tucker, right) urge Aguecheek (Susannah Millonzi) to challenge Cesario to a duel in Bedlam's production of William Shakespeare's Twelfth Night or What You Will. Bottom, Aguecheek (Tucker, left) delights in his composition as Toby (Andrus Nichols, right) and Maria (Millonzi) read his letter challenging Cesario in Bedlam's production of Shakespeare's What You Will or Twelfth Night. Bedlam is staging two different interpretations of the same play in repertory. Photos courtesy of www.theatrebedlam.org.
Bedlam is the tiny New York City–based theater company that stages classic and modern classic plays with a handful of people in radical theater spaces. We saw their four-actor Hamlet and George Bernard Shaw's Saint Joan in repertoire last year (the latter was Number Two on my annual ranking of non-Shakespeare productions, and both made The New York Times annual top 10 list). The company has since mounted critically acclaimed productions of Anton Chekhov's The Seagull and Jane Austen's Sense and Sensibility.
In taking on William Shakespeare's Twelfth Night with five actors, Artistic Director Eric Tucker decided to approach it as a repertoire of two different plays: same cast, but entirely different interpretations of the material. "The version we're calling Twelfth Night or What You Will centers around the theme that love can be difficult and extremely hard, but in the end also very magical and rewarding," Tucker wrote in the production's advance publicity. "Our other version, which we're calling What You Will or Twelfth Night, centers around the theme that love is absolutely maddening and doesn't always turn out OK in the end, but it's a wild ride." Given the proclivity of many directors to play up the comedy's melancholic undertones, I assumed Tucker would do the same with his alternate reading: Twelfth Night would be a lighthearted romantic comedy, What You Will would be dark drama. So, after an afternoon of hilarity watching Twelfth Night, we returned to the Dorothy Strelsin Theatre, a second-floor off-Broadway studio space, for What You Will expecting something closer to tragedy, especially as it opens with a blood-splattered white sheet and the cast looking like dead-eyed ghosts at a Hampton yacht club party. However, I ended up laughing more at this second rendition.
Tucker, it seems, believes Twelfth Night is intended to be a comedy in any reading—amen! What he lighted on instead is a straight telling of Shakespeare's story and, well, a non-straight telling. What You Will embraces the homosexual undercurrents of the text (Orsino falls in love with what he thinks is a boy, Olivia falls in love with an actual woman, and Antonio's fervent dotage of Sebastian) and explores Shakespeare's treatment of gender identity in the play. What You Will is the more thematically interesting of the two, Twelfth Night is more theatrically interesting by being so in our moment. And both are equally entertaining.
Clocking in at two hours without intermission, Twelfth Night moves along at a quick pace using swift transitions between scenes and hardly noticeable textual cuts. The set is your typical office canteen table and some chairs. Costumes are grunge-Saturday jeans and shirts. The actors distinguish their various characters by the headgear they wear. Tucker wears a New York Yankees baseball cap as Sir Toby Belch and dark-framed glasses as Sebastian (and Viola disguised as Cesario). Susannah Millonzi is in a blue stocking cap as Aguecheek and bareheaded as Olivia; Andrus Nichols wears a felt Australian cowboy hat as Orsino (she wears an apron as Maria); Edmund Lewis is in a red knit cap as Antonio and bareheaded as Malvolio; and Tom O'Keefe wears a hoodie when he's Feste and a blue sailor's cap when he's Fabian using a sailor's dialect.
Leading up to the climactic reunion scene at the end, the cast ends up running in circles around the table and tossing their caps among themselves as they speak their lines. When they stop, somehow two of the actors have ended up wearing dark-framed glasses. In another headgear gag, Tucker and Lewis finish one scene sitting next to each other on the table with the various hats and eyewear around them. They pass these items back and forth, each trying them on, until Lewis is wearing the red knit cap and Tucker the glasses, upon which they suddenly recognize each other as Antonio and Sebastian, and this moment becomes the greeting of their second scene together when they have arrived in Illyria's capital city.
Tucker's direction in Twelfth Night is ever self-aware that this is an "improbable fiction" for an audience. The five actors enter the theater and mingle among the patrons before O'Keefe on guitar gets the show going with Robert Plant's "Ship of Fools." Throughout the play O'Keefe leads the cast in other modern but perfectly suitable musical interludes, such as Gregory Alan Isakov's "If I Go, I'm Goin'," Ryan Adams's "Oh My Sweet Carolina," and Neutral Milk Hotel's "In the Aeroplane over the Sea," supplementing Feste's usual set list of "O Mistress Mine," "Come Away, Death," and "The Rain It Raineth Every Day." When not in a scene the actors hang out with the audience watching the action, and Tucker especially interacts with audience members during his performances. The audience serves as the box tree where Toby, Aguecheek, and Fabian hide as they watch Malvolio read Maria's letter. The table is turned on its side to become a stage for a crudely performed stick puppet show to stage the fencing scene between Viola and Aguecheek.
Except for swapping the order of the first two scenes, opening with Viola's shipwreck instead of Orsino's music as the food of love (a common device many directors have used), Tucker leaves it to Shakespeare's text to tell the story and uses casting decisions to bring focus to the play's themes. A woman is playing Orsino who says, "There is no woman's sides can bide the beating of so strong a passion as love doth give my heart, no woman's heart so big to hold so much"; and a man is playing Viola who responds, "I know too well what love women to men may owe." At the end, Tucker, playing the twins, moves back and forth between Nichols as Orsino and Millonzi as Olivia, kissing each in turn (glasses on when kissing Nichols, off when kissing Millonzi).
In contrast to such subtlety in his Twelfth Night, Tucker is more conceptually conscious in his staging of What You Will. Though it has a run time of just 1:45 with no intermission, What You Will plays with a more deliberate pace than Twelfth Night thanks to significant textual cuts (Fabian is totally excised; Maria takes his place in the challenge scenes, a substitution that has a golden payoff). Tucker splices the two opening scenes together, going back and forth between Millonzi as a traumatized Viola recovering from her shipwreck and Tucker as Orsino hosting a White Party, playing the old standard "I'm a Fool To Want You" on a record player. "That strain again," he says, moving the stylus back on the record, and then a couple lines later scraping the needle across the vinyl record as he says, "Enough, no more. 'Tis not so sweet now as it was before."
A blood motif runs through the play, starting with Viola's bleeding finger that she smears on Feste's tie (O'Keefe playing the fool again). Feste then dabs some of that blood on Olivia's breast. Orsino gets his blood from a hand smear on the wall, Malvolio from Maria's letter. I'm not sure what all this means, but it turns into a practical joke at the end when Tucker, sitting on a ledge at the back wall, reaches behind a partition and suddenly slaps blood on his forehead as the wounded Aguecheek. Nichols, sitting beside him and in the character of Olivia, watches in bewilderment until Tucker reaches behind the screen again for another bloody dip and slaps it on Nichols' forehead, and she, on the instant, is the wounded Toby.
Not only is the cast in all white suits and dresses designed by Valérie Thérèse Bart, the actors wear white makeup on their faces. Nichols plays Toby as a woman, and she and Maria become lesbian lovers. Tucker plays Aguecheek with gay mannerisms, a white sweater tied around his shoulders. Of all the many interpretations I've seen of Aguecheek's line "I was adored once"—melancholic, reminiscent, bragging, just plain silly—Tucker's is easily the funniest, delivering it with a casual "no big deal" attitude. Millonzi and O'Keefe share duties as Viola and Sebastian and speak their lines in unison in the reunion finale. The twins become indistinguishable so that when this play also ends with kissing, Tucker as Orsino is kissing O'Keefe as Viola, and Nichols as Olivia is kissing Millonzi as Sebastian.
Another telling performance is that of Lewis playing Malvolio in both versions. In Twelfth Night, he is a pugnacious bully and something much more than a steward, serving as the heavy in Olivia's entourage and very willing to get in Toby's face and express his mistress's displeasure at her uncle's antics. In What You Will, he is an effete Malvolio, sniffing his disgust at those who are not of his element, displaying spasms of delight at what he thinks are his lady's overtures of love, and painting his white stockings yellow. Orsino and Olivia may be confused by Viola's disguise into loving someone of the same sex and coming to accept the true nature of loving an individual rather than a gender; but this Malvolio is what he will be, and he ends up being persecuted for it. Whereas Lewis's Malvolio roars off the stage vowing revenge on the whole pack of them in Twelfth Night, his Malvolio breaks down in uncontrollable tears as he vows revenge at the end of What You Will, knowing that sentiment—as all his dreams have turned out to be—is nothing more than wishful thinking. "He hath been notoriously abused," Olivia says in a stern indictment.
For all of Bedlam's genius in uniquely staging its productions, acting talent is the most vital element in the company's success. Listening to Lewis reading Maria's letter in What You Will is like hearing Crosby, Stills, Nash, and Young singing a Mozart concerto, so smoothly melodic does his Malvolio glide through his lines. O'Keefe puts a library's worth of voices on display in his many characters over the course of the two plays, even in his two different portrayals of Feste. Tucker, frankly, is a better director than he is an actor, as his many characters seem to strike similar chords—wearing the thick black glasses in Twelfth Night, he seems to be channeling Christopher Reeves as Clark Kent— but he has great command of the verse and makes many interesting choices in his interpretation of individual phrases and lines.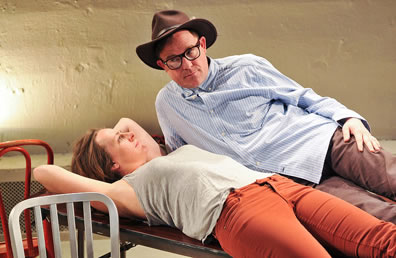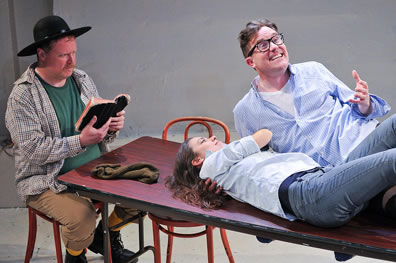 Top, Orsino (Andrus Nichols) with Viola (Eric Tucker) disguised as Cesario in glasses and wearing Orsino's hat; bottom, Olivia (Susannah Milloniz) lies with Sebastian (Eric Tucker) as the priest (Edmund Lewis) prepares to marry them in Bedlam's Twelfth Night or What You Will. Photos courtesy of www.theatrebedlam.org.
Nichols is typically solid as Orsino and Maria in Twelfth Night and Olivia in What You Will and ironically portrays the vilest Toby I ever recall seeing, a gregarious woman who has washed all sense of decorum down the drain with drink. Her Toby's femininity only goes as far as the white cocktail dress she's wearing, and when Aguecheek wonders the meaning of the pun "Her C's, her U's, and her T's" in Maria's letter to Malvolio, Nichols lifts that dress in answer.
Millonzi leaves us breathless twice over: on the one hand because we are laughing so much, on the other because we are in awe. Her Aguecheek in Twelfth Night is a whining Texas slacker, a slouch-shouldered, nasal-toned combination of false bravado layered on a core of true insouciance. She comes back as a prude of a Maria in What You Will, wearing a white, knee-length pencil skirt and white, oval horn-rimmed glasses, and she speaks in a voice reminiscent of Lily Tomlin's Ernestine. Enamored of Toby, this Maria spends the play trying to squeeze her long-restrained passions through her exoskeleton of reserve. The mouse first roars when she says "go shake your ears" to Malvolio (both of these productions have Maria addressing this line directly to the steward before he exits), and as she broaches the idea to Toby and Aguecheek of punking Malvolio, she assures them and herself, too, saying, "I know I can do it" as if gleefully glimpsing for the first time a sinister side of herself behind the curtain of clamp-jawed repression. This discovery has become an addictive delight when she predicts Olivia will regard Malvolio with "notable contempt," and Millonzi strikes the richest vein of comic gold when her Maria replaces Fabian in telling Aguecheek to "awake your dormouse valor." She speaks this line with autobiographical confidence—but still with that mousy voice and bearing, her newfound fervor coming through in the intensity of her squeak and the flash in her myopic eyes. The dissonance in what she seems and what she has become generates the biggest laughs of this Twelfth Night or What You Will doubleheader.
By contrast, she plays Olivia in Twelfth Night with no caricaturing, and it is in this simple portrayal and textual purity that her Olivia proves so revelatory, especially in her second interview with Viola. Millonzi draws from that scene's contradictory lines a young woman in the throes of a passion she never anticipated, doesn't fully comprehend, and can't even hope to control, even as she tries to pilot her emotions through the turbulant forces of overwhelming love. In her expression is a conflicted woman in whom the warring factions are utter fear and ecstatic elation. It's funny, it's heartbreaking, it's cute, it's amazing, and it's the most indelible visual I have of this Twelfth Night or What You Will doubleheader.
Two readings of the same play, but despite the differing approaches of cast and director, both arrive at the same place: a wild ride that is magical and rewarding.
Eric Minton
April 24, 2015
Comment: e-mail editorial@shakespeareances.com
Start a discussion in the Bardroom