Twelfth Night
Museum-Piece Shakespeare Still Has Heart
American Shakespeare Center, Blackfriars Playhouse, Staunton, Va.
Sunday, September 9, 2012, C–6&7 (center stalls)
Directed by John Basil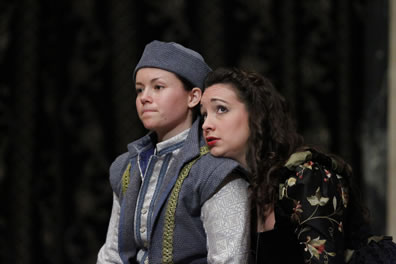 Viola (Lexie Helgerson) withstands the romantic advances of the smitten Olivia (Stephanie Holladay Earl) in the American Shakespeare Center's production of
Twelfth Night
at the Blackfriars Playhouse. Below, Seth McNeill as Sir Andrew Aguecheek. Photos by Tommy Thompson, American Shakespeare Center.
In the spectrum of Shakespeare's comedies, from funniest (Midsummer Night's Dream, Comedy of Errors) to darkest (Cymbeline, Merchant of Venice) and all the quivering needles hovering over each play along the way, Twelfth Night is smack dab in the middle, and its shades stretch almost from one end of funny to the other end of not so much. Shakespeare's most poetically mature rom-com has slapstick, sophisticated comic situations, and clever word play, but it also has a dark undertone that gives the play's John Candy a hint of Iago, and it has a melancholia that lingers even after the happy ending. If a director (or acting troupe in the case of the American Shakespeare Center's Actors Renaissance Season a few years ago) chooses, Twelfth Night is a romp in the park, while other directors have turned it into a play as bitter as Troilus and Cressida.
The ASC's Tempt Me Further Tour's production is neither/nor. In keeping with the text-centric ethos of the ASC, this production layers no conceptual theme onto the play; but it also has no particular mood nor does it create a multidimensional emotional landscape. As it played on the Blackfriars Playhouse stage during a preview run before the company heads out on its national tour, this Twelfth Night is museum-piece Shakespeare.
Richly costumed by Erin M. West in detailed Tudor clothing, the action is more poetical than natural. Characters come and go through the audience, but once on stage they remain insular and sometimes surprisingly static. In the box tree scene, the conspirators do nothing more than stand at the back of the stage holding branches in front of them as they idly watch and comment on Malvolio's letter reading. The concocted fencing duel between Viola and Aguecheek ends before it begins, so we don't get to see how "oxen and wainropes cannot hale them together" as Sir Toby Belch had promised. The real duel with Sebastian instead of Viola turns into an intense grappling match between him and Sir Toby.
In his program notes, director John Basil concentrates on the frequent references to madness in the play and argues that Shakespeare was equating love with insanity. Basil himself apparently takes this equation seriously (and seems to play up both meanings of the word "mad," as well). Fortunately, the actors in this stellar company present most of the characters with great psychological fluidity and bring rich renderings to their portrayals, including some refreshingly keen readings of roles through which countless actors previously have tread in lockstep. That this company emerges with so many new insights in a production that seems intent on wringing the play of its heart is remarkable.
Concentrating on the play's poetical attributes is not a bad thing, either, given the great poetry Shakespeare produced for this play and that Lexie Helgerson, cast as Viola, is ideally suited to the task of speaking the best of it. "She sat like patience on a monument, smiling at grief," she says to Orsino (Patrick Earl), who understandably grows increasingly fond of her. "Make me a willow cabin at your gate, and call upon my soul within the house…hallow your name to the reverberate hills," she says to Olivia (Stephanie Holladay Earl), who understandably grows increasingly enraptured by her.
Jacob Daly as Sebastian is a look-alike to Helgerson's Viola in costume only, but they behave like brother and sister. She's a spunky lass who, while mourning the believed loss of her brother, quickly jumps back aboard the charabanc of life with determined humor. He's a spunky lad who easily tears up at the memory of his believed lost sister, but is just as eager to get on with his next adventure, too. Viola looks for appropriate opportunities to make a play for Orsino; as for Sebastian, when the gorgeous, wealthy Olivia throws herself at him, he wastes no time and little debate in jumping wholeheartedly into her company. Brother and sister, whatever weeds they wear, by their very bearing and behavior invite the doting of both men and women.
Holladay Earl's Olivia has a disposition for merriment from the start, and this comes out in her ultimate desire to have Feste back at her house. Perhaps her show of mourning is to put off Orsino, for this Olivia is merrily intrigued by the manner in which the strange youth first approaches her house. Upon meeting "Cesario," Holladay Earl's Olivia moves quickly to fascination, slips easily into infatuation, turns suddenly to smitten, falls directly into a crush, and is soon giddy in love. Once Olivia has reached that state, though, Sebastian arrives just in time to requite her feelings.
The notable aspect of this production's Orsino is that his aesthete is not his alone but imbues the whole court. Orsino embraces the arts, especially music and poetry, in his pursuit of that state of being called "romantic love"—he is more in love with the notion of being in love than he is in love with the person of Olivia. The rest of the court enables him, both Molly Gilman as Curio in urging him to hunt the hart and, especially, Patrick Midgley as Valentine who returns from his failed embassy to Olivia all smiles. All smiles? Well, you see, he's going to report on her vow to mourn her dead brother "till seven years heat," and in sharing this news through his own poetical skills, Valentine knows, rightly, that Orsino will roll into a romantic passion, which Earl's Orsino clearly delights in doing. It's a subtle piece of acting on the part of Midgley and Gilman in tandem with Earl's lighthearted Orsino, and it lays the groundwork for Orsino's subsequent realization that true love is residing right under his nose (his attraction to Viola/Cesario takes root in their first scene together).
If only for his lovely voice, Andrew Goldwasser is a hit as Feste, but he also thoroughly explores Feste's jokes and lines and plays them with deep resonance. This Feste, though, is a fool-for-hire; he never strays from the notion that he's earning a living with his jokes and songs, and so he plays the part of Sir Topaz in the gulling of Malvolio (perhaps he bows out of the box tree scene because there's no money to be made merely watching Malvolio make a fool of himself). Feste has the assigned job of holding up a humorous mirror to everybody, and so he does for Malvolio when the plot against the steward is uncovered in the final scene: "And thus the whirligig of time brings in his revenges," he tells Malvolio. Olivia can feel sorry for Malvolio, but she gets the joke.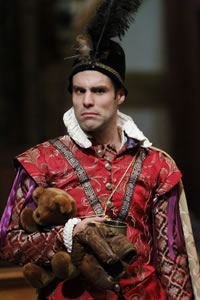 Malvolio, of course, will have none of it and he departs in revengeful anger. David Millstone brings zero comic mannerisms to Malvolio in his first three scenes. This steward is ultra-serious by choice, his way of establishing superiority over the rest of the house (and, perhaps, Olivia, too; he merely shrugs away her criticism that he is "sick of self-love"). In private, though, Malvolio lets his fantasies of marrying Olivia have free reign; and, come on, who of us hasn't fantasized bedding someone well above our state in wealth, beauty, or stardom? Does that mean this Malvolio is in some way relatable to the audience? Yes it does, and so when Millstone engages in one of the most delightfully ridiculous cross-gartered yellow-stocking presentations I've ever seen, it reflects on our own similarly embarrassing moments, too. Interestingly, his departure in dignified anger at the end of the play generated laughs at the show we attended; I hope it was nervous laughter.
Though his elaborate Tudor costume includes a big red bow strategically hanging just under his belt buckle, Rick Blunt gives Toby Belch a sinister edge. Even when he is entertaining Sir Andrew Aguecheek (a gleeful Seth McNeill), a sense that Toby is ever aware of how he's fleecing the knight permeates the atmosphere. Toby's sudden public turning on Aguecheek in the final scene is vicious, but we've seen this mood of his before: in the box tree scene as he watches Malvolio, Blunt's Toby seethes. In his fight with Sebastian, Toby intends to harm.
Certainly, Shakespeare was adept at interweaving drama and danger through his comedies, and even his most comic characters could have a dark side. Still, if a production chooses to take this shading of the text too seriously, it threatens to impinge on the comedy of the resulting scenes. I suspect, however, that this is a production that's still maturing. Given the actors' obvious talents across the range of the touring company's three plays, along with the tight ensemble work in the other plays and their accompanying musical performances, the individual elements of this Twelfth Night will likely gel in time.
Aguecheek perhaps holds the clue to this production's ultimate potential in his hands. When he threatens to leave Illyria, he walks on stage carrying, in addition to a suitcase, a teddy bear and an old baseball glove. As these are anachronistic props for this Tudor-set play, they may as well be thematic items: one is good sport, the other is pure love. Shakespeare's Illyria can ill-afford to lose either.
Eric Minton
September 12, 2012
This review also appears on PlayShakespeare.com
Comment: e-mail editorial@shakespeareances.com
Start a discussion in the Bardroom