Cutting Up

Cutting plays is a foundational practice in theater, especially with the scripts of Shakespeare and his contemporaries. With their book Cutting Plays for Performance, Toby Malone and Aili Huber pull the curtain on that practice. In addition to explaining the many purposes and parameters for making cuts, they offer practical tips and anecdotal experience for new hands at what is a daunting and can be a dangerous task. For the complete review, click here.
Shaking Booty and Hearing Voices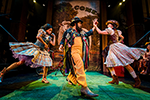 There's a lot of Bohemian booty shaking at the Folger. That is the lasting impression of the Tamilla Woodard-directed production of William Shakespeare's The Winter's Tale—perhaps unfortunate, depending on your theatrical tastes and tolerance for booty-shaking. I'm wide open on my theatrical tastes and indifferent to booties that shake, but Bohemia is not where this play ends. Besides, it was the production's first impression that spoke more profoundly to me—spoke being a literal term, for I've been hearing voices lately, too. For the full review, click here.
12 Washington D.C. Institutions Stage
23 Shakespearean Productions and Events

World-class productions, fascinating debates, amazing opportunities to get behind the scenes, and all on your doorstep. This fall in Washington, Shakespeare will truly be everywhere. Shakespeareances is covering the event in (almost) its entirety. For a list of productions and other events, click here.
A Rice-Webber "History" Play

How many earworms can you stand? I drove home from Shakespeare Theatre Company's production of the Tim Rice–Andrew Lloyd Webber musical Evita with "Another Suitcase in Another Hall" playing on a loop in my mind. Each day thereafter, a different earworm: "High Flying, Adored,""And the Money Kept Rolling In,""Don't Cry for Me Argentina,""A New Argentina," and even "On This Night of a Thousand Stars"—yep, a deliberately cheesy song can be an indelible moment in Evita. This production of the Rice-Webber masterpiece is loaded with indelible moments, from its musical compositions and performances to its perspective, which director Sammi Cannold has wrested from its white Anglo male creators and mixed in a woman's worldview and Argentinian authenticity. But how authentic is the portrayal of Eva Perón nee Eva Duarte? For that, we turn to Shakespeare's Henry V nee Prince Hal. For the complete review, click here.
A Beach Town Makes Shakespeare
The Ultimate Community Theater

A new theater company called Shakespeare on the Beach set out to bring Shakespeare to New York City's Rockaway Beach. But life began imitating the very art it was presenting as external conditions and internal catastrophes threatened to turn the production into a most lamentable comedy on a scale that the rude mechanicals would slink away from. But magic happened on opening night—which ended up being closing night, too—and we not only have a tale of perseverance but a case study in how to bring Shakespeare into the community by bringing the community into the Shakespeare. This is a long one, folks, but, whoa! what a night, which you can experience by clicking here.
Reader Comment added September 2, 2023.
Two Outcasts Cast Their Lots
With Each Other

It is my long-stated opinion that William Shakespeare's The Taming of the Shrew has always been and is still a love story. Now, here is a production at the American Shakespeare Center's Blackfriars Playhouse that fully plays it that way, but with advantages. That's thanks to director José Zayas and his two lead actors who turn textual nuggets into a viable, relatable story arc for Katherina and Petruchio. For the complete review, click here.
It's a Musical (No Kidding)

Northern Virginia's Shakespeare Opera Theater has evolved since its founding in 2015, from pairing productions of a William Shakespeare play and its operatic off-shoot to single productions mashing the two art forms together. This year, the company demonstrates how its mashup concept has come full circle: it's revisiting the two iterations of Much Ado About Nothing the company paired in its debut season but as one unified piece of work. The result is a singular dramatic experience, which we'll call a musical, with music and lyrics by Hector Berlioz and book by William Shakespeare. For the complete review, click here.
---
Real Lives, Real Love, Real Tragedy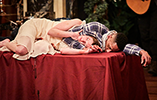 As I continue crawling toward Shakespeareances.com's resurrection with new design, organization, and content, I'm revisiting my favorite Shakespeareance of 2022: Romeo and Juliet at the Blackfriars Playhouse. In this American Shakespeare Center production, we have soaked in the glow of initial infatuation as Meg Rodgers's Juliet and Brandon Carter's Romeo, unable to touch, gaze at each other, their eyes embracing long and longingly because parting really is such sweet sorrow. We endured their relentless march to destruction. We were spent. Yet, Juliet had one more so-Juliet gesture left in her. I, a 64-year-old man watching my 39th production of this play, had never before felt so devastated at its ending. This Romeo and Juliet was so real, so us, because it was so fully grounded in Shakespeare's script under the direction of José Zayas. To read the review, click here.
And a bonus!
Where Under-the-Skin Happens

On that visit to Staunton in April 2022, I interviewed Meg Rodgers. What was scheduled to be a half-hour interview sprinted on for almost an hour as we delved into Juliet's life and fate, director José Zayas' approach to the play's matrix of social and individual choices and their consequences, and our own experiences with depression and crushes.
For the full interview, click here.
---
A True Band of Brothers and Sisters

Shakespeareances.com, which has been on hiatus as my wife, Sarah, slides into the last stages of Alzheimer's, is nearing its return with a fully redsigned site. Meanwhile, for the past year, I've been working for the United States of America Vietnam War Commemoration in the Department of Defense, which staged "Welcome Home! A Nation Honors our Vietnam Veterans and their Families" on the National Mall in Washington, D.C., May 11-13. My job was to design, build, and manage the centerpiece of that event, Camp Legacy, featuring 96 exhibitors with historical displays, Veterans services, oral history centers, a photo gallery, a cinema (in a tent), rally points for veterans and families to gather, musical performances, and panel discussions. As the event approached, I was appointed Mayor of Camp Legacy in charge of running the operations. Throughout it all, I wondered if Shakespeare had anything to say about this gig?
Of course he did. For the full essay, click here.
Beyond Shakespeare's Villains
The presidency of Donald Trump has been something of a renaissance for William Shakespeare. From the moment of Trump's inauguration four years ago, scholars, commentators, and yours truly have found parallels, if not outright depictions, of the 45th president of the United States in Shakespeare's characters. Yet, these straight-up comparisons between Trump and specific characters have always bothered me. Scholastic discussions, while exploring the various angles of personalities, can trample on the nuanced breadth and depth of the personalities that make Shakespeare's characters so fascinatingly—and sometimes frustratingly—rich. Commentaries also focus more on the singular characters rather than their contexts, contexts that include not only the other characters on stage but the audience in the seats, too. It's in those roles where I believe Shakespeare's most vital lessons lie as we move forward into the next administration. For the full essay, click here.
The Worst of Times Still the Best of Times
When Sarah broke her ankle—this was after she broke her wrist—I was ready to throw in the towel. But there were no towels in the laundry basket that she, without a workable left arm to support herself, attempted to carry down the stairs. While I had no towel to throw in literally, figuratively I gripped the towel of surrender that evening. I took stock of how my wife's mental and physical misadventures derailed Christmas on top of everything else 2020 had derailed in our lives. "Hang in there," my spiritual voice told me: "There's only three weeks to 2021 and your promise of a new beginning." 2020 did get worse: three weeks was too much time for it not to. Then, 2021 launched with compounding crises. Nevertheless, I'm here to tell you I have put away the towel. I'm also here to tell you of the impending return of Shakespeareances.com. Click here for the full essay.
Stratford Festival Puts Season On Hold,
Shutters New Tom Patterson Theater
After weeks of consultation and deliberation, Stratford Festival Artistic Director Antoni Cimolino, Executive Director Anita Gaffney, and Board Chair Carol Stephenson have concluded that the Stratford Festival's entire 2020 season must be put on hold, with a plan to revisit programming as soon as it is safe to gather in theaters. While they anticipate that theaters will not be able to reopen until next year, they have not ruled out the possibility of mounting specially scheduled fall or holiday programming should public health conditions allow.Click here for the complete story.
The Tide of Truth

A significant element of my chronicling the Shakespeare Canon Project in 2018 was the onset of Sarah's seizure disorder and a worsening of her cognitive capaiblities. Loyal readers and the theater people Sarah and I encountered during that year began sharing their concern and prayers and taking inspiration in our determination. I continued posting updates on Sarah as her seizures were finally diagnosed as epilepsy, and then, subsequently, she was confirmed to have dementia. The latter has impacted every aspect of our lives, including my efforts to keep Shakespeareances.com going. Meanwhile, Sarah had become a hero in the Shakespeareances.com community, and my accounts, always grounded in some Shakespearean allegorical strand, were appreciated as life lessons. One reader even described it as a "Beautiful script in the process." "Sarah's Chronicles" will be an ongoing account of our journeys' benchmark moments, charting how dementia takes further hold of her and messes with me. It's a Shakespearean-inspired, front-row view in real time into humanity's duality of strength and frailty. For the full introduction and first entries, click here.
Shakespeare Meets
Arrested Development

Call this the reluctant review. Sarah and I are sitting in the lounge of the Stonewall Jackson Hotel in Staunton, Virginia. We've just come from a show at the American Shakespeare Center's Blackfriars Playhouse, A King and No King, a 1611 play written by Francis Beaumont and John Fletcher. Per our normal routine, we settled into the hotel's lounge for a glass of wine and to relax, reflect, and converse about the show. For myriad reasons I wasn't intending to review this production. Yet here I am, hot wife opposite me, bedtime beckoning, and I've got my iPad set up on the marble tabletop writing this review. Some productions and performances simply are worth scaling a mountaintop to proclaim their merits to the world. The brilliance we've just experienced is in the play itself, in the actors' individual and ensemble interpretation of the material, and in the performances, especially as this was a first outing for the cast, demonstrating how talented and tight an ensemble this is. For the complete review, click here.