Book a Journey through First Folios
The Book of William: How Shakespeare's First Folio Conquered the World
Paul Collins (Bloomsbury, 2009)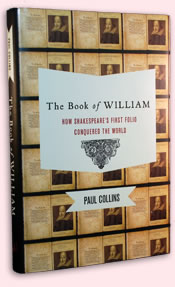 The SS Arctic was a "sumptuous luxury steamship" and one of the fastest ships plying the Atlantic in 1854. "Too fast, in fact," writes Paul Collins; "it plunged into a fogbank off Newfoundland and rammed a French steamer." The Arctic's drunken crew panicked and rushed the lifeboats, shoving passengers into the sea to save themselves. "Some two hundred and fifty passengers died in the melee, including all of the women and children on board." Also lost in the sinking, a William Shakespeare First Folio that New York lawyer Aldon W. Griswold had purchased and shipped from Liverpool. "Griswold, despite going on to become one of America's greatest Shakespeare collectors, never did buy another First Folio after that."
This is just a brief passage in The Book of William: How Shakespeare's First Folio Conquered the World (Bloomsbury, 2009) but it's illustrative of the journey Collins takes us on in his book, that of the First Folio over the ages and his own trip tracking down a viewing of the more important of the 232 copies known to exist. This is a book about a book and a bibliophile. Sounds boring, but Collins is a bibliophile with a sharp talent for writing, and the book he chases is an extraordinary one.
How extraordinary? Without the First Folio, we would not have Twelfth Night, Macbeth, The Tempest, Julius Caesar, The Taming of the Shrew, The Comedy of Errors, or As You Like It. We knew that, but Collins drops in another measure of importance only a bibliophile would point to: The only five first editions of printed books that have been the subject of censuses are the Gutenberg Bible, Copernicus's De Revolutionibus, Darwin's Origin of Species, Audubon's Birds of America, and Shakespeare's First Folio.
Three more editions of Shakespeare's Folio followed with additions (including Pericles, now considered, in part, penned by Shakespeare but also other plays that are not). In the 19th century, facsimiles of the First Folio became a popular product and are today almost as important to the bibliophile and Shakespearean scholar as the original. The First Folio has also made its way onto the Internet, and Japan's Meisei University is digitizing even the marginal notes in its copies.
Collins not only describes the First Folio's passage through historical, geographical, and technological planes, he goes where this book goes, framing his own journey as a play divided into five acts with scenes that are the settings where he finds himself. He starts out, prologue-like, at a Sotheby's book auction, establishing both the monetary value and public interest in First Folios today, and then goes to the St. Paul's Cathedral churchyard where Shakespeare's fellow actors and theater shareholders, John Heminge and Henry Condell, first approached bookseller and printer William Jaggard a year or so after Shakespeare's death to discuss publishing a compilation of all his plays. Collins walks the streets, as George Steevens once did, of late 18th century London when the First Folio ascended to scholarly prominence at the same time new copyright laws made publishing the collected works easy money for book sellers.
In Act III of his book, Collins travels to Kent for a visit with a fellow bibliophile who, through his census, traced the rise of First Folio collecting in the 19th century. That naturally leads to the greatest First Folio collector of all time, Henry Clay Folger, and Collins in Act IV is himself visiting the Folger Library in Washington, D.C., not only viewing its 79 First Folios—including the first—but also encountering the Hinman Collator, a machine by which scholars could compare and contrast First Folios across its print run. Act V finds Collins in Tokyo, the latest hotbed of First Folio collecting and study, and as he was we are immersed in Japan's unique appreciation for England's Bard.
With many other writers this would be dry stuff. Collins, however, fills his journey with a cast of interesting characters, past and present, and a series of events told with clever phrase-turning skills. Collins describes in vivid, thriller detail the Great Fire of 1666 that destroyed London and much of England's early literary legacy. He ends the passage with this sentence: "The fire burned itself out the next day, having traversed the city from Pudding Lane before halting at Pie Corner—God will have his little jokes—and in the ruins of St. Paul's and the surrounding precincts, English literature was now written only in ash."
Collins's visit to a London cemetery introduces us to the great chess hustler of the 19th century, Howard Staunton (the ubiquitous Staunton chess board is named for him). His place in the First Folio history is the development of facsimile technology (how ironically fitting that a facsimile of Shakespeare's Blackfriars Playhouse is in a Virginia town named Staunton). Collins follows one of Staunton's facsimiles to the son of a Brooklyn hatmaker who, thanks to the fact he could purchase a cheap copy of Shakespeare's complete works in their original form, became a great lover of The Bard. This was Folger, and as he rose in the ranks of the Standard Oil Company, he began collecting real versions of First Folios at such a pace that he built a library in the nation's capital to house it. That collection leads us to the World War II cryptographer, Charlton Hinman, who combined his own love of Shakespeare with his technological skills to create his collating machine. Among the living characters in The Book of Will are a wryly humorous bibliophile in an armpit-of-a-village in Kent, and excitable Japanese scholars surrounded by CD-ROMs and magnetic tape in a Tokyo university.
More importantly and no less entertainingly, we meet all those guys you might only know from their last names in the footnotes of Arden and Penguin Shakespeare editions. Names like Rowe, Pope, Theobald, Garrick, Johnson, and Steevens come to life, along with their idiosyncrasies, their petty rivalries, and their devotions to Shakespeare that brought about their current statures as The Bard's first great editors. Collins reveals the key moments when these scholars helped transition the First Folio from an outdated book of old poetry to a national and then international treasure.
We also meet the various editions of the First Folios themselves, from the very first one to come off Jaggard's press to the one that Steevens owned and inscribed himself as having previously belonged to Lewis Theobald and Dr. Samuel Johnson, "who did not much improve its condition." That's because, as Collins discovered upon leafing through its pages, Johnson apparently loved gravy and was a sloppy eater as he studied Shakespeare's texts.
Along with his writing skills, Collins brings his own bibliographic knowledge to his task of tracing the First Folio's journey through the ages. This is most valuable in describing the First Folio's very birth in the seven years after Shakespeare's death. Collins explains not only what was rare about such a volume being printed (a book of such size and paper was reserved only for the most important literature at the time), but what was ordinary, too, such as how Shakespeare's fellow actors and company shareholders would be in possession of his plays. Collins reveals that hype for the First Folio started a year before it was actually printed. It came in a 1622 catalog of English publications for a major book trade show in Frankfurt, Germany. "This entry—the first printed mention anywhere of the Shakespeare Folio—surely sent at least one or two dealers on wild-goose chases through Frankfurt's streets for a book that lacked the desirable characteristic of actually existing," Collins writes.
He also goes off on an interesting tangent about testimonials, including those in a 1611 book by travel writer Thomas Coryate. In that instance, Ben Jonson led other writers, including John Donne and Inigo Jones, in a mean-spirited (but apparently justified) practical joke by turning the testimonials into elaborate insults of the writer. "Our Author will not let me rest, he says / Till I write somewhat in his labours praises," one testimonial begins, and thus, writes Collins, "For this persistence, Coryate was enshrined for posterity in his own book as 'an Idiote.'" Through such evidence, Collins brings attention to the testimonials in Shakespeare's First Folios, starting with the famous one written by Jonson. Most readers, Collins points out, skip over these testimonials. We shouldn't. "What these friends were writing about was indeed the man," Collins writes, with emphasis in the original. "Each line is … actual living testimony to Shakespeare's humanity and friendship."
Humanity and friendship obviously are important qualities to Collins. The Book of William is imbued with both. Even after finishing its 219 pages of text you can't put it down, for the "Further Readings" at book's end is worth skimming through, too. I know, who reads bibliographies, right? But Collins's bibliographic notes not only provide a list of books you might wish to add to your own Shakespeare library, they are written with the same breezy style and heartfelt appreciation of a true bibliophile. In there, you will also find this startling admission (startling, because not many writers would make such a confession, and the emphasis is in the original): "As a historian and a memoirist, I'm painfully aware of the very real failings of any books written by people who weren't there. Clever narrative and elisions can cover up a lot, and one can thrust pinpricks into the details of the actual witnesses, deflating them while puffing up one's own revisionism. But we weren't there."
Thanks for the caveat, Mr. Collins. We'll still take this First Folio journey with you and your "clever narrative and elisions." It makes for a fast, fun, and highly informative read.
Eric Minton
May 14, 2014
Comment: e-mail editorial@shakespeareances.com
Start a discussion in the Bardroom