Being Shakespeare
Being There When Shakespeare
Became Shakespeare
By Jonathan Bate
Ambassador Theatre Group/Act Productions Limited/Robert Bartner/Norman Tulchin, BAM Harvey Theater, Brooklyn, N.Y.
Saturday, April 7, 2012, L–13&15 (left rear orchestra)
Directed by Tom Cairns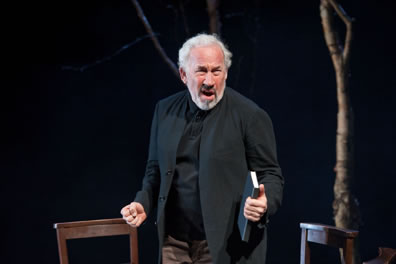 Simon Callow plays the part of Bottom auditioning for various parts in "Pyramus and Thisbe" from
A Midsummer Night's Dream
in Jonathan Bate's one-man play
Being Shakespeare
at BAM's Harvey Theater. Photo by Stephanie Berger, Brooklyn Academy of Music.
People have looked for Shakespeare in his plays and poems. They have found in them the courtier, the nobleman, the soldier, the sailor, the teacher. Yet the profession that gets perhaps the most detailed mention in Shakespeare's works—but ironically it is the profession most ignored by those who seek the author's autobiography in his works—is the theater.
That Shakespeare the playwright was obsessed with acting, in both an allegorical sense as well as the profession's portrayal, emerges in Jonathan Bate's Being Shakespeare, a one-man play performed by Simon Callow and taking up a short residence at BAM during its global trek.
Bate, author of Soul of the Age and an editor of Shakespeare's complete works for the Royal Shakespeare Company, makes the point that Shakespeare wrote for the finest collection of acting talent in his time (witness his company earning favor with Queen Elizabeth and later King James' patronage). He also wrote about them. "He regarded them highly," Callow said, before quoting Hamlet's command to Polonius to see the traveling players well bestowed. "Let them be well used, for they are the abstracts and brief chronicles of the time."
Callow worked through a number of theatrical references, such as Hamlet's instruction to the players, of course, and a wonderful bit of two-role playing as Quince and Bottom assigning roles for "Pyramus and Thisbe" in A Midsummer Night's Dream that earned appreciative applause (Callow's Bottom was the pub regular holding court over fellow patrons). He also presented more obtuse Shakespearean references to acting. "Once more unto the breach, dear friends, once more, or close the wall up with our English dead," he started. "In peace there's nothing so becomes a man as modest stillness and humility. But when the blast of war blows in our ears, then imitate the action of the tiger: stiffen the sinews, conjure up the blood, disguise fair nature with hard-favored rage." After a few more such lines from this famous speech, Callow paused and said as the narrator, "That's Henry V telling his army how to act like soldiers."
Being Shakespeare is a staged biography of Shakespeare, drawing on the plays and poems for illustration—always a dangerous game, assuming Shakespeare was writing anything autobiographical, even in the sonnets. The play uses Jacques' Seven Stages of Man speech (yet another famous Shakespearean theater reference) as a framework for Shakespeare's life, from birth, childhood and marriage in Stratford to soldiering as an actor and as a playwright and questioning the tenets of justice in the theaters of London and the court of Westminster, and finally to retirement and death back in Stratford.
While Bate states as fact some questionable legends—namely Shakespeare, in need of money with a wife and children back in Stratford, getting his professional start in the theater by holding patrons' horses, which Callow likened to an Elizabethan car park valet—he also offers up some keenly applicable insights into Shakespeare's specific skills as a playwright. Shakespeare as the "schoolboy, with his satchel and shining morning face, creeping like snail unwillingly to school" attended the Stratford grammar school where, for six days a week, he learned Latin by rote and undertook lessons focused solely on grammar and rhetoric. It was a new type of schooling under the Tudor regime that gave rise to a new generation of lawyers, clerks, and playwrights, among whom Shakespeare was simply the best. Such lessons not only gave Shakespeare sufficient language skills but also taught him how to learn, how to think logically, and how to apply a variety of constructions in speaking and writing. Callow listed several established rhetorical styles and paired them with lines from Shakespeare's plays. Clearly, such education, coupled with the experiences of a merchant's son in the country and an actor in the city and court, provided the necessary tools that, when ingeniously wielded, could create Hamlet et al.
Turning this from a documentary or lecture into a bona fide stage play was Callow the actor. He presented the biographical matter dramatically enough, but it was his slipping into Shakespearean characters, clambering onto a two-step platform on the stage holding a few props, such as a sword, a crown, and a globe, that created an entertaining evening of theater. The balcony scene from Romeo and Juliet was charming with the two inexperienced lovers stumbling into romance. Falstaff's soliloquy on honor was hilarious with its repetitions of a clipped "no." Anne Hathaway's seduction of young Will, represented by lines from Venus and Adonis—"Feed where thou wilt, on mountain or in dale: Graze on my lips; and if those hills be dry, stray lower, where the pleasant fountains lie"—got the winking treatment in Callow's voice and body language.
The performance drew to a quick end with the seventh stage, mere oblivion—which is befitting mere oblivion, I guess. Shakespeare couldn't very well write about it after experiencing it. But upon Shakespeare's burial in the country town where lived the sprites and fairies of Shakespeare's youth, Callow called on his Puck, who "am sent with broom before to sweep the dust behind the door" to bless the house and "[follow] darkness like a dream." This play was a life, from birth to death, with no discussion of the growing legacy that Shakespeare enjoyed after his mortal life ended in 1616. Puck, however, the sprite Shakespeare would have known so well as a child, stood for that legacy. Shakespeare the man was a product of his life and times. His imagination proved immortal.
Eric Minton
April 12, 2012
Comment: e-mail editorial@shakespeareances.com
Start a discussion in the Bardroom