Rachel and Juliet
A Multigenerational Juliet in One Woman
By Lynn Redgrave
Folger Theatre, Washington, D.C.
Sunday, April 12, 2009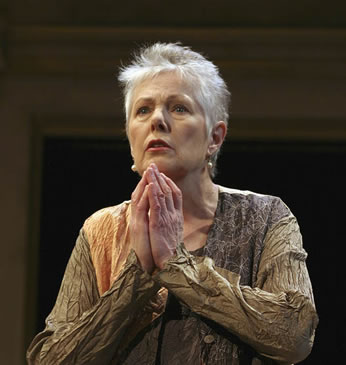 Lynn Redgrave in
Rachel and Juliet
at the Folger Theater. Photo by Mig Doole, Folger Shakespeare Library.
In this one-woman show, Lynn Redgrave reminisced about her mother, Rachel Kempson, and the role that was Rachel's first major success, as Juliet at Stratford-upon-Avon in 1932. Redgrave shifted from character to character to character—as herself, as Rachel (based on text from Rachel Kempson's memoir), as Juliet, and as other characters interacting with Juliet in Shakespeare's Romeo and Juliet—as she took the audience through the life of a woman looking for her own Romeo. She first thought she had found him in her husband (and Lynn's father) Michael Redgrave, and then in a 30-year-affair that fizzled long before Rachel's passion did.
Redgrave was engaging and showed the skills of a veteran actress effortlessly slipping into the different characters. Her writing skills were such that the audience could follow the character shifts without any cues other than the lines spoken and Redgrave's delivery.
Insightful was seeing an elderly woman play a 90-year-old woman playing Juliet: the mature reading of young Juliet's lines illustrated that girlish romanticism is ageless. The performance also carried some timely poignancy: Redgrave just three weeks before had helped bury her niece, Natasha Richardson, at the site of Rachel Kempson's grave.
Eric Minton
April 14, 2009
Comment: e-mail editorial@shakespeareances.com
Start a discussion in the Bardroom