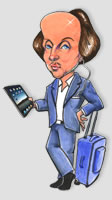 Shakespeare is not just some dead old white guy. OK, he is, but the genius that was his when he was the hippest thing in 1600 London—the genius that manifested in his plays—lives on today and still speaks to us.
This section of Shakespeareances.com features observations on Shakespeare's relevance to our 21st century world. Shakespeare portrayed people living some 400 or more years before his time, their politics, their passions, and their psychoses. Amazingly, at the same time he portrayed people living some 400 or more years after his time, too, their politics, their passions, and their psychoses.
The Commentary
Henry V's Vietnam War: A True Band of Brothers and Sisters
End of the Trump Era? Beyond Shakespeare's Villains
Happy New Year? The Worst of Times Still the Best of Times
The Tragicomedy of Errors: A Passion Play
A World Series: As Flies to Wanton Boys Are We to the Gods
The Comeback: A Tragedy Overtakes a Blissful Comedy
Time's Passages: My Love's Labor Now My Winter's Tale
The Worst is Never the Worst until the Worst: Finding Comfort in Edgar in Times of Woes
Shakespeare's Hot 40: Ranking The Bard's Plays by Stage Popularity
Another Happy Anniversary: Passion Play
Martin Luther King Jr. Day: The Birth of a Man
Locker Room Talk and Sexual Assault: To Whom Should I Complain?
A Ghost Story: The Real-Life Drama of The Executor
Opening Day: The All-Shakespeare Baseball Team
In Memoriam: Dean L. Minton Sr.—Methinks I See My Father
A Happy Birthday: Enduring Wind and Weather
Oregon Shakespeare Festival Translation Project: Chill, People
A Father's Love: Issues with Daddies in Shakespeare
A Tournament of Shakespeareances: It's the Play of the Players That Matters Most
To Adapt or Not to Adapt: All I'm Askin' For Is a Little R-E-S-P-E-C-T
Birdman and Shakespeare: A Life of Delusions Takes Flight
Mobility Impaired II: Combating Mobile Phone Addiction in Theaters
Decoding the Renaissance: 500 Years of Codes and Ciphers—Why It Matters
Cry "Havoc!"—A War Vet Turns to Shakespeare to Heal
The Promised End: The Odds On 40 Favorites
Mobility Impaired: An Intervention for Smartphone Abusers
Hamlet, Ophelia, Othello, Lear, the Macbeths, and Me: When Shakespeare Journeys into the Mind He Reveals His Grasp of Mental Illness
Choices: All the Way, Not Out of the Way
Father to Son: A Day in the Life of a Shakespearean Father
The More Things Change… "Four Centuries of Staging Shakespeare"
Gallant Youths: Shakespeare Casts a Wary Eye On Youthful Exuberance
The Most Malleable Medium: Putting the Living in Live Theater
"'Tis the Curse of Service"—Iago Is the Soldier's Soldier: That's Motivation Enough
A Woman's Place: Shakespeare Understood Women Better Than Modern Men Do
The Oldest Have Borne Most: King Lear and the Nihilism of Being Old
Shakespeare and Baseball: Beware the Tides of October
For Mature Audiences Only: Shakespeare Is Not of An Age but for All Ages; Kids Dig Him, Too
A Happy Anniversary: Forever Is Too Long for True Love
On Taming Shrews—Who Is the Misogynist Monster: Petruchio, Shakespeare, or You?
A Mother's Love: Shakespeare's Ode to Mothers Is Sometimes in their Absence
My Falstaff Moment: Would I Were Young For Her Sake
Bottom in the Cubicle: Many Shakespeare Characters Are Living and Working Among Us
Much Ado About…What Exactly? Changing Shakespeare's Text Results in Controversy beyond Creative Considerations
If It Ain't Shakespeare… Shakespeareances.com—What's in the Name?
It's An Omen! Shakespeare Had Much to Say About Predicting the End of the World
On Shakespeare's True Identity—Debate Over Who Wrote the Plays Leads To One Conclusion: The Beatles are Frauds!
Tiger Woods of Verona: Shakespeare's take on the sex scandals in today's headlines
Henry VI and the Art of Political Spin: America is witnessing its own version of the War of the Roses
Taxing Art: Targeting the arts in budget cuts slices out the heart of humankind