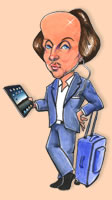 Shakespearecure: A Taste for Shakespeare
Here love, thou see'st how diligent I am to dress thy meat myself and bring it thee. (Taming of the Shrew, IV.1.40)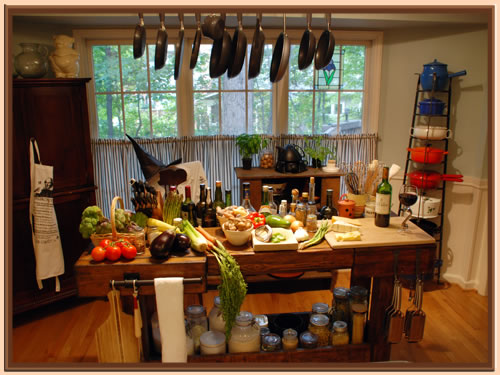 I am not a trained chef. For the most part, I'm not a recipe cook, either. However, I've been successfully creating dishes in the kitchen since high school with the overarching goal of impressing women. My recipes generally come after the fact, when Sarah, my wife, will ask me, "Did you write this down?"
Sarah, meanwhile, is something of a cuisinologist. She collects cookbooks—has an ever-increasing library of 300-plus—and studies cooking as a hobby. She is a great cook, too. Who is better? Neither. I don't ever recall her serving me a bad meal while I've had some spectacular failures; on the other hand, all the dishes we prepare for guests have been my creations. A few of my original recipes have been published in the magazine Off Duty (an article available at www.ericminton.com), and also in an Air Force Officers' Spouse Club collection.
When Sarah and I were courting, we began cooking meals based on Shakespeare's plays. Given our different approaches to cooking, I created dishes based on the plays' imagery while Sarah cooked meals inspired by the plays' settings and times, many interpreted from recipes she has from ancient Rome and medieval England.
As we cooked through the canon, fine-tuned the recipes, and served them to family and friends, we began sharing these menus as a private cookbook. Such a cookbook, covering the entire canon, will be available through this website soon. Our first volume will be my allegorical recipes, and we are currently testing and refining all of my recipes. In the meantime, I am sharing with you a preview of the cookbook. Below are links to a few menus we have already finalized, complete with my explanations of their creation.
So, if Shakespeare be the love of food, read on. Bon appétit.
Eric Minton
As You Like It—A Meal for the Ages: The Seven Ages of Man wine-pairing menu
Cymbeline—A Wing and a Pear: Princes' Game Hens, Iachimo's Pasta Salad, Pear of Lovers, Wild Cock-a-Leekie Soup
Henry VI, Part One—A Great Stake: Lamb La Pucelle, Tangy Talbot's Tomato Soup, and Cates and Wine
Macbeth—Fowl is Fair: Fowl with Red Pepper Sauce, Lady Macbeth's Curse, Porter Rhubarb, and a Witches' Stew
A Midsummer Night's Dream—Bottom's Up: Fairy Woods Casserole, Bottom's Salad, and Titania Turnovers
Richard III—Working on a Hunch: The Bloody Boar
The Tempest—A Concoction Strange and Wondrous: Prospero's Feast, Caliban's Offering, Ariel Pie, and Ferdinand's Punishment