Henry VI, Part One
A Great Stake and "A Talbot!"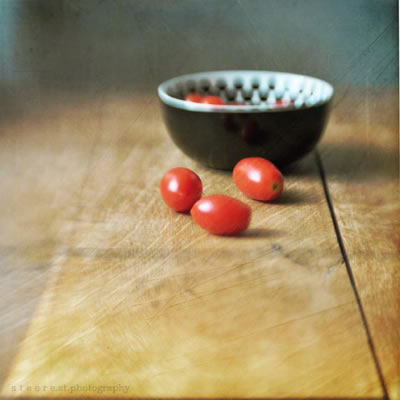 This is the first play in a planned tetralogy, and I had already established a menu for the last play of the cycle, Richard III, based on the title character. In the case of Henry VI, Part 1, the title character didn't give me much to go on, plus I figured I'd have two more Henry VI–named plays with which to work him into a dish (as it subsequently turned out, he never did achieve much culinary merit in any of his plays). Meanwhile, this first part of the violent dissension between the houses of York (white rose) and Lancaster (red rose) did offer up two singular characters—Joan of Arc and Talbot—each of whom inspired a course in this menu.
Joan inspires our main course in what she was (a shepherdess, before being visited either by the Virgin Mary or by fiends of the north king, depending on your national allegiance) and how she died (on a stake over a fire). Further bolstering my choice of lamb for the main course is other sheep imagery occurring a couple of times in the play, namely in reference to the English army (1.7.30). Our lamb will be marinated in a grape and brandy sauce, representing the French countryside where so much of the play is set, and skewered with white pearl onions and red cherry tomatoes to represent the Temple Garden scene where various lords pluck white or red roses to display their allegiances. Accompanying this skewered combo are corn on the cob, as Joan and her soldiers gain entry to Rouen as corn merchants (III.2.5), and asparagus, representing the pikes and stakes used by the English army (I.1.116). All of these can be cooked either over the open fire of a grill (not only the way Joan died but following many references to fires in the play, including bonfires at I.1.153 and I.8.12) or under a broiler representing the "civil broils" that germinate in this play (IV.2.185).
For the starter, we must quench the bloodthirsty Talbot (II.3.33). The word "blood" or its derivatives is used 47 times in this play. In addition to references to Talbot, the play has, most intriguingly, references to the quarreling English lords as drinking blood (II.4.108 and 133; III.1.120) and Joan offering to feed the fiends "with my blood" (V.3.14). We represent all of these bloody thoughts with a tangy tomato soup. Talbot himself directs us to our dessert with his request of the Countess of Auvergne when he asks that his army be permitted to "taste of your wine and see what cates you have" (II.3.79), cates being any kind of sweet delicacy that we represent here as delicate cookies.
Our other meal is a breakfast lifted directly from the play. Alencon describes the besieging English army as wanting "their porrage and their fat bull beeves. Either they must be dieted like mules, and have their provender tied to their mouths, or piteous they will look, like drowned mice" (1.2.9). We'll pass on the fat bull-beeves and fix porridge for breakfast, served with fresh fruit (berries) the English army has foraged off the French land.
Much of the action of this play took place, historically, in France's wine region, so choose a French red wine to accompany the meal. Especially appropriate would be Chateau Talbot Saint-Julien Grand Cru Classe, 2005 or 2006 being particularly good years. You could even make a drinking game out of watching the BBC version of the play (a good production, in fact) and take a sip every time a character shouts "A Talbot!" If you do play this game, do not plan on driving.
From one cook to another
For the dessert of "cates and wine," you can choose any cookie you'd like; just try to keep "delicate" as your standard. I chose two family recipes, and present both here because they not only fit the standard for this play but are, in themselves, award-winning cookie recipes. Both come from my father. He called the powdered-sugar cake cookies "butterfingers," but I changed the name to "butterthumbs" when I baked them for office parties and bake-offs. For this recipe I rename them "countess cates." By any name, they are "mmmmmm-gooooooood" (that's a direct quote from my father every time he bites into one at Christmas). By the way, the Talbot Saint-Julien is awful with these cookies; move to a French dessert wine, instead.
Eric Minton
February 14, 2012
THE LAMB LA PUCELLE
For the marinade:
4 ounces of grape spread, as purely grape as possible
1/2 cup brandy
1 Tablespoon balsamic vinegar
Fine cuts of lamb (loin, shoulder chop, or boneless leg roast)
Pearl onions
Cherry tomatoes
Wood skewers
Corn on the cob
Asparagus
Olive oil
Mix the grape spread, brandy, and balsamic vinegar in a bowl.
Cut the lamb into longish strips, as much as 3 inches long and 1 inch wide (can be shorter, depending on the amount of meat available off the bone). Add the lamb to the marinade, stir to thoroughly cover the pieces of meat with the marinade, and refrigerate a few hours or overnight.
Husk the corn. Clean the asparagus and snap off the bottoms. Load up the skewers: lamb, onion, tomato, and continue in this order and ending with a piece of lamb.
Heat the grill or broiling pan. Place skewers on the grill and brush on marinade. Place the corn and asparagus on the grill and brush on the olive oil. Cook to desired doneness (about 15 minutes for medium rare), turning half way through and baste the other sides with marinade/olive oil.
From one cook to another
You want lamb to be medium to medium-rare; cooked beyond that and the flavor seriously degenerates (if you just can't tolerate medium-done meat, switch out the lamb for bull-beeves). If your lamb is cut about an inch wide, 15 minutes on the grill or under the broiler will cook it just right. This is sufficient for the asparagus, too, but the corn will likely need about 15 or more minutes to sufficiently cook.
Tangy TALBOT'S TOMATO SOUP
2 pounds tomatoes
1/2 pound shallots
4 cloves garlic
Olive oil
28-ounce can tomato sauce
3 tablespoons red wine vinegar
Fresh Chervil
Fresh Chives
Peel the tomatoes, remove the seeds, and cut into large chunks. Finely chop the shallots and coarsely chop the garlic.
Cover the bottom of a stockpot with olive oil, heat, then add the shallots. Sauté briefly, then add the garlic. Sauté briefly, then add the tomatoes. Sauté briefly, then add the tomato sauce. Stir, then stir in the red wine vinegar. Reduce the heat and simmer for up to an hour. Refrigerate overnight.
Blend the soup to a smooth consistency and return to the stove over medium heat. Chop the chervil and stir into the soup. Chop more chervil and snip some chives and set aside.
When the soup is hot, serve to bowls. Place a pinch of chervil in the middle and stir in a circular motion from center out (looks pretty and recalls Joan's circle of glory in the water imagery at I.3.12). Garnish with the chives and serve.
COUNTESS CATES
1 1/2 sticks of butter
3 tablespoons of sugar
2 tablespoons of ice water (not just cold: ice)
1 teaspoon vanilla
1 cup broken pecans
2 cups cake flour
Powdered sugar
Wax paper or baking mat
Soften the butter. Mix in the sugar, ice water, vanilla, and pecans. Stir in the cake flour.
Heat oven to 275. Place wax paper or mats on cookie sheets. Form dough into logs about the size of a pudgy toddler's thumb. Place on wax paper–covered cookie sheets.
Bake one hour. Cool slightly.
Scoop some powdered sugar in a baggie or some other soft container. Drop four or five cookies in, shake to coat, and continue until all the cookies are coated in powdered sugar.
From one cook to another
"What's your secret?" This recipe has been involved in many a recipe swap and published in military spouse magazines and cookbooks, and I often hear from women who have tried it tell me that their cookies were not nearly as good as mine. They assume I leave out a secret ingredient. However, every time I walk them through it, we learn that the illusive secret ingredient is right there in the recipe: cake flour. This is a different product from all-purpose flour; it is specifically cake flour, and you will find it near the rest of the flours in your store. Sure, you could use regular flour and add a bit of salt and baking soda as necessary, but it won't be the same cookie—and based on the testimony of countless cooks, it won't be as good as mine.
ICE BOX COOKIES
1 cup butter
1 cup brown sugar
1 cup white sugar
3 eggs
3 1/2 cups flour
1 teaspoon soda
2 teaspoons cinnamon
1 cup chopped nuts
1/4 teaspoon salt
1 teaspoon vanilla
Wax paper
In one bowl, cream butter, brown sugar, and white sugar, and add the eggs. Cream well.
In another bowl, sift together the flour, soda, and cinnamon. Add this to the creamed sugar. Add the nuts, salt, and vanilla, then mix it all into a stiff dough.
Shape into rolls about 2 inches in diameter and wrap in waxed paper. Place in the freezer at least overnight or to use whenever you want.
Preheat oven to 425 degrees. Slice thin cookies from a log, place on wax-paper-covered or mat-covered cookie sheet. Bake 8 to 10 minutes, remove from the oven, and move the cookies to wire racks to cool. The cookies should be firm and just crisp, not soft.
Comment: e-mail editorial@shakespeareances.com
Start a discussion in the Bardroom