Henry VI, Part 1
A Debut-Like Experience of Shakespeare
American Shakespeare Center, Blackfriars Playhouse, Staunton, Va.
Saturday, March 21, 2009
Actors' Renaissance Season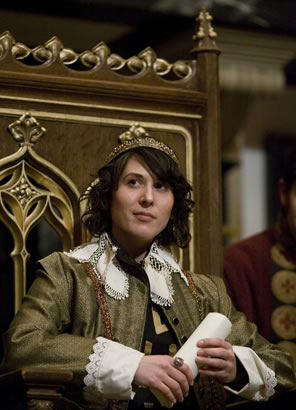 Alyssa Wilmoth as Henry VI at the Blackfriars Playhouse. Photo by Tommy Thompson, American Shakespeare Center.
Part of the ASC's Actors' Renaissance Season—wherein the players use only prompt copy, have only days to mount the play, and do so without a director—this performance offered an authentic window into the way Elizabethan audiences might have experienced the play at its opening. It was bombastic, it was frenetic, but it was highly entertaining, it was entirely satisfying.
Changing only the outer layers of clothes over predominantly modern dress, the actors assumed a variety of parts in keeping much of the play intact. Despite the fact that one person played Salisbury, Fastolf, and perhaps a half dozen other soldiers—and the fact that the person playing these parts was a woman—there was minimum confusion. Divided into three acts, the first and third parts of the play were largely played for laughs, while the middle section featuring the deaths of the Talbots seemed more somber.
Standouts were John Harrell as Charles the Dauphin (pompous and passionate), Alyssa Wilmoth as Henry VI (her baffled expressions watching the nobles wrangle while she sat on her oversized throne were precious), and René Thornton Jr. as Richard Plantagenet (commanding). The wooing scene between Suffolk (Gregory Jon Phelps) and Margaret, the Countess of Auvergne (Sarah Fallon) was a highlight, with the pair coyly bandying over and around their mutual attraction. In an only-at-Blackfriars moment, because these plays are staged with minimal rehearsal time, a prompter is ready to feed lines any time an actor loses his or her place. This happens only once or twice per play, and such it did when Phelps's Suffolk first espied Fallon's Margaret. "Prithee," he called. "She's beautiful," the prompter prompted. Phelps's expression glazed over: "She IS beautiful," he said, and continued with his speech.
Another highlight came before the play began when Thomas Keegan, playing the Bishop of Winchester, walked out to give the pre-performance announcements, which he did in the form of a sermon. "The Lord be with you," he started, and the audience responded "And also with you." "Oh boy! We're gonna have fun tonight," Keegan said in authentic glee.
Boy, oh boy, did we ever.
Eric Minton
March 23, 2009
Comment: e-mail editorial@shakespeareances.com
Start a discussion in the Bardroom