The Promised End
The Odds On 40 Favorites
"Is this the promised end?" I heard Kent say that as if he were standing next to me, so clearly did that line from King Lear rattle through my brain as I, in utter dread, watched the baseball missiling down the third base foul line toward the leftfield corner. The runner on second was already heading home, and I knew the runner on first would surely score, too. We had only been one out away from a 1-0 victory in a pivotal playoff game, and then a walk, a single, and now… Let the howling begin.
By the end of this week, baseball fans in either San Francisco or Kansas City might be yelling or mumbling or crying words similar to Kent's reaction to Lear walking on stage carrying the lifeless body of Cordelia: "Is this the promised end?" Whichever city that turns out to be, though, would be the ninth this month to lament thus; and that after 20 other communities of fans during the previous month had to shrug, "Oh well." One-in-30? Who wouldn't take those odds for a victory of any kind?
How do those odds stack up with Shakespeare, who wrote 40 plays plus poetry?
I've already written a commentary for Shakespeareances.com comparing Shakespeare and baseball, so that's not the point of this piece. This column goes much deeper into the psychosis of winning and losing; plus, its ultimate focus is Shakespeareances—the best I've ever had. And while the World Series is now underway, that's not the real relevancy here, either, even if this article is specifically pegged to October. So, as a service to all of my readers, if you want to skip over the baseball and "greatest day ever" stuff in the next several paragraphs and go straight to the end where I finally get to the point, I encourage you to do so. If the rest of you want to indulge me and allow me to sound something on my mind, please read on.
The incident that leads off this column, the "promised end" that I feared, was anything but—it was much more than promised and nowhere near the end. Oh, we lost the game (and by we, I mean the Washington Nationals)—but not then. A great defensive play cut down that second run, ending the inning and leaving the game tied at 1-1—for another nine innings in bone-chilling wind (on what started out as a warm, sunny afternoon and concluded after midnight). When the San Francisco Giants finally won 2-1 in 18 innings, we had been willing witnesses to the longest game in Major League Baseball playoff history. Yay. That loss left us down an insurmountable 2-0 in a best-of-five series that the Giants wrapped up two games later in San Francisco, their second playoff step en route to the World Series where they are facing the Kansas City Royals.
When the Nationals were eliminated, which we watched on TV, my wife Sarah took it harder than I did; our season had come to an abrupt end, the last game we attended being that 18-inning heartbreaker. Though she's been following baseball for 25 years now, she hasn't yet gotten used to baseball's great truism that heartbreak is a bigger part of the game than success. For those of us who have been lifelong fans, once you get past the sting of what could have been, you begin to appreciate what's been.
And what's been has been unimaginable. Another baseball truism is that you never get what you think you can anticipate, and sometimes magic lurks in that probability—even magic like watching your team lose an 18-inning masterpiece. Baseball by its very nine-(sometimes more)-innings and no-clock nature, its nine-defender, 60-feet-between-the-bases structure, and its tiny-spinning-ball-colliding-with-round-swinging-bat fulcrum guarantees that anything and everything can happen. Yeah, like life. And like Shakespeare. And I'll get to that, but first I need to describe the pinnacle day of a pinnacle weekend in my life.
It came one week—seven days—before that fateful 18-inning loss, and in addition to temporal proximity, the two days were substantive cousins, too. Jordan Zimmermann was the starting pitcher in that playoff loss; he had pitched 8 2/3 innings (26 outs) of shutout baseball, allowing just three hits to that point. Then, he walked that batter, and the manager replaced him with one of the best relief pitchers in baseball, Drew Storen, who allowed the follow-up single, and then the double down the line that scored the tying run. Much ink and electrons and anguish have been spent on whether Zimmermann should have been pulled or not, in large part because…
Seven days before, in the last game of the regular season, we were all experiencing an almost identical anxiety: Zimmermann pitching, two outs in the ninth inning of a 1-0 game (except the opponent was the Miami Marlins and nothing was on the line—we had already clinched the top seed in the playoffs). But in that game, Zimmermann hadn't allowed a hit.
I've been to hundreds of baseball games and seen hundreds more on television, and I have never ever seen a nine-inning no-hitter. We were one out away when the Miami batter hit a long drive up the left-centerfield gap. Is this the promised end? Oooooohhhhhhhh nnnnno–YES!!! Nationals rookie left fielder Stephen Souza Jr. (inserted in the game at the beginning of that inning) went like Superman in an all-out flying dive to catch the ball for the final out. More than one broadcaster said something along the lines of "You couldn't script a better ending." No, indeed.
Every game I've attended or watched on TV—ev-er-y game—I hoped I would see a no-hitter, so rare and historic are they. And I did! In person! By my team! With my wonderful wife…Not by my side.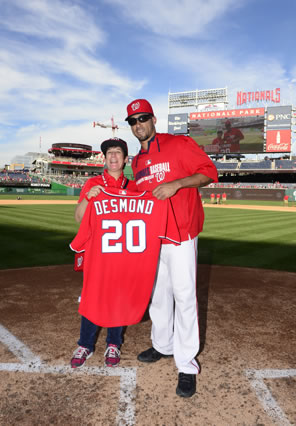 Sarah Smith, left, gets the shirt off Ian Desmond's back.
But that was cool, too. In the sixth inning, she had won a "Jersey Off Their Backs" raffle, a charity fund-raiser in which, right after the game, all of the Nationals players take off their uniform shirts and autograph them for some lucky fan. When Souza caught the final out of the no-hitter, Sarah was in the tunnel behind home plate waiting to go onto the field for the ceremony. She won the jersey of Ian Desmond, the team's all-star shortstop and captain who, on this particular day, had hit a home run for the game's only score. Next to Zimmermann's and maybe Souza's, his was the most significant jersey you could ask for on Sept. 28, 2014 (and Zimmermann's was heading to the Baseball Hall of Fame).
Now that's a day!
Why do we enter raffles? To win (with the additional caveat that the money goes to a good cause) even though you "never win at anything"—until you do. And that was our second raffle win of the weekend: I also won an autographed poster of the American Shakespeare Center's Edward II after a performance of that play at the Blackfriars Playhouse in Staunton, Va. Though the play was written by Christopher Marlowe, it was really, really good, another unexpected win. We also saw Shakespeare's Pericles, Prince of Tyre. Sure, it's not a good play, and driving two hours round-trip to see it along with a Marlowe play seems like long odds—certainly long in mileage—but Pericles is such a rarely done Shakespeare play that you see it when you can and hope it's decently done. You certainly don't expect to see a great play as beautifully done as the ASC did it. Leaving the theater after that Pericles, I felt the same as I did after watching the Nationals' slumping slugger Bryce Harper hit a walk-off homer in the 13th inning against the Mets a month earlier—unexpected elation. As we left Staunton the next morning and headed straight for Nationals Park for that afternoon's last game of the regular season, I consciously acknowledged that the weekend couldn't get any better. One no-hitter seen and a Desmond jersey in Sarah's hand later, I was proven wrong.
Why do we go to so many baseball games? To win? Not really because, on average, your team will win only half the time (thanks to the aforementioned nature and structure of the game), and ultimately all but one team loses in the end. We go because the game itself rewards, win or loss. In all those hundreds of games, I've been to no more than a half dozen that I felt were a waste of time; all the rest had moments of drama, excitement, marvel, or milestones. Even a heartbreak loss in a deepening chill into a deepening night is something I can count among my life's great experiences. And sometimes, magic happens: a winning walk-off run (of which we saw three this year; just, unfortunately, not in nine chances in that playoff game against the Giants), a triple play (I've never seen that), a no-hitter (check).
Why do we go to the theater so often? Especially when we've seen some plays, oh, 27 times (A Midsummer Night's Dream) or 22 times (Romeo and Juliet) or even four times (Pericles). No matter how many times we see King Lear (13, so far), Lear and Cordelia will probably never come on stage dancing and laughing in that last scene—nor would I want them to. We go because, having seen, as of this writing, 377 live Shakespeare productions and 181 non-Shakespeare stage plays, I can count on one hand those I wish I hadn't spent any time seeing. Even in generally poor productions, something or someone gives us a new, treasurable experience, and there is almost always drama, excitement, marvel…
And many times magic. Whereas I can count the horrendous on one hand, I stop counting the wondrous at 40 fingers simply out of pure arbitrariness.
It's October. Three years ago, I launched Shakespeareances.com (official opening, Oct. 1, 2011). When I did, I included my list of Top 40 Shakespeareances and Top 10 "Honorable Mentions" (non-Shakespeare theater moments). We've seen much more magic since then, and I decided in this anniversary month that it was time I update that list, working in some of the most magical moments of the past three years—including, a new Number One. The updated list only goes through 2013; I can think of two or three productions we've seen this year that could be included, but I want to give them more time to marinate in my memory (which is why some Top 40 productions have moved up while others, even high-ranking moments, have dropped off since the original and subsequent annual lists were posted—the best memories age like fine wine).
Shakespeare may compare thee to a summer's day, but I compare every one of these to a September day when I saw a no-hitter capped by a miraculous catch—all of these went way way way beyond the promised end. For my all-new Shakespeareances Top 40, click here.
Eric Minton
October 22, 2014
Special Note
Shakespeareances.com earns zero money while expenses include web hosting and attending plays, including travel and tickets (we accept no comps from theaters).

One of my nonexpenses is our copy editor, Carol Kelly. She accepted my "invitation" (i.e., my begging) to come aboard this project as we prepared to launch, and she's given you consistent, stellar services for three-plus years, editing every single review, essay, interview, and news brief—all with no compensation. Each time I receive her edits I thank her, but I want to use this opportunity to express publicly my deepest appreciation for Carol, for her good work, and her good (virtual) company (she lives 475 miles away).
With that, I could send you to my Sponsorship page, but, no; this link goes to her bio on this site. Money would be nice, but Carol is the greater value.
Comment: e-mail editorial@shakespeareances.com
Start a discussion in the Bardroom