A Happy Birthday
Enduring Wind and Weather
You know the sickening sound a car crash makes: the sudden, too-short screeching of tires braking cut off by a roar of crunching metal and glass shattering. Imagine a similarly sickening sound in the next room of your house: a loud bump followed by an explosively loud collision, and then a crash of wood, porcelain, and skull. Before I even rushed through the door I feared what I would find: my wife, Sarah, lifeless, lying on the floor, her head on the bottom shelf of my nightstand—I knew instantly that her head had to have hit the top of the nightstand first. That was 370 days ago.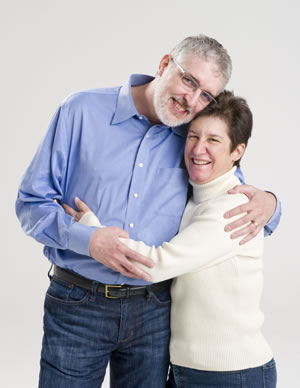 Today is Sarah's birthday. She is 58 years old—is being this day's most important gift. I have no qualms giving her age because she still looks 35. And, yes, God did all—except her hair. God gets a bit of help from the salon with that item. I know a lot of hot women, hang out with beautiful actresses, and count a Miss America among our friends. But when Sarah walks into the picture, my eyes (and, I've noticed, many other eyes) lock onto her, and my heart speeds up.
For age cannot wither her, nor custom stale her infinite variety. Other women cloy the appetites they feed: but she makes hungry where most she satisfies. OK, that's Enobarbus describing Cleopatra, but when I hear those lines from William Shakespeare's Antony and Cleopatra, my thoughts turn to the queen of my own heart, not Egypt's empress temptress. I totally get how Antony can say to Cleopatra, "Thou knew'st too well my heart was to thy rudder tied by the strings, and thou shouldst tow me after." Sarah's U.S. Air Force career towed me to eight different homes until we settled at last in our current home upon her retirement seven years ago—yet she tows me still.
It's not all lust, of course (though there's still a lot of lust there 26 years after we started dating). Our wedding rings are inscribed with the "precepts" of our relationship, which come from a set of six prosaic meditations I gave to her early in our courtship: Love, Truth, Faith, Dreams, Trust, Life. That ring has never left my finger since the moment Sarah shoved it on during our wedding ceremony because, due to my fat knuckles, it is anatomically impossible to remove. And that's fine, really, because I would not wish any companion in the world but her, as Miranda tells Ferdinand in The Tempest. In fact, more than ever I would be far happier spending every minute of every day with her than not.
Love, Truth, Faith, Dreams, Trust, Life.
See, I don't have to quote Shakespeare to crystalize a state of mind or heart I'm experiencing—I can conjure up words on my own. In fact, the past year, Shakespeare came up short for me—except I did hear my inner voice often repeat Gertrude's "One woe doth tread upon another's heel, so fast they follow" from Hamlet. Then, too, conjuring my own words the past 12 months hasn't been so easy, either.
November 2, 2014, was the day I heard the fall and rushed in to find Sarah on the floor. As I reached her I was encouraged to find two things: she was stirring, and she was bleeding from her forehead. The first meant she was alive, the second meant she was going to the emergency room with no resistance. After the requisite heart tests and brain scans, 10 stitches along her eyebrow, and a doozy of a black eye, she was sent on her way with a diagnosis of "she fainted." She even accompanied me that night to a press performance of Julius Caesar at the Folger Theatre.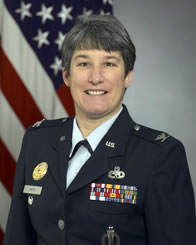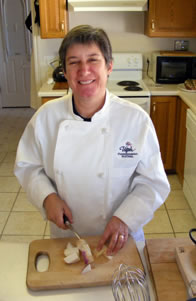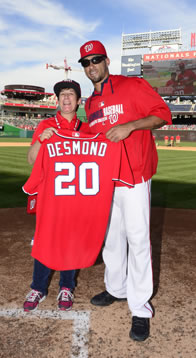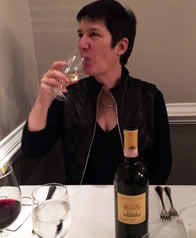 From top: a retired U.S. Air Force colonel; a woman with witchcraft in her lips; a woman of many talents; a woman who loves baseball (here with Washington Nationals baseball player Ian Desmond); a woman of grace and life.
Our next press night was December 8 (As You Like It at the Shakespeare Theatre Company). We didn't make it. As we were eating dinner and sitting across the table from each other at a mall food court, Sarah suddenly went silent. When I looked up I saw her head down. Sick? I wondered, but she started leaning left and toppled like a stack of books. I was able to jump around the table and catch her before she hit the floor. The first time she fainted I saw what looked like a lifeless body; this time I was holding one. And it was Sarah's.
It took several seconds (a woman standing by, cell phone poised) before Sarah opened her eyes and asked, "What are you doing?" And she was fine—a little puzzled, more aggrieved, but she actually considered going on to the theater. She fortunately decided to go home instead, for on the way home, she began feeling woozy so I detoured back to the emergency room. Given this was a second incident—and people don't tend to faint while sitting and eating a stromboli—she was admitted to the hospital overnight for a series of more tests. With no immediate answers, she started into a months-long series of various cardio- and neurological tests, and I took over all driving duties. (At the same time my father started having a prolonged medical issue, requiring me to make more frequent trips to be with him a seven-hour drive away: Sarah, not allowed to drive, would either have to go with me or she would stay in a hotel across from her workplace.)
Obviously, Sarah was allergic to Shakespeare—or perhaps it was press nights, specifically. So, I approached our next Shakespeare play (The Taming of the Shrew at the Blackfriars Playhouse) and then our next press night (Mary Stuart at the Folger) with trepidation. No problems, though. In fact, what became a more accurate forecaster was time: her first four fainting spells came exactly 36 days apart. In March the fainting spells gave way to intense dizzy spells every 40 or so days. Meantime, all the tests and imaging found no causal connection between the spells and her heart (but she did get a heart loop monitor implanted to watch for any incidents of fibrillation) or her brain (though she did need to undertake a follow-up MRI for "anomalies" the neurologist saw).
What the tests did discover was thyroid cancer.
So, we headed into a heavily scheduled summer with no answers, a new medical problem, and health insurance bureaucracy aggravation. Sarah was one week out from surgery to remove her thyroid when the big event happened, Friday, July 24, the day we were leaving for a weekend of plays at the Blackfriars Playhouse in Staunton, Virginia. She fainted in the car, was out for almost a minute, and didn't recover as quickly as she had with previous spells. Intense dizzy spells kept coming, so I got her to the emergency room where a reading from her heart monitor and the continuing aftershocks of dizzy spells got us our diagnosis: her heart wasn't speeding up; it was stopping, on this occasion for 3.9 seconds.
The following Monday she had a pacemaker implanted, and still on the Thursday, as originally planned, she had her thyroid removed. We joke she just wanted to take advantage of a two-for-one special in surgeries that week, though this sequence came in three hospitals in two cities. I'm not taking any of this lightly; rather, I feel tremendously blessed because this sequence of events turned out to be a cloud with a golden lining. First, a cancer was discovered early thanks to the fainting spells. Second, without the last fainting spell coming when it did and Sarah getting a pacemaker, she would have been in grave danger while under anesthesia during the thyroidectomy. Foul really is fair.
Two days after her second surgery, Sarah dictated that we should attend a Baltimore Shakespeare Factory doubleheader (As You Like It and Henry IV, Part One) at the Meadow at Johns Hopkins University's Evergreen Museum and Library. As we crossed the meadow toward the stage, Sarah looking like she had been in a knife fight, Artistic Director Thomas Delise said, "You two were the last people I expected to see here today."
Well, that's Sarah; and that's us: It's all about Life. Through all of this and the parallel health issues with my father, we continued our normal activities as best we could (she missed only a few days of work) and stuck to our plans—except when a trip to the emergency room intervened. That's Sarah; that's us: It's all about Dreams. I still do all the driving until she is finally medically cleared. I admit it's a hassle and I'm suffering repetitive motion syndrome, but that's me because it's Sarah; that's us: It's all about Trust. Was she worried during all this? Yes. Was I worried? Hell yes. That's us: It's all about Truth. But did we laugh at even our worrying? Yes. That's Sarah; that's us: It's all about Faith.
The next dizzy spell hit in September. Wait, wasn't she supposed to be in the clear? Then we got some worrisome post-thyroidectomy news. For the first time all year my fears finally wrested control of my imagination. I began contemplating the consequences of living a post-Sarah life. I may not go all Romeo, but I get him as much as I get Antony as I fully realize how much Sarah has become so woven into the very fabric of my life: Shakespeare, baseball, concerts, cinema, cooking, wine, travel, Christmas—they are nothing to me if she's not there. Passion—there hasn't been any competition to Sarah for 26 years, and I can't see any for the next 26 years, with or without her. She is my goods, my chattels, she is my house, my household stuff, my work, my passions, my garage, my car, my anything, to borrow from Petruchio's passionate outburst for Katherina.
That's Sarah; that's us. It's all about Love.
Fortunately, the further tests on the thyroid cancer have given us good news. Sarah's had no more dizzy spells since September, but we are still awaiting at least one more follow-up test with the cardiologist. We still have to learn if the brain MRI anomalies are or are not really there.
So, a year on since all this started, today, on her birthday, I look back on what she's been through in that year and further back to all we've shared together. I look ahead with unbridled anticipation at what more we have in store for us. Most of all, though, I look at her now. And wow! I mean, I always say that to myself (and often out loud) when I look at her, so there's that, but now shifting from the eyes of lust to viewing her through the core of my soul, I see a dedicated humanist, a person who always gives superlative effort in her duty, her work, her friendships. She gives of herself unhesitatingly to people in need (she became my dad's financial manager after his stroke five years ago), she is intelligent, she is funny, she is full of grace. 'Tis beauty truly blent, as Viola says of Olivia in Twelfth Night. If this sounds like a eulogy, so what: maybe we all should hear our eulogies while we still can.
Every year for her birthday, I have given Sarah the gift of my time wholly devoted to her wishes. I'm doing that this year, too; this weekend is all hers—and, yes, today, we are seeing the two parts of Henry IV at Brave Spirits, her choice. I'm also giving her our now. "I've found myself pausing to appreciate the mere environment of my being, letting bites of breakfast, lunch, dinner, and dessert linger on the tastebuds longer, admiring my wife's beauty more deeply, and letting our kisses last longer, the two kisses upon waking, the three at the Metro station in the morning, the countless kisses in the evening. I do understand—now—how much we should value not merely life but living, turning not just our experiences but our memories of those moments into richer treasures." I'm quoting myself this time, from my review of Faction of Fools' commedia del arte production of Thornton Wilder's Our Town in June.
It's all about Love, Truth, Faith, Dreams, Trust, and, most of all, Life. And right now, it's all about Sarah.
Eric Minton
November 7, 2015
Comment: e-mail editorial@shakespeareances.com
Start a discussion in the Bardroom