Shakespeare Returns to Afghanistan,
In More Ways than One
Shakespeare in Kabul
Stephen Landrigan and Qais Akbar Omar (Haus Publishing, 2012)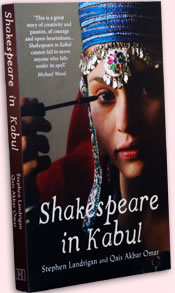 It was historic. In 2005, a group of professional actors performed a Shakespeare play in Afghanistan for the first time in decades, and it was the first time men and women performed together on stage in that country. That production of Love's Labour's Lost made headlines around the world and was the subject of a TV documentary.
Shakespeare in Kabul is the behind-the-scenes story of how that project evolved and how a group of Afghan actors working for a French director miraculously made it to opening night. Along the way, we gain an insider's perspective of a nation still emerging from decades of war, Soviet occupation, and Taliban rule; we gain insights into Afghan's richly poetic culture; and we gain further appreciation of the genius of Shakespeare. "I have heard that many Afghans have gone to live in England," one of the actors says after becoming fully enthralled in the play. "Maybe Shakespeare was one of them."
In fact, it is the poetic tradition of Afghanistan—in a nation with six indigenous languages, poetic rhythm is a common thread in all conversation—that prompted the decision to stage a Shakespeare play in Kabul. Co-author Stephen Landrigan, a journalist and playwright, describes how he and Paris-based actress and director Corinne Jaber traveled to Mazar-e-Sharif to celebrate the traditional Afghan and Persian New Year of Naw Ruz, and then traveled back to Kabul overland with a group of new Afghan friends chanting poems the whole way home. Afterward, lounging in one of the Kabul gardens, Landrigan suggested to Jaber that they should do a show there. "'Yes,' Jaber replied. And with the poetry of Naw Ruz so fresh in our minds, she added, 'Shakespeare.'"
Choosing which Shakespeare was their first hurdle. They had to weigh cultural aspects of each play, and this process, frustrating for them, is rewarding for us. For example, Much Ado About Nothing concludes with the peculiar plot twist of Claudio, who had professed passionate love for supposedly, dead Hero agreeing to marry her cousin, whom he's never met, the next morning: peculiar to those of us who are products of 21st century Western culture, but not to Afghans. Such moments in Shakespeare in Kabul serve us as bridges to fuller comprehension of Shakespeare's 16th century sensibilities that endure in other parts of the world.
Jaber settled on Love's Labour's Lost. It is among Shakespeare's most poetic plays and thus suitable to the innate poetry of a land where poetic competitions, such as those engaged in between the lords and ladies in the play, are a street sport. Most importantly, the play features four men and four women of equal standing. Jaber wanted her play to break gender barriers in Afghanistan. The main plot was translated to an Afghan setting, with the King of Navarre becoming the King of Kabul and the French princess' train of women hailing from Herat, an Afghan city with its own rich Persian heritage. The subplot of Don Armado, Costard, Jaquenetta, and the rest of the rustics was discarded (Jaquenetta's state in Shakespeare's play would never be condoned even in fiction on an Afghan stage), with some of their lines transferred to a new character serving as a messenger who mixes up the love letters and moves the plot along. Also bowing to Afghan mores, Boyet, who accompanies the princess' train (with his innuendo-filled wit), was altered to a female character.
Even elements of the main plot had cultural walls to hurdle beyond that whole boys-and-girls-are-equals concept. The opening scene describing the King's contract for the academy with its restrictions on eating and avoiding women came across as Taliban-like to the actors. When they learned the strictures were soon overturned in the comedy, though, the cast embraced the plot all the more. However, the lords disguising themselves as Cossacks to visit the ladies resulted in a revolt among the actors: They refused to play Russians and considered it deeply insulting to be asked. Instead, because of the popularity of Indian films in Afghanistan, the actors turned that scene into a Bollywood satire that brought the house down in every performance.
Language was an even bigger obstacle. Landrigan discovered that an Iranian scholar had translated the entire Shakespeare canon into Farsi, and the British Embassy used its courier system to get a photocopy of that translation to Kabul. But in attempting to capture Shakespeare's Elizabethan English, the scholar had used an archaic form of Farsi that confounded the scholar in Kabul who was tasked with creating a Dari script. It took a team of three people—the scholar, a poet, and Qais Akbar Omar—to work out a script that, when handed to the actors, initially garnered blank stares. The first table read took a whole week.
With the start of auditions, Landrigan turns authorship of Shakespeare in Kabul over to Omar, and it is here where the 230-page book becomes too engaging to put down. Omar runs a carpet business, but he and Landrigan had become friends, and he served as translator on the trip to Mazar-e-Sharif. He then became Jaber's translator on the Love's Labour's Lost project and, eventually, the de facto assistant director and stage manager. From Omar, we get the entire rehearsal process—through an Afghan's eyes.
Omar gives detailed accounts of the improvisational auditions during which the actors presented stories of their war-stricken lives. He describes the actors' personalities without holding back, and he recounts some of their habits—tardiness, frequent breaks, faction-forming, all of which Omar calls "the Afghan way"—that pushed the patience of taskmaster Jaber. We see conflicts of Western methods with Afghan manners and huge blowups between the actors and Jaber and Omar caught in the middle (they asked him not to translate to Jaber what they were really saying, though he tells us what they were really saying).
We also watch the transformation of Marina Gulbahari, a mostly illiterate teen-age girl who had once been a beggar and rose to international fame as star of the movie Osama. She not only didn't know Shakespeare, she didn't understand the concept of theater. The notion of learning a whole play and acting it in one take before a live audience was frightening to her. Ridiculous, too: she thought it better to learn a line, film it, and then sell the play in DVD stores to more people than would see it in a theater. Yet, Jaber cast this girl as Rosaline, and it wasn't until opening night that Shakespeare's character emerged, Omar writes, and "The lines that had once so terrified her now propelled her into an immediate rapport with her audience."
Omar writes in the formal structure of a man not using his native tongue. His sentences march along rather than flow. But he often will turn a phrase that knocks you into wonder. "Her face was like an encyclopedia of human emotion, as one after another swept across it." "Fame in Afghanistan ... does not come with a fixed address." "The creative process flew like kites in the evening wind." As translator, he also proves to be as astute as a court recorder in capturing the conversations in the rehearsal rooms, tea breaks, and tours, and during these moments the actors discuss Shakespeare, the meaning of romantic love, and their experiences as Afghans. When Marina begins uncontrollably crying, a leading actor comforts her with "Cry, cry. Crying is good for the eyes. In America, people go to pharmacies to buy artificial tears, to wash out their eyes. We have plenty of them by ourselves. We may not have a lot of clean things, but our eyes are the cleanest in the world."
Ironically, despite the cultural aspects of the story, Shakespeare in Kabul could serve as a primer for any fledgling acting company staging Shakespeare. We learn how the actors overcame their confusion about the script and lack of initial understanding of Shakespeare's text by trusting in the words, how they adapted to different performing spaces, and how the costume designer used different colors of fabric to create rich-looking dresses on a budget. Landrigan had suggested that the women arrive on stage on camels, but the idea was dropped when he couldn't round up four camels. Omar, then, scores a big point for fund-conscience creativity when he writes of the women's actual entrance descending a flight of ancient palace stairs and the fabric of their dresses appearing "incandescent in the last full rays of the day's sunlight. Perhaps a grand arrival by the ladies on camels would have been more theatrical, but it could not have been more spectacular."
Though this Love's Labour's Lost is in Dari, it's setting transferred to Afghanistan, and it is stripped of some of its funniest characters, this book is accurately titled Shakespeare in Kabul. This is a story of a man called William Shakespeare making his mark in the land of Afghanistan. Listen to just a few samplings of how the actors reacted to their meeting that man. "Shakespeare is like a strong wind that goes direct to the human mind and conscience, and it stirs answers that we have been seeking." "I ask myself how such a man existed 400 years ago? How come we don't have more like him now?" "He makes you laugh in one eye, and cry in the other."
Of course Shakespeare would be a hit in Afghanistan, so much so that he could cause cracks in the cemented gender barriers in that culture. For a group of actors and for audiences that numbered in the hundreds for each performance, Shakespeare brought laughter and love to a poetic people with the cleanest eyes in the world.
Eric Minton
January 7, 2013
Comment: e-mail editorial@shakespeareances.com
Start a discussion in the Bardroom