A Day with Brooklyn Technical High School Students
Shakespeare at the Dawn of a New Generation
By Eric Minton
Sumyia Razzak says she was upset when she learned that her drama teacher, Emily Tuckman, was going to make her class do a Shakespeare play. "I was like, uhhhh, I don't like Shakespeare." Now, the Brooklyn Technical High School senior in New York considers the experience of playing Desdemona in Othello not only fun but a mirror to her own life. "This is like my summer repeating itself," she said—but without the murder.
Her castmate, Gabriel Morel who played Iago, had a similar change of heart. Admitting that he didn't think the plots of Shakespeare's tragedies were clever, Morel had even less regard for Shakespeare's comedies, though he'd never read or seen any. "What we think is funny is definitely different from when Shakespeare was alive," he said. But after watching another class's production of As You Like It, Morel turned to me and said, "Having seen a comedy, I retract my last statement. Shakespeare is really funny."
William Shakespeare, whose works had been for most of these students merely archaic or even meaningless words on a page, came to breathing life when they performed his plays on the stage before their peers. They got inside real characters fabricated by Shakespeare's pen and, when they did, they came to appreciate the language as "perfect," the adjective used by Shauntai Quinlon, who played the titular character of Othello, not as the Moor of Venice but as the Butch of Brooklyn.
What they learned becomes a learning experience for the rest of us, for out of their experience comes wisdom and their own special insights that allow us to appreciate Shakespeare and his plays even more.
Tuckman's five drama classes put on 30-minute versions of Shakespeare plays (adaptations by Nick Newlin) that she assigned to each class: Much Ado About Nothing, Hamlet, Othello, As You Like It, and A Midsummer Night's Dream. The classes were to approach the plays as if they were bona fide productions; along with the actors, each play had set and costume designers, directors, and even dramaturgs. They were allowed to set the plays any way they chose, but they could not change Shakespeare's texts (allowances made for settings, like changing Denmark to Brooklyn as the locale of rotteness). They used the school's gorgeous 3,000-seat auditorium, and other classes attended the plays, as did a few stragglers during their lunch and free periods, resulting in audiences of about 200 for every show.
This was a big test. And I don't mean a test of whether high school students could appreciate Shakespeare (the 450-year-old Bard has consistently passed that test), nor was it merely a test of whether the students would "get" Shakespeare well enough to present it well enough for their peers to "get" Shakespeare, too. These productions literally were a test for the students, a final exam for which they collectively and individually received a grade. "Instead of a formal final where they sit down and do multiple choice, I wanted them to experience the theater in their bodies and in their minds; holistically," Tuckman said.
Brooklyn Tech is, per its name, a school that focuses on technical education. Nevertheless, it had a reputation for Shakespeare studies over the years and into this century up until a previous administration cut the program in the early 2000s. When Tuckman first started teaching at Brooklyn Tech eight years ago, it had no drama program, let alone Shakespeare outside the English curriculum, despite an auditorium that made Tuckman and her theater colleagues salivate when they see it. "When fellow actors see this stage they go, 'Oh my god! Do they realize what they have?'" she said.
Tuckman is a trained actress, founder and artistic director of the Estraña Theatre Company. Like many actresses, she supplemented her vocation by bartending and waitressing, but the hours were becoming too long and the fulfillment too little. "I wanted to do something where I could give back," she said, so she went to graduate school for a degree in theater education.
She started at Brooklyn Tech filling in for a teacher on pregnancy leave and stayed on as an English teacher. She got her students to petition the school to add drama to the curriculum, and that interest has grown to where, this year, she has five classes totaling 170 students.
The inspiration, as well as the courage, to do the daylong five-class presentation of five plays that she collectively called "The Play's the Thing" grew out of her experience this summer attending the Folger Institute—the "Shakespeare Boot Camp"—on a National Endowment for the Humanities grant. "I did the Williamstown Theatre Festival many years ago, and next to that it was the most intense experience I've ever had. You're totally immersed in Shakespeare all the time." She returned to Brooklyn determined to focus more of her curriculum on Shakespeare "because I feel like I have an ownership of it in a different way because of the Folger."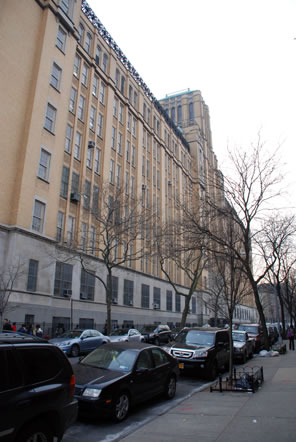 Her intent is to introduce Shakespeare theater not only to her students but to the school administration. In explaining the overall educational benefits of Shakespeare theater, she started with herself as an example. "I wasn't taught much Shakespeare growing up, and I didn't do as well on the English SATs as I would have liked to, and my peers who were taught Shakespeare did much better." As this project progressed, she noticed how the students have flourished in the few weeks they've had to mount these productions (they even worked on them over their Christmas breaks). Once-painfully-shy kids are now "able to articulate themselves better" from doing Shakespeare, she says. "You naturally become more articulate when you have to articulate difficult prose or iambic pentameter. One of the kids said that it's a very difficult language, so when you're practicing it, you're understanding it in a different way than when you're just reading it. So I think it helps them grow as public speakers, it helps them grow in terms of readers, in terms of vocabulary."
She selected plays according to each class's personality or individuals in the class she thought would be ideal for certain roles. She tutored individuals and coached the teams. "For the first two weeks I was directing them myself, and the last week the kids took over, which was great. They have trouble bossing each other around, trouble knowing how to give good direction, but now I think I've seen enormous growth in that." Another factor was a school culture of high achievement. "At this school, they're afraid of doing it wrong, even though I tell them there is no wrong."
Thus, it was the students who decided to play Hamlet in a Brooklyn mafia setting and turn Othello into a lesbian general. It was the student dramaturgs who researched the Don't Ask Don't Tell era of the 1990s for Othello and the counterculture activities of the late 1960s that inspired a hippy setting for As You Like It.
Then, it was the individual students taking part who made their own discoveries about their characters, their plays, and Shakespeare in general. Well, most did. Some students, like Justin Song, the set designer for As You Like It, had not become a Shakespeare convert by project's end, but he appeared to be enjoying the experience of putting on a production, and his insights into Shakespeare are just as keen as those of his fellow students who are now fans of The Bard.
In addition to attending all the plays as a reviewer (in itself an enlightening Shakespeareance), I had the opportunity to interview some of these students, and came away a smarter Shakespearean as a result.
January 17, 2013
[For the interviews, click here] [For a PDF of this interview, click here]