Twelfth Night
Old Ways Yield New Ways
with Twelfth Night
American Shakespeare Center, Blackfriars Playhouse, Staunton, Va.
Saturday, January 30, 2010
Actors' Renaissance Season
With the Actors' Renaissance Season, ASC goes beyond merely presenting plays in a Shakespearean environment. The troupe also produces the plays much as Shakespeare's company would have: no director, the actors receiving only their parts and cues, and just a few days to mount the play for public performance. For a play as familiar to the actors as Twelfth Night, this may not be so much the challenge presented by the other plays we saw on this January 2010 weekend (Doctor Faustus and The Alchemist) or even Henry VI, Part 1.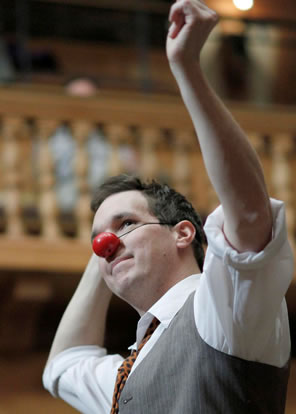 John Harrell as Feste in Twelfth Night at the Blackfriars Playhouse. Photo by Tommy Thompson, American Shakespeare Center.
Nevertheless, the pleasure in this Twelfth Night was seeing how a troupe of actors could bring fresh perspectives to well-known set pieces. The Box Tree scene had Toby, Aguecheek, and Fabian popping their heads through ever-different seams in the curtain at the back of the stage like Whack-A-Moles, including a laid out Fabian being slid out on the floor below Toby's head, delivering her line, and then being withdrawn. Even more clever was Malvolio's imprisonment. The trap door was open, and Feste talked down into it, but Malvolio himself was at the back of the stage in dim light, talking up to Feste. Feste squirted water, Malvolio reacted; Feste dropped in a banana peel, a banana peel fell on Malvolio.
Daniel Kennedy was a remarkable Malvolio. His brand of physical humor (just seeing him incites a chuckle at the memory of his Dr. Pinch) was perfectly harnessed in Malvolio's stiff demeanor unraveled by the faux love letter. Another revelatory role was John Harrell's Feste. Entering in a business suit, he donned a clown's outfit and delivered the fool's archaic humor with the sardonic expression of a comedian who senses his audience is missing the jokes. There was a nice moment when he noted that Cesario is not Cesario—he isn't; he's Sebastian, not even Viola disguised as Cesario—with the comment "this is not my nose neither"—it isn't; it's a strapped-on red ball.
Twelfth Night turns on Viola, of course, and Miriam Donald was bubbly earnestness. When she described "what I would do" to win Olivia's love were she Orsino, we joined with Olivia's infatuated reaction that Viola "might do much." Sarah Fallon believably transitioned Olivia from cold formality to a girl with a crush who can't really contain her lust. While Orsino was a bit intense in his passion (it's hard to beat the rock star Orsino of Stratford, Canada), Gregory Jon Phelps matched the sparkling Viola-Olivia chemistry in his own interactions with Donald to create a charming triangle of passion.
Special kudos to the troupe's musical choices. They opened the play with a Phelps-Donald duet of "Falling Slowly" from the movie Once (a song with images of sinking ships and the healing properties of time), and performed No Doubt's "Just a Girl" and Smokey Robinson's "Tears of a Clown" during the interval.
Eric Minton
February 1, 2010
Comment: e-mail editorial@shakespeareances.com
Start a discussion in the Bardroom