Othello: The Remix
Othello Gets a Good Rap
Written and with music by The Q Brothers
Chicago Shakespeare Theater on Navy Pier, Chicago, Ill.
Friday, April 19, 2013, A-4&5 (front, center section of box theater)
Directed by The Q Brothers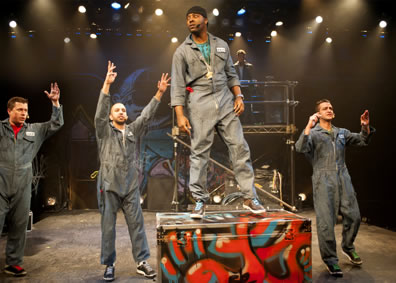 Getting their hands up are, from left, Jackson Doran, JQ, Postell Pringle on the trunk, and GQ along with DJ Clayton Stamper in Chicago Shakespeare Theater's
Othello: The Remix
. Photo by Michael Brosilow, Chicago Shakespeare Theater.
Since the first DJ scratched out the sounds that launched hip-hop back in the 1970s, rappers have been sampling tunes, riffs, beats, and choruses from songs that have come before. It seems only natural, then, that they should also sample established verses from, say, the original will.i.am, Shakespeare. As the four-man cast raps at the start of the Chicago Shakespeare Theater production of Othello: The Remix, you make great art by stealing great art.
Othello: The Remix is great art and an infectiously good time, too, as The Q Brothers reimagine Shakespeare's Othello as a comedy-drama about hip-hop artists. The narration and characters are all performed in rap. I'm sure that many Shakespeare purists, once they get past their cringing, will excuse this show as only worthy of maybe turning teens onto Shakespeare. I, however, challenge all Shakespeare fans to see Othello: The Remix, as it will likely turn them on to rap while appreciating the relevance of Shakespeare's story and verse in the hip-hop universe.
I will go so far as to say that Shakespeare, were he to step through a time warp to today, would love rap. He embraced the latest artistic styles, from Marlovian bombastic verse early in his career to Fletcherian romance construction in his later years, so he always adapted to what's new. He also utilized various styles of poetry in his plays beyond iambic pentameter blank verse. In fact, the fairies in A Midsummer Night's Dream speak in a rap rhythm, and Puck can flow with the best when he boasts of his triumphs, gets ready to party, and invites the audience to "Give me your hands." The point here is that Shakespeare's characters speak in a rhythm and rhyme, even when using prose, and The Q Brothers merely carry on that tradition while updating the story (let's also remember that Shakespeare himself was a great "sampler" of works that had come before, from riffing anew on established plots or lifting lines from other plays, poems, and historical tomes).
The Chicago-based brother duo of GQ and JQ have previously reworked Shakespeare in Funk It Up about Nothin' and Bomb-itty of Errors. The Chicago Shakespeare Theater commissioned them to come up with a take on Othello, which played last year at the Globe to Globe Season at the Shakespeare's Globe in London, a program that presented 37 works of Shakespeare in 37 different languages, and Othello: The Remix represented the language of American hip-hop. Its success there prompted an invitation to Germany's Shakespeare Festival im Globe Neuss, and then it went to the Edinburgh Fringe Festival where it won awards for best musical and best lyrics. This spring it came back home to Chicago for its CST debut.
In this version, Othello is a major hip-hop star who hears the amazing vocals of a singer named Desdemona. He adds her to his tracks and then marries the wealthy suburbanite who grew up in a house with six stories. Iago is a hardcore rapper and longtime member of Othello's crew, and Cassio is an emerging pop music rapper who Othello decides to produce and take on tour, dropping Iago to third billing. Angry to be the warm up to the warm-up act, and a boy band version of rap at that, Iago conspires to take down Cassio and get his revenge on Othello by making him suspicious of Desdemona's fidelity.
Think Jay-Z (and Beyonce), Eminem, and Justin Bieber. Like Jay-Z's, Othello's is an empowerment style of rap, rhyming about his rise from poverty in the city to his place atop the charts, and once he meets and marries Desdemona, he performs love rhymes from his heart. Iago's rap seems lifted from The Marshall Mathers LP, with sharp, cynical humor and an in-your-face aggressiveness. Cassio sees himself as a love god, his flow based entirely on his success with women and his stage show emphasizing his hip-swiveling moves, especially in his signature song and dance, "The Cassio Slide."
Roderigo, who has a crush on Desdemona, is a nerdy lighting designer, into Dungeons and Dragons–type gaming; among the gifts he sends to Desdemona is 20-sided dice. When Roderigo, at Iago's direction, spikes Cassio's drink at an album-release party, the young rapper's behavior so upsets Othello that he kicks him off the tour. Meanwhile, Iago plants the seeds of jealousy in Othello's mind. The key piece of evidence is a gold, jewel-encrusted chain Othello gave Desdemona upon their engagement that Emilia finds and hands over to Iago, her ever-insulting husband. Bianca is a Cassio groupie, and Shakespeare's Lodovico and the Duke of Venice are combined into Loco Vito, the tennis-loving CEO of First Folio records (his rap includes references to Bjorn Borg, Rod Laver, Wimbledon, and Desdemona being as perfect as Maria Sharapova on clay). Silliness like that slides through their rhymes effortlessly and helps keep the laughs coming all the way through Emilia's death, when Othello points out that everybody in Shakespeare seems to die on yet one more "Word!" shouts Emilia.
Do not think for a moment, though, that The Q Brothers are making a travesty of Shakespeare's great play. They clearly appreciate Shakespeare's text and story, and they noticeably—and cleverly—strive to maintain the plot and context of the original. Even several of Shakespeare's original lines are scattered through the show, some humorously, some at their specific plot points, all fitting the flow perfectly. The latter half of The Remix tracks almost scene for scene with Othello, including Othello eavesdropping on Iago and Cassio supposedly talking about Desdemona but actually talking about "the ho" Bianca, whereupon Othello sees the chain in Cassio's hand; Othello pumping Emilia for information about Desdemona's duplicity with Cassio; Othello striking Desdemona in front of Loco Vito; the attack on Cassio with the death of Roderigo; and the final catastrophe in Desdemona's bedchamber. Emilia's speech to Desdemona about the duplicity of men becomes one of the show's best and funniest numbers as she leads the rest of the cast—all wearing wigs and shimmering gold dresses—in a blues-tinged number singing, "It's a man's world, but he be nothing without a woman or a girl."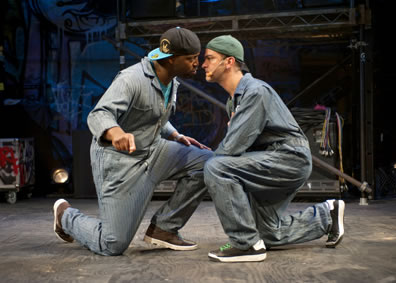 Postell Pringle as Othello orders Iago (GQ) to kill Cassio in the Chicago Shakespeare Theater's production of
Othello: The Remix
. Photo by Michael Brosilow, Chicago Shakespeare Theater.
More importantly, they maintain the original's tragic tone—even with the comic lines running throughout—and key themes. Iago likens himself to the monster Rodan and ends the show's first half with a rap about being a puppet master. Othello ends the play with a rap about being ever the alien in a white-dominated commercial world, even though he's a superstar. Iago and Othello engage in a rapid-fire rapping sequence as the former works his psychological trap on the latter, using the same devices—sleight-of-hand word associations and protestations of honesty—that Shakespeare worked so expertly. Othello quickly descends from confidence to bewilderment to despair to deadly. Othello's murder of Desdemona is movingly intense: "You made your bed, now sleep in it forever," he says as he presses the pillow down and the other three performers serve as an eerie chorale while representing the dying Desdemona as they shudder on the ground.
Desdemona is never seen on stage. Her presence is strictly her voice coming out of the DJ's speakers and a seemingly ethereal spirit in the air (the way Othello gazes out at her over the audience) until the end when Othello directs his vile rap to the pillow lying on an equipment trunk.
All other roles are played by the four-man cast of GQ (Iago and Brabantio), JQ (Roderigo, Loco Vito, and Bianca), Jackson Doran (Cassio and Emilia), and Postell Pringle (Othello), along with DJ Clayton Stamper who, up on his stand, mirrors the others' dances, even donning the wig and dress for "It's a man's world." The talents of each individual are unequivocally awesome in every aspect of performance, from their flow to their inhabitation of various characters. As a unit, this is a tighter crew than Run DMC. Scott Davis's set is an empty stage with touring production gear and a cement block wall of graffiti in the background, and he also designed the costumes of coveralls which each cast member wears throughout, merely draping a dress over their necks and placing a different wig or bandanna on their heads to transition to various characters.
Upon seeing this marvel, it seems too pat to call it a hip-hop version of Shakespeare or describe it as a crossover of modern music and classical theater. It is, in fact, Shakespeare Rap. If you accept that Shakespeare was a genius for all ages, Othello: The Remix is what you would expect if Shakespeare himself grabbed the microphone and started to flow.
Eric Minton
April 23, 2013
Comment: e-mail editorial@shakespeareances.com
Start a discussion in the Bardroom