A Commedia Romeo and Juliet
Tragic Hilarity, and a Romeo to Die For—Thrice
Faction of Fools Theatre Company, Mead Theatre Lab at Flashpoint, Washington, D.C.
Thursday, January 12, 2012, middle of 54-seat studio theater
Directed by Matthew R. Wilson
Just when, after all these years, I'm finally coming to appreciate Romeo and Juliet as one of Shakespeare's finest tragedies, a Faction of Fools comes along and shatters my new regard for the play.
That's a good thing. After seeing this Commedia dell'Arte presentation, I now regard Romeo and Juliet as Shakespearean genius at its height: it is not only one of his finest tragedies but one of his funnest comedies, too.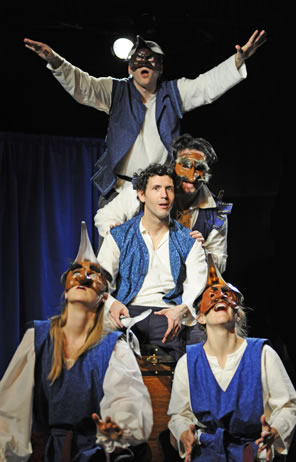 The Faction of Fools performs the Queen Mab speech during the company's production of
A Commedia Romeo and Juliet
at the Mead Theatre Lab at Flashpoint
.
Clockwise from top: Toby Mulford, Paul Reisman (Mercutio), Eva Wilhelm, Gwen Grastorf, and Drew Kopas (Romeo). Photo by Clinton Brandhagen, Faction of Fools Theatre Company.
The Italian Renaissance theatrical form known as Commedia dell'Arte reached London by the 1560s, and scholars see evidence of its influence in Shakespeare's plays. So, Faction of Fools posits, could Shakespeare have used Commedia dell'Arte conventions in the actual staging of his plays? Specialists in Commedia dell'Arte, the Faction of Fools Theatre Company chose Romeo and Juliet as its first attempt at full-length Shakespeare (as opposed to a selection of scenes) in part because Shakespeare used stock characters drawn from the Italian source (next up for the company: Hamlecchino, Clown Prince of Denmark).
Balancing the two art forms—Commedia dell'Arte's physical over-acting of stock comic roles and Shakespeare's sublime characters speaking iambic pentameter verse—in a single performance is a stunt of such magnitude it would give Tom Cruise pause. He may hang from the world's tallest building, but I consider just as brave the troupe of Gwen Grastorf, Drew Kopas, Toby Mulford, Paul Reisman, and Eva Wilhelm and their director Matthew R. Wilson for successfully transecting these two tightropes, all while dealing with an inordinate amount of opening night miscues.
Though the play is "full length" in that it runs from opening chorus to final couplet, much has been excised in Reisman's and Wilson's adaptation to trim the running time to 80 minutes. Still, the lines are Shakespeare's. And the mood—well, in my haughty, be-true-to-the-Bard opinion, the mood and spirit is Shakespearean if not exactly what Shakespeare himself might have done.
Then again, Shakespeare might have. Take the "Oh Woes!" of Juliet's "first" death scene. I long had trouble fully warming to Romeo and Juliet compared to the rest of the Shakespearean canon because so much of the play is over the top. Only by concentrating on the great poetry and seeing, of late, intensely personal performances have I come to appreciate the play as good Shakespeare. And yet, there's that Juliet fake-death scene that still seems too corny. Even in his earlier, less mature Henry VI plays with characters wearing their emotions on their sleeves (and shoving those emotional sleeves in the audience's face), death is not presented in the overwrought display of Nurse, Lady and Lord Capulet, and Paris finding Juliet supposedly dead. No wonder Friar Laurence tells everybody to cut the crap: "Peace, ho, for shame!" he says, silencing the others; "Confusion's care lives not in these confusions." The only effective version of this moment I've witnessed was Lean and Hungry's radio production that, with the whole play cut to one hour, deleted the excesses of this scene.
Faction of Fools not only played up the excesses, they point out that this whole scene is one elaborate joke: the audience knows Juliet's not really dead, so why not laugh at the exuberant mourning of the Capulets? In these Fools' hands this scene was howlingly good, the characters not only oh-woeing incessantly but tossing the lifeless Juliet (played by Grastorf) around the stage. It was the most effective rendering of the scene I've ever seen and one of the funniest five minutes of theater I've experienced. But was this really Shakespeare's intent? Well, notice that, prior to this, Romeo and Benvolio get over Mercutio's death in four lines, and later Shakespeare did not include any wailing after the real deaths of the two lovers, along with Paris and Lady Montague.
One of the traditions of Commedia dell'Arte is the actors' self-awareness as performers, breaking character to confide in the audience about the presentation itself. And, really, what characters were they breaking? Each actor played four or more parts, each part using a different mask (only Romeo, Juliet, and Paris were presented sans masks). In the Juliet fake death scene Mulford had to switch back and forth between Nurse and a most pretentious wuss of a Paris. Another moment of such obvious absurdity came when Capulet (Reisman) greeted his guests at the party. The other four players first came in as the gentlemen, openly sneaked to the back of the stage to re-enter as "my mistresses," and then, again, tip-toed back to enter as Romeo and his fellow masquers.
This self-awareness rescued the troupe when they encountered problems with their set—a trunk designed by Daniel Flint that cleverly transfigured into other props—and delivered the night's greatest line, though one not written by Shakespeare. As the troupe struggled to build Juliet's vanity from the pieces of trunk, Kopas as Romeo on the other side of the stage went to his knees to pray for the set to work. "Pray a little harder," said Reisman, struggling with the prop. Of course, such improvisation was endearing to the audience.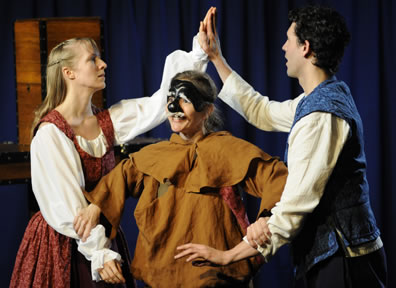 Gwen Grastorf (Juliet), Eva Wilhelm (Friar Laurence), and Drew Kopas (Romeo). Photo by Clinton Brandhagen, Faction of Fools Theatre Company.
And so was the Shakespeare. Kopas was a truly great Romeo in the way he nailed Shakespeare's verse. His Romeo started out as a guy more smitten with being in love than with the objects of his affections, and was even taken aback at Juliet's proposal of marriage. But his command of the verse made for a courting of Juliet so enticing she couldn't help falling head-over-heels for him. Grastorf, meanwhile, gave us a Juliet who simply could not get enough of this romantic man. Their initial meeting and the balcony scene were played straight and earned laughs from the text itself.
Reisman also relied on his mastery of the verse to create an indelible Mercutio, expertly delivering his Queen Mab speech while the rest of the troupe played out the dream fairy's chariot in pantomime. Reisman's Mercutio and Wilhelm's Tybalt played their duel so rambunctiously comic that upon Tybalt stabbing Mercutio a woman in the audience said "Gotcha!" But following that moment with a pitch-perfect performance of Mercutio's pun-filled death speech, Reisman concluded by removing his mask and placing it on a pillar, softly but firmly saying his final curse, and walking off stage to utter silence. The mask on the pillar seemed deader than any doornail to us, and that feeling in the audience was translated in Romeo's subsequent behavior for, unlike the previous Mercutio-Tybalt swordfight, his fight with Tyblat played out in uncompromising brutality.
Yes, this production was "Commedia," but Faction of Fools played the truly tragic moments in such sharp relief to the comedy as to make them all the more searing. The company even bailed out Shakespeare with the play's ending. After Romeo and Juliet die for real, Shakespeare gives us an overlong denouement of Friar Laurence "briefly" recapping the play. With Grastorf having to play the Prince and Kopas Montague, and so unable to be the dead lovers on stage, the troupe played up the absurdity of Friar Laurence's unnecessary retelling using stuffed dummies to represent all of the play's corpses. However, as the play's final couplet were being spoken, Kopas and Grastorf re-presented Romeo and Juliet's death in a different and more poignant manner than their double-suicide, putting the exactly right emotional cap on his production.
"For never was a story of more woe," the play's final couplet begins: too many "woes" in one sense, but true woe in the final sense.
Eric Minton
January 17, 2012
Comment: e-mail editorial@shakespeareances.com
Start a discussion in the Bardroom