"Every child is different, so their summer camp options should be too."
Link for the Orlando Shakespeare Theater:
More from Orlando Shakes in Shakespeare News:
Season Has 2 Shakespeares But a Lot of Spam
Tina Packer Presents Women of Will, Caesar
Wild West Shrew Opens Landmark Season
Shrew, Caesar, Nickleby Headline 25th Season
Also in Where's Will @?:
News and announcements from theaters
Links to theaters, festivals, and organizations
The Bard on The Boards: What's Playing Where
The Bard on The Boards: Where's Playing What
Web sites devoted to Shakespeare
More About Shakespeareances.com:
List of Shakespeare Productions
The Shakespeareances.com Top 40
Sponsorship and Advertising opportunities
Sign up for free weekly e-mail updates (safe, secure, spamless, and unshared)
Check out the guy behind this website at www.ericminton.com

Find additional Shakespeareances
on Facebook
Orlando Shakespeare Theater
Orlando Shakes Schedules Summer
Of Camps and Classes for All Ages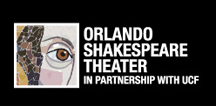 Orlando Shakespeare Theater in Partnership with UCF will offer a selection of 16 different programs as part of its Creative Arts Camps for Summer 2015.
The weekly camps run from June 8 to Aug. 7, offering something for every age and level of experience. Each camp is taught by theater professionals, and designed to ignite the imagination, inspire creativity, and teach life skills. Little ones will dance along with their favorite storybook friends in Elephants Cannot Dance! and use imaginative play to create a new world every day in Let's Throw a Party! Grade school–level students will create their own spooky story in Supernatural Shakespeare and explore how art and science converge in Monday with A Mad Genius: A Magic Tree House Camp. Each week-long camp culminates in a final showcase in front of family and friends. Tuition starts at $190.
"Every child is different, so their summer camp options should be too," Jennifer Bonner, theater for young audiences coordinator, said in a press release. "From wacky cartoon characters to silly puppets and back to The Bard himself, there is truly something for everyone this summer."
Orlando Shakes also offers production camps that range from one- to four-week sessions, and focus on one of William Shakespeare's well-known plays including Macbeth, Love's Labours Lost, and The Taming of the Shrew. Each production camp culminates in a performance for friends and family at the Lowndes Shakespeare Center. Tuition for production camps starts at $200.
Students in grades 7–12 have the unique opportunity to enroll in "Shakespeare with Heart," a collaboration between UCP of Central Florida, the Exceptional Education Department of UCF, and Orlando Shakespeare Theater. Students with and without special needs work together over a two-week period to produce a modernized version of one of Shakespeare's plays.
"We're celebrating the tenth anniversary of 'Shakespeare with Heart' by returning to the first play we ever worked on, The Tempest," Director of Education Anne Hering said in the release "We've set the mystical fantasy under the big top at the circus." To register, contact the Education Department at 407-447-1700 ext. 208. Limited scholarships are available.
2015 Creative Arts Camps are now open for registration, with a 20 percent discount if registering more than one student from the same family. For detailed class descriptions, schedules, and frequently asked questions, visit www.orlandoshakes.org/camps. Space can be reserved by calling the Box Office at 407-447-1700 ext. 1, online at www.orlandoshakes.org, or in person at the John and Rita Lowndes Shakespeare Center, 812 E. Rollins St.. Call the Education Department at 407-447-1700 ext. 254 for further information.
March 9, 2015
If you have Shakespearean news to share, e-mail editorial@shakespeareances.com