The Shakespeare Canon Project:
A personal journey through Shakespeare
across America, 38* plays in 38* theaters
(*Productions of Apocrypha plays or the poems would increase this number.)
While in college I read every play attributed to William Shakespeare at least twice, and long ago I "completed the canon," seeing live productions of all 38 plays. I've also seen public presentations of Shakespeare's poems and plays in the Shakespeare Apocrypha. Now, I'm devoting 2018 to traveling with and through Shakespeare across North America by attending all 38-plus plays, each at a different theater. Is it even possible? I set out with only one probability: I can see every Shakespeare title produced in 2018, each in a different theater, though it will be logistically daunting.
---
Editor's note
This journal is written and posted in real time. Grammatical mistakes will be corrected without notice in subsequent postings. Major factual corrections will be identified here.
THE ITINERARY
Twelfth Night, or What You Will
Fiasco Theater
New York, New York, January 5
Hamlet
Shakespeare Miami
Miami, Florida, January 13
Richard II
American Shakespeare Center
Staunton, Virginia, January 27
Still to book
All's Well That Ends Well
Antony and Cleopatra
As You Like It
The Comedy of Errors
Coriolanus
Cymbeline
Henry IV, Part 1
Henry IV, Part 2
Henry V
Henry VI, Part 1
Henry VI, Part 2
Henry VI, Part 3
Henry VIII
Julius Caesar
King John
King Lear
Love's Labour's Lost
Mabeth
Measure for Measure
The Merry Wives of Windsor
A Midsummer Night's Dream
Much Ado About Nothing
Othello
Pericles, Prince of Tyre
Richard III
Romeo and Juliet
The Taming of the Shrew
The Tempest
Timon of Athens
Titus Andronicus
Troilus and Cressida
The Two Gentlemen of Verona
The Two Noble Kinsmen
The Winter's Tale
January 21—"It Is the Stars," Says Kent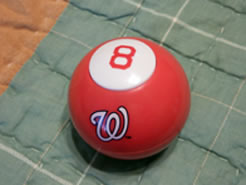 At every opportunity I look for affirmation that this Canon Project is a good idea: feedback from theater folks and friends, my sons drawing on their own particular expertise to lend enthusiastic support, the timing given the significance of 2018 in America and my life. Then there are the omens. I've had so many mystical signs and portends that Shakespeare would blush to put it all in a play. My dad even appeared to me in a dream and said, "Eric, just do it," and then laid out a financial plan for the project.
Today I happened upon a "Magic 8 Ball" that we got as a give-away at a Washington Nationals baseball game (it's red instead of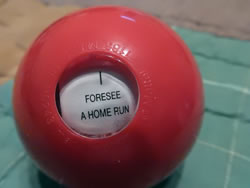 black and has the GEICO and Nationals "curly W" logos adjacent to the "8"). I couldn't resist. "Am I going to see all 38 plays in the Shakespeare Canon this year?" I asked the 8 ball. I pushed the button and turned it over to see the answer: "I foresee a home run."
January 15—Warm Thoughts
We're heading home, leaving the warmth of Miami (70 degrees Fahrenheit) toward the 25 degrees the DC area will be feeling tonight.
The warmth we're leaving behind is not merely air temperature. The folks at Shakespeare Miami overwhelmed us with welcoming hospitality, and their hosts—the managers of the venues where Shakespeare Miami stages its plays, Jerry Kinsey at Pinecrest and Katrina Boler at The Barnacle Historic State Park—took time out of their busy schedules to show us around their parks and tell their stories. A highlight of the weekend was being treated to a private dinner backstage at Pinecrest Gardens. Shakespeare Miami board members Maria and Paul Eisenhart prepared a fantastic Cuban meal for us (including offering me the pork crackling—now that's hospitality!). "They are the very best kind of board members to have," Producing Artistic Director Colleen Stovall told me. She and her abiding husband, John Stovall (a faithful volunteer for the cause), joined us along with board members Steve and Cyndy Hill, Florida International University Professor Jamie Sutton, and Doug Wetzel, who plays Polonius in Hamlet.
Thank you, Shakespeare Miami, Pinecrest Gardens, and The Barnacle Historic State Park.
January 14—The Barnacle
Ralph Munroe, who lived on New York's Staten Island, saw a sailboat drifting toward the rocks. An expert seaman himself (and a natural genius in design, including 56 sailboats), Munroe sailed out to help guide the boat and its owner, William Brickle, to safety. Munroe asked his unexpected guest where he was from. "Paradise," Brickle replied: Biscayne Bay. Munroe had to see it for himself. When he did, he made Miami his home.
His house, which Munroe built himself in 1891 (expanded with a second floor in 1908) and called The Barnacle because it is shaped like one, is the oldest house in Dade County still on its original site: 40 acres right on the bay and now surrounded by the condos, boutiques, and restaurants of Coconut Grove. Instead of giving in to salivating developers, the Munroe family turned the property over to the state in 1973, which now operates it as The Barnacle Historic State Park. One of South Florida's pioneers (yes, South Florida was a frontier even after the West was won), Munroe brought with him a taste for arts and culture. He hosted music concerts in his home, and his library included several volumes of William Shakespeare's works, some in languages other than English.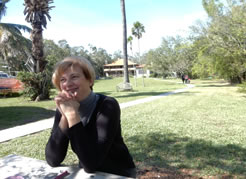 Katrina Boler is park manager at The Barnacle Historic State Park, one of the venues for Shakespeare Miami. Photo by Eric Minton.
Listening to Park Manager Katrina Boler describe the family's and the site's history is to forge a first-name relationship with Ralph himself. Boler has degrees in history and literature, so she's a big Shakespeare fan. She had her own sailboat on the rocks moment when in 2010 she got a call from Colleen Stovall, whose Shakespeare Miami had just lost funding for one of the sites for its free Shakespeare productions. Boler got excited until Stovall told her she needed dates in January, The Barnacle's busiest season. "I looked at the calendar for the dates she gave me, and they were all miraculously not booked," Boler says. "It was serendipity." Miami Shakespeare brought that year's production of The Taming of the Shrew, featuring a high school rock band on stage, to The Barnacle. The company went to other sites in subsequent years but in 2014 returned to The Barnacle with The Tempest.
Talk about a perfect setting for The Tempest: the house (with a brick patio for a stage at the front entrance) faces down a lawn to Ralph's boathouse and the bay, glistening blue on this Sunday afternoon with sailboats gliding back and forth. Thick forest covers the 30-some acres between the house and downtown with a paved path winding through the trees (Ralph considered boats to be the only necessary means of transportation; he hated the railroad and had little use for automobiles). There's even a sailboat on the lawn next to a pavilion (the stage for rainy nights), but that boat doesn't belong there. It is a remnant of Hurricane Irma last September, deposited halfway up the lawn by the storm surge. The Barnacle, thanks to Ralph's barnacle design, has survived some vicious hurricanes, but the boathouse took serious damage from the passing boat.
The Barnacle has proved a perfect setting for all Shakespeare Miami productions, which have been playing here since 2014. The two organizations also partner on a Shakespeare Birthday event every April. All much to Boler's delight: "The Barnacle gained a lot when Shakespeare Miami lost their stage in 2010." Everything in South Florida is weather dependent—even report of rain can keep people home—but on nice evenings the plays can fill the 2 1/2-acre lawn with 700 to 900 people, Boler says. This number is all the more amazing when you consider that there is no parking on the property: patrons must find a spot somewhere in the busy downtown and walk that path to the house. In Shakespeare Miami's wake, other theater companies have played here, too, and something called a haunted ballet has also taken hold (I must return to see that someday).
It's all so perfectly Shakespearean, and Ralph, too. He encouraged a community spirit by inviting neighbors to his home for concerts and cultural events. Shakespeare Miami flips that notion around, considering "accessible Shakespeare" to mean not only free and relatable but taking shows to various communities. "It's something for all ages, something on their turf, in their neighborhood, and not a daunting thing like going to a theater," Boler says of Shakespeare Miami's weekend residencies in Coconut Grove. "It brings the community together. You get to sit and laugh together and go 'oh my goodness' together, which is especially important these days."
Shakespeare Miami's Hamlet at Pinecrest Gardens
Pinecrest, Florida, January 13
Where once a large raptor swooped inches over my head from the rafters to the stage, I'm watching Hamlet set a mousetrap for Claudius in Shakespeare Miami's production of William Shakespeare's play—or, rather, a close proximity of his play.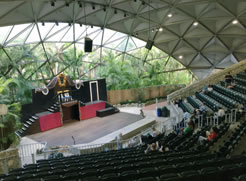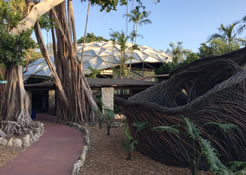 Top, the amphitheater at Pinecrest Gardens in Miami, Florida, with Miami Shakespeare's portable set for Hamlet. Above, the Banyon trees and Patrick Dougherty's Stickwork sculpture (right) adjacent to the amphitheater. Photos by Eric Minton.
One of the longest tenures of my journalism career was covering the amusement industry, i.e., theme parks, water parks, zoos, and their combinations/variations. I was, for real, a professional roller coaster rider. One of the theme parks I visited was Parrot Jungle, both at its original site in a residential neighborhood south of Miami, and its current location near downtown Miami (in fact, the park flew me in for a private visit a few months before the new location opened to the public in 2003). What I didn't know until today was that the Village of Pinecrest, that residential neighborhood south of Miami, took over the old Parrot Jungle property and turned it into a community recreation park, maintaining the paths, ponds and flora of the theme park (but not the famous flamingos and its other fauna) and adding a new library and community center.
The entire site was added to the National Register of Historic Places in 2011, and Sarah and I stroll around the grounds and past the original entrance gate, bird cages, and snake houses. The 550-seat amphitheater where Parrot Jungle staged its bird shows has become a venue for concerts (its jazz series is particularly popular), ballet and modern dance, and theater, including Shakespeare Miami, now in its 13th season, which spends one weekend of its four-site tour of South Florida on the premises. It is at times a challenging venue for watching Shakespeare: the acoustics (using stage microphones) can be problematic, the peacocks and peahens congregating on the roof next to the stage can be distracting (though a couple seem intrigued enough to settle in to watch the show), and the constant coming and going of patrons can be annoying. Nevertheless, the palm tree backdrop with fronds sashaying in the breeze, the rough stone-wall-lined amphitheater itself, and a generally appreciative audience, many new to the play (gasps when Polonius falls dead through the curtain), are gift wrap to Shakespeare's verse.
Founding Producing Artistic Director Colleen Stovall, who directed and designed this Hamlet, has set the play in 1920s Denmark, a nation recovering from devastation in World War I and heading for capitulation to Nazi Germany in World War II. Ironically, the biggest chunk of the play Stovall excised to get down to a 2:40 run time (plus 15-minute intermission) was Fortinbras and the Norway threat. The '20s timeframe gives this Elsinore a Great Gatsby look, all three-piece suits, capes, and flappers, which has the effect of turning Claudius into an ultracapitalist. That, in turn, brings incredible depth to his not-able-to-pray scene.
Stovall's most significant tweak of the text is transforming Ophelia's mad scenes by defining the term mad not as insanity but fury. In the scenes themselves, this reimagining of Ophelia works textually, but in the big picture it also requires changing the manner and the reporting of her death (and that would require a spoiler alert). Stovall tells me she not only doesn't believe a woman would react the way Ophelia does, she also had never seen the mad scenes work effectively in films and other productions. Thus, Shalia Sakona portrays an Ophelia of the #MeToo era, dealing with harassment from both Claudius and, after their break-up, the seemingly mad Hamlet.
Stovall waited to stage Hamlet until she could land an actor capable of doing the title role, and her patience paid off with Seth Trucks. Hamlet has a lot to deal with, but this Hamlet is also contending with flu-like symptoms: fever, sore throat, general good-god-I-feel-awful malaise. His performance last night was uneven, but today, though reportedly suffering physically (I can confirm the report upon meeting him briefly after the show), I count him among the great Danes I've ever seen, forging through a world that keeps taking peculiarly bad turns while suicide constantly crowds his thoughts. This is the 22nd time I've seen a version of Hamlet on stage, and the first time Hamlet's Yorick speech goes beyond cliché to the psychological resonance that created the cliché visual in the first place.
I targeted this particular matinee performance of Hamlet because it's announced as a sensory friendly edition for audience members on the autism spectrum. Stovall describes the protocols ("We don't want to reduce the experience but let them know what to expect" via demonstrations from actors before the play) and shows me the safe room where patrons can go for a calming environment yet still watch the play on a monitor if they choose to. In the production itself, some of the shouts are toned down and so is the violence. No one signs in as requiring a sensory-friendly performance, however, so we get the regular show.
Selfishly, I'm glad, because, Oh. My. God. The Hamlet-Laertes duel in the play's climax is one of the best stage combat sequences I've ever seen (and I afterward have the pleasure of talking about it with Joey Costello, the fight director). The fencing itself is exquisite, the whole battle is imbued with the personalities of a feigning-madness Hamlet and a feigning-courteous Laertes (dynamically played by Lito Becerra), and when it gets intense, desperate fencing up and down and across the set is supplemented by effective punches. It lasts at least five minutes, seems like 30. Wish it were 90.
For the complete review, click here.
January 12—Cornered
My Shakespeareances.com copy editor, Carol Kelly, questioned a phrase I used in my announcement of the Canon Project: "This endeavor will cast a wide geographical net, covering every region of the continent corner to corner." "Or coast to coast?" she commented. She was worried I might sound like a flat-earther.
My phrasing was deliberate: I'm going to the corners of the continent in my quest to see the 38 plays in Shakespeare's Canon at 38 different theaters. Fairbanks, Alaska, is in the works. So is San Diego. Hawaii is in the mix—if I can work it into the schedule, it's part of the continent; if not, it's an island chain in the middle of the Pacific. My northeast corner is undetermined, as my intended target's status is in flux, but I have a couple of fallbacks in the queue.
As for the southeast corner, we're on our way there now: Hamlet at Shakespeare Miami. We've visited Miami before (baseball trips), but this is our first visit to Shakespeare Miami, "Florida's professional Shakespeare company," says its slogan, "Saving the world … One iamb at a time." I love Shakespeare Miami's core values listed on its website (www.shakespearemiami.com): excellence, ensemble, courage, and respect for all. "Shakespeare Miami has a 'No Assholes Rule,'" says the explanation for the last.
The company offers free Shakespeare productions at different open-air venues each weekend this time of year in and around Miami as far north as Boca Raton, Florida. We will be seeing Hamlet at Pinecrest Gardens, a publicly owned outdoor recreation area with an amphitheater, the production's venue this weekend. We're still en route—air traffic today has been hampered by fog-socked mid-Atlantic corridor—but our plans are to see the play tonight, and then tomorrow take in a sensory-friendly staging, which is the focus of this visit.
Colleen Stovall, Miami Shakespeare's producing artistic director, has coordinated an opportunity for us to meet with local Shakespeareans and historians who will give us specific insights into Miami's relationship with Shakespeare, which apparently dates to the community's founding.
Sometimes, the corner is a good place to be.
Fiasco's Twelfth Night at Classic Stage Company
New York, New York, January 6
Approaching New York City, by plane, by train, or, as now, by car, always thrills me. I love how, during the day as you're navigating a cat's cradle of roads while speed-reading highway signs, the skyscrapers suddenly sprout up from the horizon beyond the Jersey swamps. At night, New York emerges from the distance as a galaxy of lights, with the red rocket-topped Empire State Building piercing through the middle of it all. I love New York City. I love its vibrancy, its attitude, its pace, its people—salt-of-the-earth kind of people, brusque as they go about their business but courteous to the core.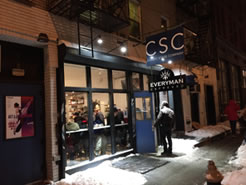 Classic Stage Company's entrance, 136 E 13th St., New York City, where Fiasco Theater staged William Shakespeare's
Twelfth Night
. Photo by Eric Minton.
New York is, of course, one of the world's capitals for theater. We come here a lot, but that's as much due to supply as quality. Broadway is famous, but we see theater as good or better in both talent and execution, especially when it comes to Shakespeare, in regional theater or "the provinces" (which I'm here defining as anywhere outside a nonmajor metropolitan center; in America, "the provinces" is generally defined as anywhere but New York, Chicago, and Los Angeles; in New York it is defined as anywhere but New York). So, when we come to New York to see Shakespeare, it's usually at a theater (or even a space, like a parking lot) that is designated with one or more tags of Off before Broadway, or the production is a loaner from the world's other major capital for theater, London.
As inviting as we find this city, it is cold on this night: 15 degrees, with snow piled along the sidewalks and slush in the streets. Turn a corner and the temperature drops to well below zero as an arctic gust blasts your skin, even that covered in clothing. This is the day after the bomb cyclone hit the East Coast (meteorologists seem to come up with new names for "storm" every year), and even New Yorkers seem daunted by the bitter cold: the streets are relatively empty. We trudge our way to Classic Stage Theater on East 13th Street near Union Square and walk in to warmth: the lobby coffee shop is packed with patrons distributed evenly across four generations. The doors open to the 200-seat deep-thrust theater. Inside, all is brick walls, wood-board floor, and ropes under a barn ceiling's light grid. Rustic trunks, furniture, and a lobster trap occupy the center of the stage. At the back are various instruments, and a ship's wheel inside a fishnet attached to an upright piano.
Typical Fiasco Theater, a company of young actors who delve deep into Shakespeare's texts to create vibrant theater using as few as six cast members. This is the fifth production by Fiasco Theater we've seen: Measure for Measure (we saw at New York's New Victory Theater—Off-Broadway, of course), The Two Gentlemen of Verona and Cymbeline (both of which we saw at the Folger Theater in Washington, D.C.), and Stephen Sondheim's Into the Woods at Washington's Kennedy Center. Their Cymbeline, featuring a multitasking trunk, remains one of my favorite productions of all time. For Twelfth Night, the company expands to a cast of 10, which, with David Samuel doubling as Antonio and Fabian, still requires textual massaging: Maria (Tina Chilip) gets additional duty in the play's last scene. As I anticipated, Fiasco's Twelfth Night was not only worth the four-hour drive to New York (back home again this morning), it was worth the frostbite. They not only stage a laughter-full play but create a community experience by interacting with the audience before and during the play. Feste, played by co-director Ben Steinfeld (co-founder of Fiasco along with Noah Brody and Jessie Austrian), is alone worth the effort.
Nevertheless, people wonder why I would see Twelfth Night, or any other Shakespeare play, 27 times? The answer is that I've seen 27 Twelfth Nights. My niece saw the movie Titanic a couple dozen times: the director was always James Cameron at every showing, and Leonardo DiCaprio and Kate Winslet never changed their interpretations of Jack and Rose. Who questions how many times people see Monty Python and the Holy Grail or Rocky Horror Picture Show? Last night I saw a Twelfth Night I've never seen before, thanks to the intelligence and insight of this company. And if I were to go to the same show tonight—the last show of the play's run at Classic Stage Company—it would be a different Twelfth Night because the cast will be interacting with a different audience. That's the thrill and the art of live theater.
One scene in particular sets this production apart from all other Twelfth Nights, even though the way Fiasco does it seems the obvious way to stage the moment. It comes in the first meeting between Olivia (Austrian) and Viola (Emily Young) disguised as Cesario representing Duke Orsino (Brody) as a love embassy. Olivia asks how Cesario/Viola would woo in her "master's flame." "Make me a willow cabin at your gate," Viola starts in one of the play's most famous passages. As Young speaks the speech with rhythmic resonance, she crosses to Austrian and grabs her shoulders, staring deeply into her eyes as she halloos Olivia's name to the reverberate hills. Viola, trying to win Olivia's heart for her master, is all in (and as a woman, she knows better than a male messenger what works). Austrian's Olivia is completely blown away: "You might do much," she replies in wonder. And in love. Fixing the physical to the poetical shows us that exact moment's overwhelming emotional intensity that Olivia can never shake off.
And neither will I.
For the complete review, click here.
January 5—New York Bound
We're driving up the Jersey Turnpike. This used to be home for me. My father was a U.S. Air Force chaplain, and he was stationed at McGuire Air Force Base in central New Jersey during my high school years. My childhood finished up here.
One among the many times I've traversed this highway was on a bus. The Northern Burlington County Regional High School Drama Club was taking a field trip to the American Shakespeare Festival in Stratford, Connecticut, to see a production of William Shakespeare's Twelfth Night. My Shakespeareances started here.
I was not a member of the Drama Club—I had already launched my journalism career as editor of the high school newspaper and covering sports for the Bordentown Register-News. I was on this trip because my best friend, Mike Ferguson, was the only guy going, and he wanted a bit of brotherhood for the road. So I went. I hated reading Julius Caesar in sophomore English, my only previous encounter with Shakespeare, and I had no knowledge of Twelfth Night; but hanging with Mike and a couple dozen girls seemed like a nice way to spend a Saturday. However, it was not Mike nor Sharon (a girl on the trip I would subsequently fall madly in love with) and not even Shakespeare that turned this into an extraordinary day.
I didn't know it at the time we were heading up the Jersey Turnpike, but at the other end of the bus trip was Herman Munster. Fred Gwynne was playing Sir Toby Belch. I was a huge Munsters fan, and to see Herman right there, in person, and being more genially funny than he was on the TV show was a blow-away moment for this 16-year-old. "These clothes are good enough to drink in—and so be these boots, too" he said, pulling yet another hidden flask out of his boot as Maria stalked him around the stage intercepting his other drinking vessels in the play's third scene.
That was my first live production of a Shakespeare play. I've seen 493 since including every play in the canon (the 36 First Folio plays plus Pericles and The Two Noble Kinsmen). Now I'm setting out to see all of those 38 plays in 38 different theaters across America in this single year, 2018. Poetic justice is served by a production of Twelfth Night leading off my campaign, but that was not intentional. This Canon Project is built around opportunity more than sentimentalism, piecing together a puzzle of what I can see when and where and how by whom. Even as I start this journey I lack assurance that five of the plays will be staged, though many theaters have yet to announce their summer or fall seasons. Henry VIII is rarely done, the two Henry Part Twos have empty lines on my matrix as does another obscure piece, Cymbeline. The surprising absence in announced playbills is The Two Gentlemen of Verona, a play frequently staged the past few years. Perhaps it has ridden out its cyclic wave of popularity as King John and Love Labour's Lost ride in on their waves. Or perhaps theaters are avoiding Two Gents, a comedy with stalking and rape as plot points, due to the omnipresent social context of #MeToo and sexual harassment.
That, however, is the exact kind of context, specific to 2018 (as opposed to, say, 1600, the midpoint of Shakespeare's writing and first staging these plays), that this journey intends to engage through Shakespeare's plays. His works also titillate personal relevancy, pertinent especially at this particular stage of my life: I turn 60 this year; I'm entering Jacques' sixth age of man's mortality, shifting "into the lean and slippered pantaloon." After all, here I am, reflecting on my first Twelfth Night 44 years ago which set me on the way to where I am today, heading up the Jersey Turnpike to see Twelfth Night again—and for the 27th time.
But sentiment of another kind has made this Twelfth Night my first pick for this yearlong excursion through Shakespeare's plays. This time I know what's at the other end of the road: Fiasco.
Shakespeareances Announces Canon Project
January 4, 2018—Shakespeareances.com is embarking on a venture to see all 38 plays in William Shakespeare's canon in 2018, each in a different theater across the United States and Canada. Called the Canon Project, the effort will be chronicled in journal form here on Shakespeareances.com and result in a book profiling the 38 theaters, their communities' interactions with Shakespeare, and my own relationship with each play (the number of plays and theaters will increase with stagings of Shakespeare's poetry or apocryphal plays).
This endeavor will cast a wide geographical net, covering every region of the continent corner to corner and in a variety of locales, from metropolitan centers to small towns. It will cover the spectrum of theaters, from internationally famous festivals to community theaters. It will feature a breadth of presentation styles, from staged readings to full-scale shows, from long-running productions to one-day-only presentations, from text-centric stagings to conceptual interpretations. Along the way, I will look through the eyes of audiences, actors, and impresarios in the communities where Shakespeare lives. I'll turn the view inward, too, reflecting on how Shakespeare, in word and action, connects with my own life experiences and particular human condition as I turn 60 during the year.
The initial outings in January demonstrate that breadth of selection criteria: Fiasco's 10-person-cast production of Twelfth Night at Classic Stage Company in New York City (a fitting start, as Twelfth Night was the first Shakespeare stage production I ever saw, 43 years and 493 plays ago); Miami Shakespeare's "sensory friendly" presentation of Hamlet in a botanical Garden; and American Shakespeare Center's original-production-practices staging of Richard II, featuring a woman in the title role, at the Blackfriars Playhouse in Staunton, Virginia.
The rest of the calendar and travel schedule has yet to be determined, as several of the 217 theaters with links on Shakespeareances.com have not announced their summer or fall schedules. The traditional canon includes the 36 plays in the First Folio plus Pericles and The Two Noble Kinsmen. Thus far, all but five titles have been scheduled for production somewhere in Canada and the United States in 2018, along with one of Shakespeare's apocryphal works, in which he has been credited as a writer or associated with the play's composition.
Not only have I already "completed the canon," I've seen every play at least twice. The Canon Project is not merely a stunt to experience the complete works of Shakespeare in a single year; it's about interacting with Shakespeare—covering the breadth of his career—at a specific point in time and place of my life. With the potential close to fruition of every play being produced somewhere in North America, 2018 further emerges as an ideal year from the perspectives of social, political, and personal contexts. At each stop I will see the plays (and review them on Shakespeareances.com), interview the company's principals, cast members, and audiences, as well as community leaders, and explore the theater itself and its geographical setting. In addition to profiling Shakespeare in American communities, the journey will serve as a travelogue for those who wish to follow.
Part of the adventure will be working out the logistics of experiencing every play, each in a different forum in just 12 months, while facing the possibility that an obscure play or two might not make it to a stage in full production during that time. My matrix, with cross-references of various criteria I'm using for selecting productions in order to represent all regions, theater types, and staging styles, is daunting.
The adventure kicks off Friday, January 6, with Fiasco's Twelfth Night in New York. The journal, with timeline, will appear on this page. I also will be posting updates on social media outlets using the hashtag #ShakespeareCanon.