The Shakespeare Canon Project:
A journey through Shakespeare across America, 38* plays, 38* theaters, 1 year
(*Productions of Apocrypha plays or the poems would increase this number.)
While in college I read every play attributed to William Shakespeare at least twice, and long ago I "completed the canon," seeing live productions of all 38 plays. I've also seen public presentations of Shakespeare's poems and plays in the Shakespeare Apocrypha. Now, I'm devoting 2018 to traveling with and through Shakespeare across North America by attending all 38-plus plays, each at a different theater. Is it even possible? I set out with only one probability: I can see every Shakespeare title produced in 2018, each in a different theater, though it will be logistically daunting.
---
Editor's note
This journal is written and posted in real time. Grammatical mistakes will be corrected without notice in subsequent postings. Major factual corrections will be identified here.
Shakespeareances Announces Canon Project
THE ITINERARY
Twelfth Night, or What You Will
Fiasco Theater
New York, New York, January 5
Hamlet
Shakespeare Miami
Miami, Florida, January 13
Richard II
American Shakespeare Center
Staunton, Virginia, January 27
Cymbeline (aka Imogen)
Pointless Theatre
Washington, D.C., February 10
Romeo and Juliet
Valley Shakespeare Festival
Shelton, Connecticut, February 15
The Merchant of Venice
Children's Shakespeare Theatre
Palisades, New York, March 3
Henry IV, Part 1
Southwest Shakespeare Company
Mesa, Arizona, March 29
Othello
Baltimore Shakespeare Factory
Baltimore, Maryland, April 22
Much Ado About Nothing
The Pigeon Creek Shakespeare Co.
The Rose, Blue Lake Fine Arts Camp, Michigan, June 2
Henry VI, Part 3
Taffety Punk Theatre Company
The Folger Theatre
Washington, D.C., July 16

Still to book
All's Well That Ends Well
Antony and Cleopatra
As You Like It
The Comedy of Errors
Coriolanus
Henry IV, Part 2
Henry V
Henry VI, Part 1
Henry VI, Part 2
Henry VIII
Julius Caesar
King John
King Lear
Love's Labour's Lost
Macbeth
Measure for Measure
The Merry Wives of Windsor
A Midsummer Night's Dream
Pericles, Prince of Tyre
Richard III
The Taming of the Shrew
The Tempest
Timon of Athens
Titus Andronicus
Troilus and Cressida
The Two Gentlemen of Verona
The Two Noble Kinsmen
The Winter's Tale
March 6—Huh! Un-Gahwah! Shakespeare's Got the Power!
Anna Katerina Baryshnikov, who made her cinematic debut in Manchester by the Sea and starred on the CBS sitcom Superior Donuts, appeared on The Late Show with Stephen Colbert in April 2017 where she revealed that in the neighborhood where she grew up about 30 minutes north of New York City, "the cool thing to do was Shakespeare performed only by children." She compared the community's enthusiasm for this children's Shakespeare theater to other towns' infatuation with high school football.
"Shakespeare for children?" Colbert repeats chuckling, and this gets a laugh from his audience. Baryshnikov, slightly giggling, says the group even had a cheer. "You had a cheer?" Colbert asks. "What's your Shakespeare cheer? I hope it's in iambic pentameter." Cue laugh. Baryshnikov does the cheer: "Huh! Un-Gawah! Shakespeare's got the Power!" (pronounced, Pow-wah).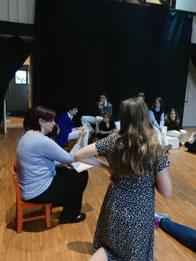 Diana Green, founding artistic director of the Children's Shakespeare Theatre in Palisades, New York, gives director's notes to the cast, all between the ages of 8 and 14, of William Shakespeare's
The Merchant of Venice.
Photo by Eric Minton.
Actually, this isn't merely a cheer. It's one of the many warm-up exercises that casts do before rehearsals and plays at that very Children's Shakespeare Theatre (CST) in Rockland County, New York. Some of the other warm-up chants are far funkier than that, and impossible to replicate phonetically in the written word. Skimmed context, however, is the fodder for late night talk show laughs, and the notion that a neighborhood would be so eccentric as to get excited over children doing Shakespeare—imagine that! Children doing Shakespeare!—is in itself a punchline (by the way, CST draws participants not from a single neighborhood but from communities all across the region).
Children's Shakespeare Theatre has been making me laugh since before this episode of Colbert's show aired: but it was Touchstone, Phoebe, Corin, Rosalind, and Orlando in As You Like It that were funny because the actors, all between 8 and 14, played those parts so well. It was the 17-year-old Amalia Baker playing the Fool that blew me away in Queen Lear (nee, King Lear) a month before Colbert led his audience's laughter over the notion of children playing Shakespeare as Baryshnikov sat on his couch. That audience wouldn't be laughing if they encountered Regan from that production. Here is my review's description of that performance:
"What makes the eye-gouging scene so arresting is not because teens are doing it but because it shows how scary Regan is as a character (and how scary good Elinor Greenway is playing her). For the actual eye-gouging, Gloucester (Kai Canoll) has his back to us as Cornwall (Phoenix Dalto) does the deed, sparing us our view of it. However, the second eyeball ends up in the possession of Regan, who drops it on the floor and stomps on it with such ferocious gusto—resulting in substantial blood spray—it generates gasps in the audience (and some covering up of eyes, too). Yet, we could see this demonstrative behavior coming in Greenway's performance of a disturbed Regan dealing with pent-up mommy issues."
Cue, what? Not laughter but respect. Colbert and anybody else who laugh or shake their heads or respond incredulously to children doing Shakespeare need to remember that many of Shakespeare's greatest roles—Rosalind, Viola, Olivia, Portia, Juliet—were specifically written for youths to play.
The name Baryshnikov is a familiar one beyond Anna's rising star, and her face is a dead giveaway to her genetic makeup. She is the daughter of dancers Mikhail Baryshnikov and Lisa Rinehart. Here is another bit of context: three of their children spent "several years" performing in Diana Green's Children's Shakespeare Theatre.
It is the quality of CST's work that drew me to its production of The Merchant of Venice this past weekend. That was certainly worth the trip; however, I'm heading home today with a bit of sadness. During my time here in Rockland County I've also attended rehearsals of the company's upcoming plays this season, The Winter's Tale and Romeo and Juliet. The latter will be the next to hit the stage in mid-April, and it also will tour to a middle school in Brooklyn. Having witnessed Sunday's rehearsal of it, I would love to get back up here to see it. But other plays in the canon at other theaters in America must be my priority.
There's always next year and beyond: Huh! Un-Gahwah! Children's Shakespeare Theatre's Got the Power!
To see the clip of Baryshnikov's appearance on Colbert, click here.
The Merchant of Venice, Children's Shakespeare Theatre
Palisades Presbyterian Church, Palisades, New York, March 3
The Knaves are crowded onto the platform at the back of the stage in the Palisades Presbyterian Church's parish house. This is the community hall in the tiny, white-clapboard, steep-ceilinged church in a wooded big-home neighborhood along the Hudson River just across the New York border from New Jersey.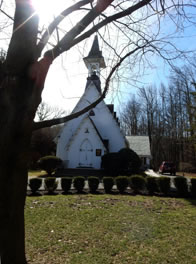 The Palisades Presbyterian Church where the Children's Shakespeare Theatre performs its plays in the Parish House at the back. Below, the Prince of Morocco's card, good for a discount at his tanning salons. Photos by Eric Minton
By Knaves we mean the younger company of actors in the Children's Shakespeare Theatre (CST) in Palisades, New York: these are kids ages 8 to 14 (the other company, the Rogues, are teens 14–18). It's talk-back time after the curtain calls for their production of William Shakespeare's The Merchant of Venice. The audience, many parents, many siblings, many friends, and a few "general public," range in age from second grade to senior discount eligible, and the questions run the gamut of topics.
"What's it like to act blindfolded?" a little girl asks Alex Barsanti, who plays the "sand-blind" Old Gobbo. "It's really cool," Barsanti replies, describing how he keeps bumping into the audience.
"What's it like to play falling in love?" a member of the Rogues asks, having obviously had to do so herself when she was a Knave. "It's weird," replies Ethan Lee, who plays Bassanio, the young Venetian who courts and wins Portia. "But then you get to know the other person and it's OK." These are kids, remember.
"What's the moral of the story?" a man asks. After some disjointed comments about needing to respect people who are different and Cooper Rosen describing his approach to playing Shylock, 10-year-old Hela Giaever, who plays Shylock's daughter, says, "You need to know someone's backstory before you judge them." Into the silence that follows this profound truism, Cole Massaro, who plays Antonio, Shylock's enemy, speaks: "There are no heroes and villains in life; everybody is much deeper than that."
These are kids, remember. In my lifetime, children and young adults have been at the vanguard of the great social movements: the civil rights marches, boycotts, and Freedom Rides in the 1960s; the anti-war protests of the late 1960s and early 1970s; the gun control debate today. I also grew up in the shadow of "The Greatest Generation," who were teens and in their early 20s when they forged their greatness. Are these kids old enough to tackle the racism in The Merchant of Venice? They're tackling it every day in the news and in their communities, where, here in Rockland County, hate crimes are on the rise.
Yes, but can they tackle Shakespeare? Remember, these are kids—so of course they can. They tend to adapt to Shakespeare's language more swiftly and thoroughly than stubborn adults do. This doesn't mean they all are great Shakespearean actors, but some I'll put in the company of my faves from the 18 previous productions of this play I've seen. Adam Greenberg is not only hilarious as Gratiano, Bassanio's overly gregarious buddy, he brings real empathy to the character in the trial scene. Liam Rigney's Launcelot had me in stitches with his fiend vs. conscience schtick and throughout the rest of his appearances, landing every joke and making clear the social contexts of his behavior.
Diana Green, CST's founding artistic director who helmed this production, never holds back from either the subject matter or the language in the plays her charges stage. She has a thorough, studied understanding of Shakespeare, and her rehearsals feature as much instruction on verse structure and social and language contexts as on character development and blocking. This means that while she puts Merchant's social debate front and center, she also embraces the play's comic DNA.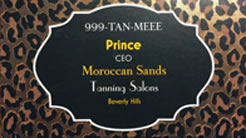 This production generates much textual and visual humor (all legitimate laughs, not "aren't-they-cute" titters), from Gratiano's and Launcelot's spiels to Portia's royal suitors who must choose among three chests—gold, silver, and lead—to discover her picture and win her as wife. Journee Benjamin playing Portia is African-American, so Green wanted a boy of a different complexion to play the Prince of Morocco. That complexion is orange as the Prince is CEO of Moroccan Sands Tanning Salon (I know this because his entourage hands out cards good for a 50 percent discount). With an unhealthy glow to his skin except the pale circles around his eye sockets, George Kozaitis's Prince also has the hair, gestures, and conversational cadence of Donald J. Trump. Certainly, there's social commentary in his courting a woman of color, but read for yourself Morocco's meditations on "dull lead" and "angel" gold in Trumpian manner and tell me it's not a perfect match.
The entourages for both Morocco and the Prince of Arragon are the play's comic highlights: a half dozen actors in shining silver or gold shirts and hats as they dance and party with Morocco, and wearing black shirts and silver sashes as they fawn over their overly dramatic idol, Arragon, played by Jasper Macri in glimmering silver jacket. Launcelot and Gratiano serve as Bassanio's entourage, entering in a soulful R&B sway to Anita Baker's "Sweet Love."
While I treat CST productions (this is the third I've seen) with the same standard as I do those of any other Shakespearean staging, the fact that these are kids does factor into how I receive this presentation of The Merchant of Venice: it's not merely a play about racism, it's a play about bullying. Antonio bullies Shylock, and when Shylock gets the economic upper hand, he bullies Antonio. The various Christians bully Shylock, but they also bully each other. All the suitors are bullies, and doesn't Portia bully Shylock and, in the last scene, Bassanio, too? Even Launcelot is part and parcel of this theme, the way he bullies his blind father while Lorenzo bullies him. This is not a theme Green's production calls attention to in its staging; I'm just seeing that track for the first time merely because I'm watching school kids in these roles.
The play also is about bonds, not just the loan bond at the center of the Shylock plot but also the bonds of love (the rings) and duty (the chests), and the bonds that bound all members of a society, which is integral to Venice's city charter that serves as a subtext to the trial scene. In my conversations with the actors, their parents, and CST alumni this weekend, I keep hearing the exact same word over and over: community. These kids come from all over the region to participate in Green's program, which she founded 20 years ago, and they form close bonds that last into their adulthoods. Cole's mom, Karen Massaro, describes parents sitting in the church driveway for up to 40 minutes after rehearsals are supposed to end because the kids just don't want to leave; but that's fine because the parents form their own bonds, too. You see this community spirit in the hugs among the audience members before the play and in the handshakes and fond smiles of the actors during curtain calls.
Sitting next to me on this night is a mother, Karen Hughes, a risk management program project manager for a Wall Street firm and president of the Nyack School District Board of Education (sitting with board of education leaders at plays is becoming a trend on this Shakespeare Canon Project). Her son, Nicolas Hughes Barrow, joined the Knaves three years ago and is now a newcomer to the Rogues. Through Nicolas, Hughes is reacquainting herself with Shakespeare, whom she left behind after reading Romeo and Juliet and Julius Caesar in high school. They now attend Free Shakespeare in the Park productions in Central Park and have twice been to England, seeing Shakespeare's Globe and visiting Stratford-upon-Avon, where, at Shakespeare's Birthplace, a docent selected Nicolas to read Hamlet's "To be" speech—Nicolas did it beautifully, she says in awe of what he's learned in Green's program.
Hughes is attending with Nicolas, both to show their support for the Knaves. But there's more than that for her. "I'm here to see the play," she says. "The last three years have been an education for me. I haven't been to a bad Shakespeare performance." Not in London, not in Central Park, and not here in the Palisades Presbyterian Church's parish house. I concur—at least in regards to Shakespeare performances here.
To see the full review, click here.
March 2—It's The Bomb—Again
What is it about Fiasco and nor'easters? When we drove up to New York City on January 5 to see the theater company's Twelfth Night at Classic Stage Company, we arrived at the tail end of what meteorologists were calling a bomb cyclone. That's essentially a winter hurricane, when a cold air mass collides with a warm air mass causing a rapid drop in barometric pressure that creates windy cold and wet conditions. Before then I'd never heard the term bomb cyclone; now I'm hearing it again, today as I'm driving into, yep, New York City to see, yep, Fiasco. This time I'm interviewing the three founding members of the company, Noah Brody, Ben Steinfeld, and Jessie Austrian, to talk about their particular theatrical aesthete, Twelfth Night in general and theirs in particular, and New York City's relationship with William Shakespeare.
Neither the Fiasco folks nor I could schedule this interview when I was up here in January, so I piggy-backed this meeting onto my trip to see The Merchant of Venice at the Children's Shakespeare Theatre (CST) in Palisades, New York, about an hour's drive up river depending on the traffic—and the weather. I'm currently sitting in a Schnippers at 8th Avenue and 41st Street. Self-proclaimed famous for its sloppy joes, Schnippers is an efficient and economical source of good burgers, dogs, sandwiches, salads, and "Macs and Joes." Outside, the rain is falling like Niagara and the wind exploding down 8th Avenue is turning umbrellas convex; Mary Poppins would go supersonic before reaching 42nd Street. People, wrestling with zombie umbrellas, stumble through Schnippers' double doors—air locked tighter than a safe. They look relieved to have escaped even for a moment the maelstrom outside but wordlessly go about their business. No grousing. Even if you offer a friendly comment like, "That's something else out there," people look at you like you're from Virginia.
According to my iPhone GPS I have a 9-minute walk to Fiasco's office: enough time for a soak, rinse, and spin cycle all in one. So, time to bundle up, give my umbrella a pep talk, and head out into a storm that even Cassius might think too ominous. After the interview I have to drive back up to Palisades for Merchant's Opening Night, the GPS timing it out at a couple minutes over one hour. The only thing worse than walking in this weather is driving in it, especially as the rain is now a "wintry mix" of sleet and snow. But I'm in New York; join the jam (I love New York, even in this mess).
This day's consistent theme isn't the weather, however. My interviews, first with Fiasco and then with people associated with Diana Green's Children's Shakespeare Theatre, end up focusing on the role of camaraderie in staging Shakespeare plays.
Fiasco was formed by young actors who sought to create productions out of a shared experience of discovering the plays. Brody describes his early days bouncing around as an actor in New York when the 9/11 terrorist attack shook him into a deeper self-evaluation. Not only did he feel he was far from his potential capabilities as an actor, he noted that he didn't have "a community that I felt was nourishing me." That drew him to the Brown University/Trinity Rep resident theater MFA program. There he not only earned his master's of fine arts in theater, he learned the merits of an ensemble approach to creating theater. This is especially true with Shakespeare, as Fiasco's casts tease out the themes and individual personalities in the plays to reveal wondrously fresh productions.
Later, in the Palisades Presbyterian Church where CST stages its productions, I meet Jonah Levine, 22 years old, a recent graduate of Williams College with a bachelor's degree in philosophy, psychology, and cognitive science. On Monday he starts his job in a spinal cord research program at the Bronx Veterans Affairs Medical Center. Levine grew up in CST, debuting when he was in middle school as a numbered soldier in one of the Henry plays and getting disemboweled. "That really did it for me," he says, and went on to a career playing Richard III ("As an eighth grader, that was viscerally satisfying"), Hamlet ("Split personality") and Cornwall in King Lear ("Ripping out some eyes"). Levine always loved Shakespeare's language and attributes many life lessons to the plays, but his foundational memory of CST and the atmosphere Green strives to inculcate among the casts is the camaraderie. He has no friends from high school, but he stays in touch with the wide array of kids he played with as cast mates in Palisades while in high school; indeed, his new boss is the mother of some of his former cast mates.
As we head out into the church's community room that serves as the theater, I mention that as a reviewer I analyze these productions as Shakespearean presentations, not harping on age of the cast, not regarding shortcomings in skill levels of the actors (whatever their age). "The true value is not the performance," Levine says. "It's the process."
March 1—Field and Dream
About to depart on my next trip, this one to Palisades, New York, to see the Children's Shakespeare Theater's production of The Merchant of Venice—a perfect production at a perfect time as teens have a lot to say on social issues right now. In my mind, though, I'm grousing about the summer and, specifically, an addition to the itinerary for the Shakespeare Canon Project: 38 Plays, 38 Theaters, 1 Year.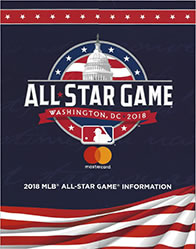 This story begins three years ago. At Christmas, my wife and I each state a dream wish tied to one of our favorite passions, and we set out to achieve that dream together. Sarah's big wish that year: to attend the Major League Baseball All-Star Game in Cincinnati. So I began booking rooms and working on getting tickets. Just ahead of that 2015 baseball season, the Washington Nationals were named host of the 2018 All-Star Game. We changed our strategy, abandoning efforts to make the Cincinnati game and instead upgraded our partial season ticket plan with the Nationals to half-season tickets in order to get guaranteed first crack at tickets to this year's All-Star Game. In fact, I paid the first installment on our All-Star tickets just last week, and we're one row back and over a few seats from our usual seats.
The All-Star Game on July 17 will be part of a five-day festival for the city. There is a Fan Fest, a Futures All-Star Game played by minor league players destined for the Majors, an open-to-the-public workout by the players, and the Home Run Derby all before the actual All Star Game on Tuesday evening. When the dates for this year were set last August, I booked a room in a hotel across the street from Nationals Park for the duration of all the festivities.
This was all before the Canon Project took root. Still, I knew that I would need some enforced "oblivion breaks" during the year (set your life to a no-obligation-setting and recharge the brain and spirit); the five-day All-Star block in the middle of July seemed perfect for that purpose, never mind that I would be knocking a week out of the schedule of so many plays I needed to see.
However, this week I learned the date for a production always destined to be featured in the Canon Project, Taffety Punk's "Bootleg Shakespeare" Henry VI, Part Three, rehearsed in one day and performed that one and only night at the Folger Theatre. That one night: July 16. So, on the itinerary it now sits. What can I do? It's Henry VI, Part Three, so it's not like I've got other options. It's rehearsed and staged in one day, so it's not like I have other dates. It's Taffety Punk, one of my favorite companies. It's the Folger—duh! It's the day of the All-Star Workout and Home Run Derby. Oh well.
At least Sarah still gets her big wish (and on my bucket list, too), to attend the All-Star Game. Though I lose one day of festivities (and interrupt my oblivion break), I have a friend ready to pounce on our Home Run Derby tickets. But I'm guessing he might only get one of our pair of tickets: Sarah has yet to opt out of the Home Run Derby in order to see Henry.
Speaking of Henry, also added to the Canon Project itinerary is Southwest Shakespeare Company's production of Henry IV, Part One, in Mesa, Arizona, at the end of March. I'll be home in time for the Nationals Opening Day.
Romeo and Juliet: Choose Your Own Ending,
Valley Shakespeare Festival
Tavern 1757, Seymour, Connecticut, February 15
Tom Simonetti is from the Valley, a cluster of small cities and large towns along the Connecticut River. It's populations is mostly working-class people, resiliently powering through the economic ebbs and flows of the past several decades and dedicated to their community: the Valley. Though located in southwest Connecticut almost equidistance between New York City and Hartford, the Valley is geographically isolated from a mass transit perspective. Valley residents might have an appreciation for culture but no convenient access to the cultural institutions of the Northeast Corridor.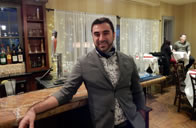 Tom Simonetti, founding artistic director of the Valley Shakespeare Festival, stands at the Tavern 1757 bar before his production of
Romeo and Juliet: Choose Your Own Ending
. Photos by Eric Minton.
Simonetti is a theater artist, an actor and director who honed his craft in New York. He also has Valley DNA. From the time he was in college he dreamed of bringing a Shakespeare festival to the Valley. Even if he didn't sense a demand, he knew the need, and as he was just nearing his 30th birthday, he founded the Valley Shakespeare Festival (VSF) and staged its first free play, The Comedy of Errors, for one weekend in the summer of 2013 in downtown Shelton's Veteran's Memorial Park. Simonetti estimates a hundred people showed up that first night. Each night, the crowds grew. They continue to grow, averaging 400 to 500 per show, even in rain.
One person who attended that first year was Mark S. Holden, an insurance agent and chairman of the Shelton Public Schools. Growing up in nearby Trumbull, he remembers, a Shakespeare acting troupe would visit his school with "gorgeous costumes and props and absolutely horrid actors, people who knew their lines but didn't know what they meant." Most of his life he "knew Shakespeare was someone I was supposed to like," but he didn't know why until he saw Simonetti's troupe put on Shakespeare with "$50 worth of costumes and props and great actors." He approached Simonetti about taking his productions to the schools.
This played right into Simonetti's dream. He didn't just want to do free Shakespeare in the park of his hometown. He wanted to build a local institution, one with a professional (i.e., Equity) foundation, one with a workable business plan, one that would address the needs of literacy and access to theater throughout all elements of Valley society. In addition to visiting schools, VSF also tours senior centers and homeless shelters, doing workshops and performing plays. They also stage plays in bars.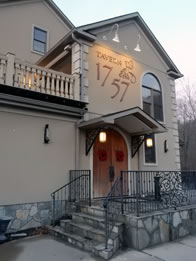 Holden is sharing a high table with me this night at Tavern 1757. We are among the 80-plus people who have filled the restaurant's upstairs banquet room (with a bar) to capacity to see Romeo and Juliet: Choose Your Own Ending, a one-hour adaptation of Shakespeare's play by Ann Fraistat and Shawn Fraistat. At three points the audience votes on a decision Romeo must make, and depending on their choices the play continues into one of eight endings, ranging from everybody living and happy to everybody dying and angry.
The Fraistats supplement Shakespeare's verse (mostly from Romeo and Juliet, but other plays, too) with some modern applications of thou and thine. Nurse identifies Juliet to Romeo or Benvolio (depending on the track) with "Marry, bachelor, her mother is the lady of the house, and a good lady, and a wise and virtuous. I nursed her daughter that you talked withal. So whate're you're thinking, Montague, hands off!" The play is also infused with clever digs at Romeo and Juliet's own plot, characters, and conventions.
I've been in the Valley for three days and hanging out with Simonetti and his cast for rehearsals. I've been exposed to three things: a Valley-wide spirit of community fealty and generosity; a Valley-wide admiration for Simonetti and VSF Company Manager Cheryl O'Brien; and the talent of this cast, all of whom welcome the challenge of playing Shakespeare in a bar. Jeremy Funke, playing an attention-deficit Mercutio and the randy Nurse, and Jack D. Martin, playing workout wonk Paris and an arrogant Tybalt, leave their fellow actors in stitches. The entire cast comprises New York-based actors (most originally from the Valley) except one: 16-year-old Valley resident Killian Meehan playing Romeo with only three years of stage experience and learning stage combat for the first time in this production. Meehan nevertheless leads the charge for the entire production with a commanding presence in a character that is more straight man than blubbering lover in this version.
On this night, those tracks of my own Valley experience entwine for an incredible communal and Shakespearean event. Certainly, some in the audience are friends and family of company members, but the majority are VSF fans generating a cult-following buzz. Rosaline is played by Jessica Breda, identified in the production's flier not by any of the many roles she's played but as "VSF Audience Favorite!" She clearly is. As Romeo, having to choose between Rosaline and Juliet (Ella Smith, channeling 13-year-old essence), introduces the two women for the first time, Breda gets an especially enthusiastic greeting. Then, too, the audience has already shouted for Romeo to stick with Rosaline.
"Embrace the wacky," Simonetti tells his cast before a final run-through in the afternoon. This evening, with only a couple days to rehearse and most with script in hand, the cast not only embraces the wacky, it embraces the atmosphere and the audience, too. Funke's Mercutio switches "lawyer" to "architect" in the Queen Mab speech as he addresses a man who, based on audience reaction, is known among the Valley as an architect. The audience not only gets this Valley insider joke, it gets the play's Shakespeare insider jokes, too, such as Juliet taking over both sides of the meet-up sonnet because Benvolio (Sam Plattus playing an awkward teen) doesn't get poetry. Because the audience chooses Romeo to stick with Rosaline, Benvolio hits on Juliet with "rub a dub dub, it's time for some love." The audience's votes send the play to the "flurple ending." Everybody in the play dies and everybody watching the play is happy.
With School Board Chairman Holden talking of VSF's impact in the schools, I think back to my conversation earlier in the day with Valerie Knight-Di Gangi, program officer for the Valley Community Foundation. "The schools always want them back," she says. "Schools can't afford the time or resources to bring people back unless it's worthwhile."
By reports I've heard, Valley Shakespeare Festival is worthwhile in the schools, in a public park, in a library, in homeless shelters, and in senior citizen centers. I can attest that it is worthwhile in taverns, too.
For the complete review, click here
February 14—Flurple Reigns
Yes, it's Valentine's Day. And I'm apart from my valentine as I'm on my own up here in Shelton, Connecticut. So what? She was in the Air Force. I'm a journalist. For the first dozen or so years of our courtship and marriage, we didn't spend a single Valentine's Day together, as she was deployed or doing distant duty somewhere or I was traveling on assignments. For many of the past dozen years my dad-care duties had me away from home on Valentine's Day, too. Even when we do happen to be home together on February 14, we treat it as just another day—probably because we approach every day of the year as our valentine's day.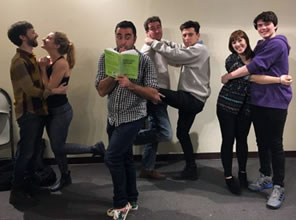 Valley Shakespeare Festival Founding Artistic Director Tom Simonetti (center with script) leads the cast into the multitrack script of
Romeo and Juliet: Choose Your Own Ending
by William Shakespeare, Ann Fraistat, and Shawn Fraistat during rehearsals in Shelton Connecticut. From left: Sam Plattus (Benvolio, Capulet), Ella Smith (Juliet), Jeremy Funke (Mercutio, Nurse), Jack D. Martin (Tybalt, Paris, Montague), Jessica Breda (Rosaline, Friar Laurence), and Killian Meehan (Romeo). Photo by Cheryl O'Brien, Valley Shakespeare Festival.
I've spent all of today with Romeo and Juliet—and Mercutio and Nurse, Tybalt and Paris, Benvolio and Capulet, Montague and Friar Laurence, and an unexpectedly inordinate amount of time with Rosaline. Today has been day three (of 3 1/2 days total) for the Valley Shakespeare Festival's six-person cast, plus Artistic Director Tom Simonetti, to rehearse Romeo and Juliet: Choose Your Own Ending before its performance in a bar at Tavern 1757 tomorrow night. The play by Ann Fraistat and Shawn Fraistat (and William Shakespeare, of course) stops at three points for the audience to vote on the fate of the young lovers, starting with whether Romeo should pursue Juliet or stay true to Rosaline.
That means a total of eight different potential endings, a one-hour show with a 147-page script. Simonetti and the actors have to rehearse each track—just the logistics of keeping each track and its blocking straight is mind-blowing—for a one-night performance. Seven-eighths of what they are working on today will not see the public light of day. Talk about dedication.
Turns out I have a lot at stake in the audience's choices tomorrow night, too. I've seen all the endings. Indeed, for their single run-through at the end of a nine-hour day of rehearsal, I served as the audience, voting on which turn the play would take. It's a lot of responsibility, especially as the script includes direct addresses reminding the audience that characters' fates are in their hands so don't [screw] it up (this play is distinctly adult material): kind of disconcerting to have actors level the f-word with the full force of a glare directly at me.
But it wasn't just them. I knew which conclusion I wanted: the Flurple ending. And I still got it wrong, as I hadn't figured out how all the tracks pieced together (as I said, the logistics is mind-blowing, and I'm not playing in or directing it). Well, maybe I got it right because I led everybody to a happy ending; everybody but me who wanted the Flurple ending.
So, on this Valentine's Day night, my loving energy goes out to tomorrow's sold-out audience at Tavern 1757; may your votes lead us all to a Flurple ending.
February 13—500 and Counting
Back on the road—on the Jersey Turnpike again, no less, at the Woodrow Wilson Service Plaza around mile marker 59. This time I'm heading for a dinner date with the folks of the Valley Shakespeare Festival in Shelton, Connecticut.
This journal entry, however, is marking a milestone of another sort, one on my life's journey. Valley Shakespeare Festival's Romeo and Juliet: Choose Your Own Ending that I'll be seeing on Thursday will be my 501st live staged William Shakespeare production.
Number 500 came this past Saturday with Brave Spirit Theatre's Coriolanus in Alexandria, Virginia. The production is not part of my Shakespeare Canon Project: 38 Plays, 38 Theaters, 1 Year, but it was an excellent, singularly staged production.
Brave Spirits Theater is one of my favorite companies, and I've long admired the work of its young artistic director, Charlene V. Smith, who brings an intelligent textual dynamic and visual creativity to her stagings of Shakespeare's work. This Coriolanus, in fact, started in the lobby, the entire first scene played among us before we headed into the theater. Once in the small studio theater, seats set up in a square around the playspace, the action unfolded among us and with electric energy. Virgilia, knitting a pair of pants, sat next to me through most of the play's first half, even as she was speaking her lines in the play's third scene. That same seat was then occupied by Aufidius for the second half; it was like sitting next to a coiled cobra, a bit disconcerting but part of the visceral aesthete of the entire production.
Brave Spirits almost became the representative theater for Coriolanus, but when I inserted Pointless Theatre's Imogen into the matrix, my need to spread out the Canon Project's geography trumped my desire to profile Brave Spirits. That was a hard call for me, too, as the company plans to stage the entire Shakespeare history cycle as a repertoire in 2020, a sequential staging of the eight War of the Roses plays reflecting on current political conditions. That's exactly something I've envisioned since I was in college (current political conditions are always fraught, it seems).
It should be obvious by now that I am not restricting my theater attendance this year just to Canon Project entries. We have subscriptions to Brave Spirits and other theaters in the region, and when I'm visiting a company staging more than the play I'm including in the Canon Project I intend to see as many of their other productions as I can fit in. I know this means not only more scheduling headaches but also more work, as I plan to review all the plays I see, but it all pays off in the experience.
Already just six weeks into the year, in addition to four Canon Project plays I've attended the best Hamlet I've ever seen (American Shakespeare Center), a production that is among the best theater experiences I've ever had, and now I've seen Brave Spirits' scintillating Coriolanus.
Those Shakespearean productions were number 498 and, of course, 500 in my lifelong tally, proof that you can never see enough Shakespeare.
Imogen (née Cymbeline), Pointless Theatre
The Dance Loft on 14, Washington, D.C., February 10
We shall start our interrogation of William Shakespeare's feminist cred by challenging his choice of title for this play, Cymbeline. The titular king of Britain has, at 290 lines, just 8 percent of the script. His daughter, Imogen, has more than twice that: 594 lines which, at 16 percent, is so dominant that the next-largest speaking part, her husband Posthumus Leonatus, gets 12 percent of the total with his 442 lines (I'm indebted to ShakespeareWords.com for line counts and the Royal Shakespeare Company's edition of William Shakespeare Complete Works, edited by Jonathan Bate and Eric Rasmussen, for percentages). King Cymbeline is such an insignificant puppet manipulated by the Queen, Imogen's stepmother, in his own play that this production presents him as just that: a hand puppet manipulated (and spoken) by the Queen (Hilary Morrow).
It's more than just word counts. This is Imogen's play, her story. All plot threads—the banished husband, the chastity wager, the court intrigue, the lost princes, Rome's invasion of Britain—wind through Imogen on their way to being audaciously tied up in Shakespeare's deftest denouement. By titling her adaptation Imogen, Charlie Marie McGrath, who also directed this Pointless Theatre production, is setting the record straight, a starting point for not only honing the play's focus on Imogen but also revisiting Shakespeare's tragicomedy through a woman's lens.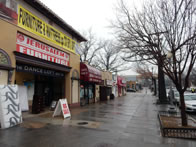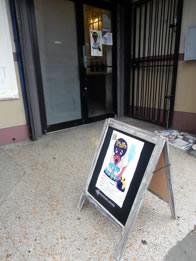 The Dance Loft on 14 is a complex of dance studios plus a small theater upstairs in a building housing a mattress showroom on 14th Street in Northwest Washington, D.C. Pointless Theatre uses this space to stage its production of Imogen, an adaptation of William Shakespeare's Cymbeline. Photos by Eric Minton.
This production is part of the Capital Region's Women's Voices Theater Festival during which 24 theaters in and around D.C. are staging plays written and directed by women. As McGrath is doing with her retitled version of Cymbeline, the Women's Voices Theater Festival is intended to highlight the too-often-downplayed role of women in theater and, as McGrath writes in her Imogen program notes, "a correction of a deficit, a need, a desperate need to put women's voices at the forefront of 21st century American theater."
With Imogen, the nine-year-old Pointless Theatre is making its first foray into Shakespeare. Our getting to the company's current space, The Dance Loft on 14, is a foray in itself, though it's only 30 miles from our house. We give up on our confounded GPS to find street parking in a two-block business district of 14th Street that otherwise traverses a middle-class residential area. We park in front of a mattress store housed in a drab-yellow Mediterranean-style building. Across the street is the bus barn for the Washington Metro Area Transit Authority; based on its gothic fortress architecture it was probably the original economic engine for this mid-20th century Northwest D.C. neighborhood. As I look about, Sarah spots the banner over the mattress showroom entrance: The Dance Loft on 14. Imogen posters point us to the door, and up the stairs we reach a complex of dance studios and the 68-seat theater where Imogen is playing, all carved out of what appears to have once been a 1930s-era ballroom.
Pointless Theatre productions merge live action with shadow puppetry and layer scripts with heavy doses of music and movement. McGrath, a product of Chicago's rich theater scene and assistant director for several productions downtown at the Shakespeare Theatre Company, approached Pointless Theater about applying their aesthete to her idea for remaking Cymbeline. In addition to Cymbeline as a hand puppet, shadow puppetry is used to illustrate off-stage elements of the plot, from Leonatus fighting with Cloten before sailing into banishment to Guiderius, represented as a bear, knocking off Cloten's head in the Welsh woods. The production begins in a fairy tale world with the medieval look of a children's book that transforms into modern dress as the play progresses.
Two musicians sitting in the corner of the stage provide a constant soundtrack of music and environmental sounds (composed by one of the musicians, Pointless Company Music Director Michael Winch). Choreographer Ryan Sellers creates mime and dance sequences for Fidele's funeral, the battle between the Britons and Romans (including strapping on body armor and then, locked and loaded, crouching with bent elbows to represent bearing rifles), and Imogen's disguising herself as Fidele, a nightmarish trip for the woman as the ensemble strips and re-dresses her on stage.
Think about that: for Katelyn Manfre's Imogen, a woman of determination and intelligence, becoming a man is a bad dream. "I am nothing," she says soon after; "Or if not, nothing to be were better." She has abundance of examples of the XY chromosome combination as a nightmarish state. Her father is a peevish blowhard. Her stepbrother is a crude lout with a violent temper. Her husband has accused her of adultery and wants to kill her for it. Iachimo is a slimy self-styled stud (which comes across as slimy jerk to the women). Emerging from the trunk in Imogen's bed chamber and wearing gloves with elongated fingers, Iachimo does more than just note her bed chamber, take her bracelet, and inspect her body: he slips those elongated fingers up Imogen's nightdress for his own private climax.
Not all men are bad: the two princes are pure honor and adorably played by Renaldo McClinton as Guiderius (who sheds real tears as he dances Fidele's funeral) and Kevin Thorne II as Arviragus (who sings the funeral dirge, the production's highlight moment and spurring those tears in Guiderius and some in the audience, too). But, then, they don't live in society, do they? And at this point Imogen hasn't met them yet. Not all men are men, either. The parts of Pisanio (Acacia Danielson) and Belarius (Lee Gerstenhaber) have been re-gendered, and that alone infuses the play with female perspectives, the lines they speak or are subjected to taking on #MeToo and Children's Health Insurance Program significance.
McGrath's adaptation remains relatively true to Shakespeare's text, though many lines are transplanted within the play and from other plays. She also transfers passages to a different character to suit her purpose. It is Imogen who forgives and pardons Iachimo at the end, not Leonatus (but, then, Leonatus doesn't seem capable of that), and it is Guiderius who pardons the Romans. Cymbeline has retired, a la Lear, leaving the princes and princess to rule in equipollence. "Never was a war did cease, ere bloody hands were washed, with such a peace," Imogen speaks the final line. A fairy tale ending, perhaps, but not pointless.
For the complete review, click here.
February 9—A Web of Imogenation
Yay! Fist-bump the spider! Eight times! Insider information assures me a Henry IV, Part 2, is coming to a stage this year. Then The Two Gentlemen of Verona showed up on a playbill as I caught up Bard on the Boards this week. All right! Another fist bump with the spider X8! As I started out the daunting task of creating my schedule of productions to attend the rest of the year, just three Shakespeare Canon titles had yet to find a home : Cymbeline, Henry VIII, and Henry VI, Part 2.
Piecing together my calendar based on the puzzle that is my Shakespeare Canon Project matrix provided a mix of bad news and good. As I expected, the run dates of so many must-see productions (plays appearing at only one theater this year) are jammed into a single timeframe between July 19 and August 5. Furthermore, a couple of regions ended up lacking representation on the calendar. This combination means I will have to forego a couple of really-want-to-see productions, sacrificing my desires for the greater cause.
Nevertheless, having laid out the calendar of potential productions for inclusion, this project's ultimate goal came into clearer focus: I will be able to see every play in the Shakespeare Canon that is produced on the North American continent this year, plus at least three apocryphal plays. It will take a lot of hustling and above-mentioned sacrifice, but the goal is within reach. I just need those last three missing titles to be staged somewhere.
In a seemingly unrelated matter, this week I also posted my review of the Folger Theatre's production of The Way of the World, Theresa Rebeck's modern adaptation of William Congreve's Restoration Era comedy. The production is part of the Women's Voices Theater Festival with 24 Capital Region companies currently staging plays written or directed by women. As I was about to toss the play program into my recycling bin, I glanced at the festival flyer, and a title caught my eye: Imogen.
Pointless Theatre in downtown Washington combines puppetry and other graphic elements with live action in its productions, and this particular outing does so with Shakespeare's play Cymbeline. The adaptation further retitles the play to focus on the play's true leading character, King Cymbeline's estranged daughter, Imogen. It thus fits another of my representative criteria, profiling an adaptation (this one by Charlie Marie McGrath). However, the play's run ends this weekend. Can I get tickets?
Yes, I can! So now, Cymbeline is in the fold for the Shakespeare Canon Project, I can check off "adaptation," and I don't have to fly cross-country or try to fit it in a three-week, cluttered window in late July. Serendipity strikes again. Yes! Yes! Yes! Yes! High-five the spider, post this update, and head downtown.
OK, about Spider. My dad had this plush toy spider next to his computer in his home office. I don't know when it showed up, where it came from, or anything about its backstory. My mom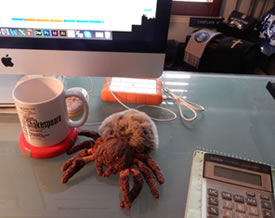 collected teddy bears and other plush animals, and because of her obsessive-compulsive nature she had more than 3,000 such critters of varying sizes and species at the time of her passing. "Spider" may have been one of them (I never heard it named), but dad obviously was attached to it. When mom and dad moved to their retirement center, Spider was one of the first items he packed in his office and unpacked in their new apartment. After his stroke when dad had to move out of his apartment to the center's assisted living wing, Spider accompanied the computer upstairs. Near the end of his life as his condition deteriorated, dad three times had to move to a new room for increased levels of care, and he would grab Spider and make sure it didn't get waylaid (he may have suspected I was coveting it; he would have been right).
Upon dad's passing, I took custody of Spider. It now sits next to my office computer. Because my dad's legacy is largely inspiring me to do the Shakespeare Canon Project, Spider serves as the physical representative for my father's spiritual presence, even accompanying me on my travels. He's a spider: not only does he fit easily in my bags, he likes tight spaces.
February 7—It's a Puzzle
My parents once gave me a jigsaw puzzle of the moon. I've never been good with jigsaw puzzles. I was in junior high school at the time and I didn't think to report them to social services. Then my wife, Sarah, topped them: one Christmas a couple decades ago she gave me a 500-piece, double-sided jigsaw puzzle of The Beatles eponymous LP—better known as "The White Album." It's still in its shrink-wrapped box. She's still my wife, too.
And now I'm staring at my Shakespeare Canon Project matrix.
Traveling back and forth across the land, seeing all that Shakespeare and visiting all those theaters. What fun! Planning it all out, not so much. It is part of the adventure, but in manner much like the giant mosquitos that suck on you as you hike the Alaskan woods amid that land's majestic splendor (something I can look forward to in late July).
Timing, I knew, would be the biggest contention as so many productions were bound to land during the festival season, June through September. It's worse than I could even imagine, as most of the productions—including so many on my "must do" list—are playing in a three-week period from the end of July into August. Further exacerbating this jam is the Major League Baseball All-Star Game on July 17 hosted by our Washington Nationals. Attending this game has been our primary baseball goal for three years; we even became season ticket holders three years ago to get first crack at tickets. And it's not just the game; it's the four days of festivities and showcase games from Saturday through the game Tuesday night. As soon as the date for the game was announced last August I booked a hotel room for us across from the ballpark downtown. And now that has trimmed my Canon Project opportunities significantly. As for the rest of our season ticket games, I'm content to miss a bunch this year.
So, back to the matrix. I'm working with several different priorities. Number One, to see all 38 plays in the traditional canon (the First Folio contents plus Pericles and The Two Noble Kinsmen) and productions of Shakespeare's poetry or apocryphal plays as a bonus. Equal priority is to see each play in a different theater.
Next priority is to cover the breadth of the land, starting with the four corners of the continent: Miami (done), Fairbanks, and San Diego are on the table, as is Hawaii if I can work out the schedule (I'm quibbling with the definition of continent here). As for the northeast corner, my preferred theater, Shakespeare by the Sea in Newfoundland, is currently in flux, but I have fall-back options.
Along with the continental corners I aim to get to at least two productions in each of 12 regions: New England, New York Metro, Middle Atlantic, Deep South, Mid-South, Industrial Midwest, Agricultural Midwest, Rockies, Southwest, West, Northwest, and Canada. The borders of these regions are blurry. I intend to limit myself to no more than five productions per region, but that midsummer traffic jam of plays might force my hand off this standard. Once I make sure I have a proper geographical spread, I'll focus on covering a full spectrum of theater spaces and production styles.
With about 30 theaters linked on Shakespeareances.com still to announce their 2018 titles, three plays have not yet shown up on this year's playbills: Henry VI, Part Two,Henry VIII, and Cymbeline (so, anybody know of productions of either, email me at editorial@shakespeareances.com). Ironically, it's not lack of plays but too many productions of the same play that's giving me fits. Why are so many theaters this year doing All's Well That Ends Well, Love's Labour's Lost, and King John? Then there's Macbeth. With that one it's not just the number but variation of styles, too: the experimental version at Shakespearemachine in Fort Wayne, Indiana (in November, yes!), or the Elizabethan stage setup at Lake Tahoe (by the lake, yes!), or the Aaron Posner and Teller version at Chicago Shakespeare (in The Yard theater, yes!). Ultimately, I might be painted into a corner with Macbeth, as it were, making this debate moot.
All these Macbeths, but not necessarily enough Shakespeare variety to spread out my calendar or attain my regional goals. When Sarah and I were first laying out the ideas for the Canon Project, we had a short list of theaters and festivals we wanted to visit, some longtime favorites, some places we have never been (in fact, one of my goals is for at least half of the productions I see to be at venues new to me). Idaho Shakespeare Festival in Boise was on that short list; we've been there twice and love the theater and the productions. However, for 2018, of the five plays the Idaho Shakespeare Festival is staging, only one is by Shakespeare: yep, Macbeth. This is a notable trend at Shakespeare-named theaters. Of the Oregon Shakespeare Festival's 11 titles this year, only four are by the namesake playwright, plus one about the namesake playwright. At least they're not doing Macbeth, but three of their four Shakespeare titles I've already assigned to other theaters: Romeo and Juliet (I'm opting for the choose-your-own-ending version being presented in a bar next week), Othello (I'm opting for an original pronunciation version in April), and Henry V (I have two options for that one that I can't reveal as one is not announced). That leaves Love's Labour's Lost, which, if I choose that one, several other preferred theaters come off the chart.
Ultimately, many of my final selections will come down to time and travel: when can I get where, where can I get when. Even my desire to get to the continental corners will have to contend with that reality.
Puzzles. At least they look good when they're done.
January 30—A Shot in the Arm
It took two, big, burly corpsmen and my father to hold me down as the doctor gave me a penicillin shot when I was 7 years old. My distaste for needles hasn't abated since. Bravery for me was getting a vaccine during a hepatitis outbreak on the Air Force base in Alaska where my father was stationed when I was a young teen (one of my classmates had been stricken, so I weighed the odds—and gave in only to the base commander's orders for all families to get the shot at the base clinic).
I've never gotten a flu shot. I've also never had the flu. Heck, I average a cold only once every three years. But I've had three colds already since October, and there's been a particularly virulent strain of flu going around the D.C. area and down in Staunton, Virginia, where we were this past weekend. Today, when I was at a doctor's appointment for an unrelated matter, the nurse asked, "Have you had your flu shot?" "No," I mumbled, knowing I would have to explain myself and still get a lecture. "Would you like one today?" she asked.
My life flashed before my eyes: Not my past but my future, cramming as much as a dozen Shakespeare plays in a dozen locations into the next three months. "Yes," I heard myself mumble. Holy cow, I just agreed to get a shot! How's that for dedication? Honestly, I didn't feel a thing when she gave me the shot. Not that I'll volunteer for future needling, but 53 years of imagined terror seems kind of silly to me now.
Richard II, American Shakespeare Center
Blackfriars Playhouse, Staunton, Virginia, January 27
One year ago, Friday night, Staunton, Virginia, the actors converged on the Stonewall Jackson Hotel's lounge. They were celebrating two members in the company "completing the canon" (playing in every Shakespeare-written play over the course of their careers) with opening-night performance of Coriolanus that just concluded next door at the American Shakespeare Center's (ASC) Blackfriars Playhouse. My wife and I happened to be in the lounge when they arrived, and one of the actors sidled up to me and whispered in my ear: "Sarah Fallon is coming back next Ren Season to play Richard II." This for me was a Christmas-morning-Santa-booty moment. Then the actor whispered more: "And Josh Innerst is going to play Hamlet."
One year of excited anticipation culminated today in one day of incredible theater and exceptional Shakespeare. Fallon's Richard is everything I knew it would be, and the ensemble work is exquisitely nuanced. As for Hamlet, well, I'm a guy who spent his formative years of attending theater in England, where standing ovations are rarer than comets passing the earth. I normally don't stand until the second curtain call, and that only so I can see something other than backs (in America, not standing is rarer than comets). Tonight, I rocket out of my seat with hand-hammering applause. Floating out of the playhouse, I catch up with Joan Saxton, who lives in Sausalito, California, and has come to almost every ASC production here in Staunton over the past 12 years. She just shakes her head indicating she has no words to offer; her contented smile glazed on an expression of awe more than suffices. We all head over to the Stonewall Jackson for a formal reception unveiling ASC's 2018–2019 lineup of plays. But the buzz is all Hamlet: People strain to constrain themselves from saying this might be the best Hamlet ever staged.
This is not hyperbole; but now comes the part where you are inclined to tell me, "pshaw!" The actors staged this Hamlet, along with Richard II, by themselves in just two weeks.
The ASC is one week into its annual Actors' Renaissance Season. During the "Ren Season" the theater uses original production practices. Twelve actors with cue scripts (their parts plus a line or two before they speak) put on the play without any director or production team. The cast works out all the blocking and the look of the production in only about a week's worth of rehearsal time. By the end of the three-month season they will be doing a repertory of five plays. This, scholars believe, is how plays were produced in Shakespeare's time, a collaborative effort by the company. The result is textually pure productions. The actors simply don't have time to contemplate or argue about concepts or interpretations; they have to play what they read, and they have to listen to the other characters on the stage because they have to hear the cues when they land.
Key phrases here—"original production practice," "textually pure," "Blackfriars Playhouse" (a re-creation of Shakespeare's indoor theater), "original staging conditions"—would incline the uninitiated to think this is "museum Shakespeare." It's not: it's closer to improvisational theater with the actors (on a mostly bare stage) interacting with an audience in the same light (no darkened theater) and in close proximity (patrons even sit on the stage itself). Shakespeare not only wrote for such conditions but, reportedly, more raucous audiences than today's. How he navigated such an environment with his plot and verse structures emerge during these Ren Season productions, some of the most dynamic live theater I've seen anywhere.
Richard II is 100 percent verse: Shakespeare even uses rhyming couplets for the comic scene of the Yorks on their knees competitively begging before King Henry IV (David Anthony Lewis). Fallon portrays Richard's crumbling state—his crumbing psychological state as much as his regal one—speaking some of Shakespeare's most lyrical poetry. Being king is all Richard has known, and he relies totally on divine right as anointed by God for his political standing. Watching Fallon's Richard discovering that he is as human as anybody else is devastating, no matter how petulant we might think him early in the play.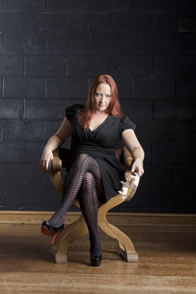 Sarah Fallon plays the title character of William Shakespeare's
Richard II
at the Blackfriars Playhouse. Photo by Michael Bailey, American Shakespeare Center.
Casting Fallon as Richard II is a no-brainer. I've admired this actress's work on this stage since 2004. She has portrayed Cleopatra exactly as Enobarbus describes her. Her Lady Macbeth was the truest portrayal of the role I've ever seen. She famously played all four iterations of Queen Margaret in Shakespeare's Henry VI tetralogy produced one part per year over four years, one of the few women, if not the only woman, to ever do so (a boy or young man would have played the part in the original productions). Her iconic pairings with René Thornton Jr. in several plays (from Tamora and Aaron in Titus Andronicus to Beatrice and Benedick in Much Ado About Nothing) includes Fallon as Cassius to Thornton's Brutus in Julius Caesar: I've never seen the tent scene argument so electric.
Fallon playing Richard II is not stunt casting. Cross-gender casting is common at ASC. Just as Fallon playing Cassius was all about chemistry with Brutus, to Jim Warren, ASC's artistic director through last year, Fallon is perfect for Richard because of her verse-speaking skills and her abilities in portraying regality and psychological disintegration—even at the same moment, as she does in the deposition scene at the center of Richard II. Critics often see Richard as an effeminate tragic hero, but Warren knew Fallon wouldn't play the part that way. I've seen Fallon effectively lead armies, torture dukes, go toe-to-toe with Richard III, beat up messengers, psychologically castrate Scotland's greatest warrior, and, in Beaumont and Fletcher's The Maid's Tragedy, physically castrate a king, all while playing women; and I've seen her form a successful assassination plot while playing a man.
Here she's playing a king. Sure, Richard is spoiled, loves flattery, is inefficient in governance, and not politically astute. But he keeps a firm grip on his core ethic—divine right—and in the final scene he fends offs the four murderers, killing two of them before being fatally stabbed himself. That moral strength and physical danger runs through Fallon's performance from the start. She's scary good as Richard II.
For the complete review, click here.
January 26—What Shakespeare Means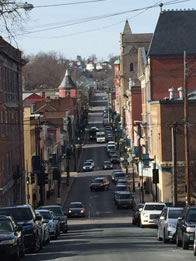 Beverly Street, downtown Staunton's main drag. Below, the Blackfriars Playhouse, home of the American Shakespeare Center (see the closest intersection in the photo above? The Blackfriars is a half block to the right). Photos by Eric Minton.
It still feels early. We left the house just after 6 a.m., and after a 2 1/2-hour darkness-into-daylight drive over Interstate 66 and down I-81, we are now in Staunton, Virginia, (population of just under 25,000) finishing up breakfast at Rèunion Bakery & Espresso (ham and gruyere croissant, oh my goodness). We're downtown. Across the street is the Staunton Visitor Center on the ground floor of the city's parking garage. Beyond that sits the Blackfriars Playhouse, the world's only re-creation of William Shakespeare's indoor theater in London.
Julie Markowitz , executive director of the Staunton Downtown Development Association, is meeting me in this bakery to talk about Shakespeare: not the man, not the plays, not the industry, but Shakespeare, a term with a Staunton-specific definition. When she was in her 20s and living in Harrisonburg 30-minutes up the interstate from Staunton, Markowitz would hear people say, "Hey, Shakespeare is coming to the park tonight!" Shakespeare was a dozen or so people wearing black turtlenecks and pants and black Converse high-top sneakers performing plays for an audience lounging on blankets and drinking wine. More formally known as the Shenandoah Shakespeare Express, Shakespeare to Markowitz was "youthful, spontaneous, incredible fun energy."
In the early 1980s Markowitz lived for a couple of years in Staunton and doesn't have fond memories. Main Street was dying and an adjacent psychiatric hospital (the old, creepy generation of such institutions) was closing and the de-institutionalized residents were moving into subsidized housing downtown. Markowitz remembers being chased to her car every night after work. She returned in 1993, and though conditions had improved, she still describes it as dark times.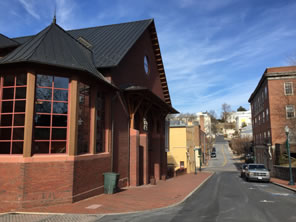 Then, in 2001, Shakespeare came to town.
In fact, it was the Shakespeare of Markowitz's past, the Shenandoah Shakespeare Express building a permanent home in Staunton, which opened in September 2001. The Blackfriars Playhouse is the perfect environment for the company, founded by Ralph Cohen, a professor of Shakespeare at James Madison University in Harrisonburg, and one of his students, Jim Warren, to stage plays using the theater conditions and staging practices Shakespeare's company would have used between 1590 and 1630. No longer wandering players (though a national touring troupe is still part of its operations) and with a growing education program, the company changed its name to the American Shakespeare Center (ASC).
Staunton already had a thriving arts community, says Markowitz, who became executive director of the Downtown Development Association in 2006: at the turn of this century the town featured several galleries and theater community groups, and church concerts were part of the social scene. Arts and entertainment is in the town's DNA. Staunton incorporated in 1801 and became a railroad center in the mid-1800s (even today it is at the intersection of Interstates 81 and 64). Warehouses and commercial businesses clustered around the depot; up the hill, the downtown district became the center for hotels, bars, theaters, and other venues of pleasure, arts, and entertainment, inspirational and carnal. Virginia is replete with Civil War battlefields; Staunton served as a rest-and-recreation center for troops, so the town escaped warfare.
Shakespeare, the man, would feel at home in such a community, then and now. But Shakespeare did much more here for Staunton, providing a steroid jolt not only to the arts community but also to the culture and commerce and to Mary Baldwin, a women's college sitting like an acropolis in the center of town. Respected chefs turned the town into one of the finest culinary enclaves on the Eastern Seaboard. Small businesses thrived. Next door to the Blackfriars a derelict hotel, the Stonewall Jackson, was remodeled and expanded as a conference center and designated a historic hotel.
When asked what the Blackfriars most brought to the town, Markowitz doesn't hesitate to answer. "Visitors," she says. Only 15 percent of the Blackfriars audience is local. The ASC has a growing national and international reputation for the quality and style of its productions, for its education programs, bringing in not only students to learn Shakespeare but teachers to learn how to teach Shakespeare, and for its year-round calendar of productions needing theatrical artists. Many of these artists end up settling in Staunton, captured by the combination of small-town atmosphere, a lively cultural vibe, and the surrounding wilderness beauty of the Shenandoah Valley.
This is all part of the definition of Shakespeare for Staunton. Nobody calls the entity the American Shakespeare Center or ASC or the Blackfriars or even the Playhouse. It is simply "Shakespeare," meaning the place, the product, its people, and their presence. Shakespeare is "a feeling," Makowitz says. "The word Shakespeare conjures up different things for different people. If you're in school and studying it might be work. If you're in our community and you don't quite understand it, it might mean those artsy people. If you're in my job and you see the impact of it, Shakespeare is the reason people gather. It represents quality, it represents intelligence infused with humor and a sensibility that everybody can understand, because that's just how [Shakespeare] wrote. He wrote for the common man. He wrote about situations that everybody encounters, and everybody can relate to it. And it's couched in this old-world way that a lot of people think is snooty, but it's really not. And I love the way the theater company presents it. It's so high energy, it's so much fun. And I think that it is authentic, so it's fresh."
She thinks back to the "youthful, spontaneous, incredible fun energy" that Shakespeare brought to her life 30-some years ago. "It's still there," she says of the company that provides a real-time conduit to the man. "They've managed to have a very sophisticated, big business and still maintain in their performances that youthful sort of innocent, lighthearted spirit."
That is Shakespeare in Staunton: it's a spirit.
January 21—"It Is the Stars," Says Kent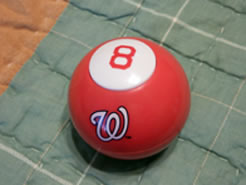 At every opportunity I look for affirmation that this Canon Project is a good idea: feedback from theater folks and friends, my sons drawing on their own particular expertise to lend enthusiastic support, the timing given the significance of 2018 in America and my life. Then there are the omens. I've had so many mystical signs and portends that Shakespeare would blush to put it all in a play. My dad even appeared to me in a dream and said, "Eric, just do it," and then laid out a financial plan for the project.
Today I happened upon a "Magic 8 Ball" that we got as a give-away at a Washington Nationals baseball game (it's red instead of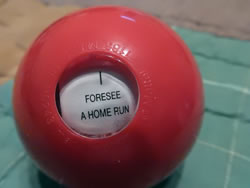 black and has the GEICO and Nationals "curly W" logos adjacent to the "8"). I couldn't resist. "Am I going to see all 38 plays in the Shakespeare Canon this year?" I asked the 8 ball. I pushed the button and turned it over to see the answer: "I foresee a home run."
January 15—Warm Thoughts
We're heading home, leaving the warmth of Miami (70 degrees Fahrenheit) toward the 25 degrees the DC area will be feeling tonight.
The warmth we're leaving behind is not merely air temperature. The folks at Shakespeare Miami overwhelmed us with welcoming hospitality, and their hosts—the managers of the venues where Shakespeare Miami stages its plays, Jerry Kinsey at Pinecrest and Katrina Boler at The Barnacle Historic State Park—took time out of their busy schedules to show us around their parks and tell their stories. A highlight of the weekend was being treated to a private dinner backstage at Pinecrest Gardens. Shakespeare Miami board members Maria and Paul Eisenhart prepared a fantastic Cuban meal for us (including offering me the pork crackling—now that's hospitality!). "They are the very best kind of board members to have," Producing Artistic Director Colleen Stovall told me. She and her abiding husband, John Stovall (a faithful volunteer for the cause), joined us along with board members Steve and Cyndy Hill, Florida International University Professor Jamie Sutton, and Doug Wetzel, who plays Polonius in Hamlet.
Thank you, Shakespeare Miami, Pinecrest Gardens, and The Barnacle Historic State Park.
January 14—The Barnacle
Ralph Munroe, who lived on New York's Staten Island, saw a sailboat drifting toward the rocks. An expert seaman himself (and a natural genius in design, including 56 sailboats), Munroe sailed out to help guide the boat and its owner, William Brickle, to safety. Munroe asked his unexpected guest where he was from. "Paradise," Brickle replied: Biscayne Bay. Munroe had to see it for himself. When he did, he made Miami his home.
His house, which Munroe built himself in 1891 (expanded with a second floor in 1908) and called The Barnacle because it is shaped like one, is the oldest house in Dade County still on its original site: 40 acres right on the bay and now surrounded by the condos, boutiques, and restaurants of Coconut Grove. Instead of giving in to salivating developers, the Munroe family turned the property over to the state in 1973, which now operates it as The Barnacle Historic State Park. One of South Florida's pioneers (yes, South Florida was a frontier even after the West was won), Munroe brought with him a taste for arts and culture. He hosted music concerts in his home, and his library included several volumes of William Shakespeare's works, some in languages other than English.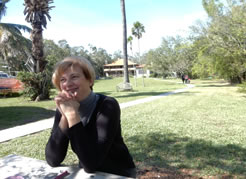 Katrina Boler is park manager at The Barnacle Historic State Park, one of the venues for Shakespeare Miami. Photo by Eric Minton.
Listening to Park Manager Katrina Boler describe the family's and the site's history is to forge a first-name relationship with Ralph himself. Boler has degrees in history and literature, so she's a big Shakespeare fan. She had her own sailboat on the rocks moment when in 2010 she got a call from Colleen Stovall, whose Shakespeare Miami had just lost funding for one of the sites for its free Shakespeare productions. Boler got excited until Stovall told her she needed dates in January, The Barnacle's busiest season. "I looked at the calendar for the dates she gave me, and they were all miraculously not booked," Boler says. "It was serendipity." Miami Shakespeare brought that year's production of The Taming of the Shrew, featuring a high school rock band on stage, to The Barnacle. The company went to other sites in subsequent years but in 2014 returned to The Barnacle with The Tempest.
Talk about a perfect setting for The Tempest: the house (with a brick patio for a stage at the front entrance) faces down a lawn to Ralph's boathouse and the bay, glistening blue on this Sunday afternoon with sailboats gliding back and forth. Thick forest covers the 30-some acres between the house and downtown with a paved path winding through the trees (Ralph considered boats to be the only necessary means of transportation; he hated the railroad and had little use for automobiles). There's even a sailboat on the lawn next to a pavilion (the stage for rainy nights), but that boat doesn't belong there. It is a remnant of Hurricane Irma last September, deposited halfway up the lawn by the storm surge. The Barnacle, thanks to Ralph's barnacle design, has survived some vicious hurricanes, but the boathouse took serious damage from the passing boat.
The Barnacle has proved a perfect setting for all Shakespeare Miami productions, which have been playing here since 2014. The two organizations also partner on a Shakespeare Birthday event every April. All much to Boler's delight: "The Barnacle gained a lot when Shakespeare Miami lost their stage in 2010." Everything in South Florida is weather dependent—even report of rain can keep people home—but on nice evenings the plays can fill the 2 1/2-acre lawn with 700 to 900 people, Boler says. This number is all the more amazing when you consider that there is no parking on the property: patrons must find a spot somewhere in the busy downtown and walk that path to the house. In Shakespeare Miami's wake, other theater companies have played here, too, and something called a haunted ballet has also taken hold (I must return to see that someday).
It's all so perfectly Shakespearean, and Ralph, too. He encouraged a community spirit by inviting neighbors to his home for concerts and cultural events. Shakespeare Miami flips that notion around, considering "accessible Shakespeare" to mean not only free and relatable but taking shows to various communities. "It's something for all ages, something on their turf, in their neighborhood, and not a daunting thing like going to a theater," Boler says of Shakespeare Miami's weekend residencies in Coconut Grove. "It brings the community together. You get to sit and laugh together and go 'oh my goodness' together, which is especially important these days."
Hamlet, Shakespeare Miami
Pinecrest Gardens, Pinecrest, Florida, January 13
Where once a large raptor swooped inches over my head from the rafters to the stage, I'm watching Hamlet set a mousetrap for Claudius in Shakespeare Miami's production of William Shakespeare's play—or, rather, a close proximity of his play.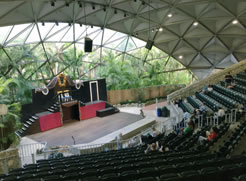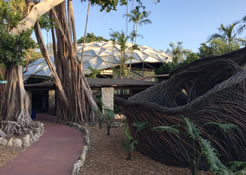 Top, the amphitheater at Pinecrest Gardens in Miami, Florida, with Miami Shakespeare's portable set for Hamlet. Above, the Banyon trees and Patrick Dougherty's Stickwork sculpture (right) adjacent to the amphitheater. Photos by Eric Minton.
One of the longest tenures of my journalism career was covering the amusement industry, i.e., theme parks, water parks, zoos, and their combinations/variations. I was, for real, a professional roller coaster rider. One of the theme parks I visited was Parrot Jungle, both at its original site in a residential neighborhood south of Miami, and its current location near downtown Miami (in fact, the park flew me in for a private visit a few months before the new location opened to the public in 2003). What I didn't know until today was that the Village of Pinecrest, that residential neighborhood south of Miami, took over the old Parrot Jungle property and turned it into a community recreation park, maintaining the paths, ponds and flora of the theme park (but not the famous flamingos and its other fauna) and adding a new library and community center.
The entire site was added to the National Register of Historic Places in 2011, and Sarah and I stroll around the grounds and past the original entrance gate, bird cages, and snake houses. The 550-seat amphitheater where Parrot Jungle staged its bird shows has become a venue for concerts (its jazz series is particularly popular), ballet and modern dance, and theater, including Shakespeare Miami, now in its 13th season, which spends one weekend of its four-site tour of South Florida on the premises. It is at times a challenging venue for watching Shakespeare: the acoustics (using stage microphones) can be problematic, the peacocks and peahens congregating on the roof next to the stage can be distracting (though a couple seem intrigued enough to settle in to watch the show), and the constant coming and going of patrons can be annoying. Nevertheless, the palm tree backdrop with fronds sashaying in the breeze, the rough stone-wall-lined amphitheater itself, and a generally appreciative audience, many new to the play (gasps when Polonius falls dead through the curtain), are gift wrap to Shakespeare's verse.
Founding Producing Artistic Director Colleen Stovall, who directed and designed this Hamlet, has set the play in 1920s Denmark, a nation recovering from devastation in World War I and heading for capitulation to Nazi Germany in World War II. Ironically, the biggest chunk of the play Stovall excised to get down to a 2:40 run time (plus 15-minute intermission) was Fortinbras and the Norway threat. The '20s timeframe gives this Elsinore a Great Gatsby look, all three-piece suits, capes, and flappers, which has the effect of turning Claudius into an ultracapitalist. That, in turn, brings incredible depth to his not-able-to-pray scene.
Stovall's most significant tweak of the text is transforming Ophelia's mad scenes by defining the term mad not as insanity but fury. In the scenes themselves, this reimagining of Ophelia works textually, but in the big picture it also requires changing the manner and the reporting of her death (and that would require a spoiler alert). Stovall tells me she not only doesn't believe a woman would react the way Ophelia does, she also had never seen the mad scenes work effectively in films and other productions. Thus, Shalia Sakona portrays an Ophelia of the #MeToo era, dealing with harassment from both Claudius and, after their break-up, the seemingly mad Hamlet.
Stovall waited to stage Hamlet until she could land an actor capable of doing the title role, and her patience paid off with Seth Trucks. Hamlet has a lot to deal with, but this Hamlet is also contending with flu-like symptoms: fever, sore throat, general good-god-I-feel-awful malaise. His performance last night was uneven, but today, though reportedly suffering physically (I can confirm the report upon meeting him briefly after the show), I count him among the great Danes I've ever seen, forging through a world that keeps taking peculiarly bad turns while suicide constantly crowds his thoughts. This is the 22nd time I've seen a version of Hamlet on stage, and the first time Hamlet's Yorick speech goes beyond cliché to the psychological resonance that created the cliché visual in the first place.
I targeted this particular matinee performance of Hamlet because it's announced as a sensory friendly edition for audience members on the autism spectrum. Stovall describes the protocols ("We don't want to reduce the experience but let them know what to expect" via demonstrations from actors before the play) and shows me the safe room where patrons can go for a calming environment yet still watch the play on a monitor if they choose to. In the production itself, some of the shouts are toned down and so is the violence. No one signs in as requiring a sensory-friendly performance, however, so we get the regular show.
Selfishly, I'm glad, because, Oh. My. God. The Hamlet-Laertes duel in the play's climax is one of the best stage combat sequences I've ever seen (and I afterward have the pleasure of talking about it with Joey Costello, the fight director). The fencing itself is exquisite, the whole battle is imbued with the personalities of a feigning-madness Hamlet and a feigning-courteous Laertes (dynamically played by Lito Becerra), and when it gets intense, desperate fencing up and down and across the set is supplemented by effective punches. It lasts at least five minutes, seems like 30. Wish it were 90.
For the complete review, click here.
January 12—Cornered
My Shakespeareances.com copy editor, Carol Kelly, questioned a phrase I used in my announcement of the Canon Project: "This endeavor will cast a wide geographical net, covering every region of the continent corner to corner." "Or coast to coast?" she commented. She was worried I might sound like a flat-earther.
My phrasing was deliberate: I'm going to the corners of the continent in my quest to see the 38 plays in Shakespeare's Canon at 38 different theaters. Fairbanks, Alaska, is in the works. So is San Diego. Hawaii is in the mix—if I can work it into the schedule, it's part of the continent; if not, it's an island chain in the middle of the Pacific. My northeast corner is undetermined, as my intended target's status is in flux, but I have a couple of fallbacks in the queue.
As for the southeast corner, we're on our way there now: Hamlet at Shakespeare Miami. We've visited Miami before (baseball trips), but this is our first visit to Shakespeare Miami, "Florida's professional Shakespeare company," says its slogan, "Saving the world … One iamb at a time." I love Shakespeare Miami's core values listed on its website (www.shakespearemiami.com): excellence, ensemble, courage, and respect for all. "Shakespeare Miami has a 'No Assholes Rule,'" says the explanation for the last.
The company offers free Shakespeare productions at different open-air venues each weekend this time of year in and around Miami as far north as Boca Raton, Florida. We will be seeing Hamlet at Pinecrest Gardens, a publicly owned outdoor recreation area with an amphitheater, the production's venue this weekend. We're still en route—air traffic today has been hampered by fog-socked mid-Atlantic corridor—but our plans are to see the play tonight, and then tomorrow take in a sensory-friendly staging, which is the focus of this visit.
Colleen Stovall, Miami Shakespeare's producing artistic director, has coordinated an opportunity for us to meet with local Shakespeareans and historians who will give us specific insights into Miami's relationship with Shakespeare, which apparently dates to the community's founding.
Sometimes, the corner is a good place to be.
Twelfth Night, Fiasco Theater
Classic Stage Company, New York, New York, January 6
Approaching New York City, by plane, by train, or, as now, by car, always thrills me. I love how, during the day as you're navigating a cat's cradle of roads while speed-reading highway signs, the skyscrapers suddenly sprout up from the horizon beyond the Jersey swamps. At night, New York emerges from the distance as a galaxy of lights, with the red rocket-topped Empire State Building piercing through the middle of it all. I love New York City. I love its vibrancy, its attitude, its pace, its people—salt-of-the-earth kind of people, brusque as they go about their business but courteous to the core.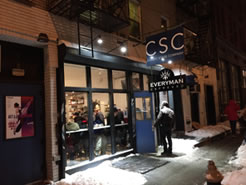 Classic Stage Company's entrance, 136 E 13th St., New York City, where Fiasco Theater staged William Shakespeare's
Twelfth Night
. Photo by Eric Minton.
New York is, of course, one of the world's capitals for theater. We come here a lot, but that's as much due to supply as quality. Broadway is famous, but we see theater as good or better in both talent and execution, especially when it comes to Shakespeare, in regional theater or "the provinces" (which I'm here defining as anywhere outside a nonmajor metropolitan center; in America, "the provinces" is generally defined as anywhere but New York, Chicago, and Los Angeles; in New York it is defined as anywhere but New York). So, when we come to New York to see Shakespeare, it's usually at a theater (or even a space, like a parking lot) that is designated with one or more tags of Off before Broadway, or the production is a loaner from the world's other major capital for theater, London.
As inviting as we find this city, it is cold on this night: 15 degrees, with snow piled along the sidewalks and slush in the streets. Turn a corner and the temperature drops to well below zero as an arctic gust blasts your skin, even that covered in clothing. This is the day after the bomb cyclone hit the East Coast (meteorologists seem to come up with new names for "storm" every year), and even New Yorkers seem daunted by the bitter cold: the streets are relatively empty. We trudge our way to Classic Stage Theater on East 13th Street near Union Square and walk in to warmth: the lobby coffee shop is packed with patrons distributed evenly across four generations. The doors open to the 200-seat deep-thrust theater. Inside, all is brick walls, wood-board floor, and ropes under a barn ceiling's light grid. Rustic trunks, furniture, and a lobster trap occupy the center of the stage. At the back are various instruments, and a ship's wheel inside a fishnet attached to an upright piano.
Typical Fiasco Theater, a company of young actors who delve deep into Shakespeare's texts to create vibrant theater using as few as six cast members. This is the fifth production by Fiasco Theater we've seen: Measure for Measure (we saw at New York's New Victory Theater—Off-Broadway, of course), The Two Gentlemen of Verona and Cymbeline (both of which we saw at the Folger Theater in Washington, D.C.), and Stephen Sondheim's Into the Woods at Washington's Kennedy Center. Their Cymbeline, featuring a multitasking trunk, remains one of my favorite productions of all time. For Twelfth Night, the company expands to a cast of 10, which, with David Samuel doubling as Antonio and Fabian, still requires textual massaging: Maria (Tina Chilip) gets additional duty in the play's last scene. As I anticipated, Fiasco's Twelfth Night was not only worth the four-hour drive to New York (back home again this morning), it was worth the frostbite. They not only stage a laughter-full play but create a community experience by interacting with the audience before and during the play. Feste, played by co-director Ben Steinfeld (co-founder of Fiasco along with Noah Brody and Jessie Austrian), is alone worth the effort.
Nevertheless, people wonder why I would see Twelfth Night, or any other Shakespeare play, 27 times? The answer is that I've seen 27 Twelfth Nights. My niece saw the movie Titanic a couple dozen times: the director was always James Cameron at every showing, and Leonardo DiCaprio and Kate Winslet never changed their interpretations of Jack and Rose. Who questions how many times people see Monty Python and the Holy Grail or Rocky Horror Picture Show? Last night I saw a Twelfth Night I've never seen before, thanks to the intelligence and insight of this company. And if I were to go to the same show tonight—the last show of the play's run at Classic Stage Company—it would be a different Twelfth Night because the cast will be interacting with a different audience. That's the thrill and the art of live theater.
One scene in particular sets this production apart from all other Twelfth Nights, even though the way Fiasco does it seems the obvious way to stage the moment. It comes in the first meeting between Olivia (Austrian) and Viola (Emily Young) disguised as Cesario representing Duke Orsino (Brody) as a love embassy. Olivia asks how Cesario/Viola would woo in her "master's flame." "Make me a willow cabin at your gate," Viola starts in one of the play's most famous passages. As Young speaks the speech with rhythmic resonance, she crosses to Austrian and grabs her shoulders, staring deeply into her eyes as she halloos Olivia's name to the reverberate hills. Viola, trying to win Olivia's heart for her master, is all in (and as a woman, she knows better than a male messenger what works). Austrian's Olivia is completely blown away: "You might do much," she replies in wonder. And in love. Fixing the physical to the poetical shows us that exact moment's overwhelming emotional intensity that Olivia can never shake off.
And neither will I.
For the complete review, click here.
January 5—New York Bound
We're driving up the Jersey Turnpike. This used to be home for me. My father was a U.S. Air Force chaplain, and he was stationed at McGuire Air Force Base in central New Jersey during my high school years. My childhood finished up here.
One among the many times I've traversed this highway was on a bus. The Northern Burlington County Regional High School Drama Club was taking a field trip to the American Shakespeare Festival in Stratford, Connecticut, to see a production of William Shakespeare's Twelfth Night. My Shakespeareances started here.
I was not a member of the Drama Club—I had already launched my journalism career as editor of the high school newspaper and covering sports for the Bordentown Register-News. I was on this trip because my best friend, Mike Ferguson, was the only guy going, and he wanted a bit of brotherhood for the road. So I went. I hated reading Julius Caesar in sophomore English, my only previous encounter with Shakespeare, and I had no knowledge of Twelfth Night; but hanging with Mike and a couple dozen girls seemed like a nice way to spend a Saturday. However, it was not Mike nor Sharon (a girl on the trip I would subsequently fall madly in love with) and not even Shakespeare that turned this into an extraordinary day.
I didn't know it at the time we were heading up the Jersey Turnpike, but at the other end of the bus trip was Herman Munster. Fred Gwynne was playing Sir Toby Belch. I was a huge Munsters fan, and to see Herman right there, in person, and being more genially funny than he was on the TV show was a blow-away moment for this 16-year-old. "These clothes are good enough to drink in—and so be these boots, too" he said, pulling yet another hidden flask out of his boot as Maria stalked him around the stage intercepting his other drinking vessels in the play's third scene.
That was my first live production of a Shakespeare play. I've seen 493 since including every play in the canon (the 36 First Folio plays plus Pericles and The Two Noble Kinsmen). Now I'm setting out to see all of those 38 plays in 38 different theaters across America in this single year, 2018. Poetic justice is served by a production of Twelfth Night leading off my campaign, but that was not intentional. This Canon Project is built around opportunity more than sentimentalism, piecing together a puzzle of what I can see when and where and how by whom. Even as I start this journey I lack assurance that five of the plays will be staged, though many theaters have yet to announce their summer or fall seasons. Henry VIII is rarely done, the two Henry Part Twos have empty lines on my matrix as does another obscure piece, Cymbeline. The surprising absence in announced playbills is The Two Gentlemen of Verona, a play frequently staged the past few years. Perhaps it has ridden out its cyclic wave of popularity as King John and Love Labour's Lost ride in on their waves. Or perhaps theaters are avoiding Two Gents, a comedy with stalking and rape as plot points, due to the omnipresent social context of #MeToo and sexual harassment.
That, however, is the exact kind of context, specific to 2018 (as opposed to, say, 1600, the midpoint of Shakespeare's writing and first staging these plays), that this journey intends to engage through Shakespeare's plays. His works also titillate personal relevancy, pertinent especially at this particular stage of my life: I turn 60 this year; I'm entering Jacques' sixth age of man's mortality, shifting "into the lean and slippered pantaloon." After all, here I am, reflecting on my first Twelfth Night 44 years ago which set me on the way to where I am today, heading up the Jersey Turnpike to see Twelfth Night again—and for the 27th time.
But sentiment of another kind has made this Twelfth Night my first pick for this yearlong excursion through Shakespeare's plays. This time I know what's at the other end of the road: Fiasco.
Shakespeareances Announces Canon Project
January 4, 2018—Shakespeareances.com is embarking on a venture to see all 38 plays in William Shakespeare's canon in 2018, each in a different theater across the United States and Canada. Called the Canon Project, the effort will be chronicled in journal form here on Shakespeareances.com and result in a book profiling the 38 theaters, their communities' interactions with Shakespeare, and my own relationship with each play (the number of plays and theaters will increase with stagings of Shakespeare's poetry or apocryphal plays).
This endeavor will cast a wide geographical net, covering every region of the continent corner to corner and in a variety of locales, from metropolitan centers to small towns. It will cover the spectrum of theaters, from internationally famous festivals to community theaters. It will feature a breadth of presentation styles, from staged readings to full-scale shows, from long-running productions to one-day-only presentations, from text-centric stagings to conceptual interpretations. Along the way, I will look through the eyes of audiences, actors, and impresarios in the communities where Shakespeare lives. I'll turn the view inward, too, reflecting on how Shakespeare, in word and action, connects with my own life experiences and particular human condition as I turn 60 during the year.
The initial outings in January demonstrate that breadth of selection criteria: Fiasco's 10-person-cast production of Twelfth Night at Classic Stage Company in New York City (a fitting start, as Twelfth Night was the first Shakespeare stage production I ever saw, 43 years and 493 plays ago); Miami Shakespeare's "sensory friendly" presentation of Hamlet in a botanical Garden; and American Shakespeare Center's original-production-practices staging of Richard II, featuring a woman in the title role, at the Blackfriars Playhouse in Staunton, Virginia.
The rest of the calendar and travel schedule has yet to be determined, as several of the 217 theaters with links on Shakespeareances.com have not announced their summer or fall schedules. The traditional canon includes the 36 plays in the First Folio plus Pericles and The Two Noble Kinsmen. Thus far, all but five titles have been scheduled for production somewhere in Canada and the United States in 2018, along with one of Shakespeare's apocryphal works, in which he has been credited as a writer or associated with the play's composition.
Not only have I already "completed the canon," I've seen every play at least twice. The Canon Project is not merely a stunt to experience the complete works of Shakespeare in a single year; it's about interacting with Shakespeare—covering the breadth of his career—at a specific point in time and place of my life. With the potential close to fruition of every play being produced somewhere in North America, 2018 further emerges as an ideal year from the perspectives of social, political, and personal contexts. At each stop I will see the plays (and review them on Shakespeareances.com), interview the company's principals, cast members, and audiences, as well as community leaders, and explore the theater itself and its geographical setting. In addition to profiling Shakespeare in American communities, the journey will serve as a travelogue for those who wish to follow.
Part of the adventure will be working out the logistics of experiencing every play, each in a different forum in just 12 months, while facing the possibility that an obscure play or two might not make it to a stage in full production during that time. My matrix, with cross-references of various criteria I'm using for selecting productions in order to represent all regions, theater types, and staging styles, is daunting.
The adventure kicks off Friday, January 6, with Fiasco's Twelfth Night in New York. The journal, with timeline, will appear on this page. I also will be posting updates on social media outlets using the hashtag #ShakespeareCanon.