Interviews: Olivia and Maria
From Mourning to Light, Tonya Beckman
Plays through Two Twelfth Nights

That Tonya Beckman devoted more than six months to acting in William Shakespeare's Twelfth Night is not in and of itself unusual. That she played two roles is not unusual, either, even though the two characters were Olivia and Maria. That this was in two different successive productions at two different theaters? That drew my attention, especially as it offered an opportunity for a single actress to give her insights into two characters from both the perspective of those characters and the perspective of their counterpart characters. For our discussion on Twelfth Night and Shakespeare's portrayal of women in general, click here.
On Stage: Twelfth Night
Some Achieve Greatness

In terms of playwriting, William Shakespeare may have reached his zenith with Twelfth Night. Still, even Shakespeare at his best is not good enough for director Robert Richmond. As he does with every Shakespeare play we've seen him helm for The Folger, he has to fiddle with scenes, cut key moments, and remold characters in addition to shaping the action to his conceptual setting. Some of these decisions create fault lines in this production. However, Richmond also has a knack for assembling superb ensembles and allowing his actors to soar to scintillating states of singularity with their characters. Most importantly, he keeps Twelfth Night a comedy, and this production scores many laughs and lively fun along with some enlightening Shakespearean moments. For the complete review, click here.
On Stage: The Lady Becomes Him
Indescribable

So, how do I write up this one? Reviewing commedia dell'arte is like trying to describe a "you had to be there" moment, like Monty Python or Coneheads. I mean, try telling people unfamiliar with Monty Python and the Holy Grail about the vicious bunny rabbit ("Look at the bones!") or the Knights Who Say Ni and watch their gaze turn to glaze. The Coneheads are funny because they have cone heads, and what they actually say matters only in that context—or not. Sometimes it matters not at all but that a Conehead says it and therefore it is funny. That is commedia dell'arte when done well. Faction of Fools is master of this art form, and its members continue to do it well with their latest offering, The Lady Becomes Him.To continue, click here.
On Stage: Wallenstein
Traitor or Hero? Wallenstein and Coriolanus

If you let the Michael Kahn–directed Wallenstein wash over you, this stirring production will penetrate your ideological core. As with its fellow production in the Washington theater's Hero/Traitor Repertory, the David Muse–directed Coriolanus, Wallenstein makes you figuratively look up and down the street at the big domed building in one direction and the famous white-painted house in the other. These two plays demonstrate that not much has changed in the arts of war and politics from the 400 B.C. Roman Republic of Coriolanus to the 17th century A.D. Europe of Wallenstein to the Washington, D.C., of 2013. This Wallenstein stands on its own as a worthy evening of good theater. For the Shakespearean, the bonus is how Kahn's pairing this play with Coriolanus highlights some of the ideological questions burning under the surface of Shakespeare's play, questions that Schiller-cum-Pinsky debate openly in Wallenstein. For the complete review, click here.
On Stage: Julius Caesar
An Amazonian Take on Ancient Rome
Babes With Blades is an all-woman acting company that specializes in stage combat, even commissioning pieces centered on women fighting. William Shakespeare's Julius Caesar is a play that specializes in words, a piece centered on men talking. When Babes With Blades does Julius Caesar, you get a lot of talk and a lot of fight, but you don't get much fight in the talk. Lacking such intensity in the delivery of the speech-heavy text, we get a serviceable presentation of Shakespeare with exciting interludes of combat along the way. To continue, click here.
On Stage: Edward III
Buried Treasure
This was a moment of firsts for me. It's the first time I've seen a performance of this play, which scholars now attribute to William Shakespeare and Thomas Kyd. My Shakespeare bucket list is again complete, at least concerning his plays. It's also the first time I've experienced a play as a reading. Professional actors—11 of the 14 in this presentation are Actors' Equity members—with scripts in hand read the play in character, enter and exit the presentation space on cue, use limited blocking, and mime gestures (they used no props, and costumes were merely red and blue sashes to distinguish the English from the French, respectively, while the Scots wore plaid shirts). To continue, click here.
On Stage: Othello: The Remix
Othello Gets a Good Rap
Since the first DJ scratched out the sounds that launched hip-hop back in the 1970s, rappers have been sampling tunes, riffs, beats, and choruses from songs that have come before. It seems only natural, then, that they should also sample established verses from, say, the original will.i.am, Shakespeare. As the four-man cast raps at the start of the Chicago Shakespeare Theater production of Othello: The Remix, you make great art by stealing great art. Othello: The Remix is great art and an infectiously good time, too, as The Q Brothers reimagine Shakespeare's Othello as a comedy-drama about hip-hop artists. To continue, click here.
On Stage: Romeo and Juliet
Details Add Texture to This Fun Family Feud
Peter can't read. But he can remember. As Romeo reads him the invitation list for the Capulet's party, Tegan Williams, playing the servant in the Baltimore Shakespeare Factory's production of William Shakespeare's Romeo and Juliet, mimes characteristics of the invitees. We learn through her antics that Mercutio is a heavy drinker and that the Rosaline of Romeo's fancy is a dog (in appearance, in attitude, in both; you get the idea). Director Tom Delise sticks close to tradition with this bare-stage, text-centric, audience-engaging Romeo and Juliet. However, he incorporates some keen details that add texture to the text. For the complete review, click here.
On Stage: Alan Cumming's Macbeth
A Mad Man's Take on a Play of Madness

It takes cojones to play the entirety of William Shakespeare's Macbeth pretty much by yourself. It takes double cojones to do it while also playing an inmate in a hopital ward for the criminally insane and nearly drowning yourself on stage night after night. Alan Cumming clearly has more cojones than Macbeth, Macduff, and Lady Macbeth combined in his unique take on Macbeth. Certainly it's great theater. You can sit through Cumming's performance, currently wowing audiences at the Ethel Barrymore Theatre, and be flabbergasted at the sheer audacity of what he accomplishes. It's certainly great art, in creation and performance, as the story of Scotland's infamous regicide and the bloody tyrant who committed it plays out against the backdrop of a man in modern times who committed some heinous deed of his own. It's also great Shakespeare, as Cumming brings interesting perspectives to the play and the players in it. For the complete review, click here.
On Stage: Julius Caesar
RSC Scores a Coup with African Setting
Mood, ever-shifting, is an important ingredient in this crackling Julius Caesar under Gregory Doran's insightful direction. The all-black cast and modern African setting are no gimmicks. Aside from yielding fresh portrayals of key characters and the Zulu-lilted renderings of Shakespeare's verse, this production keys us into the factional friction and coup psychology simmering in the scenes on either side of Caesar's assassination. For the complete review, click here.
On Stage: Coriolanus
The Politics and Drama of Virility
Pretty much all the characters in Coriolanus annoy me, and when they are as annoying as they are in this Shakespeare Theatre Company production, consider that a triumphant success. Under David Muse's clear-eyed direction, the STC gives us a reading of this play that is as fresh as channel surfing among Bill O'Reilly, Wolf Blitzer, Chris Matthews, and Survivor: frustrating, funny, tragic, fascinating, and quite entertaining. For the complete review, click here.
On Stage: Much Ado About Nothing
Screwing Comedy to Many Sticking Points

I had much trepidation with this Much Ado About Nothing. In his program notes, director Domenick Scudera comments on the play's "contrasting serious side." Well, all of Shakespeare's comedies have that, but I worried that Scudera might follow the choice of too many overly analytical directors and take the path of darkness into the play rather than playing in its prevailing funlight. He does make a feint in that dark direction in the opening scene: As Beatrice (Eleni Delopoulos) remarks on Benedick's always ending their wit matches on "a jade's trick," the stage lights isolate her while she says her line, "I know you of old" as a bitter aside. Is this to be a Much Ado about tormented souls? Then the play's most tormented soul, Claudio, carrying the company's luggage, trips and sends all the duffel bags scattering. With Claudio as a pratfalling clown, Don John and Borachio as vaudevillian villains, and Clark Gable as Benedick, this Much Ado turns into an easy-going, intelligent comic romp. To continue, click here.
On Stage: Othello
The Tragedy of Desdemona, the Wife of Venice

Othello is almost always considered the story of the Moor of Venice and Iago. Maybe it's time we also consider it the story of Desdemona, Othello's wife. In the Philadelphia Shakespeare Theatre's production, Lauren Sowa as Desdemona wrests some of the play's focus away from Iago's villainy and Othello's jealousy onto her plight as a brave woman who doesn't comprehend the danger she's in until the very moment of her death. That all of the play's women create a thematic arc in this production may have been director Carmen Khan's intent, but Desdemona's prominence owes as much to the exquisitely detailed performance turned in by Sowa. To continue, click here.
On Stage: Timon of Athens
The Ultimate Unraveling of Status and Image
In Timon of Athens, Shakespeare rails at hypocrisy and casts as tragedy a beneficent man who allows himself to fall victim to it. Timon obliviously spends to excess, and much of his spending is on extravagant gifts for his friends. Soon his coffers are empty and his debts too deep; he is a toxic asset. When Timon seeks financial assistance from those lords and senators who have most enjoyed his beneficence, all turn him down, and Shakespeare gives us three scenes in which their denial comes off as so transparently hypocritical as to be intentionally comic. But the last of these three scenes gets an important twist in the production put on by the Philadelphia Artists' Collective (PAC) in which status and image matter more than friendship, loyalty, or financial security. Sound familiar? For the complete review, click here.
On Stage: Romeo and Juliet
This Production Is a Rush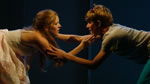 The poignant moment of this play is a moment of silence. The murders of Mercutio and Tybalt and the banishment of Romeo close out the play's first half, and after the intermission, Britian Seibert as Juliet appears on stage, alone, isolated in light. She stands there long enough for the ironic reality to sink in to the audience: Juliet doesn't know what has happened yet, and in this ignorance she eagerly awaits the arrival of her newly wed Romeo. After this pause, Seibert runs to the front of the stage and rushes through her "come night" speech. Time gallops apace in this timeless tale, and this production by the eight-actor touring troupe of the Olney, Md.,–based National Players drives through its two hours' traffic upon the stage like a road rage–inducing, lane-cutting Bimmer. To continue, click here.
Interview: Richard III and queen Margaret
Four Years, Two Immortal Enemies
Benjamin Curns played two different Dukes of Gloucester in the same play: Henry VI, Part Two. The first, Humphrey, was a role he originated in Henry VI, Part One. The second, Richard, was a role he continued playing through Henry VI, Part Three to its culmination as the title character of Richard III. These two characters have more in common than a dukedom; they both have deep enmity with Queen Margaret, played in all four plays by Sarah Fallon. Such is their relationship that my interview with the two actors ended up being a roundtable discussion with four people: Fallon, Curns, Queen Margaret, and King Richard III. For the full conversation, click here.