The World Is Their Toy Box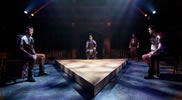 Like college courses or even acting classes, Robert Richmond-helmed Shakespeare plays should come with prerequisites for all who attend: They must have read or seen the play at least once. I've seen a dozen stagings of Antony and Cleopatra and have read it at least a half-dozen times, and even I got confused during this Folger Theatre production. As is his wont, Richmond has taken a William Shakespeare play to places beyond perhaps even Richmond's own comprehension, based on the mixed visual metaphors of his staging and the thematic corners he works his actors into. I don't mind surprises when I'm watching a Shakespeare play, and I am absolutely not against adapting any of his works, as long as such adaptations achieve theatrical merit or expand philosophical insights into the plays. With Antony and Cleopatra, Richmond's adaptation results in a mixed bag on both counts. For the complete review, click here.
The Devil Is in the Details

That Doctor Faustus, the Wittenberg University professor turned sorcerer, is a woman in Brave Spirits Theatre's current incarnation of Christopher Marlowe's play is only half the equation. That she is a young woman makes all the poignant difference in how this cautionary tale of temptation, soul-selling, black magic, and devilish cunning plays out. In the title role is Charlene V. Smith, Brave Spirits' producing artistic director and playing the part for the second time in her nascent career. Directing the piece is Paul Reisman, artistic director of the outstanding Washington, D.C.-based commedia dell'arte theater company, Faction of Fools. They still must contend with the pedantic pacing and clunky comedy of the playwright, but in the telling of Faustus's dramatic career arc, Reisman, Smith, and company score with a searing relevancy beyond staging the play in modern dress.For the complete review, click here.
Such Starstuff As Dreams Are Made On

Something significant is missing in the American Shakespeare Center's production of Rick Elice's Peter and the Starcatcher at the Blackfriars Playhouse in Staunton, Virginia. There's great acting, experienced directing, and all the typical attributes of a play staged in the world's only re-creation of William Shakespeare's own indoor theater. Even Will himself is present—kind of, with three degrees of separation. Certainly Shakespeare's spirit is in this production, for the play itself represents a brand of theater that has brought the theatrical arts full circle since Shakespeare's own productions. Which leads us back to the significant thing missing here: A wall.For the complete review, click here.
Et tu …?
Julius Caesar is dead. His assassins vibrate in the shock of their butchery. As their senses return, some shout "Liberty! Freedom! Tyranny is dead!" and others begin thinking of how to spin their deed to other senators and the public. Cassius, the conspiracy's instigator, excitedly shouts, "How many ages hence shall this our lofty scene be acted over in states unborn and accents yet unknown!" Is this a joke? Self-aware winking on the part of the playwright, you think? William Shakespeare inserted this comment at this pivotal moment of his play, The Tragedy of Julius Caesar, and though the timing might seem odd, such a joke fits in with the play's comic threads. However, this is not a joke, not in Michael Tolaydo's incisively insightful Chesapeake Shakespeare Company production. In this modern-dress production by actors in a state unborn at the time of Caesar's assassination (and when Shakespeare wrote this play), it is not a theatrical moment being repeated but the historical event itself that proves redundant. For the complete review, click here.
Ranking The Bard's Plays by Stage Popularity
This is a slap at my ego to write this, but Bard on the Boards, my list of William Shakespeare productions current and coming, is the most popular feature on Shakespeareances.com. I would love to think that my reviews and commentaries get more readership than a list of titles on the playbills of theaters around the world, but those plays are far more popular than anything I write. How popular? Or, to the point of this particular essay, which of the plays are the most popular? This site's most popular feature, Bard on the Boards, could answer that question. For this the sixth anniversary of Shakespeareances.com's launch, I've studied the site's archives to rank all of Shakespeare's plays by the frequency that they have been produced over the past half-decade and in the past year. To read that feature and see the rankings, click here.
---
Huh? Huh. Mmnn.
If you start feeling the urge to condemn me for not inserting spoiler alerts in this review, save your passion. I can't spoil something when I'm as befuddled as the next person (in this case, that would be my wife) watching this Shakespeare Theatre Company (STC) twin bill of Harold Pinter one-act plays, The Lover and The Collection. Which is not, necessarily, meant to demean either of these plays or this production. Pinter writes thought-provoking plays, and these two fit that bill. Sometimes those provoked thoughts are disjointed and merely circle around the universal question that so often nags at humankind: Huh? I've decided my purpose with this essay is not to praise or dispraise these plays or this production, but to herd all my provoked thoughts into some logical conclusions—my logic, of course, not anybody else's. And if you think I've spoiled any plot turns for you along the way, trust me (or if you are familiar with Pinter, trust him): the plots of both plays are spoil-proof. For the complete review, click here.
At the Heart of a Still-Beating Comedy
After seeing 18 stagings and two cinematic versions of William Shakespeare's Much Ado About Nothing, I go into the play with a mental checklist, and did so for the American Shakespeare Center's current production at the Blackfriars Playhouse in Staunton, Virginia. Is Claudio's dramatic arc, from smitten soldier to scammed fool to incredible jerk to repentant husband, believable? Check. Does Don John's scam of Don Pedro and Claudio work? Check. Is the gulling of Benedick and Beatrice fun? Check plus. Do we empathize with anybody other than Hero at the miscarried wedding? Leonato, Claudio, and Don Pedro—whoa, triple check. Is the setting apropos to the play's plot and theme? Renaissance, so check. Beatrice and Benedick aren't on this checklist because there's never been much new to report on them as long as the actors are up to the task, and I figured that was a given with Allison Glenzer and David Anthony Lewis, considering their American Shakespeare Center (ASC) track records. Yet, I was genuinely surprised when these two actors turned in such incredibly fresh takes on the famous couple to make this production a plus-plus-plus staging of Shakespeare's great rom-com. To continue, click here.
When Love Speaks

Love's Labour's Lost is the ultimate Shakespeare snob play. It features some of the canon's most flowery verses and a plot centered on witty repartee among a cast of gender-pairing royal courtiers juxtaposed with a half-dozen country folk and one bizarre, language-addicted, romantic Spaniard. The obtuse nature of its comic verses means the play is infrequently staged compared to Shakespeare's other romantic comedies, and many productions gut it and dress the play in borrowed art, from jazz to boy band pop. The American Shakespeare Center (ASC), however, approaches Love's Labour's Lost head-on, not only embracing its language, personage, and period, but using all three to construct genuinely Shakespearean gut-busting entertainment that inspires multigenerational laughs (as young as 6ish) from all comers to the playhouse. While Shakespeare might have been writing a play for snobs, he most definitely wrote a comedy about snobs. For the complete review, click here.
No Bed of Roses
William Shakespeare's Henry VI, Part 3, prominently features a queen. So, of course, the cast in the American Shakespeare Center (ASC) production was destined to play a song by the rock band Queen in its preshow music. Two songs, actually: "We Will Rock You" interlaced with "Another One Bites the Dust." The latter song is thematically apt to the play, in which a lot of people bite the dust. The other song better fits this production, which kicks its can all over the place. To continue, click here.
Fight Time
Violence often is the easiest answer for those in confrontational situations and generally the most attractive option for those watching. Whether prompted by anger, honor, fear, revenge, pride, ideology, or, ironically, love, striking others (or oneself) with fists, blade, poison, or other weapons offers immediate satisfaction. That, however, blinds the perpetrators and enablers to longer-term consequences that incur a level of pain and difficulty far outweighing the initial gratification. Lacking the ability to fully know those consequences before striking the blow, we are left with parables to give us a glimpse. William Shakespeare gives us such a parable with Romeo and Juliet, and Raphael Massie, with his brashly hip production for the Elm Shakespeare Company in New Haven, Connecticut, expands the play's effectiveness from that mere glimpse to a visceral understanding of violence's full effects.To continue, click here.
A Dream Dream Celebrates a Waking Dream
I had nothing with which to dab the tears from my eyes. They streamed down my cheeks to my beard. Crying at plays is something I do on occasion: especially William Shakespeare's King Lear. But here I'm watching Shakespeare's A Midsummer Night's Dream, we're only in Act III, Scene 1, and I'm bawling from the accumulative effects of laughing since even before the play's first line was spoken. With inventive readings of Shakespeare's lines and metatheater elements, this dream of a Dream celebrates the opening of Cincinnati Shakespeare Company's new Otto M. Budig Theater. It is a fabulous new house, too, and as we settled into our seats before the show, I was prepared to focus my rave review on the company's new digs. Then, the company itself launches into rave-up hilarity in A Midsummer Night's Dream that shows off all that their new play space has to offer. For the complete review, click here.
The Palpable Presence of the Missing Third
Ariel flits from tree to tree—real trees. You hear dogs barking and feel the breeze blowing, both on cue. And when Prospero says that "The time 'twixt six and now must by us both be spent most preciously," in that moment in this environment you are sharing something more than William Shakespeare's words with his original audience; you are sharing in their time. These are among the delights of seeing The Tempest in Shakespeare & Company's new Roman Garden Theatre. Nevertheless, the production's most enticing aspect is how Prospero and his daughter, Miranda, literally gnash at each other like wolves in one moment and in the next embrace as if their lives depended on their love. An outdoor theater-in-the-rectangle can infuse this play about magic with real magic, but inevitably, insightful readings by veteran Shakespearean actors following the lead of an intelligent director are what keep Shakespeare's scripts ever-current, ever-evolving, always interesting.For the complete review, click here.
Bootleg Shakespeare's Timely Undertow
In its annual exercise of theatrical derring-do—mounting a full-scale William Shakespeare play in one day for a one-night-only performance in the Folger Theatre—Taffety Punk amps up the challenge of its Bootleg Shakespeare productions by selecting the playwright's more obscure works. Last year it was Henry VI, Part 1, which means that Henry VI, Part 2, lined up for this year's 11th Annual Bootleg Shakespeare. Oh, but what a difference a year has made for the nation. Suddenly, a singular feature of Henry VI, Part 2, the Jack Cade Rebellion, reverberates with shuddering relevancy, potentially lifting this play out of its relative obscurity. Not that Taffety Punk was concerned with such conceptual context. Bootleg Shakespeare is all about survival,and for my full review of a production with a promising afterlife, click here.
It's Mendelssohn, Not Meddlesome
It is one of the most popular pieces of music in history. Not played as often as "Happy Birthday to You" and the "Star-Spangled Banner," perhaps, but certainly more ubiquitous than Beethoven's Fifth Symphony, "Hey Jude," and the theme to Gilligan's Island. It is Felix Mendelssohn's Wedding March, and he wrote it in 1842 to accompany William Shakespeare's A Midsummer Night's Dream. This triumphal piece of orchestral music became what is now the ubiquitous soundtrack for blushing brides and grinning grooms tripping down the aisles through a phalanx of cheers and tears at the end of weddings. How much fun, then, to see it used for its original purpose, as Theseus, the Duke of Athens, and his bride, Hippolyta, along with two other newlywed couples, all dressed in formal Greek and Amazonian regalia, march onto the stage—attended by fairies. Such moments are the richest gifts (along with a few more ordinary presents) of Shakespeare Opera Theatre's production of Shakespeare's A Midsummer Night's Dream featuring the full suite of Mendelssohn's incidental music. For the complete review, click here.
The Common Roar
It starts with a roar—actually, it starts with a yawn, but such is a father's yawn, a sudden bellowing (as are a father's sneezes, coughing fits, and farts) to fright the pride (but not their own pride). It ends with a dead king and a nation emerging from chaos—actually, it ends with a theatrical conundrum: the bastardizing of the Bastard. The whole is a journey through two plays, William Shakespeare's King John and James Goldman's The Lion in Winter, in which the sequel comes first, the present play is past, the past play present, and a young theater company, 4615, shows its muscle while still learning the walk. To continue reading, click here.
The Boys Are Back In Town
Hoosier Shakes's mission statement is "To vitalize the performance of Shakespeare and other drama for diverse communities of Grand and Wabash Counties, Indiana, by presenting inspiring, accessible, literate, experiential theatrical performance." Note, first, the local focus, and then key words like accessible, literate, and experiential, three words some would consider antitheses. Which brings us to the company's Much Ado About Nothing directed by Marshall B. Garrett. Its opening signifies a production paying close attention to the play's text as well as its tone while emphasizing unabashed fun. How unabashed that fun is results in a mixed-bag production. For the complete review, click here.
For Whom the Bell Tolls
What has become a cliché, that "all the world's a stage," was, for the man who gave us that phrase, an operational dictum. William Shakespeare originally wrote for outdoor and transient theater. Moreover, he seems to have written for environmental contingencies. I've seen many examples of this, the latest with this summer's Cleveland Shakespeare Festival production of Macbeth on a tour stop in Public Square in the heart of downtown. The show's director, Cleveland Shakespeare Festival Artistic Director Tyson Douglas Rand, impressively uses touring staging restrictions to create, rather than limit, stage effects. But the keenest effect comes from, shall we say, a spiritual force.For the complete review, click here.
Past and Present Tense
Last year when Michigan Shakespeare Festival (MSF) Producing Artistic Director Janice L. Blixt planned for the company's 2017 season, she anticipated that The Taming of the Shrew would be the title that would stir the pot of controversy, not Julius Caesar. Then the Public Theater in New York this summer represented Donald Trump as Caesar, and like many other Shakespeare theaters around the country, MSF received online hectoring about its upcoming production. Although Blixt gives her version a modern setting—using some clever staging optics in doing so—she does not invoke current partisanship politics or party iconography with the play. However it's set, Julius Caesar's relevance emerges via Shakespeare's dramatic methodology in creating the environment of oppression that comes with encroaching tyranny and the palpable sense of internal and social chaos that comes in the wake of a coup. In her production, however, Blixt's cuts to the text and streamlining the play's personnel skim off the psychological cream of Shakespeare's political thriller. For the complete review, click here.