The Shakespeareances.com Top 40
My personal most memorable Shakespeareances
{productions through 2011)
1. A Midsummer Night's Dream at the Atlanta Shakespeare Tavern, 1997.
Sarah and I hosted my parents and my two sons for a post-Christmas treat at the Tavern. Dream almost always provides some good laughs somewhere along its course, and I've seen some great Bottoms, Titanias, Oberons, Pucks, Snugs, Quinces, Theseuses, Hyppolytas, and even a Philostrate—but never all in one night, and seldom do the lovers hold my interest. This production not only scored hilarious performances with every one of those characters (a trio of musicians played Philostrate), it also had a quartet of lovers firing on all cylinders to sustain an edge-of-your-seat thrill ride. Yet, stealing the show were three actor/dancers, Angus Whyte, Jody Reynard, and David Craven, who doubled as fairies and rude mechanicals. As the former they danced with skill and grace; as the latter, presenting Pyramis and Thisby, they clumsily tottered across the stage and into the walls like ballet on a bender. By the time Quince screamed at Bottom's Pyramus to die already, I was treated to the indelible image of three generations of Mintons around our table so convulsed in laughter every one of us was wiping tears from our cheeks.
2. Somerset on a Stick in Henry VI, Part 2, at the American Shakespeare Center, Blackfriars Playhouse, Staunton, Va., 2010.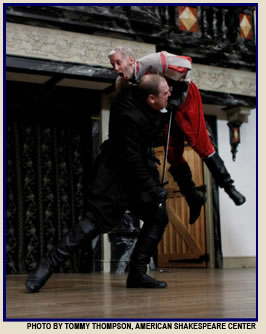 Never have I seen a death, or any stage action outside Cirque du Soleil, cause such a gasp from the audience than Ben Curns' Richard Gloucester killing Bob Jones' Somerset at the end of this second part of Henry VI. Jones is a rail-thin guy, but still: Gloucester impaling him with his long sword and then lifting him high overhead and down to the stage with one final thrust was an astonishing explosion of dramatic violence and courageous stage combat (mingled with the audience's collective gasp were squeals of appreciation from fellow actors up in the circle, members of the company's touring troupe who had heard of the stunt but were seeing it for the first time). More than an acrobatic feat on both actors' part, this moment was a dramatic watershed, establishing Richard as the most dangerous death-dealing character in this series of plays. And yet, this moment was merely the highest (literally and figuratively) of so many highlights in. …
3. Henry VI, Parts 1, 2, and 3 at the American Shakespeare Center, Blackfriars Playhouse, Staunton, Va., 2009, 2010, and 2011, respectively.
Anybody who believes these three plays are sub-Shakespearean needs to see them staged the way Shakespeare intended: a small troupe of actors on a bare stage with a week's rehearsal (and no director) working only from their individual parts rather than the whole script. You get fast-paced plotting, passion on the sleeves, wry humor, crude-but-winning special effects, multiple characters with just enough depth (and a number of archetypes), and lots of action. It's Elizabethan popcorn theater. With each part playing individually in three successive seasons, I could easily have listed all three productions individually among my top 25 Shakespeareances. Part 1, with the comedy of the bickering English versus the silly French, gave us the real sensation of being among Shakespeare's original audience. Part 2, with the dysfunctional court along with a queen making love to a decapitated head, was a high-octane romp that prompted an explosive standing ovation at the end. Part 3, with the passion of York and the passion of Margaret on either side and the passion of Warwick waffling between them, was to witness Shakespeare's genius begin to blossom before our eyes. Taken together, this was a three-year Shakespearean moment mingling recollection of what went before with anticipation of what was to come. [Click here for reviews of Part 1, Part 2, and Part 3. Click here for an interview with Sarah Fallon about her three-season portrayal of Margaret.]
4. Anthony and Judi as Antony and Cleopatra at the National Theater, London, 1987.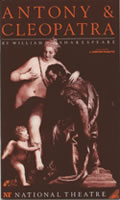 Act V of this play can seem to go on forever as one one-half of the titular characters is already dead. With Judi Dench playing the Egyptian queen, however, the play ended too soon. Her Cleopatra, dexterously zipping back and forth across the behavioral spectrum, was an ambitious spirit and lust-driven to the core, displaying a mature, mastering-the-moment kind of sexuality. She handled impending death with the same spirit and sexuality with which she ruled her world, giving us such an entrancing Act V that when the Egyptian queen finally succumbed to the asp's sting the tragedy was the audiences'. Anthony Hopkins, drawing on the personal demons of his own past, portrayed the Roman triumvir as an alcoholic, not past his prime physically or mentally but his talents worn down by his excesses. Peter Hall gets equal credit for his simple, stick-to-the-text direction. Part of that direction was giving both leads freedom of fluidity in their blocking, so Hopkins would enter any given scene on any given night from any given door in the theater; Dench never knew where he would appear next. That dynamic charged all their scenes, together and apart. Perhaps it's no coincidence that both Hopkins and Dench moved on from this Antony and Cleopatra to a succession of remarkable triumphs on film, Hopkins back on top of his game, Dench proving capable of ruling any world.[For a review of Judi Dench's memoir, which includes her recollections of this production, click here.]
5. Pinch's Dance, Comedy of Errors at the American Shakespeare Center, Blackfriars Playhouse, Staunton, Va., 2009.
Daniel Kennedy's Pinch was an Eastern mystical man in this production of Turkish Caliphate costuming. Pulling off his robe to reveal oversized purple diapers and accompanied by an assistant with a tabor, Pinch broke into a wild dance to exorcise the devil out of Antipholus of Ephesus (Luke Eddy). All arms and knees, Kennedy danced like a marionette whose puppeteer is being attacked by a wasp. Antipholus' bemused astonishment matched ours (which added to the scene's humor), even when Pinch erupted into this dance a second time. Later in the play, Eddy's Antipholus mimicked Pinch's dance before the astonished Duke—and who should be playing the Duke? Why, Daniel Kennedy. While Pinch's dance itself was tear-inducing funny, this third time of charm created true theater magic as performance crossed into production reality to create a dimension of enjoyment in the psychological space between.[For my full account of this production of Comedy of Errors, click here.]
[Go to Top 40 Shakespeareances 6-10]