An Interview with Olivia and Maria
From Mourning to Light, Tonya Beckman
Plays through Two Twelfth Nights
By Eric Minton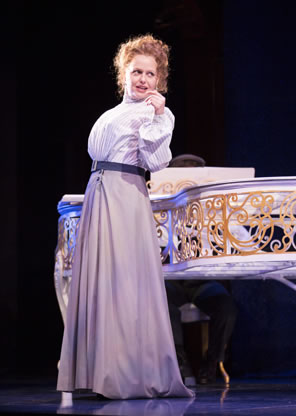 Tonya Beckman as Maria in the Folger's
Twelfth Night.
Photo by Scott Suchman, the Folger Theatre.
That Tonya Beckman devoted more than six months to acting in William Shakespeare's Twelfth Night is not in and of itself unusual. That she played two roles is not unusual, either, even though the two characters were Olivia and Maria. That this was in two different successive productions at two different theaters? That drew my attention, especially as it offered an opportunity for a single actress to give her insights into two characters from both the perspective of those characters and the perspective of their counterpart characters.
Beckman played Olivia in the Taffety Punk Theatre Company production at the Capitol Hill Arts Workshop in Washington, D.C. Shortly after that four-week run ended February 23, 2013, the Folger Theatre announced she would be playing Maria in its production, which began its run April 30 and had its press opening May 5. This was not a step up or down, it was a step over—literally, eight blocks north and six blocks west, or one stop on the Blue and Orange lines of Washington's Metro.
Taffety Punk, of which Beckman is a company member, is a small, women-centric professional theater company playing in a studio theater and other fringe venues, but its reputation for avant-garde theater (including Shakespeare) has not only earned it great respect in the nation's capital but up the coast in New York and across the pond. "Taffety Punk is one of the most exciting, innovative and—yes—coolest companies I've seen doing Shakespeare in the U.S. I wish we had something like it back in Britain," wrote Andrew Dickson, theater editor for The Guardian in London, author of The Rough Guide to Shakespeare, and contributor to the New Cambridge Companion to Shakespeare. The Folger is the Folger, and its small Elizabethan-style theater presents professional productions by top Shakespearean directors (some of whom have done pretty avant-garde Shakespeare in this theater, too).
After starting her career in Chicago, Beckman has played in a wide spectrum of plays across the D.C. theater landscape and elsewhere, and she has done film and TV work, too. Her love, she says, is Shakespeare and Restoration Comedy (she was in The Gaming Table at the Folger in the spring of 2012). She has played in almost 30 Shakespeare productions, including the narrator for The Rape of Lucrece at Taffety Punk. Among her female roles were Julia in Two Gentlemen of Verona and Portia in The Merchant of Venice at the Shakespeare Project of Chicago, Kate in The Taming of the Shrew twice, Ophelia in Hamlet in graduate school, Maria in Love's Labour's Lost at the Shakespeare Theatre Company in Washington, D.C., Phoebe in As You Like It at the Folger, and Beatrice in Much Ado About Nothing, Emilia in The Two Noble Kinsmen, Marianna in Measure for Measure, and Constance in King John at Taffety Punk.
But she had never intersected professionally with Twelfth Night until this year. "It's just one of those plays that I never even had auditioned for before the Taffety Punk production," she said, though she did do Viola's willow cabin speech in a class when she was earning her MFA at the Ohio University Professional Actor Training Program (she earned her BFA from the University of Wisconsin and has also been through training programs at Washington's Shakespeare Theatre Company and at Second City, Steppenwolf Theatre, Goodman Theatre, and Chicago Shakespeare, all in Chicago).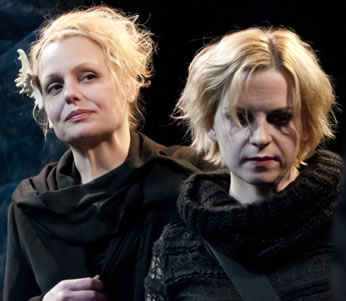 Tonya Beckman, left, as Olivia with Death as Feste (Kimberly Gilbert) in the Taffety Punk production of
Twelfth Night
. Photo by Teresa Castracana, Taffety Punk.
Both Twelfth Night productions opened with an extended focus on the shipwreck, including Viola and Sebastian drowning in metaphorical dances using sheets of long blue fabric. After that, the two shows departed significantly in context. The Taffety Punk production, directed by Michelle Shupe, was in modern dress and played as Viola's near-death experience. The entire play seemed to take place under water, with the characters wearing seashells and a giant fish occasionally floating across the stage. Despite its focus on fatality (Feste, in fact, was Death), it emphasized the play's comedy. Beckman's Olivia was a self-absorbed woman straight out of Kardashianville, where even her mourning for her brother was a show. Her second interview with Viola (Esther Williamson) was like a "Who's on first" routine as Viola tried to convince Olivia of the futility of loving her, but everything Viola said was shooting straight over Olivia's oblivious head.
"Viola could literally open up her blouse and say"—and Beckman whispered as if Viola is letting her in on a secret—"'I'm a girl,' and Olivia would say, 'Come again tomorrow.' She's just not ready to hear it."
The setting of the Folger production, directed by Robert Richmond, is pegged to the sinking of the Lusitania in 1915. It has a Downton Abbey feel to it, with social stratification very much on display. However, it, too, emphasizes comedy, even inserting Keystone Kops–like stage business and characters ball-dancing with mannequins as transitions between scenes. Beckman's Maria is a vivacious woman, flirtatious but totally doting on Sir Toby. "The secret to Maria is that she's always ready to have fun," Beckman said. "She's not complicated. She wants to have fun. She gets into lots of trouble. You know, she's completely irresponsible, along with Toby."
To get a notion of how different these productions are is to describe Beckman's counterparts in each: The Olivia at the Folger (Rachel Pickup) is a delicate, reserved woman, a total opposite to Beckman's portrayal; the Maria at Taffety Punk (Jennifer Hopkins) was a heavy metal, boozing groupie, much more the rebel than Beckman's Maria.
The common thread, of course, is Shakespeare. Beckman feels that the playwright approached his female characters with a great deal of sympathy. "I think he recognizes, at least in his day, what little power they have but sees them as every bit as human as the men. Their power is behind the scenes."
Such was Shakespeare's insights into the two genders that the rhythm of his verse differs when portraying each, Beckman said. "The women kind of save it up, and then when they have something to say, it's all really well thought out. It's almost like they've been thinking it for a long time, and now is their opportunity to speak and say what needs to be said. The men are figuring it out as they go because they're running the show, they're thinking on their feet, they're making decisions as they need to." This can be problematic for women playing male characters, she said. "If you grow used to, 'OK, here's my argument all laid out for me' and that's how you approach those roles and you go in and play a man's role and it's all jumbled and topsy-turvy, it can be really hard to learn the part."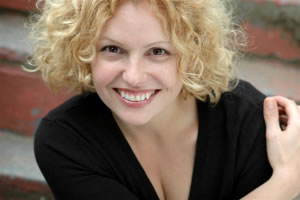 Just as important to Beckman are those moments when the characters go silent, something she has noticed happens often and at key points in the women, including Olivia and especially Maria. The previously voluble waiting-gentlewoman suddenly has little to say after Toby determines to throw Malvolio in a dark cell.
In Twelfth Night, Shakespeare created not one, not two, but three incredible female characters. Viola gets most of the critical attention because it is her play, but she is really a culmination of the great comic heroines who have come before. Maria may be a waiting woman to Olivia, but she is unlike any other such role in other Shakespeare plays, such as Two Gent's Lucetta and Merchant's Nerissa. "Maria is in the play much more to be there for Toby then she is to be there for Olivia," Beckman said. Meanwhile, Olivia is a singular character in the canon.
"If you're going to give Olivia a modern parallel, she'd be a celebrity, maybe like a TV celebrity who is hounded by the press," Beckman said. "Because, in this play, the only character who doesn't want something from her is Viola, which I think is why [Olivia] falls in love with her. And all these different people who all want something are pursuing her, and I think that makes you set yourself apart and away from people and is a very lonely thing."
One day before previews began for the Folger's Twelfth Night, Beckman and I met at a Starbucks in Washington's Chinatown. We sat down over coffee and chai latte to discuss these two remarkable roles, the possibility of her playing Viola, too, and Shakespeare's treatment of women across the entire canon.
May 16, 2013
[To read the full interview, click here] [For a PDF of this interview, click here]