Opening Day
The All-Shakespeare Baseball Team
I know this is a Shakespeare website and its focus is on theater. But hey, today is Opening Day. Baseball is back. And after my winter of discontent, I'm ready for some fun.
Shakespearean fun.
To celebrate Opening Day, which is a Nationals holiday in our household (no typo there), I have put together an all-Shakespeare team, recruiting players from across the entire canon. With Puck at the top of the lineup, Coriolanus batting cleanup (that sounds like an oxymoron, I know), Hamlet as the staff ace, and Prospero pulling the strings, my Shakespeare team has the tools to go all the way to the World Series. It might get bludgeoned by the Chicago Cubs (the only team that can match Shakespeare in the genre of tragedy) or fall victim to the San Francisco Giants' even-year karma; but my Shakespeareans will smoke any other literary lineup this side of Bernard Malamud.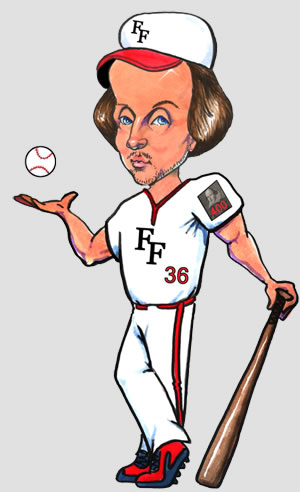 First, a disclaimer: reading this piece won't requite you with any great sense of profundity. It is pure frivolity, borne of long, lonesome hours driving back and forth the past couple of months between my home near Washington, D.C., and my father in Charlotte, North Carolina. Getting back into the swing of Shakespeareances, and in the spirit of rebirth that Opening Day enkindles in all mankind—at least that portion that loves baseball or follows a favorite team—I figured this exercise in character analysis is just the ticket for today.
Second, I have to establish the rules—actually, one rule in particular: the designated hitter (DH). Am I playing by American League rules (which uses the DH) or National League rules (which doesn't)? This being Shakespeare, you might think this would be an International League team, but that's a minor league circuit (which uses the DH) and Shakespeare is most certainly Major League. The easy answer would be to include the DH because then I wouldn't have to worry about Coriolanus playing defense—which we all know is one of his two deficit qualities.
An even easier answer is to point out that in writing his plays William Shakespeare didn't follow many rules—of unity, of time, of historical veracity. In the Shakespeare Baseball League, you would be able to use as many players as you wanted and move them up and down the lineup from inning to inning (Horatio leads off, later is a number eight guy, and ends up batting cleanup); you would be able to pinch hit or pinch run for a player and still use the replaced player later in the game (Julius Caesar gets knocked out in the fourth inning but comes back to start a rally in the ninth); you could move the eighth inning to the fifth inning if you wanted to, though why you would want to is anybody's guess (I'm looking at you, Aaron Posner). On the other hand, as Shakespeare himself put it, "Thrice to thine and thrice to mine, and thrice again, to make up nine": we don't want to invoke Macbeth's curse by going with a starting 10, which would be the case in using a DH. Plus, I despise the DH—still do after all these years. So, no designated hitter. That just makes the challenge of figuring out where to play Coriolanus more interesting.
Every great team starts with a great manager, and filling that role for my Shakespearean team is The Tempest's Prospero. You have to admit this guy is great at managing outcomes, often going by the book but sometimes using his gut, and he's adept at reacting to changing circumstances. He not only knows how to deploy talent—whether it's relying on Ariel's bedazzling pitches or getting good wood from Caliban—he's good at managing personalities, too, balancing benevolence with discipline. His staff has Nestor from Troilus and Cressida as his bench coach, dispensing wise saws and war stories in equal measure; Rosalind of As You Like It as the pitching coach, overseeing a staff of talented but insecure hurlers; Henry V as the third base coach, directing the offense once more unto the breach; Paulina from The Winter's Tale as the first base coach, keeping the runners' heads in the game; and Lady Macbeth as the bullpen coach, telling each reliever entering the game to screw their courage to the sticking place. Up in the front office is the general manager, Ulysses from Troilus and Cressida, constructing his team of warriors, assigning players in the system, and making trades with the opposition, all while keeping a close eye on the bottom line.
Here is the starting lineup.
Batting first and playing center field is Puck from A Midsummer Night's Dream. A prototype leadoff hitter with great reflexes, he can get on base any number of ways and put a girdle round about the diamond in 4 seconds. His speed and reactions to the ball make him a gifted centerfielder.


Batting second and playing left field is Lucio of Measure for Measure. His womanizing and partying ways can be a distraction for management, but the guy is a catalyst, great at moving the line along, whether it's sacrificing Puck over or driving the Goodfellow in.


Batting third and playing third base is the Bastard, Philip Faulconbridge, of King John. This guy hurts you with his bat in a lot of ways—with power, with well-placed gappers, and by taking his bases on balls—and he has the athleticism to hold down the hot corner. He also has the outspoken attitude to be a leader in the clubhouse and direct the infield.


Batting fourth and playing right field is Coriolanus. He can singlehandedly win games with his bat, and singlehandedly lose games with his utter disregard for everybody else. You can't put him in the infield because he would try to get to every ball and he'd clobber every runner who got near him. The safest place for him is right field, where his arm is most valuable and the only teammate he might run over is Puck, who has the natural wherewithal to avoid a collision. You can also count on Coriolanus climbing any wall—even scrambling over several rows in the stands or running out through the stadium gates—to capture a ball that would otherwise be a home run (or foul ball, for that matter).


Batting fifth and playing first base is Margaret of the Henry VI tetralogy. This woman can hit for average and for power and is steady in the field. You not only benefit from her tough-as-nails attitude at first and at the plate—she is a hard out, I can tell you that—she is smart and can't be overpowered by any pitcher, right hander or lefty.


Batting sixth and catching is Petruchio from The Taming of the Shrew. You couldn't ask for a better man to call a game, always keeping opposing batters off-balance with his pitch selection and coaxing the best out of his pitchers. Offensively, he has a high on-base percentage, as he doesn't strike out too often. I see him driving in runs and scoring in equal measure, which is why I put him here one spot ahead of Romeo.


Batting seventh and playing second base is Romeo. His soft hands make him an asset at second base, and though he tends to swing and miss a bit much, he has perfected the art of bunting: you won't see anybody execute a better sacrifice or suicide squeeze, making him the ideal guy to bat behind Petruchio.


Batting eighth and playing shortstop is Feste from Twelfth Night. You need his defense in the field, which is his primary asset to this team (with him as well as Romeo, Petruchio, and Puck up the middle and Margaret and the Bastard on the corners, this team will not give up a lot of runs). However, this switch-hitting shortstop also is good at putting the ball in play, gravy to his great glove work.


Batting ninth is the pitcher, and the ace of this staff is Hamlet: he can throw that speedball right by you, but his out pitch is one of the greatest curveballs the game has ever seen. Next in the rotation is the diabolical southpaw, Iago from Othello, a master of deception with a wide repertoire of pitches and the uncanny ability to adapt to the ebb and flow of the other team's offense. He's got the stuff to be a great closer but, no, you want this guy starting the game. Occupying the third slot is Oberon of A Midsummer Night's Dream, a steady, veteran presence who can get you out with his wiles as much as his stuff and is particularly good at stopping losing streaks. Our number-four starter is Aaron, a left-hander from Titus Andronicus: this guy has nasty stuff, overpowering heat, sliders, curves, and change-ups, along with the attitude to back batters off the plate by busting them inside with a little chin music. At the back end of the rotation is Viola, another wily pitcher who can go the distance and is equally effective against left-handed and right-handed batting.

The bullpen is anchored by our closer, Achilles from Troilus and Cressida, who has the perfect closer mentality (i.e., he's a huge jerk) and the arsenal to get the job done by overpowering batters or sneaking a breaking pitch past them; the only pitch he hasn't mastered is the changeup. Antony is our long reliever. If the starter goes down in the early innings, this guy can take over and finish the game—and go far into extra innings, too. Harry "Hotspur" Percy of Henry IV, Part One is our eighth-inning set-up guy with his battling attitude and high heat, and Lady Percy is a perfect bridge to him, pounding the strike zone and relying on her fielders to get the outs. The pitcher we want to get us out of any mid-inning jam, of course, is Portia from The Merchant of Venice. We need another lefthander out in the pen, so I'm going with Imogen from Cymbeline: nothing flashy, just a perfect mental makeup to work through difficult situations.
For the bench we're looking for three things: balance (power, speed, defense), versatility, and game-changers—players who can spark a rally. My first choices, then, are obvious: the First Lord and Second Lord in All's Well that End's Well. Only the most ardent fans may know their names, but they are scrappy players: good athletes who can drive the ball but know what it takes to get on base and can play just about any position. Our backup catcher is Buckingham from Richard III, who knows how to call a game and can hit for power. The fourth outfielder is Mercutio, a guy with tremendous athletic skills that make him a natural coming out of left field, and though he strikes out more than he should, with his speed he can bedevil the other team on the base paths. Spelling Margaret at first base is Joan of Arc from Henry VI, Part One, the kind of warrior who injects not just the skills but the inspiration to start a rally when you're down, she undoubtedly has the baseball gods on her side, and she can weild a bat, too. Our utility infielder is Celia from As You Like It, a veteran presence and silent leader who is willing to take on any task where there's a need.
Some notable names are lacking here, of course. Othello can hit for power, he's proven himself an able pinch-hitter, and he knows defense, but he's a head case when the game is on the line. Isabella of Measure for Measure is a pure hitter but can't play a lick of defense (at least Coriolanus will get to the ball, even if he has to run over opposing players, teammates, and fans to get there). Richard III has the stuff to be a great pitcher, but even when he gets to an 0-2 count he just can't seem to close the deal. Macbeth may be another Mickey Mantle in talent, but his contract demands are too high. As for Brutus in Julius Caesar, the game has passed him by, and his one-time double-play partner Cassius is a cancer in the clubhouse (Coriolanus can be, too, but at least he wins you ballgames and rises to the challenge of big moments).
You can also use characters for some ancillary roles: Helen in All's Well That Ends Well would be my first choice for head trainer, and if not Launce from The Two Gentlemen of Verona as a batboy, I'll use Crab as a ball dog. Ariel, meanwhile, is playing the organ and running the giant scoreboard, and Henry V's Chorus is our PA announcer: "Let us, ciphers to this great accompt, on your imaginary forces work," Chorus says, which is Shakespearean for "Play ball!"
Eric Minton
April 4, 2016
Reader response:
Brilliant. Put in Kate, from The Taming of the Shrew, as umpire—who would dare argue her calls?! Love this piece!
Joanne Allen
April 8, 2016
Updated
Hector of Troilus and Cressida, our back-up first baseman, we've traded along with a prospect for Joan of Arc.
July 15, 2018
Comment: e-mail editorial@shakespeareances.com
Start a discussion in the Bardroom