Choices
Any Value in Getting All the Way to Broadway?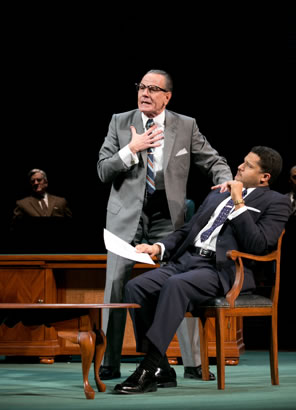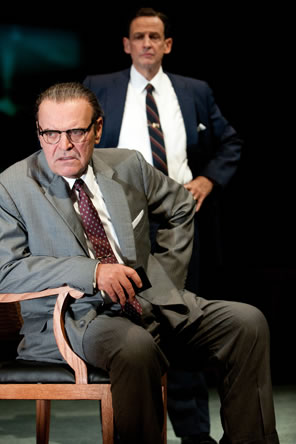 Top, Bryan Cranston as Lyndon Johnson and Brandon J. Dirden as Martin Luther King Jr. with Richard Poe as the FBI's Cartha Deeke DeLoach in the Broadway version of All the Way. Photo by Evgenia Eliseeva, Jeffrey Richards Associates.
Bottom, Jack Willis as Johnson and Peter Frechette as Senator Hubert Humphrey in the Oregon Shakespeare Festival version of All the Way. Photo by Jenny Graham, Oregon Shakespeare Festival
Just now as I write this, I asked Sarah, "Where did we sit?"
"For Cranston?" she replied.
She means Bryan Cranston in All the Way currently running on Broadway. As highly as she regards the Robert Schenkkan historical political thriller that we first saw two years ago at the Oregon Shakespeare Festival (OSF), she still assigns it the moniker of the television star playing the lead role of President Lyndon B. Johnson.
Of course we were going to make a point of seeing the production with Cranston on Broadway. When we saw the premiere production at OSF of Schenkkan's account of Johnson's first year as president, it became one of the top theatrical moments of that year and has remained so since. Though the Broadway version is the exact same production helmed by Bill Rauch (via a run at the American Repertory Theater in Cambridge, Mass.), it features a new cast led by Emmy Award–winner Cranston. Besides that, it is now a Broadway show. What was great is now greater by virtue of place and participation. Or, so the common thinking goes.
Let's stop there. For years I have not only put up with theater snobbery, I've fallen into its trap myself. I used to see Shakespeare plays in various locales and think, well, I've seen the Royal Shakespeare Company in London and, well… (or, with the harrumphing breath accompanying it, Well…!). But the more American productions I attended (in the United States and Canada), the more I realized the British do not corner the creation nor credibility market on Shakespeare. I've now come to champion the provincials. I have an Atlanta Shakespeare Tavern jacket, and when I wear it in the Washington, D.C., area and people ask me about it, I tell them of the great Shakespeare I've seen in Atlanta. They respond with a barely suppressed smirk of superiority, "So, have you been to the Folger or the Shakespeare Theatre Company?" Yes, I subscribe to both, and the Atlanta Shakespeare Tavern does great Shakespeare (which you also can get in Staunton and Boise and Ashland and Cedar City and Vancouver and Philadelphia and Madison and, I'm sure, in many other places I've not been yet, but plan to).
Still—still—New York (or, rather, New York!). Since we settled in Northern Virginia almost six years ago, we have made increasingly frequent trips to New York City—Broadway!—the high holy of theater. And often I feel less than blessed, leaving theaters without singing hosannas and praising these lords of the boards. This is the best talent in the United States—at least that's what the ticket prices tell us—and an entire industry sector has grown up around that concept. Yet, I often drive south on the Jersey Turnpike or ride Amtrak's Northeast Regional home on Sundays feeling the big city ain't necessarily where it's at and more than ever looking forward to seeing the next play in Staunton, Va., or some studio production of Shakespeare around D.C. As I think these blasphemous thoughts, I wonder if I'm so inadequate that I lack—I shudder to even think it—good taste.
Rest, my perturbed soul. With All the Way, we have now seen the exact same production done first in the provinces and second on Broadway, and I can say unequivocally that both Sarah and I enjoyed the OSF version far more—so much so that as Schenkkan's sequel, The Great Society, is playing this year at OSF with much of the same cast that was in the original All the Way, we're trying to figure out how we can get out there to see it instead of waiting for it to come to New York. Imagine that: pseudo New Yorkers going out to Ashland, Oregon, specifically to catch a play.
Here's a fact. Most "New York actors" are from places other than New York. Some trained there but many more merely settled there in the grand central station of the American theater industry, since many regional theaters audition in New York. Which is to say, further, that many of these actors then go out and work in the provinces. The point: The cast we saw in New York is, on the whole, no more different talent-wise than the cast we saw in Oregon. Well, actually, that may not be true because we considered the performances of the OSF cast superior; at the least, their choices in the characterizations were more subtle and character-defined than what we witnessed on Broadway. With a few exceptions (notably, William Jackson Harper as Stokely Carmichael, Eric Lenox Abrams as Bob Moses, and J. Bernard Calloway as the Rev. Ralph Abernathy), the Broadway cast eschewed the historically complex characters for two-dimensional portrayals and played their parts with all the subtlety of a Washington Post headline.
For example, understudy Danny Johnson plays Martin Luther King Jr. as if every line were a sermon from the mountaintop, even if it is just to say, "Go ahead! I'll be there in a minute." That's a choice, and it might have been the right choice for this Broadway audience but the wrong choice for those of us who are knowledgeable of King's biographies. In the OSF production, we saw Kenajuan Bentley's King struggle as he juggled his private, mission-driven, and politically adept self with his civil rights leader's public persona as a preacher and historical speaker.
Really, I'm not being a snob here—well, a little, maybe—but no question that whereas the OSF audience was there to see Schenkkan's take on an important passage of history that still reverberates in our society today, the bulk of the Neil Simon Theatre audience was there to see Breaking Bad's Walter White. The young couple behind us was ready to download the whole series for a marathon viewing after seeing this play (I don't think that was the actual impact Schenkkan was aiming for when he wrote All the Way).
I get that. The economics of Broadway dictate that without a major star, even an outstanding play like All the Way might never be mounted there. I'll get behind anything that gets this play seen anywhere and everywhere by as many audiences of all levels of appreciation as possible. There is also no question that Cranston has acting chops and is an amazingly physical actor, able to inhabit a character so much larger than life. The problem for me is that he chose not to play Johnson, per se, but the caricature of a Texas politician inspired by caricatures of LBJ. This audience laughed a lot, but most of it was at Cranston's aw-shucks antics and mugging than the incising humor of Johnson himself and his masterful negotiation skills he used to navigate himself out of impossible political dilemmas. That was exactly the sharp portrayal of Johnson we saw originated by Jack Willis in the OSF version.
My point here is not to denigrate New York theater. My goodness, we've seen much great theater up there, some of it homegrown, some of it imported, some of it big production numbers on Broadway itself, much of it Off Broadway and Off Off Broadway and even Long Way Off Off Broadway: from The Lion King and War Horse to Bedlam's four-person Saint Joan and St. Ann's women's prison Julius Caesar, from the Merchant of Venice with Al Pacino as Shylock to a Richard III staged in a parking lot, from Alan Cumming's one-man Macbeth to Tim Crouch's one-man I, Malvolio, from the Mark Rylance–led Shakespeare's Globe production of Twelfth Night to the New York Classical Theatre's Twelfth Night played out on the landscape of Battery Park.
Yet, equal to all of these are equally well-done productions—sometimes of the exact same play—within a couple hours' drive of wherever you are reading this. And sometimes, there are better productions where you are than what Broadway playgoers see.
OK, yes, you might not get to see the stars of such a stature as Cranston in your regional theater, but stardom is not necessarily a harbinger of acting talent. The same week I lauded Rylance for his Olivia, I gave Orlando Bloom cursory mention for his Romeo. If you are reading this, you probably care more about the experience you feel attending good theater than the glaze your eyes incur seeing a star who is always shorter than you expected. The best Richard III I've ever seen on stage—and I've seen Rylance, Ian McKellen, and Antony Sher—was Benjamin Curns in Staunton. The worst was Kevin Spacey in New York (and I've long been an admirer of Spacey's work).
So, get to New York or London and see a show. Get to hundreds of other cities around the great globe and see a show. Geography has nothing to do with the quality of that show—Nothing! It all comes down to the choices of the actor, the director, and you.
Eric Minton
April 3, 2014
Comment: e-mail editorial@shakespeareances.com
Start a discussion in the Bardroom