With an event this massive in development, Orlando Shakes' continuing partnership with UCF will be as crucial as ever.
Link for the Orlando Shakespeare Theater:
More from Orlando Shakes in Shakespeare News:
Patrick Stewart Headlines Special Evening
Orlando Shakes Kicks Off Season with Gala
Orlando Shakes Unveils 11-Production Season
Also in Where's Will @?:
News and announcements from theaters
Links to theaters, festivals, and organizations
The Bard on The Boards: What's Playing Where
The Bard on The Boards: Where's Playing What
Web sites devoted to Shakespeare
More About Shakespeareances.com:
List of Shakespeare Productions
The Shakespeareances.com Top 40
Sponsorship and Advertising opportunities
Sign up for free weekly e-mail updates (safe, secure, spamless, and unshared)
Check out the guy behind this website at www.ericminton.com

Find additional Shakespeareances
on Facebook
Orlando Shakespeare Theater
Shrew, Caesar, Nickleby Headline 25th Season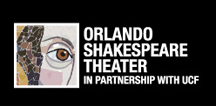 Two Shakespeare plays along with a theatrical event of Dickensian proportions and a season-long lineup of children's shows highlight the 2013-14 season at the Orlando Shakespeare Theater in Partnership with UCF. Artistic Director Jim Helsinger and Managing Director PJ Albert last week announced the 10 productions that will celebrate the Central Florida theater's 25th Anniversary Season.
Previously announced in January, The Life and Adventures of Nicholas Nickleby will headline the upcoming season. Adapted by playwright David Edgar from the comic novel by Charles Dickens, the play will be the biggest production in Orlando Shakes' history, with 30 actors playing more than 150 characters. The play, 6 1/2-half hours long, will be shown as two performances, presented on different nights. However, audiences may opt to "Spend a Day at the Theater" to see the show in its entirety with a dinner break between performances.
Orlando Shakes will be the third theater in the country to present the adaptation. With an event this massive in development, Orlando Shakes' continuing partnership with UCF will be as crucial as ever. Theatre UCF will be working in tandem with Orlando Shakes in all areas of the production from costume construction to giving UCF students their first professional acting credits.
The theater's Signature Season will open and close with Shakespeare. The 25th Anniversary Season Gala, in conjunction with The Taming of the Shrew, will take place on Sunday, Sept. 8, at the Lowndes Shakespeare Center. Tickets for this annual fundraiser go on sale June 1, 2013. Julius Caesar concludes the six-play season next spring. Other plays scheduled are Dracula: The Journal of Jonathan Harker by Jim Helsinger, adapted from the novel Dracula by Bram Stoker, which will hit the boards in October, and It's a Wonderful Life: A Live Radio Play by Joe Landry for the holiday season.
In addition to revealing the Signature Season, Helsinger says that Orlando Shakes is continuing its original play series with a new namesake, Harriett's New Play Series, which will also include the weekend-long PlayFest. Scheduled for November 2013, PlayFest presents readings of new works by local and national playwrights. Recent projects have included plays by Charlie Bethel, Jon Jory, Lauren Gunderson, Steve Yockey, and Mark Brown. The plays slated for Harriett's New Play Series are The Cortez Method by Rob Keefe and Pluto by Steve Yockey.
The 2013–2014 Season also features three Theater for Young Audiences productions based on popular literature: a fun and unique spin on Sleeping Beauty, the jazzy musical A Night in New Orleans: A Magic Treehouse Adventure, and the hilarious courtroom rock musical The True Story of the Three Little Pigs.
"Celebrating 25 seasons is a milestone for any theater," Albert said in the announcement. "We feel that this season offers something for everyone with two Shakespeare favorites bookending the Signature season, the theatrical event Nicholas Nickleby, and our continued commitment to finding the next great playwright through Harriett's New Play Series. This will be a fantastic season for our patrons."
Season tickets are on sale now and may be purchased by calling the Orlando Shakes box office at 407-447-1700, or by visiting orlandoshakes.org, and in person at the box office located inside the Lowndes Shakespeare Center, 812 East Rollins St.in Orlando's Loch Haven Park. Single tickets for the 25th Anniversary Season go on sale June 4. The season is subject to change; additional information about the season, including creative teams and casting, will be announced at a later date.
March 18, 2013
If you have Shakespearean news to share, e-mail editorial@shakespeareances.com