"I experienced Ms. Packer's Women of Will Off-Broadway in New York—it was smashing!"
Link for the Orlando Shakespeare Theater:
Women of Will On Stage:
Exploring Shakespeare's Feminine Side
More from Orlando Shakes in Shakespeare News:
Wild West Shrew Opens Landmark Season
Shrew, Caesar, Nickleby Headline 25th Season
Patrick Stewart Headlines Special Evening
Also in Where's Will @?:
News and announcements from theaters
Links to theaters, festivals, and organizations
The Bard on The Boards: What's Playing Where
The Bard on The Boards: Where's Playing What
Web sites devoted to Shakespeare
More About Shakespeareances.com:
List of Shakespeare Productions
The Shakespeareances.com Top 40
Sponsorship and Advertising opportunities
Sign up for free weekly e-mail updates (safe, secure, spamless, and unshared)
Check out the guy behind this website at www.ericminton.com

Find additional Shakespeareances
on Facebook
Orlando Shakespeare Theater
Tina Packer Presents Women of Will, Caesar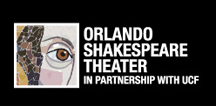 Tina Parker will be doing double duty this winter at Orlando Shakespeare Theater in Partnership with the University of Central Florida. On Feb. 23, she will present her hit show Women of Will, an exploration of William Shakespeare's portrayal of women. Then she will direct the Orlando Shakes production of Shakespeare's Julius Caesar, which runs March 19–April 20.
Acclaimed founder and former artistic director of Shakespeare & Company in Massachusetts, Parker has been touring Women of Will to various theaters and festivals the past couple of years, including a run in New York last spring.
"I experienced Ms. Packer's Women of Will Off-Broadway in New York—it was smashing!" Artistic Director Jim Helsinger said in a press release. "I can't wait to bring that kind of excitement to Orlando."
Women of Will: The Overview is Packer's innovative exploration of Shakespeare's attitudes toward women. As she deconstructs and conjures The Bard's most famous female characters, actor Nigel Gore plays the Romeo to her Juliet, the Petruchio to her Kate. Part master class and part performance, Women of Will provides audiences with the bonus content to Shakespeare's plays that they have been searching for.
Gore will then take the title role in Julius Caesar. The acclaimed actor has won acting awards with Colorado Shakespeare Festival and Publick Theatre Boston. He will be joined by Jason Asprey as Cassius and Eric Tucker as Brutus, both making their Orlando Shakes debuts, while Orlando vet Anne Hering has been cast as Calpurnia.
Packer is considered to be one of the world's foremost leading experts on Shakespeare. She has directed more than 50 Shakespeare productions, as well as contemporary works, for Shakespeare & Company. She has acted opposite John Barton, Peter Hall, John Schlesinger, Sir Ian McKellen, Paul Scofield, Janet Suzman, and Ian Richardson. Over the years, Packer has received countless awards, honors, and fellowships including the Ronson Award; Guggenheim and Bunting Fellowships; and the 1999–2000 Arts Recipient of the Commonwealth Award. She has authored two books, Power Plays: Shakespeare's Lessons in Leadership and Management and Tales From Shakespeare, and is the subject of the WGBH documentary Sex, Violence, and Poetry: A Portrait of Tina Packer, and Helen Epstein's biography The Companies She Keeps.
Tickets for Women of Will are on sale for $30–$50, and for Julius Caesar for $17–$40. Both shows offer $10 discounts for students and members of the military with a valid ID. Tickets can be purchased by calling 407-447-1700, online at www.orlandoshakes.org, or in person at the John and Rita Lowndes Shakespeare Center in Loch Haven Park.
January 25, 2014
If you have Shakespearean news to share, e-mail editorial@shakespeareances.com