The Shakespeareances.com Top 40
My personal most memorable Shakespeareances
{productions through 2013)
[Go back to Top 40 Shakespeareances 26–30]
31. Nureyev's Romeo and Juliet, London Coliseum, London, England, 1979.
Rudolph Nureyev choreographed this ballet, a significant departure from the Kenneth MacMillan version that Nureyev himself debuted with Margot Fonteyn for the Royal Ballet in 1965 and was entrenched in that company's repertoire. Whereas the standard version danced the story of the two lovers from rival families in Verona, Nureyev's choreography made a concerted effort to mine Shakespeare's imagery, opening with four black-cloaked guys scampering on stage Gollum-like rolling large dice, a metaphor for fickle fortune. From the dream sequence to Romeo's dramatic dance with Benvolio (Nureyev had him bring Romeo the message of Juliet's death as a device to have the two male principals dance a pas de deux), this production escalated Shakespeare's tragedy, speaking the poetry through dance. That Nureyev was Romeo—and this was the only time I ever saw him in a live performance—made this experience all the more thrilling. I love ballet, I've seen a lot of ballet, and Nureyev is the only dancer, male or female, who left me breathless.
32. Comedy of Errors, the University of Missouri, probably 1979.
One of my joys in seeing Comedy of Errors is witnessing those people not familiar with the play getting as confused by the double set of twins as the people of Ephesus. This student production, which trimmed the play down to just over an hour's running time, took place in a small box theater seating only 100 around a circular platform in the middle of the room and the players entering and exiting via four aisles through the audience. I knew the plot by the time I saw this production, but because of its breakneck pace, the actors coming and going from all directions, and the text pared down to the plot essentials, when Dromio showed up with a rope instead of money, I was as befuddled as Antipholus. Judging from the audience reaction, so was everybody else, for the moment inspired an eruption of applause. I'm generally a text purest when it comes to Shakespeare, but what fun it was to find myself unwittingly ensnared in a plot I knew so well.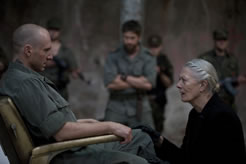 Ralph Fiennes as Coriolanus hears Volumnia's (Vanessa Redgrave) supplication as Gerard Butler's Aufidius watches. Photo by Larry D. Horricks, The Weinstein Company.
33. Coriolanus, the movie starring and directed by Ralph Fiennes, 2012.
His army parts and he strides forward, steps right up to the intellectual leader of the rebels, regards his face briefly, and then says, "What's the matter, you dissentious rogues, that, rubbing the poor itch of your opinion, make yourselves scabs?" Coriolanus, as played by Ralph Fiennes, has just grabbed hold of your attention, and he won't let go his grip for two hours (the grip on your memory lasts much longer). Whereas the actor alone makes this a stand-out production of this play, Fiennes the director is equal parts to the success of this film. Shakespeare's most complex (and confusing) tragedy, set in the early days of the Rome republic, is updated in the setting and telling. Using story-telling techniques combining CNN, CSI, and YouTube along with images of street demonstrations, riots, and urban warfare, Fiennes gives us a Coriolanus befitting our times, illustrating how the titular hero can fall from national hero to banishment in a matter of minutes on the whims of a fickle populous easily swayed by political spin-masters. Still, Fiennes kept the mama's boy element of Coriolanus' tragedy intact, and though he significantly cut the text, it is all pure Shakespeare, even in the mouths of TV–talking-head pundits. When spoken by the likes of Fiennes, Vanessa Redgrave as Volumnia, Brian Cox putting on a Shakespearean acting clinic as Menenius, the verse lifts what could have been a gimmickry telling of Coriolanus into a five-star Shakespearean movie. Click here for a review of this Coriolanus.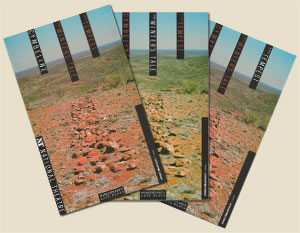 34. The End Games Festival at the National Theater, London, 1988.
The South Bank's cultural institutes combined in a festival celebrating the last works of various cultural giants, from symphonic music and visual arts to stage and film. The National Theater's contribution was Shakespeare's last three solo-written plays—Cymbeline, Winter's Tale, and The Tempest—performed in repertoire in the small studio theater, the Cottesloe. With one company and one director, Peter Hall, mounting all three, the company revealed thematic threads and parallel characterizations among the three plays. One characterization that emerged was that of the tyrant. In addition to Leontes (Tim Pigott-Smith) in Winter's Tale, the End Games' version of King Cymbeline (Tony Church) earned the status of titular character as his attitude and decrees dictated all the action in Cymbeline, and The Tempest's Prospero (Michael Bryant) was the biggest despot of all. I saw all three plays in two days (Friday and Saturday), but because The Tempest had sold out before I could order tickets, I had to get back to the theater at 5 a.m. to have a hope of getting near the front of the queue for the dozen tickets set aside for day-of-sales. I lived in Dalham, Suffolk, a two hours' drive away, so after getting home from Winter's Tale Friday night, I slept two hours before I was back on the road to London. I got in line, got a ticket, snoozed a bit in the theater's cafe, got through the matinee of Cymbeline, and then sat transfixed through The Tempest even though it played without an intermission. On my drowsy drive home afterward, I went off the road at a slick curve and ended up in a muddy farm field, barely avoiding rolling my little Ford Fiesta—which could have been my own end game—and while being able to see all three productions like that might not have been worth dying for, it was worth the effort.
35. A Boxing Day Taming of the Shrew , Royal Shakespeare Company, Shakespeare Memorial Theatre, Stratford-upon-Avon, 1978.
It was the day after Christmas (Boxing Day in England), and down on the stage was your classical Shakespearean set: white marble columns and a statue of Cupid in the center. Just before the play was about to start, one man was having trouble finding his seat or maybe it was his friend he was trying to locate—it was hard to tell in his drunken state. As his agitation increased, two ushers tried to escort him out, but he first resisted, and then scrambled onto the stage. In the ensuing chaotic chase trying to catch him, the set was literally toppled, and finally, the man toppled, too. The drunkard was Jonathan Pryce; Pryce was playing Sly in the play's induction, and he later became Petruchio (the two ushers turned out to be Paola Dionisotti, who played Kate, and David Suchet, who played Grumio). This was a Michael Bogdanov–directed production, so it played loose with the text and ended on a sour pro-feminist note, but it featured not only that inventive beginning but also a singular Petruchio raging scene at his country home. Pryce tossed plates and water-filled goblets everywhere, and threw a whole roast chicken so hard it slid the length of the banquet table and off into the audience. "Where's my chicken?" he asked as he rushed forward to retrieve the prop from a woman's lap. A servant brough him a platter, which he uncovered to reveal—crackers! the holiday-wrapped tubes you pop open containing a flimsy paper crown and other prizes. The actors passed the tray among themselves and then popped their crackers. This little Christmas interlude was not quite through, though. As Petruchio came forward to resume his raging, behind him the rest of the cast placed the crowns on their heads. Pryce turned around, saw the crowned Kate and servants grinning at him, and he broke. A merry Christmas, indeed.
[Go to Top 40 Shakespeareances 36–40]