The Shakespeareances.com Top 40
My personal most memorable Shakespeareances
{productions through 2013)
[Go back to Top 40 Shakespeareances 21–25]
26. The Maharishi's Love's Labour's Lost, Shakespeare Theater Company, Lansburgh Theatre in Washington, D.C., 2006.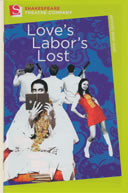 I'm a purist regarding Shakespeare's text, but not the staging (even though doing many of his plays in the original manner actually enhances them). Set a play anywhere, anytime, anyhow—even shoehorn it into a specific historical or cultural context—and if that setting enriches rather than alters the text, I'll give it high marks. Michael Kahn's reimagining Navarre's Court as a Beatles-like band joining the Maharishi for a term of learning and fasting is one of the best conceptualized Shakespeare productions I've ever seen. The king as a yogi tempted by the flesh was an easy character transfer, as were the lords as spoiled rock stars (Berowne being something of a John Lennon wit in iambic pentameter), and Costard became a stoner. The four-part reveal scene was done in a studio with each lord playing a demo of their sonnets and then ending in a rock jam. Then there was the Princess' train. Full disclosure: I am a heterosexual guy, and those miniskirts and go-go boots are my most indelible memory from this production.
27. Ian as Hamlet, the Oakwood playground, Dayton, Ohio, 1994.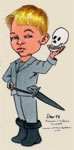 While my older son, Jon, was in swim class, I took my younger son, Ian, who was then 5 years old, to the neighboring playground. With some editing to do, I sat on a bench nearby, occasionally glancing up to make sure Ian was still there and OK. A couple of mothers were also monitoring their children. "Excuse me, sir." One of the mothers had approached me. "Is that your son?" Uh-oh, I thought. I looked over, and Ian was happily playing by himself in the play structure. "Yes," I replied. The mother then asked, "Is he—" she paused a moment, "reciting Hamlet?" I looked over again, listening this time, and, sure enough, Ian was maybe not reciting the text but certainly paraphrasing it, staging his own adaptation of the play in that playground Elsinore. "Yeah," I replied, actually wondering why this was an issue. "I don't believe it," the mother said. "I can barely even read Hamlet, let alone recite it." Ian's Shakespearean career pretty much ended in the Dayton playground, but he certainly left behind an enthralled audience.
28. Aguecheek and his dog in Twelfth Night, Stratford Festival of Canada, Stratford, Ontario, 1994.
This production bucked a trend I'd been noticing of turning this delightful comedy into a morose contemplation. Here was an Orsino played like a spoiled rock star; an Olivia as feisty as Viola with the spark of lust in one direction matched by a just-as-flammable spark of envy in the other; a Fabian who was everybody's best friend; and, in one of the most memorable stage set moments we've ever seen, giant flowers blooming as the fifth act began. The centerpiece to this comedy was Andrew Aguecheek, played by Jeffery Gruich (an understudy) as foppishly ridiculous, convivial but wholly self-absorbed, predating Will and Grace's Jack McFarland by four years. His funniest moment came as he threatened to leave Olivia's estate, crossing the stage with suitcase in one hand and a bow-wearing Yorkshire terrier in the other. There's an old saying about why you should never have a real dog (or horse) on stage, but in this instance it was just so right, and the audience's attention was never divided between actor and dog: it was all on the whole of Aguecheek.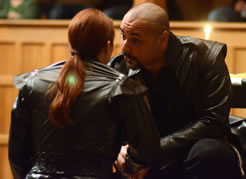 Sarah Fallon as Cassius and René Thornton Jr. as Brutus in
Julius Caesar
at the Blackfriars Playhouse. Photo by Pat Jarrett, American Shakespeare Center.
29. Julius Caesar, American Shakespeare Center, Blackfriars Playhouse, Staunton, Va., 2013.
When I first heard the summer before that René Thornton Jr.and Sarah Fallon had been cast as, respectively, Brutus and Cassius, I had the highest of expectations for this production. The duo, who have paired up as a half-dozen iconic Shakespearean couples, were exactly what I hoped for, especially their tent scene, which was delivered with Mamet-like urgency and precision, proving to be electrifying theater. Fallon played Cassius as Caesar describes him, a great observer who sees the danger of despotism in Caesar and moves to negate it; he also comes to see the danger of fallibility in Brutus but proves helpless to counter him. In Thornton, we saw a Brutus whose code of honor becomes as dangerous as the code of self that Caesar exhibits; the difference between him and Caesar was the width of a coin showing opposite images of ego on either side. Benjamin Curns, in white suit and tie like a Southern politician, was a peacock of a Caesar, a walking ego, a self-reflection of greatness who dominated the play even after his death. Even corps performers like Chris Johnston as Casca turned in memorable portrayals in a series of thrilling scenes leading up to and through the assassination. This production opened the Actors' Renaissance Season, in which the players, using only their cue scripts and without a director, work out and rehearse the play in a week's time, and yet it was as tautly played as any production I've ever seen.Click here for a review of this Julius Caesar.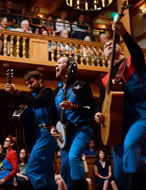 From left, Josh Innerst, Chris Johnston, and Benjamin Curns blast off. Photo by Pat Jarrett, American Shakespeare Center.
30. Return to the Forbidden Planet, American Shakespeare Center, Blackfriars Playhouse, Staunton, Va., 2013.
This goes on this list and not in the non-Shakespeare category because the majority of lines in the play are Shakespeare's or contextually altered Shakespeare, including my favorite, "Beware the ids that march." The super-silly, Shakespeare-twisting, pun-aplenty play itself is simply great fun, with its soundtrack of great oldies from the '60s and '70s. Add in the dancing of Dylan Paul (Captain Tempest) and Emily Brown (Miranda), John Harrell's roller skating robot feeling "Good Vibrations," and the giant, polka-dot tentacle dropping down from the heavens writhing to "Monster Mash," and we were enticed to make this the only show we saw twice during a particularly exceptional year at the Blackfriars Playhouse (this is the fourth entry on this list). But what catapults this production to its position on this list were the musical performances carried out by the cast, using only acoustic instruments (the Blackfriars, intended to replicate the staging conditions of Shakespeare's own company, has no electronic sound system). A golden theater moment was the Albatross lifting off to its crew performing "Wipe Out" with Music Director Chris Johnston (Lt. Hotlix McShredalot) playing the original song's famous guitar lead on his banjo. When Paul weighed in on the trombone, which he took from the stand next to his Kirk-like bridge seat, we were launched to another dimension. Did I say golden? It earned platinum.Click here for a review of this Return to the Forbidden Planet.
[Go to Top 40 Shakespeareances 31–35]