The Shakespeareances.com Top 40
My personal most memorable Shakespeareances
{productions through 2013)
[Go back to Top 40 Shakespeareances 31–35]
36. Kenneth Branagh's Henry V, 1985 and 1989.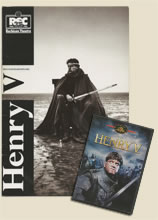 Rain is one thing I vividly remember in this one: Henry and his ragged army all lined up and getting soaked in a driving downpour—but this was inside the Barbican Theater in London. My first encounter with the then 25-year-old Irish matinee idol (packs of swooning teen-age girls hung about the theater earnestly angling for ways to get his autograph) was as a member of the Royal Shakespeare Company. His Laertes was exciting and his Navarre hilarious. Then there was his King Henry that was special not only for his performance but also Adrian Noble's production. Highlights were that rainstorm, Henry's father/son relationship with Montjoy (Christopher Ravenscroft), and Branagh's sliding through ruptured castle walls and bounding up to his feet at the front of the stage as he launched into "Once more unto the breach"; the whole audience was ready to clamber onto the stage and unto that breach. When he did his own film four years later, Branagh carried over some of the RSC production's character and players, most notably Ravenscroft as Mountjoy. Still, he put his own stamp on the play, too, with the incomparable Derek Jacobi's Chorus guiding us through the movie studio, the moving "Non nobis" post-Agincourt sequence, and Henry's comic courtship of Princess Katherine (Emma Thompson) emerging as singular Shakespeareances.
37. Kate Eastwood Norris as Hamlet, Folger Theatre, Washington, D.C., 2010.

First, a quick lesson in editorial style: on this Web site, the names of plays are written in italics. References to characters are not. I mention that to point out that the introductory sentence to this item is correct: Norris as
Hamlet
the play, a one-woman piece of experimental theater. She didn't present the entire play, but she did stage all of the key scenes as well as the soliloquies. As to the latter, she showed us Hamlet to be a college-age student intensely moral while still trying to find his moral bearings; each speech was an attempt to untangle conflicted emotions rather than philosophical contemplations. I've seen 11 Hamlets on stage and countless others in movies, and Norris's portrayal occupies the uppermost sphere (mind you, Derek Jacobi's is in a sphere all by itself hovering above the sphere where Branagh's and Norris' reside). In playing all the key scenes, Norris used her wide-ranging physical comedy gifts to help fill-out the stage, and she inhabited the other characters with individual personalities, the most fun (and yet most revealing reading) being a slutty Gertrude. The show's highlight was the Mousetrap scene, as Norris slid back and forth on a bench, literally sliding from one character into another and passing along a large cup of soda from one to the other as she did so, Gertrude pumping the straw in the cup lid as a come-hither hint to Claudius.
Click here for a review of this Hamlet.
38. The Weird Sisters in Macbeth, Idaho Shakespeare Festival, Boise, 2008.
The Weird Sisters must be every director's dream because you can do so much with them. Charles Fee went the farthest in my experience (without going too far) by basing his witches on Japanese kabuki theater. Wearing whiteface, long Morticia-like gowns, and claws that resembled branches, the Weird Sisters spoke in a hypnotic cadence and transformed themselves into trees when they "melted as breath into the wind." Two Japanese drummers occupied the stage's flanks, providing a menacing soundtrack for the play's supernatural moments and battles. It was also the witches who set the table for the banquet, during which Banquo's ghost appeared by rising up into the tablecloth. The fact that we even saw this production was another case of the fates tying together our love of Shakespeare with baseball. Boise was the last stop on that year's baseball vacation, and the night before we headed for Idaho, Sarah discovered the Idaho Shakespeare Festival while trolling the Internet for things to do duing our two days there. We scored tickets for the play while driving along the Columbia River Gorge, committing our baseball rain-out date to seeing Macbeth instead. Powerful witches, indeed.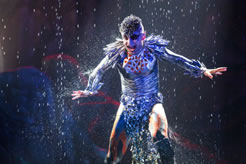 Dan Istrate as Ariel dances in the rain and a lake in the Synetic Theater "Silent Shakespeare" production of
The Tempest
. Photo by Johnny Shryock, Synetic Theater.
39. The Tempest, Synetic Theater, Arlington, Va., 2013.
This was the first time I've ever seen a Shakespeare play—or any theater, for that matter—in which I was handed a free rain poncho with my will-call ticket and sat in a designated splash zone. Synetic Theater's dancing and acrobatic miming players performed their entire production of The Tempest in ankle-deep water on the stage. Nevertheless, the environment didn't stop them from stomping and diving and rolling about as if all was dry and normal. The elements set this production apart from any other Tempest that I've seen—or any other Shakespeare, really—but the production, part of Synetic's "Silent Shakespeare" series, also deserved kudos for being a clever telling of this play, including staging the back story we only get in dialogue from Shakespeare. And water or no water, the costumes and set by Anastasia R. Simes were the true stars of this show, from Ariel's electric St. Elmo's Fire look and Caliban's devil-like red horns and mystical iconography covering his red body to the lords in their more formal Renaissance royal gowns, lace cuffs, and shimmering dresses—even before getting wet.Click here for a review of this Tempest.
40. Shakespeare at Ludlow Castle, Ludlow, England, 1987.
This was the other of two instances when my work as a journalist crossed paths with my passion for Shakespeare. I had seen a production of Romeo and Juliet at Ludlow Castle during the annual Ludlow Festival and returned the next year on assignment for Dramatics Magazine. Ludlow Castle is a formidable fort brimming with British history, including direct connections to Shakespeare's plays. Most notably, the two princes in Richard III are fetched from Ludlow (a historical fact). I was at the castle to interview cast and crew as they prepared to stage Richard II in the open-air courtyard of this castle ruin. My conversations with the artists were the big thrill, but equally indelible was watching the "dress" rehearsal in a driving rainstorm; although the play was set in the time of Richard II, on this night the actors wore macs and brandished brollies on the stage. When off stage in their dressing room tents, they huddled around space heaters and mugs of hot tea trying to ward off the damp chill. Finally, mercifully, the rehearsal was cut short around the fourth act, but it was still one of the most memorable Richard IIs I've seen. My article on Shakespeare at Ludlow Castle as it appeared in Dramatics is available on www.ericminton.com by clicking here.
[Go to the Top 10 non-Shakespearean Honorable Mentions]