"We live in a time where artistic decisions are influenced by fiscal responsibility."
Link for the Orlando Shakespeare Theater:
More from Orlando Shakes in Shakespeare News:
Roaring '20s Love's Labour's Lost on Trial
Orlando Shakes Commissions Hamlet Prequel
New Play Festival Focus on Pulse Aftermath
West Side Story Inspires Outreach Programs
Also in Where's Will @?:
News and announcements from theaters
Links to theaters, festivals, and organizations
The Bard on The Boards: What's Playing Where
The Bard on The Boards: Where's Playing What
Web sites devoted to Shakespeare
More About Shakespeareances.com:
List of Shakespeare Productions
The Shakespeareances.com Top 40
Sponsorship and Advertising opportunities
Sign up for free weekly e-mail updates (safe, secure, spamless, and unshared)
Check out the guy behind this website at www.ericminton.com

Find additional Shakespeareances
on Facebook
Orlando Shakespeare Theater
State's Stinginess Dooms Timon—For Real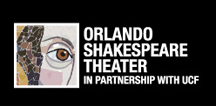 Even as the Orlando Shakespeare Theater in Partnership with UCF is embarking on an expansion project, it is dropping one of its Shakespeare productions next year due to state funding cuts.
Orlando Shakes Artistic Director Jim Helsinger and Managing Director PJ Albert announced today that the Margeson Theater—Orlando Shakes' thrust stage—will be transformed into theater-in-the-round seating for Man of La Mancha (September 6–October 8, 2017) and Showtime for Shakespeare: A Magic Tree House Adventure (October 19–November 17, 2017) to allow more seating. However, Orlando Shakes' final Signature Series production for the 2017–2018 season, William Shakespeare's Timon of Athens, will be switched out with a yet to-be-determined production.
"We live in a time where artistic decisions are influenced by fiscal responsibility," Helsinger said in a company press release. "Orlando Shakes has served over 1.7 million patrons in our community over the past 28 years, and we want to be here to serve for 28 more. Timon of Athens is a spectacular show that we plan to revisit in a later season, but currently we do not have the funds to produce it properly."
Productions presented by Orlando Shakes are funded in part by donations in order to keep ticket prices affordable. The State of Florida's decision to reduce funding for arts and cultural-related categories by 60 percent from last year's levels is the leading factor behind the schedule change, according to the press release. State funding is provided to 480 non-profit organizations throughout Florida and is a crucial factor in planning what type of shows Orlando Shakes is able to present to the community, the release said.
On the other hand, ticket demand for Orlando Shakes' musicals has been increasing steadily since the company first returned to producing them in 2014 with Les Miserables. Transforming the Margeson Theater into in-the-round seating will create an additional 69 seats for a total of 390 tickets eligible to be sold per performance. It will also create a unique live theater environment for Central Florida.
"Musicals in-the-round bring the audience a closer, more immersive experience," said Helsinger. "Live theater is always a special experience, but with this style of seating audiences will be able to feel like they are a part of the story unfolding in front of them. They will be on the fields of La Mancha with Don Quixote and on the stage with William Shakespeare."
Current subscribers will be contacted about season changes and given the opportunity to update their tickets.
June 6, 2017
If you have Shakespearean news to share, e-mail editorial@shakespeareances.com