Orlando Shakespeare Theater
New Play Festival Focus on Pulse Aftermath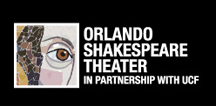 Orlando Shakespeare Theater in Partnership with the University of Central Florida has announced the titles for its new play program this fall, PlayFest, presented by Harriett's Charitable Trust November 3–6.
This year's four-day event titled PlayFest: After Pulse will feature six new plays that explore issues surrounding the Pulse tragedy. This season's lineup will be dedicated to new works that have a direct correlation to themes relating to the Pulse shooting that took place in Orlando on June 12, 2016.
"The plays we've chosen for PlayFest this year focus on issues that have directly impacted our community," Cynthia White, director of new play development at Orlando Shakespeare Theater, said in a press release. "In the wake of Pulse, it is more important than ever for us to come together to learn, heal, and prevent."
In addition to the new works being presented, this year's PlayFest will also feature a keynote address by playwright Caridad Svich titled "Creating After Orlando and Global Theatre Initiatives." Svich has initiated six theater actions addressing social issues that have gone global. In response to Pulse, Missing Bolts Productions and NoPassport Theatre Alliance & Press (of which Svich is the founder) created After Orlando, a collection of over 60 three-minute plays exploring the issues surrounding the tragedy. Svich's keynote will be followed by readings of a number of the plays from After Orlando, including several written by members of the Orlando theatrical community. All funds from the After Orlando reading will be donated to the "OneOrlando Fund" to assist the victims and families of the Pulse tragedy.
In a special PlayFest event taking place the following weekend on Saturday, Nov. 12, at 7 p.m., award-winning director and playwright Moisés Kaufman will discuss The Tectonic Theatre Project's creation of The Laramie Project, followed by a reading of the play. All funds from The Laramie Project reading will be donated to "Angel Action Wings for Orlando."
The Laramie Project explores the issues surrounding the death of Matthew Shepard, a young gay man who was murdered in Laramie, Wyoming, in 1999. This was the first use of the "Angel Action Wings" in a counterprotest to hate groups who came to Laramie. The "Angel Action Wings for Orlando" was originally constructed in Orlando Shakes' costume shop by volunteers to shield mourners from antigay protesters during the Pulse funerals. They have since been used at the "Beautiful Together" benefit concert held at the Dr. Phillips Center and at other national community events.
The full schedule for PlayFest: After Pulse follows:
The Day Before Yesterday by Israel Horovitz, Thursday, Nov. 3, 7:30 p.m. Based around the terrorist attack on the Bataclan concert hall in Paris, The Day Before Yesterday chronicles the lives of three couples over the course of 72 hours, from before the attack when they were strangers living in Paris, Miami, and Brooklyn, to the next morning when they collectively take refuge at a nearby apartment.
Native Gardens by Karen Zacarías, Friday, Nov. 4, 7:30 p.m. A young Latino couple moves into a Washington, D.C., neighborhood next door to a middle-aged Caucasian couple, and both battle for control of the property line in their backyard, all the while attempting to balance the expectations and requirements of their own "American dream."
Motherland by Allison Gregory, Saturday, Nov. 5, 4:30 p.m. Standing at the intersection of what's strictly legal and what can turn a profit, Mother seeks to carve out a life for herself and her children. When the law, love, and opportunity show up all at once, her courage is put to the test.
After Orlando, Saturday, Nov. 5, 8:30 p.m. A selection of three-minute plays from the After Orlando project, featuring playwrights from New York City, Orlando, and around the country.
Minneapolis/St. Paul by Lee Blessing, Sunday, Nov. 6, 1 p.m. A celebrated crime novelist leads two different lives, one as Randall, the middle-aged husband and father, and the other as Mandy, the newly wedded wife and stepmother. In a play that is both poignant and bitingly funny, Mandy/Randall struggles with the complexities and repercussions of an identity too vast to fit within binaries.
Ever After by John Biguenet, Sunday, Nov. 6, 3:15 p.m. Various characters represented by four actors share the process and feelings that individuals and families go through as they attempt to make sense of everything following a tragedy.
The Laramie Project by Moisés Kaufman and the Members of the Tectonic Theater Project, Saturday, Nov. 12, 8 p.m. Compiling the results of hundreds of interviews, The Laramie Project explores the causes and aftermath of the tragic and brutal murder of Matthew Shepard. By exploring the actual words of the people of Laramie, we are able to see how close both heartbreak and hope are to our own lives.
Tickets to individual PlayFest readings ($10) will be available to the general public on Tuesday, Nov. 20, 2016, at noon and may be purchased online at www.orlandoshakes.org, by phone at 407-447-1700 ext. 1, or in person at the John and Rita Lowndes Shakespeare Center, 812 East Rollins Street, Orlando FL 32803. PlayFest Passes ($49) and PlayFest VIP Passes ($100) are on sale now and may be purchased by phone or in person.
Since its inception in 2003, PlayFest has helped nurture and develop more than 100 new plays, many of which have received subsequent productions in New York, Chicago, Los Angeles, Seattle, and Washington, D.C. Audience favorites from PlayFest are handpicked and developed into full productions in the Orlando Shakes's Signature Season.
PlayFest is made possible through the generous support of Harriett's Charitable Trust. Additional support is provided by Frank Santos and Dan Dantin. Orlando Shakespeare Theater is supported by United Arts of Central Florida. This project is funded in part by Orange County Government through the Arts & Cultural Affairs Program. Orlando Shakespeare Theater is also sponsored in part by the Department of State, Division of Cultural Affairs, the Florida Council on Arts and Culture, and the State of Florida.
September 27, 2016
If you have Shakespearean news to share, e-mail editorial@shakespeareances.com