"This project is an experiment meant to enhance, not detract from our mission to perform bold productions from Shakespeare's canon."
Link for the Orlando Shakespeare Theater:
The Oregon Shakespeare Festival "Play On!" project in Shakespeare News:
Shakespeare Translation Project Launched
More from Orlando Shakes in Shakespeare News:
Orlando Shakes Schedules Summer Of Camps and Classes for All Ages
Season Has 2 Shakespeares But a Lot of Spam
Tina Packer Presents Women of Will, Caesar
Wild West Shrew Opens Landmark Season
Also in Where's Will @?:
News and announcements from theaters
Links to theaters, festivals, and organizations
The Bard on The Boards: What's Playing Where
The Bard on The Boards: Where's Playing What
Web sites devoted to Shakespeare
More About Shakespeareances.com:
List of Shakespeare Productions
The Shakespeareances.com Top 40
Sponsorship and Advertising opportunities
Sign up for free weekly e-mail updates (safe, secure, spamless, and unshared)
Check out the guy behind this website at www.ericminton.com

Find additional Shakespeareances
on Facebook
Orlando Shakespeare Theater
Translation Project Mounts 1 of 2 Shipwrecks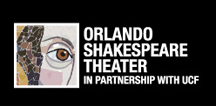 Orlando Shakespeare Theater in Partnership with the University of Central Florida presents a modern-verse translation of William Shakespeare's The Adventures of Pericles from February 24–March 26 at the Lowndes Shakespeare Center.
This production is the second of Oregon Shakespeare Festival's "Play on!" project to reach the stage in which 36 playwrights have been commissioned to translate 39 plays attributed to Shakespeare into contemporary modern English. Alabama Shakespeare Festival produced Timon of Athens in 2014.
Playwright Ellen McLaughlin did the translation for Pericles. Her previous works include Days and Nights Within, A Narrow Bed, Infinity's House, Iphigenia and Other Daughters, Tongue of a Bird, The Trojan Women, Helen, and The Persians and Oedipus.
"We are thrilled to be bringing this unique adaptation of The Adventures of Pericles to Orlando Shakes," said the play's director, Jim Helsinger. "This project is an experiment meant to enhance, not detract from our mission to perform bold productions from Shakespeare's canon. If you've ever had trouble understanding Shakespeare, we invite you to come see this modern translation of his work."
This modern-translation Pericles is running in repertoire with a more traditional rendering of a Shakespearean shipwreck: The Tempest, opening tomorrow and running through March 27 at the Lowndes Shakespeare Center.
"Shakespeare's The Tempest showcases classic theater at its best," said Tempest Director Anne Hering. "Between the theatrical illusion the production calls for and the thrilling themes of revenge and romance, audience members will be on the edge of their seats until the final scene."
Tickets to both plays are available by calling (407) 447-1700 ext. 1, visiting www.orlandoshakes.org, or in person at the John and Rita Lowndes Shakespeare Center (812 East Rollins Street).
February 9, 2016
If you have Shakespearean news to share, e-mail editorial@shakespeareances.com