"Updike's narrative fills out the backstory of the love affair between Gertrude and Claudius perfectly, and we could not think of a better playwright to adapt it for us than Mark St. Germain."
Link for the Orlando Shakespeare Theater:
More from Orlando Shakes in Shakespeare News:
New Play Festival Focus on Pulse Aftermath
West Side Story Inspires Outreach Programs
Pericles, Tempest Lead to Mom Nature's Trial
Translation Project Mounts 1 of 2 Shipwrecks
Also in Where's Will @?:
News and announcements from theaters
Links to theaters, festivals, and organizations
The Bard on The Boards: What's Playing Where
The Bard on The Boards: Where's Playing What
Web sites devoted to Shakespeare
More About Shakespeareances.com:
List of Shakespeare Productions
The Shakespeareances.com Top 40
Sponsorship and Advertising opportunities
Sign up for free weekly e-mail updates (safe, secure, spamless, and unshared)
Check out the guy behind this website at www.ericminton.com

Find additional Shakespeareances
on Facebook
Orlando Shakespeare Theater
Orlando Shakes Commissions Hamlet Prequel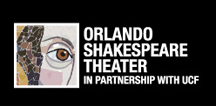 Orlando Shakespeare Theater in Partnership with UCF has commissioned playwright Mark St. Germain to write an adaptation of John Updike's 2001 bestselling novel, Gertrude and Claudius. A staged reading of the play will be featured at the theater's annual play festival, PlayFest 2017, and is scheduled to receive a world premiere in 2019 as part of Orlando Shakespeare Theater's 30th season.
Gertrude and Claudius is a New York Times and Washington Post best seller and has received national and global acclaim. The novel tells the story of Gertrude and Claudius, the "villains" of William Shakespeare's Hamlet. Claudius is the killer of Hamlet's father and usurper of the Danish throne, and Gertrude—Claudius's lusty consort—marries him before her late husband's body is cold. But in this imaginative "prequel" to the play, Updike makes a case for the royal couple that Shakespeare only hinted at. Gertrude and Claudius are seen afresh against a background of fond intentions and family dysfunction, on a stage darkened by the ominous shadow of a sullen, erratic, disaffected prince.
"I hoped to keep the texture light," Updike said of the novel, "to move from the mists of Scandinavian legend into the daylight atmosphere of the Globe. I sought to narrate the romance that preceded the tragedy."
Jim Helsinger, artistic director of Orlando Shakespeare Theater, has wanted to produce a stage version of Updike's novel since he read the book upon its initial release in 2001. "Hamlet is Shakespeare's most famous and popular play, and the idea that we can dive deeper into its legendary cast of characters is really exciting," Helsinger said in an Orlando Shakes press release. "Updike's narrative fills out the backstory of the love affair between Gertrude and Claudius perfectly, and we could not think of a better playwright to adapt it for us than Mark St. Germain."
Mark St. Germain's work has been featured several times at Orlando Shakes, including the 2015 production of Dancing Lessons and the 2014 production of Best of Enemies. Other works by St. Germain include Relativity (2016/2017), Scott and Hem in the Garden of Allah (2013), Dr. Ruth, All the Way (2012), Freud's Last Session (2009/2010), The Collyer Brothers/Period Piece (2008), The God Committee (2004), and Ears on A Beatle (2003). Germain is an alumnus of New Dramatists where he was given the Joe A. Callaway Award, and a member of the Dramatists Guild and the Writer's Guild East. He was also awarded the "New Voices in American Theatre" award at the William Inge Theatre Festival and is a Board Member at Barrington Stage Company.
"Mark St. Germain is a magnificent playwright," Cynthia White, director of New Play Development at Orlando Shakespeare Theater, says in the press release. "Besides directing Dancing Lessons, I've had the pleasure of seeing his work at theaters large and small across the country. His talent for bringing to life historic events and personalities with vivid, imagined dialogue will serve him well as he undergoes this new project."
PlayFest 2017, presented by Harriett's Charitable Trust, is tentatively scheduled for November 2–5, 2017.
January 26, 2017
If you have Shakespearean news to share, e-mail editorial@shakespeareances.com