The Shakespeareances.com Top 40
My personal most memorable Shakespeareances
{productions through 2013)
[Go back to Top 40 Shakespeareances 11–15]
16. Timon's party at the Ruth Page Theater, Chicago, 1997.

Inserted in our Timon of Athens play program was an invitation to attend Timon's party. When and where? Then and there. Those who had randomly received invitations were allowed onto the stage to snack on hors d'oeuvres, sip champagne (actually ginger ale served in flutes), and mingle with such luminaries as Lucius and Sempronius. "Do you live here in Athens?" one of the lords asked us. "We live in Georgia, near Macon," Sarah replied, and we all agreed that while Macon is not that far from (an) Athens, we still came a long way for one of Timon's parties. The Poet and the Painter arrived, as did the Jeweller and the Merchant, and there we still were, extras in the first scene of Michael Bogdanov's production. Timon himself appeared and, though he greeted each of us warmly, only the real hob-nobs went in for the feast while the rest of us returned to our seats.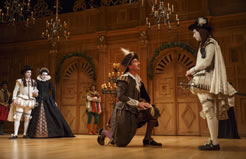 From left, Joseph Timm (Sebastian), Mark Rylance (Olivia), Peter Hamilton Dyer (Feste), Liam Brennan (Orsino), and Samuel Barnett (Viola). Photo by Joan Marcus, Shakespeare on Broadway.
17. Twelfth Night, Shakespeare's Globe, Belasco Theatre, New York, N.Y., 2013.
This all-male cast accomplished something I didn't expect: the best collective renderings of Viola, Olivia, and Maria I've ever seen in the performances of three men, respectively, Samuel Barnett, Mark Rylance, and Paul Chahidi, all three of whom received Tony nominations (Rylance winning). The centerpiece performance was Rylance's, whose Olivia was prim and proper but turns into a neurotic mess when Cesario, nee Viola, showed up. Barnett was a study in stillness, completely capturing Viola's troubled situation underneath a veneer of spunk in a perfectly nuanced performance. Chahidi was sexy and forceful as Maria and something of a loose cannon, planting a deep kiss on Toby after he calls her Penthesilia. Yet, the key to this production was how Director Tim Carroll kept the stage action simple and allowed Shakespeare's stagecraft genius to envelop us in his plot. The actors concentrated on the text as written, holding extra-textual slapstick gestures at bay while giving poetical passages poetical resonance, though naturalistically rendered: just people speaking gorgeous iambic pentameter as a matter of everyday existence. Click here for a review of this Twelfth Night.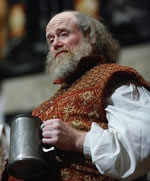 18. James Keegan as Falstaff, American Shakespeare Center, Blackfriars Playhouse, Staunton, Va., 2009 and 2010.
This Falstaff was a love story on many levels. On the first, it was a love of actor for his character, which was evident with their first outing in Merry Wives of Windsor, in which the fat (but nimble) knight was fully comic but never cartoonish. It was a love between Falstaff and Prince Hal, in which Keegan and his Henry IV, Part 1, counterpart, Luke Eddy, plumbed the depths of a familial friendship that was destined to end miserably. Finally, it was a love between the audience and Falstaff, which was especially felt in Henry IV, Part 2, as the now-older knight led us from scene to scene and we eagerly hung on to his every word. These love-story strands all tied together in the last play's epilogue when a noncostumed Keegan came on stage carrying his fat suit costume, which he left kneeling on the stage. Hal, Keegan, and audience said goodbye to Falstaff, a true bittersweet moment on all strands: parting was sad, but, my god, what fun we had.Click here for an interview with James Keegan about playing the three Falstaffs. Click here for reviews of this Merry Wives of Windsor, for Henry IV, Part One, and Henry IV, Part Two.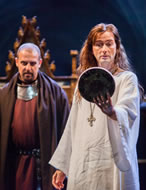 David Tennant (Richard, right), with Nigel Lindsey (Henry). Photo by Kwame Lestrade, Royal Shakespeare Company.
19. David Tennant as Richard II, Royal Shakespeare Company, Royal Shakespeare Theatre, Stratford-upon-Avon, (via RSC's Live from Stratford-upon-Avon cinema broadcasts), 2013.
You're standing on the pinnacle of a great performance, knowing you will never get any higher, when suddenly a volcano erupts out of nowhere and takes you higher. In every way, that describes the impact David Tennant's portrayal of Richard II had on me. Figuring this role could get no finer than Derek Jacobi's right-as-rhyme 1978 performance in the BBC/Time-Life series, I watched Tennant come along and change everything I thought I knew about the role. And it is so right because he built his Richard on his last scene when he offs two would-be murderers with all the virility of Dwayne Johnson. This was a dangerous, prowling Richard, imperial, with a force of personality to back it up. Tennant is so expert at the verse that he ranges from playful to threatening and nails superbly all of Richard's great speeches. Surrounded by a strong cast that included Nigel Lindsay as Bolingbroke and my old fave Michael Pennington as Gaunt, Tennant anchors a brilliant production helmed by Gregory Doran at the height of his skills. Click here for a review of this Richard II.
20. Ian McKellen's Richard III, National Theatre production, Ordway Music Theatre, St. Paul, Minn., 1992.
This is not, repeat, not, the film; I want to make that clear up front. We had already scheduled our annual Major League Baseball trip to the Twin Cities when Sarah happened to catch a television newscast about Ian McKellen in a Richard III production touring the United States—including St. Paul. She checked the dates, saw they jibed with our four-day visit and ordered the tickets at once. This Richard Eyre–directed production predated the McKellen-starring film, and, while the stage version established the Hitler Regime setting used in the film, the Richard Loncraine-directed film sledgehammered all the subtle, text-based characterizations that gave this original stage production so much power. At the center was McKellen as a stiff, tightly wound Richard, his rage and evil ego channeled into his ramrod spine and the paralyzed left hand crooked against his breast. The opening soliloquy provided the most powerful image of his performance as McKellen removed a glove from his pocket and put it on his right hand—using only his right hand to do so—while giving the speech. That bit of stage business displayed the unfathomable depths of skill within this man who outwardly appeared fragile. Treat him with kid gloves and he'll single-handedly have that glove gripping your throat.
[Go to Top 40 Shakespeareances 21–25]