The Shakespeareances.com Top 40
My personal most memorable Shakespeareances
{productions through 2013)
[Go back to Top 40 Shakespeareances 6–10]
11. Fred Gwynne and Twelfth Night, American Shakespeare Theatre, Stratford, Conn., 1974.
Your first should always be one of your highlights. But my first experience of Shakespeare in the theater, courtesy of a high school field trip, is less about my love of The Bard now as it was my being a big fan of The Munsters back then. For there was Herman Munster, in the flesh, playing a character called Sir Toby Belch! Neverthless, to this day, aspects of this production remain more vivid to me than many a Twelfth Night I've seen since, such as Viola and the ship's crew being heaved on stage after the shipwreck and the many "awwww"-inspiring pairings in the last scene (remember, this was a matinee audience of high school students). Above all else, there was Sir Toby. While I try to avoid matching the term definitive to any portrayal, Gwynne's Belch remains the best I've ever seen. Call it lingering fan worship, but I just think Toby, on the line "These clothes are good enough to drink in, and so be these boots, too," pulling a flask out of a boot Maria has just yanked off his foot, is perfect.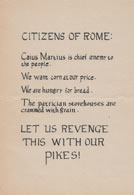 12. Acting on the National Theatre stage with Ian McKellen as Coriolanus, London, 1985.
When my Air Force parents were stationed in England during the late '70s, they became big fans of Ian McKellen, even meeting him after a one-man show. Then, when my first wife and I were living in England 10 years later and McKellen was starring in Peter Hall's production of Coriolanus, we discovered that for a discounted ticket price audience members could sit on the stage and act as part of the rabble. My parents were planning a visit that summer and we just had to treat them to this opportunity. It was a good staging of the play in its own right, especially the two tribunes in modern business suits carrying lawyers' briefcases, but the lasting memory of this production came for many years after and often whenever my dad would talk about how he "acted with Ian McKellen." McKellen himself later said during a one-man performance in Washington, D.C., that this production with the audience on stage was the worst experience of his life. Nevertheless, what is undoubtedly my father's top Shakespeareance merits a place on my list of greatest Shakespeareances, and for that I'm ever grateful to McKellen and Hall.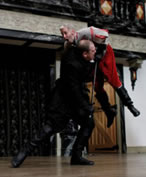 Benjamin Curns as Richard kills Somerset, played by Bob Jones, in
Henry VI, Part Two
. Photo by Tommy Thompson, American Shakespeare Center
13. Henry VI, Parts 1, 2, and 3 at the American Shakespeare Center, Blackfriars Playhouse, Staunton, Va., 2009, 2010, and 2011, respectively.
Anybody who believes these three plays are sub-Shakespearean needs to see them staged the way Shakespeare intended: a small troupe of actors on a bare stage with a week's rehearsal (and no director) working only from their individual parts rather than the whole script. You get fast-paced plotting, passion on the sleeves, wry humor, crude-but-winning special effects, multiple characters with just enough depth (and a number of archetypes), and lots of action. It's Elizabethan popcorn theater. Because each part played individually in three successive seasons, I could easily have listed all three productions individually among my Top 40 Shakespeareances (and the singular performance of Benjamn Curns as Richard, Duke of Gloucester, later Richard III, does earn its own spot on this list). Part 1, with the comedy of the bickering English versus the silly French, gave us the real sensation of being among Shakespeare's original audience. Part 2, with the dysfunctional court along with a queen making love to a decapitated head, was a high-octane romp climaxed by "Somerset on a stick," the most astonishing stage combat stunt I've ever seen. Part 3, with the passion of York and the passion of Margaret on either side and the passion of Warwick waffling between them, was to witness Shakespeare's genius begin to blossom before our eyes. Taken together, this was a three-year Shakespearean moment mingling recollection of what went before with anticipation of what was to come. Click here for reviews of Part 1, Part 2, and Part 3. Click here for an interview with Sarah Fallon about her three-season portrayal of Margaret.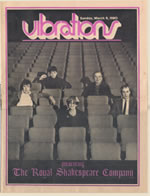 14. The Royal Shakespeare Company at William Jewell College in Liberty, Mo., 1980.
This is one of only a couple of times when my profession crossed paths with my passion. Five members of the RSC were touring American colleges, and while I was a student at the University of Missouri, I finagled an assignment from the Columbia Missourian Sunday magazine, Vibrations, to shadow them on their visit to William Jewell College in Liberty, Mo. I not only spent two days' worth of interview time with Ian Richardson, Sebastian Shaw, Ann Firbank, John Nettles, and musician Martin Best, I got to witness several private Shakespearean performances and engage in a snowball fight with them outside their hotel. But, for the students, the highlight was in a classroom where Richardson directed Firbank and Nettles as they worked through Petruchio wooing Kate from Taming of the Shrew, the actors shifting from character to character in a display of both Shakespeare's richness and their own witty improvisational skills. "I swear I'll cuff you if you strike again," Nettles's Petruchio said after Firbank's Kate slapped him. "Be macho here," Richardson demanded. "Oh, like Clint Eastwood," Nettles said, and after they play the slap again, Nettles stared a long moment, raised a pointed finger at Firbank and repeated the line exactly as Dirty Harry would have done.
Photo by Clinton Brandhagen, Faction of Fools Theatre Co.
15. A Commedia Romeo and Juliet, Faction of Fools Theatre Company, Mead Theatre Lab at Flashpoint, Washington, D.C., 2012.
Not just the funniest Romeo and Juliet imaginable, this commedia dell'arte rendering of Shakespeare's popular tragedy offered up many insights into the play itself. Shakespeare may have been more influenced by the Italian theatrical tradition than scholars realize. Several scenes in this play make more sense when played for laughs, especially the fake Juliet death scene, which in Faction of Fools' hands was an all-time howler. This troupe of five actors, wearing masks for various roles, effectively balanced commedia conventions with the Shakespearean verse and astutely managed the abrupt turns from slapstick to true tragedy, all while maintaining an exuberant relationship with the audience as they improvisationally navigated through opening night set failures and other miscues. A tremendous memory, this production also proved progenitor, as its success inspired Faction of Fools to later apply the commedia dell'arte treatment to Hamlet and Titus Andronicus. Click here for a review of A Commedia Romeo and Juliet.
[Go to Top 40 Shakespeareances 16–20]