A Midsummer Night's Dream
Growing Mendelssohn's Shakespearean Roots
By Felix Mendelssohn, William Shakespeare
Baltimore Symphony Orchestra, Music Center at Strathmore, Rockville, Md.
Thursday, May 29, 2014, JJ–111&112, Orchestra Tier Center
Marin Alsop, Conductor; Directed by Edward Berkeley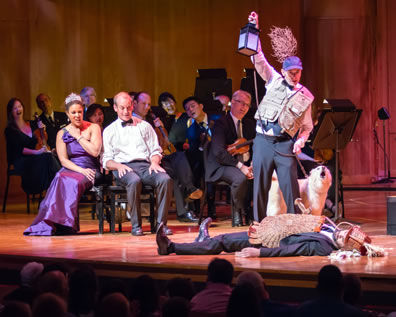 Pyramus (Bottom, aka Cody Nickell) dies under Moonshine (Starveling, aka Spencer Aste) as Hippolyta (Linda Powell), Theseus (John Bolger) and the violinists of the Baltimore Symphony Orchestra watch during the concert performance of
A Midsummer Night's Dream
at Strathmore. Photo by Kenneth Adam, Baltimore Symphony Orchestra.
Of all the adaptations of William Shakespeare's works in various mediums, Felix Mendelssohn's overture and incidental music for A Midsummer Night's Dream is among the rare ones that attained renown equal to or, for some, surpassing The Bard's original. His Midsummer Night's Dream Overture, which Mendelssohn wrote as a 17-year-old in 1825, is ensconced in the repertoires of most, if not all, of the world's symphony orchestras, a piece of music that by itself sets the German composer at the level of Beethoven, Brahms, and Tchaikovsky on the Mount Rushmore of Romantic-era composers. The incidental music he wrote for an 1843 production of the play contains a composition, the "Wedding March," so iconic that most people probably are not aware it was initially written for this play.
Orchestras will often invite an actor to read a few passages of the play to accompany concert performances of the entire suite—Shakespeare, in a sense, becomes incidental to Mendelssohn's incidental music for the play. Marin Alsop, music director of the Baltimore Symphony Orchestra, went beyond that tradition in a collaboration with the Folger Library. She enlisted a troupe of actors who, under the direction of Shakespearean and Opera Director Edward Berkeley, perform scenes from the play interspersed into an otherwise traditional symphony concert of Mendelssohn's music (the orchestra is supplemented by the Baltimore Choral Arts Society under the direction of Tom Hall). Running just over two hours with a 20-minute intermission, the program becomes something much more than a concert and just a little less than a full-scale theatrical production, achieving a happy median of the two mediums.
The keys to the program's success are the choice of actors and Alsop's handling of Mendelssohn's score.
In particular, the production landed four veteran Folger actors to play the lovers, fairies, and rude mechanicals: Kate Eastwood Norris, Cody Nickell, Marcus Kyd, and Katie deBuys. Another veteran actor, Spencer Aste, presents a winking Puck in glittering multicolored vest, as well as playing Egeus, Philostrate, and Starveling; and Linda Powell doubles Hippolyta and Titania using her bearing and volume to establish the two queens' power (though she spends much of her Titania time in a chaise lounge back between the brass and chorus). We sense that Theseus will still have some reckoning as Powell's Titania either learns of or figures out the trick he played on her.
Broadway star John Bolger plays Theseus and Oberon, as well as Snug, and he also serves as the narrator, explaining the plot at the beginning and filling in the action between scenes. He's an imperious Theseus, but his Oberon is something creepy, and as narrator his questioning the play's authorship undermines his authority. This audience was clearly a symphony crowd, so Bolger's remark entices a collective "huh?" from most of the audience and clenched jaws from the rest of us.
Thank goodness Norris was on hand to get us laughing again. To get people tittering, all she has to do is gallop across the stage in her formal evening gown waving her hand as the flighty Helena in chase of Nickell's Demetrius. Her Snout is a beefy construction worker, perfectly suited to play Wall with his muscular bearing, a performance made all the more remarkable by the fact that Norris doesn't change clothes, hair, or makeup to play him (though she does don a sandwich board wall for Pyramus and Thisbe). Even in this scaled-back production and restricted space, Norris brings 100 percent to her characters.
As does deBuys. She stays in her night-at-the-opera gown but adds a baseball cap and glasses when she plays an insecure Peter Quince, which she pairs with a hellion of a Hermia. Kyd is a verse-reading extraordinaire, and this talent comes through whether his Lysander is consoling Hermia, courting Helena, or challenging Demetrius, or his Flute is awkwardly delivering the lines of Thisbe. Nickell takes on Bottom in addition to Demetrius, and his turn in the donkey's head is smart in that this Bottom never slips from cocky self-assuredness, even though he is fully aware that strange things are happening to him. This cockiness comes into play when Nickell's Bottom plays Pyramus, a laughing-to-tears performance in its bravado and effusive death scene.
The program only uses portions of key scenes from the play: the opening in Theseus's court, the Oberon-Titania meeting, the application of the love juices, Bottom's transformation as the mechanicals rehearse their play in the forest, the lovers' brawl, and the awakening of the lovers (but "Bottom's dream" is skipped). However, Pyramus and Thisbe is played out in its entirety as symphony concert gives over to out-and-out comic theater, including a real Akita that comes on with Starveling in his portrayal of Moonshine, much to the delighted surprise of the audience. When Kyd's Flute's Thisbe exhorts the dead Pyramus to "Speak, speak," we hear barking off-stage, and Thisbe interrupts his woe to cast a puzzled look in that direction.
Only occasionally do members of the orchestra and chorus come into play, though they are clearly enjoying the action. Concertmaster Jonathan Carney is made privy to Oberon's and Puck's schemes, and when Flute's Thisbe ends her death ode with "farewell friends," Kyd's Flute turns to the orchestra to wave, and they all wave back. Soprano Ying Fang and mezzo-soprano Julie Boulianne play First and Second Fairy, respectively, standing on a balcony perch above the orchestra as they carry out their dialogue with Puck. They remain there as, in combination with the all-women chorus, Fang and Boulianne sing Titania's lullaby, "Ye Spotted Snakes," turning this choral segment from something I usually merely endure to something quite magical.
Most important is the blending of Shakespeare lines and Mendelssohn's music. In some instances, spoken lines overlap with the orchestral score, and in the denouement, the chorus and orchestra play underneath Oberon's blessing of the house and Puck's broom-bearing speech and epilogue. "Give me your hands, if we be friends," he says, sitting on the front of the stage, "And Robin shall restore amends," ending this last line perfectly, movingly, on the woodwinds' lilting coda.
It's the final punctuation of Alsop's expert handling of the program. She conducts the oft-played overture with just the right amount of spacing, and thanks to the strong precision of the strings and winds, this most-familiar piece of music plays with delectable freshness. What Mendelssohn so brilliantly composed as a teen-ager he didn't quite match when he wrote the incidental music as an adult; though it features some of his skipping passages that are his trademark—infusing his Romantic-era score with Baroque-era structures—the suite of incidental music drags at many points. Alsop, however, keeps a lively pace so that we don't spend the interludes between played scenes waiting impatiently for the actors to return. She also delivers an understated reading to the "Wedding March," giving this bride and groom recessional standard appropriate power in the context of the play's triple wedding without succumbing to cliché.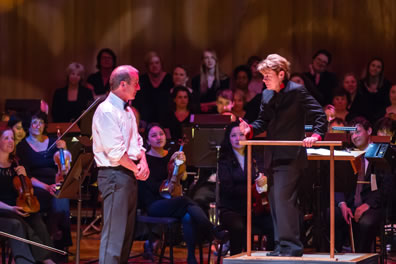 "This is the silliest stuff that e'er I heard." Baltimore Symphony Orchestra music director Marin Alsop intervenes in the playing of Pyramus and Thisbe as Theseus (John Bolger) tries to placate her in the concert presentation of
A Midsummer Night's Dream
at Strathmore. Photo by Kenneth Adam, Baltimore Symphony Orchestra.
Although this is first and foremost a symphony concert, and the Baltimore Symphony Orchestra, the Baltimore Choral Arts Society, Fang, and Boulianne would have scored a thrilling night in themselves, Alsop nevertheless puts Shakespeare ahead of Mendelssohn. By the scene-and-song arrangements, she illustrates how The Bard influenced the composer as the music flows perfectly out of the acted scenes. At the podium she almost seems oblivious to the actors playing their parts, until we get to Pyramus and Thisbe. As this is the longest spoken portion of the program, Alsop eventually turns around, watching the rude mechanicals perform their play. Then, totally unexpectedly, Alsop says, "This is the silliest stuff that e'er I heard." This co-opting of Hippolyta's line here is perfect. The play stops, as actors look at her and the Strathmore audience lets loose its heartiest laugh of a laugh-filled evening. "The best in this kind are but shadows, and the worst are no worse, if imagination amend them," Bolger's Theseus replies.
"It must be your imagination then, and not theirs," Alsop says, continuing Hippolyta's dialogue and turning back to her orchestra. How right is that moment (even as Powell as Hippolyta is on stage at the time). Despite all the thespian and musical talent on display this night, for the beautiful blending of Shakespeare's poetry and Mendelssohn's score, it is Alsop who bundles it all up and delivers the whole with a deft touch and perfect timing.
Eric Minton
June 3, 2104
Comment: e-mail editorial@shakespeareances.com
Start a discussion in the Bardroom