A Midsummer Night's Dream
Silly Start for a Spanking New Theater
Chesapeake Shakespeare Company, Baltimore, Md.
Sunday, September 21, 2014, A–101&102 (Main Floor, right corner)
Directed by Ian Gallanar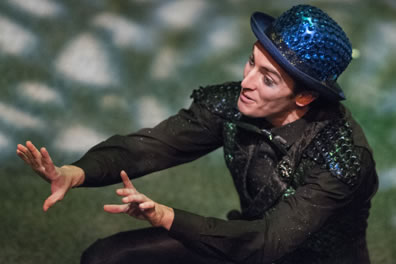 Vince Eisenson plays a cat-like Puck in Chesapeake Shakespeare Company's production of William Shakespeare's
A Midsummer Night's Dream
,. The play opened the company's new downtown Baltimore theater. Photo by Teresa Castracane, Chesapeake Shakespeare Company.
It might be a requirement: You got yourself a new theater, you open it with William Shakespeare's A Midsummer Night's Dream. Last winter, it was the Theatre for a New Audience that opened its newly constructed Brooklyn, N.Y., home with a flying Puck, underwear-clad lovers, the Rude Mechanicals serving as stagehands, and school children filling out the ranks of fairies.
This autumn, it's the Chesapeake Shakespeare Company unveiling its new Baltimore residency in a renovated 19th century bank building-cum-nightclub with underwear-clad lovers, the Rude Mechanicals serving as stagehands, and school children filling out the ranks of fairies—but no flying Puck.
Puck's mode of travel is an important distinction. At Theatre for a New Aucience's new digs, Puck used an array of technological gadgetry that Director Julie Taymor manipulated for her visionary Dream. At CSC's new space, Puck clambers about the tri-level stage and moves in and out and through the audience, which the company's Founding Artistic Director Ian Gallanar always considers part of his theatrical palette. Despite moving its base of operations from the ruins of Patapsco Female Institute Historic Park in Ellicott City, Md., to a gleaming new space within sight of Baltimore's Inner Harbor, the Chesapeake Shakespeare Company has not altered its aesthete as a community theater embellished with professional talent. That aesthete informs both the new theater and this production of Dream.
The building at 7 South Calvert St. began as the Mercantile Safe Deposit and Trust Building. Its latest renovation maintains many of the bank's architectural features: columns, a paned ceiling, catwalks for guards, and the walk-in bank vault complete with a gold-colored safe door. In the 1970s the building served as a high-energy nightclub, and some of that legacy remains in the South Beach colors that decorate the grid of the paned ceiling.
Despite these architectural remnants, the building is now unquestionably a theater—and a home. Designed by Cho Benn Holback + Associates and constructed by Southway Builders at a cost of $6.7 million (CSC has raised all but a million dollars of its capital campaign), the theater seats 260 in a three-tiered, deep thrust configuration. Sightlines top to bottom and side to side are perfect—only the director's blocking causes obstructed views—and acoustics are good. On the stairwell walls hang posters of "All the Props Required for Shakespeare" and the "Kings and Queens of England," and the Doris Adler Reading Room upstairs looks like a comfortable living room with a bookcase that includes collections of Shakespeare's plays. The former bank vault now serves as the PNC Family Room, with a rack of costumes, photo booth, and a crafts table, and kids can write on the original metal walls with grease pens or create their own compositions using magnetic words and letters. A TV screen showing the stage allows parents to continue watching the play as their children play.
It might seem a far cry from the expansive stage in Ellicott City with the stone shell of a wall as a backdrop, the audience picnicking or sprawled on the lawn, and the children scampering about (CSC will continue to stage plays at Patapsco in the summer). But it really isn't, for the company's winking attitude toward theater—fun for and with the audience—is still in play. In the half hour before Dream's start, the company even pokes fun at the change in its environment as Gregory Burgess, who plays Bottom, and Theresa Buechler (Mustardseed) try to set up a picnic on the various levels of the new theater, and each time Jenny Leopold (Philostrate) runs them off. In the first scene of the play, James Jager as a comically pompous Demetrius turns to a section of the audience and says under his breath, "I hate that guy," referring to Lysander. It's funny for those of us who can hear him, but it's also assurance that some of the most endearing traits of this company—particularly the way its actors interact directly with members of the audience—haven't given way to haughty attitudes that such classy new digs could inspire.
That also means the Shakespeare is light and easy (or, perhaps, slight and pleasey). In helming this production, Gallanar equates A Midsummer Night's Dream to an extended waltz. In his program notes, Gallanar notes that "Music is all over this play," but he adds more music to the dozen or so mentions in the script itself, and the music he uses is mostly in three-quarter time. "There's something about a waltz. There's something about that three-quarter time that has to do with anticipation," he writes. "Three-quarter time is forever tied with a waltz, a dance that evokes romance." Lysander (Travis Hudson) does a waltz with Hermia (Rachael Jacobs) in which Helena (Audrey Bertaux) joins in during their conversation in the opening scene. Inserted between the Rude Mechanicals' scene at the end of Act I and Act II's move to the Athenian forest, Theseus (David Mavricos) and Hippolyta (Lauren Engler) return to the stage to dance a waltz as Burgess sings Richard Thompson's "Waltzing's for Dreamers." The grand finale turns the stage into a ballroom of waltzing pairs.
But other than the dance interludes and using a vaguely romantic-era setting, the production is not bound by Gallanar's waltz motif. The mostly bare stage shifts from Athens to the woods via Daniel O'Brien's lighting design (he's also technical director and scenic designer). Kristina Lambdin's costuming is early 20th century: long gowns on the women, a general's formal mess-dress jacket on Theseus, Demetrius in yellow vest and knee pants with argyle socks, Lysander with a boater and wearing a salmon jacket and pinstripe pants held up with suspenders.
The fairies might be patrons still hanging around in the building after the nightclub's last glimmer glam ball. Oberon (Scott Alan Small) is in leather vest and tails, glittering high collar and shoulder blades, and black branches forming a coronet. Titania wears a long, glittering gold gown with jeweled arm bands, peacock feathers shaped as antelope horns forming a crown, and a cape that she spreads out to form seven-foot-long gossamer fairy wings: "I am a spirit of no common rate" she tells Bottom with her wings on full display, and she certainly is right about that. Titania's attendants wear gold but simple shrift dresses and wire wings with glowing light balls at the tips, and they move about like sideway-walking crabs on bent knees with arms splayed. Puck (Vince Eisenson) resembles a tall leprechaun, with blue sequined bowler and green sequined vest. He is more catlike than impish; prowling, playing, and pouncing after his prey with a kitten's concentration, then stopping to observe everything with rapt curiosity or an expression of feigned innocence.
Along with Eisenson's Puck, the production's most accomplished presentations are the four lovers. In the opening scene, Bertaux's Helena clearly shows a best-friends-forever relationship with Jacobs' Hermia, but Bertaux gives a significant reading to a single line in their discussion of why Demetrius has inexplicably turned his affection from herself to Hermia. "His folly, Helena, is none of mine," Hermia says. "None, but your beauty," Helena replies, and Bertaux shows a sudden, intense flash of anger physically aimed at Hermia before she turns away and bottles up her rage, saying "would that fault were mine!" In this lightning moment, we see the frustration that inspires Helena to do such stupid things as telling Demetrius of Lysander's and Hermia's flight from Athens and then following him into the woods. We also see the smoldering spark of lifelong competition between the two women that will so readily conflagrate into the brawl in the woods.
That brawl, surgically streamlined by Gallanar's textual cuts, is brilliantly carried off through the choreography among the four players (and Puck contributing with a bit of magic from the sidelines). Why the two women, unprompted, strip down to their underwear to fight isn't clear—at least in the context of the play, though I've been seeing a lot of this staging lately (yes, I get the psycho-social context, but nothing Shakespearean). However, Gallanar's boldest move in this scene is placing the intermission right in the middle of the fight. Hermia leaps at Helena, and Lysander and Demetrius both catch her in their arms. Helena then calls her rival "puppet," and the two men, holding aloft the squirming Hermia—who suddenly freezes in livid shock—look at each other in grave concern: uh-oh, she called her puppet. And then … to be continued.
Bertaux offers another interesting reading when the four lovers awake the next morning. Demetrius suggests that on their way back to Athens, "let us recount our dreams," but Bertaux's Helena shakes her head and gestures an emphatic "let's not."
Similar to Taymor's tact in her TFANA Dream, the Rude Mechanicals serve as stagehands at the beginning of the play, placing props, including a classic French chaise lounge just as Theseus and Hippolyta need a place to sit. Lysander and Hermia then indulge in champagne as they cavort like Noël Coward characters on that sofa, inevitably spilling some bubbly out of their glass flutes. When the Rude Mechanicals come on stage for their first scene, Francis Flute (Bobby Henneberg) wipes the floor clean of the spilt champagne. Nice.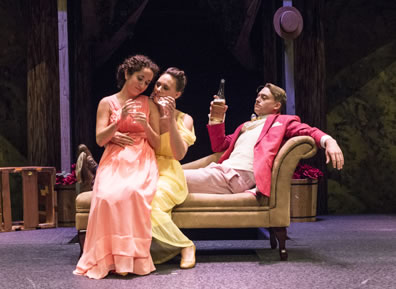 Hermia (Rachael Jacobs, left) and Helena (Audrey Bertaux) talk as Lysander (Travis Hudson) watches in the Chesapeake Shakespeare Company's production of A
Midsummer Night's Dream.
Photo by Teresa Castracane, Chesapeake Shakespeare Company.
These corps of craftsmen attain heights of humor well before they stage Pyramus and Thisbe for the Duke and his court in the last act. Henneberg looks like he could be an offensive lineman for a Division One football team, and he plays Flute with a certain amount of testosterone, even as he tries to master the role of Thisbe. As they all rehearse in the woods, Flute practices his womanly wiles, and Quince (Jeff Keogh) coaches him on how to speak in a higher pitch and roll his r's: Henneberg ends up trilling like an old telephone. Across the stage, Snug (Matthew Ancarrow) pages through the children's book How To Hide a Lion to find poses that he can imitate. Upon Bottom's transformation, Keogh's Quince attacks him with holy water and then a stake as he shouts "Thou art translated." In his soliloquy upon awaking from his night of wearing an ass's head and being courted by the Fairy Queen, Bottom talks of his dream in which "methought I was," and he strokes imaginary donkey ears—"Methought I had," and he traces a woman's hourglass figure. As Oberon and Titania reconcile, Starveling (Robby Rose) is inexplicably wandering around with his lantern on the upper stage: inexplicable until Small speaks Oberon's line "We the globe can compass soon, swifter than the wand'ring moon" and looks up at the man who will play Moonshine in Pyramus and Thisbe.
By the way, this Starveling uses a taxidermied skunk for Moonshine's dog. I have no idea why, but it's ridiculously funny. So is the way Scott Farquhar, playing a no-nonsense Snout, is forced to play Wall, wearing a canvas tent painted as stacked stones and perching a tall column atop his head. He gets through his part with let's-get-this-over-with speed and never lets go of his disdainful expression as Bottom and Flute play Pyramus and Thisbe courting through Wall's chink. Burgess's Bottom uses two paint brushes to create a crest for his helmet, and when Quince describes Pyramus as a tall man in his prologue, the rest of the cast squats down to make the short Burgess seem tallest among them. Yet, it's Henneberg's Flute who is bound to steal the show—both Pyramus and Thisbe and A Midsummer Night's Dream—when he comes on stage for Thisbe's final scene and discovers the dead Pyramus before killing herself. As Henneberg's Flute's Thisbe cries excessively over Pyramus's body, Burgess's Bottom pulls the script out from under his breastplate and checks it; seemingly satisfied, he puts it back, and lies back down to patiently await this Thisbe's final demise.
Missing in this scene are the insulting interjections from court. In this family-friendly, everybody-be-happy performance, that might come across as a little too cruel. Hippolyta commenting that "This is the silliest stuff that ever I heard" is the only interjection that remains and, really, that's not cruel. That's just fact. Happily so.
Eric Minton
October 3, 2104
Comment: e-mail editorial@shakespeareances.com
Start a discussion in the Bardroom