The Comedy of Errors
Doubling Doubles the Fun of a Comic Errors
The Public Theater's Shakespeare in the Park, Delacorte Theater, New York, N.Y.
Saturday, June 15, 2013, N/M–301 & 302 (center left)
Directed by Daniel Sullivan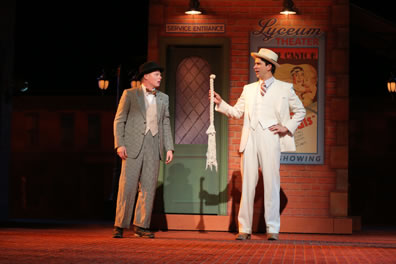 Dromio of Ephesus (Jesse Tyler Ferguson, left) hands Antipholus of Ephesus (Hamish Linklater) a rope's end at the climactic moment of confusion in The Public Theater's Shakespeare in the Park production of
The Comedy of Errors
. Photo by Joan Marcus, The Public Theaer.
You know a Comedy of Errors is working well when Dromio of Ephesus shows up with the rope in Act Four, Scene Four, and you are just as confused as Antipholus of Ephesus is. This state of audience confusion has been achieved in only two of the 15 productions of Comedy of Errors that I've seen: a University of Missouri production that pared the text down to just over an hour, and this Shakespeare in the Park version that is trimmed to 90 minutes (including swing dancing interludes between scenes).
Whittled text is but one thing these two productions share: quickly paced action is another. In that 1979 college production, the actors' comings and goings maintained a constant, hectic flow, keeping our own attention constantly moving across the span of activity, and this was achieved without any superfluous additions to Shakespeare's script. In this Delacorte Theater production in New York's Central Park, director Daniel Sullivan also rarely allows the play to pause for breath, but he supplements the core action with dancing, a jazz club song, and a half-dozen-plus-member ensemble playing gun-toting nuns and gangsters.
Sullivan also uses just two actors to play both sets of twins—Hamish Linklater as the two Antipholi and Jesse Tyler Ferguson as the two Dromios—whereas the Missouri production and most others I've seen used four. The primary purpose for doubling the actors playing the twins is not to amp up the confusion but to attain a greater sense of realism. In the program notes, Sullivan remarks on how other productions use pairs of twins that make everybody else on stage seem "remarkably stupid to think that these are the same people." The people on stage looking stupid is a concern? How about Antipholus of Syracuse, who is expressly traveling the world looking for his and Dromio's identical twin brothers, not figuring out by Act Two, Scene Two, the obvious clues that he might have found them here in Ephesus. Shakespeare clearly didn't have any concern for credulity (unless he happened to have two sets of identical twins in his acting company). Suspended belief and slapstick silliness is the point of this play and many subsequent comedies, through to Modern Family.
That points to the most valid reason for doubling that hit TV show's star, Ferguson, as the two Dromios—you get twice as much Ferguson. A veteran Shakespearean actor and Central Park performer (he earned his Equity card at the Delacorte with 1997's On the Town) in addition to being an award-winning actor on TV's current hottest comedy, Ferguson is ideally suited for Dromio (either or both). He gives the two servants (differentiated by different-colored hat bands) an understated but intelligent reading with just enough nervous energy to invite our empathy. His comfort and chemistry working with Linklater is obvious (he played Launcelot Gobbo to Linklater's Bassanio in Merchant of Venice and Clown to Linklater's Autolycus in A Winter's Tale on this stage in 2010, too). For his part, er, parts, Linklater charms in each of the distinctly written Antipholi; as he juxtaposes the jaunty Syracusan with the intense Ephesian, he keeps a tight grip on their bewilderment and rage. The actor's counterintuitive decision to maintain a straight face rather than slip into a confused expression when he's berated by a supposed wife or challenged about a chain he supposedly received creates a heightened state of comedy.
Only in the last scene, of course, does the doubling of actors become problematic, and Daniel handles it well enough to forestall purists' condemnation. After the Ephesus set of twins deny that Egeon is their father, Linklater and Ferguson sullenly slip away through an exit under the theater grandstands. Some textual manipulation allows them time to get back stage, then their stand-ins emerge from the tunnel (and thus have their backs to the audience) just as Linklater and Ferguson playing the Syracuse set of twins emerge from the abbey. The stand-in Ephesians continue facing upstage, and textual cuts and combined speeches by Linklater and Ferguson carry off the ruse.
That the production is in constant motion also keeps the audience from focusing too closely on such sleights of hand. Three towers rotating to depict the various settings provide a cartoonish Ephesus set in 1930s America (scenic design by John Lee Beatty, costume design by Toni-Leslie James), and Skipp Sudduth's Duke is a Prohibition-era, pinstripe-suit-wearing crime boss. His Nu Yowker verbalization of Shakespeare's verse is both sublime and funny (he also makes a memorable turn, uncredited, as Nell, the spherical kitchen wench). A troupe of six dancers (three couples) provide a preshow of brilliant jitterbugging (choreography by Mimi Lieber) and populate the streets and clubs of Ephesus, dancing through scene transitions. The Courtezan (De'Adre Aziza) supplements her slinky movements in the play by singing a smoky jazz rendition of "Sigh No More" from Much Ado About Nothing in one scene transition.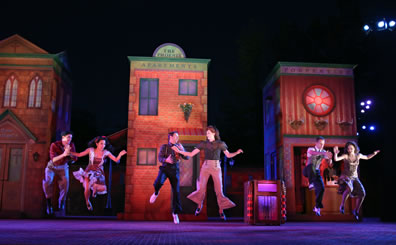 Brian T. Lawton, Jessica Wu, Bryan Langlitz, Adrienne Weidert, Michael McArthur and Rachel McMullin dance the jitterbug during The Public Theater's Shakespeare in the Park production of
The Comedy of Errors,
The dancers provided pre-show entertainment and between-scenes dancing. In the background is John Lee Beatty's set of towers that revolve for different backdrops to different scenes. Photo by Joan Marcus, The Public Theater
Aside from facilitating the scene (and twin) changeovers, the dancing becomes thematic in the part of Adriana, played by a ferocious Emily Bergl. Her long speech to Antipholus of Syracuse—who she thinks is her husband—regarding a husband's duty evolves into a jive dance with one of the male dancers, a performance that inspires audience applause. (Linklater has to follow up with one of the play's funniest passages, so he gives the applause free reign, pauses a long moment in serious thought as if weighing a response, then says with a common questioning inflexion, "Plead you to me, fair dame?") Bergl's Adriana engages in much of the play's physical comedy: she gets into a chest-bumping battle with the Courtezan, ends up thrown face-first onto the lawn in front of the Delacorte stage in the riotous pursuits of Antopholus and Dromio, and beats on her husband Antipholus of Ephesus (poor stand-in actor) before they go in for dinner with the Abbess in the final scene. Heidi Schreck's Luciana holds her own as Adriana's sister. We can see her warring with the decision of whether to return the affection of Antipholus of Syracuse—who she thinks is her brother-in-law—or inform her sister of his behavior before finally taking the latter as the proper (and probably safer) course. But in the final reveal, Linklater barely begins Antipholus of Syracuse's case to Luciana before she literally swallows his words with an unbridled kiss.
While her nuns bear sawed-off shotuns the Abbess herself (played by Becky Ann Baker) wields a more dangerous ruler. Jonathan Hadaray plays Dr. Pinch is a Freudian psychoanalyst, and he also plays Egeon, carrying a small suitcase that no clown car can match in infinite space. As Egeon tells his opening tale of the shipwreck that divided his family, Hadaray first pulls out of his suitcase little rag dolls to represent the two sets of twins when he describes their birth, then pulls out a rather large sailboat when he describes their voyage, and then he pulls out a huge ship's mast to describe the shipwreck.
This stagecraft magic demands that we suspend belief even as the slapstick silliness takes hold. Having identical Antipholi and Dromios does not then make the proceedings any more believable. Rather, it's the fact that Antipholus of Syracuse is so glaringly clueless upon landing in Ephesus that believability can take hold within this state of suspended belief. And when the play is given a quickened pace, confusion is sure to follow.
Eric Minton
June 19, 2013
Comment: e-mail editorial@shakespeareances.com
Start a discussion in the Bardroom