As You Like It
True Love and Laughter Please Us Well
The Public Theater's Shakespeare in the Park, Delacorte Theater, New York, N.Y.
Saturday, June 30, 2012, N/L–303 & 304 (center left)
Directed by Daniel Sullivan
For its 50th anniversary season, Shakespeare in the Park chose Shakespeare's most innocuous comedy, As You Like It, and, thankfully, didn't make it a noxious drama of overdeveloped sentiment or a précis of overreaching meaning. With the exception of one unnecessary character enhancement, this was a genial production with a talented cast led by a charmingly seductive Rosalind, a comically serious Jacques, and a believably virile Orlando—yes, a virile Orlando.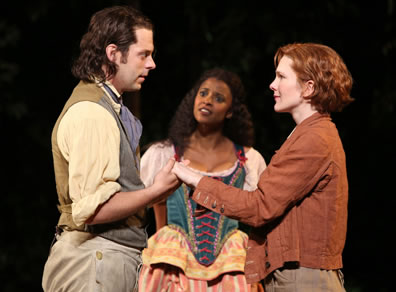 Orlando (David Furr) "marries" Rosalind as Gannymede as Rosalind (Lilly Rabe) as Celia (Renee Elise Goldsberr) presides in the Shakespeare in the Park production of
As You Like It
. Below, Duke Senior (Andre Braugher) delivers his speech on the merits of the rustic life for his merry band of banished lords and musicians in the Forest of Artden. John Lee Beatty's set allows actors to move around in the trees. Photos by Joan Marcus, The Public Theater.
Adhering to what seems to be this year's setting du jour for Shakespeare plays, director Daniel Sullivan places the action in the 19th century American frontier. The dukedom at the play's start is a giant log fort, a convincing construction by scenic designer John Lee Beatty that slides away to reveal the thick-wooded Forest of Arden. The court at the fort is a funless place presided over by a bullwhip-wielding Duke Frederick, played with a stern sneer by Andre Braugher. Only Celia (Renee Elise Goldsberry) breathes life into this setting, ever seeking games to play and having frequently to lift her cousin, Rosalind, out of dolor. When the fort's walls disappear into the wings, the Forest of Arden emerges as a pleasant place, full of banjo-and-fiddle music, dancing, and laughter presided over by the genial Duke Senior, played with an easy smile by Braugher (no mere change of costume—Braugher's brothers are distinctly different characters). Jacques (Stephen Spinella) stands alone in a dour mood, and Rosalind blooms into a new life in this Arden.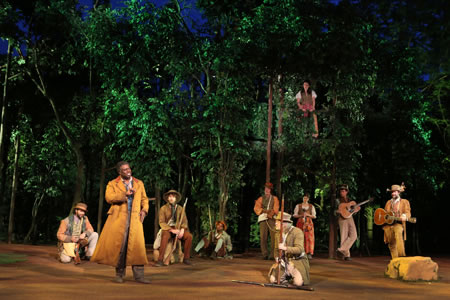 In his notes, Public Theater Artistic Director Oskar Eustis, offering a key reason for doing this particular play for Shakespeare in the Park's 50th season, writes that "you … do As You Like It when you've got a Rosalind," i.e. Lily Rabe. Eustis and Sullivan arrived at that conclusion two years ago when they staged The Merchant of Venice with Rabe as Portia and felt she would be an ideal Rosalind. Eustis calls Rabe "a wonderful artist whose combination of heart and brain is delightful and rare," and that description is an apt one for Rabe's Rosalind, too.
Actresses playing this part have the challenge (as many Shakespearean actresses do in many of his plays) of being a believable boy, but Rabe's Rosalind skips over this challenge and has her Rosalind, still very much a woman, find a grounding in her inner male. Yes, this Rosalind plays a part as a boy, and when she's conscious of that, it's a visual joke; but more often she's not conscious of it, and in that striding confidence Rabi's Rosalind creates a character that Orlando and Phoebe easily fall for. "I would cure you," she says to Orlando in a seductive coo, and though she is here Ganymede professing to have the wherewithal to drive Orlando's lovesickness out of him, we can see through the trousers to a woman who could cure Orlando of all ills in another sense.
Of course, even as Ganymede, this Rosalind is smitten with this Orlando in a performance by David Furr that suggests that, perhaps, Richard Burbage (the original Hamlet, Henry V, Richard III, and Macbeth) did indeed take this role in the original production of As You Like It. Furr finds the foundation of his Orlando in the character's first speech, describing himself as having inherited the qualities of his noble father but denied of classroom schooling by his older brother. He also does slave labor on his brother's estate. We therefore get a physically fit Orlando, proud in bearing yet humbled by his state, with a natural but unrefined intelligence. That the refined and beautiful Rosalind even talks to him as if he were a worthy person sends him into paralysis. Rather than stammering or fidgeting, Furr plays Orlando's silence as a catatonic stare, funny by being so awkward and lasting so long before Celia finally pulls Rosalind away. That moment is what makes love at first sight become a lasting affection for both Rosalind and Orlando.
Spinella, for the most part, plays Jaques straight to the text and scores a success doing so. This Jacques knows that his melancholy is an affectation, something he does to establish his individuality, if not superiority, to the other lords in the banished duke's woodland court. "I'll go sleep, if I can. If I cannot, I'll rail against all the first-born of Egypt," he says as an exit line in one scene. Spinella's Jacques knows it's a ridiculous thing to say, but it earns a laugh (on stage, and a big one from the audience). However, for Act IV, Scene 2, the short scene in which he condemns the foresters who have killed the deer, Spinella's Jaques is clobbered drunk. Rather than enhancing the character, this drunken depiction detracts from an otherwise near-perfect portrayal of Shakespeare's second-most-famous melancholic. I guess you could turn the whole role into that of an alcoholic, but I've always regarded Jaques as a precursor to Malvolio, not Toby Belch. Jaques is what he is, and Sullivan abuses Shakespeare's clever creation with this unnecessary moment of drunken stupor.
Ironically, that scene itself—perhaps a superfluous one inserted by Shakespeare to create a passage of time between Orlando's leaving Rosalind and Oliver arriving to deliver her the bloody napkin—Sullivan makes a highlight of this production. As Celia settles down to sleep (and Jaques stumbles across the stage), we see what looks like an army of riflemen advancing through the fog-shrouded trees, with music swelling in the key of danger. Is this Duke Frederick invading Arden? It turns out to be Duke Senior's lords hunting deer, and out of this mental juxtaposition Sullivan provides visual metaphor to Jaques' assertion that Duke Senior is as much the usurper as his brother for displacing the fauna of the forest.
Sullivan makes another subtle interpolation that is so right I subconsciously saw it coming. When old Adam (Macintyre Dixon) is being fed at Duke Senior's camp, a thought suddenly flashed to me that he inexplicably disappears from the rest of the play (keep in mind I've now seen nine versions of this play on stage and screen and I've read it at least a half dozen times, and this is the first time I gave that fact any consideration). Shakespeare obviously saw no further need for Adam—or perhaps he needed the actor, which, according to tradition, was Shakespeare himself, in another part. But I thought, wouldn't it make sense to have him hanging around still serving his master? Sullivan had apparently arrived at the same conclusion, and Adam reappears at the reunion of Orlando and Oliver (Omar Metwally).
This nice touch brings home the play's theme of redemption and reconciliation. With Sullivan cutting Hymen from the final scene (I'm fine with that), this production asserts that it is the better part of human nature that prevails over the worse parts of human nature and the resulting hard times. Even Jaques' leaving the wedding celebration cannot dampen Duke Senior's spirits and the shindig that cap this production in revelry. Our own mood is expansive by the time of this festive ending, so when Rabi's Rosalind in the epilogue invites us to show our pleasure at the play, we, of course, show her that the play pleased us thoroughly.
Eric Minton
July 8, 2012
Comment: e-mail editorial@shakespeareances.com
Start a discussion in the Bardroom