Evita
A Rice-Webber "History" Play
Lyrics by Tim Rice, Music by Andrew Lloyd Webber
Shakespeare Theatre Company, Sidney Harman Hall, Washington, D.C.
Thursday, September 14, 2023, E-104, stalls, left center
Directed by Sammi Cannold, Choreographed by Emily Maltby and Valeria Solomonoff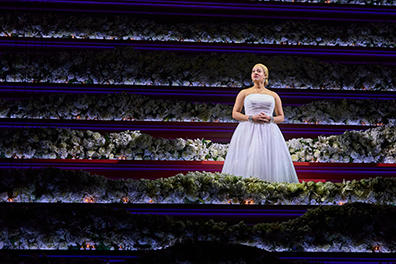 Shereen Pimentel as Eva Perón appears at the presidential inauguration of Juan Perón in the Shakespeare Theatre Company's production of the Tim Rice–Andrew Lloyd Webber musical
Evita
, Scenic designer Jason Sherwood and lighting designer Bradley King help turn this iconic moment into breathtaking theater. Photo by DJ Corey Photography.
How many earworms can you stand? I drove home from Shakespeare Theatre Company's production of the Tim Rice–Andrew Lloyd Webber musical Evita with "Another Suitcase in Another Hall" playing on a loop in my mind. The next morning, I woke up with "High Flying, Adored" in my head. The third day, it was "And the Money Kept Rolling In," and on the fourth day, "Don't Cry for Me Argentina" was stuck on mental repeat. It returned the next day when it happened to be playing on the radio at my village post office. The nest of worms hasn't emptied yet. A couple of days ago I was looping "A New Argentina," and earlier today I was imagining "On This Night of a Thousand Stars." Even a deliberately cheesy song can be an indelible moment in Evita.
This production of Evita at the Shakespeare Theatre Company's Harman Hall is loaded with indelible moments, from its musical compositions and performances to its perspective, which director Sammi Cannold has wrested from its white Anglo male creators and mixed in a woman's worldview and Argentinian authenticity.
I could spend this space lauding the outstanding singing of leads and ensemble and the sumptuous orchestration under the direction of Mona Seyed-Bolorforosh, the tango-inspired dancing and choreography by Emily Maltby and Valeria Solomonoff, and the fine production values. I could spend this entire essay on the lush palace balcony scene in which Shereen Pimentel's Eva Perón sings "Don't Cry for Me Argentina." However, this being Shakespeareances, I should be, well, more Shakespearean in my assessment of Evita.
That opportunity emerged the following week during the Shakespeare Hour Live: Evita discussion at Harman Hall and online. In that program, Carla Della Gatta, visiting associate professor of theater at the University of Maryland and author of Latinx Shakespeares: Staging US Intracultural Theater, described how her historical reference point for Britain's medieval monarchs is William Shakespeare's history plays. Is Shakespeare's Richard III anything close to the real Richard III? As Della Gatta points out, we don't know how much of Shakespeare's portrayal of Richard is fictional or factual—even his sources are suspect—and how Richard's personality ties into the complex social context of Medieval England a century and a half before Shakespeare wrote his play. So, while Evita presents a collection of Webber's best compositions, it is Rice's lyrics and how Cannold and her cast handle them that go to Evita's Shakespearean essence.
Rice faced the same quandries creating a character out of a historical figure as Shakespeare handled with so many British kings and Romans. Argentina's First Lady from 1946 to her death in 1952 was a political figure with a suspect biographical record whose time in power was intrinsically tied to political upheaval that extended beyond her death. Rice and Webber alude to that context in a tempo-change segment of the musical's first number. The rest, Rice tackles in lyrics that clearly stray from the historical record, including playing with timelines, one of Shakespeare's favorite dramatic tricks (e.g. the tango singer Magaldi died five years before the charity concert that Evita has him performing).
Eva was born in 1919 and grew up in poverty after her father died when she was 7. She moved to Buenos Aires at age 15, eventually became a stage, film, and radio actor, and met the 48-year-old Juan Perón at the above-mentioned fundraiser for earthquake victims in 1944. They married the following year. A member of the military ruling elite, Perón won a landslide election to the Argentina presidency in 1946 through a coalition of military nationalists and the working classes. Eva played a prominent role in his election and administration, campaigning for a Workers' Bill of Rights and women's suffrage. The Eva Perón Foundation provided direct aid to the poor. By the time of her death of cervical cancer at 33, her nicknames included "Evita" (Little Eva) and "Santa Evita."
Rice's lyrics don't paint her as a saint except in the eyes of the ensemble on stage. Rice's first biographical detail of his Eva is the 15-year-old meeting the tango singer Agustin Magaldi, "Who has the distinction of being the first man to be of use to Eva Duarte," sings Che, the narrator. Magaldi's sexual conquest of Eva—or vice versa—leads her to demand that he take her with him to Buenos Aires. In the Argentina capital city, Eva literally sleeps her way to the top, meeting Perón at the charity concert and assuring him "I'd Be Surprisingly Good For You," yet another Webber earworm. As the Peróns work together to create "A New Argentina," we see two shades of Eva emerge: The "Santa Evita" genuinely desires to lift the lower classes out of poverty and enfranchise women while the "High Flying, Adored" Eva is bent on building her fame and wealth. Abroad she seeks prestige through her "Rainbow Tour," "And The Money Kept Rolling In" at home via her foundation.
Shakespeare has an equivalent lead in Prince Hal, later Henry V. In the two Henry IV plays, the Prince of Wales hangs out with thieves and prostitutes in London's taverns up to his coronation. In Henry V, he becomes one of England's greatest kings by routing the French at Agincourt. Two sides of Henry V emerge in Shakespeare's telling: the good-governing hero warrior and the power-manipulating war criminal. Shakespeare gives us these two sides not only in the play's action and in a soldier's commentary but also in Henry's guilt-ridden soliloquys. But the ensemble loves him.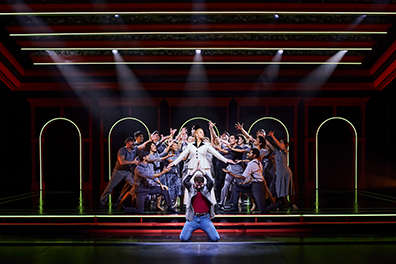 The ensemble adores Eva Perón (Shereen Pimentel, in white) while Che (Omar Lopez-Cepero, front) has a lesser opinion in his narration of
Evita
at the Shakespeare Theatre Company's production of the Tim Rice–Andrew Lloyd Webber musical. Photo by DJ Corey Photography.
Both Evita and Henry V have narrators: Chorus in Henry V is full of hero worship and patriotic fervor, though I have seen Chorus played cynically; Che in Evita is written as cynical and provides the counterargument to Eva's sainthood status. Che is on stage pretty much the entire play and participates in some scenes. In Cannold's staging, Che's younger self (Eddie Gutiérrez) appears as a Perón facilitator who eventually sees the fault lines in the administration's practices and is physically cast out of Perón's favor. Such hands-on disillusion factors into Che's narration. Imagine Shakespeare bringing Buckingham back from the grave to serve as chorus for Richard III.
Omar Lopez-Cepero, in addition to bringing a fine voice to the role of Che, adds vivid and insightful expression to Rice's lyrics through tonal inflections and you're in on the joke gestures. After the show opens with the anguished population of Buenos Aries casting forth their arms in grieving supplication toward Eva's inauguration ballgown hanging over the stage, Che moves into "Oh What a Circus," singing how Argentineans are "falling over ourselves to get all of the misery right." He profiles Eva with subtle and not so-subtle aspersions, such as inserting a noticeable pause as he sings, "She had her moments, she had—some style."
Che plays a phantom-like role in some scenes, interpolating his observations with slinging barbs, as when he slights Magaldi with "Why don't you be the man who discovered her? You'll never be remembered for your voice." That said, Gabriel Burrafato, who plays Magaldi with smarmy charm, has a much better voice than Che intimates, given his rendition of "On This Night of a Thousand Stars." Burrafato, by the way, played Magaldi in the Harold Prince's Evita 25th Anniversary National Tour, the first Argentinean-born actor to play a principal role in a major production of the musical.
Pimentel plays Eva's ambition to the hilt while mastering Webber's challenging score with its vast range, shifting pitches, and varying tempos. She's coyly seductive as she rises in Buenos Aires society, fiercely defensive on her Rainbow Tour, and stubbornly denying her physical demise. Pimentel also participated in the Shakespeare Hour Live discussion, saying she didn't attempt to reinterpret Rice's lyrics but played the enigma he wrote. In doing so, she presents Eva as a multidimensional human, described by Che in "High Flying, Adored" as "A cross between a fantasy of the bedroom and a saint," who started out as "just a backstreet girl, hustling and fighting, scratching and biting." As Shakespeare's Prince Hal learns his political acuity in London's taverns, Eva's background turns her into a champion for her impoverished kind while also becoming covetous and protective of her hard-won fame and fortune.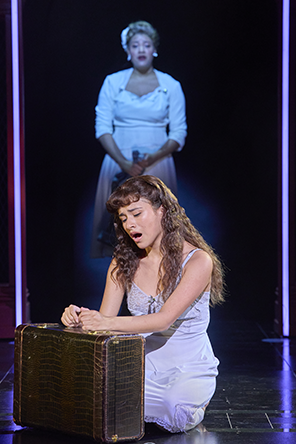 Naomi Serrano as Juan Perón's young Mistress sings "Another Suitcase in Another Hall" with Shereen Pimentel as Eva singing the chorus in Shakespeare Theatre Company's production of
Evita
. Photo by DJ Corey Photography.
Caesar Samayoa imbues Juan Perón with tactical confidence as he rises to power, aided by the younger Che, in a cleverly choreographed game of musical chairs ("The Art of the Possible"). Pimentel and Samayoa together provide the vocal and acting chops in one of this production's most thrilling scenes, "I'd Be Surprisingly Good For You." She speaks in terms of political and financial success; he is thinking of his sexual prowess. As they, in the center of the stage, negotiate their future of sharing a bed and the nation's presidency, Argentine dancers Esteban Domenichini and Melody Celatti perform an exquisitely choreographed tango visually expressing the lyrics Eva and Juan are singing. In "She is a Diamond," Samayoa works through the balancing act between his true grief over Eva's illness and his valid concern of how it will impact his political survival.
While remaining true to Rice's lyrics and giving Webber's score room to soar (an excellent mix by sound designer Connor Wang), Cannold gives the production an authentic vision for Evita's context. The 31-member cast includes five Argentineans and many other Latin American born and descended members, including Lopez-Cepero (Puerto Rican and Cuban descent) and Samayoa (Guatemalan-American). Cannold visited Argentina to study both Eva and the nation's culture for her set and costumes. Argentinean-native costume designer Alejo Vietti dresses Eva in whites and the rest of the cast in varying shades of black, from the shabby gray peasants' outfits and gray uniformed soldiers to the black-suited elites. Scenic designer Jason Sherwood's set is also chromatic, with a row of arches in the back where actors pose in silhouette (lighting design by Bradley King). The exception to this chromatic look is Eva's signature song for Perón's inauguration. Three layers of white roses highlighted by candlelight stack up in steps from the floor as Eva strolls on stage from the back. More layers of candlelit flowers descend from the ceiling as Eva rises on a platform. Amid these layers of flickering candlelight and flora, a spotlight gives Pimentel a radiant glow as she and the orchestra soar into "Don't Cry for Me Argentina."
Cannold works both with and around Rice's lyrics to better represent a woman's perspective in this female-centric biography. How should Eva's initial tryst with Magaldi be staged? In the follow-up song, "Eva, Beware of the City," Eva admits that she consented; however, she was only 15 years old, and Cannold's staging implies that Magaldi forces himself on a surprised Eva. The song's chorus provides justification for this interpretation: "She gave you all she had. She wasn't in your contract. You must be quite relieved that no one's told the papers—so far." Besides, Eva makes clear to Magaldi she didn't like it:
All you've done to me, was that a young girl's fantasy?
I played your city games alright, didn't I?
I already know what cooks, how the dirty city feels and looks
I tasted it last night, didn't I?
Cannold makes a similar statement with the production's musical highlight, "Another Suitcase in Another Hall." During "Goodnight and Thank You," a montage of café scenes portray Eva's sexual conquests in her rise up the social ladder. It is played for laughs inherent in the song's titular joke. "We'd love you to stay, but you'd be in the way, so do up your trousers and go," Che sings to one of the successions of Eva's fleeting lovers. When Eva kicks Juan's young Mistress (Naomi Serrano) out of his house, Cannold also has the teen-age girl cycling through café rendesvous as she sings "Another Suitcase in Another Hall." It is not played for laughs this time, Cannold suggesting that Eva's similar path through life was just as demeaning. It's a notable staging choice because it distracts attention from such a great song performed gorgeously with Serrano giving a plaintiff edge to her lilting voice while Pimentel and Lopez-Cepero provide the chorus lines.
Perhaps Evita's Eva Perón is not biographically accurate, but it's dramatically apt; same as Shakespeare's portrayal of the young Prince Hal and the more mature and politically astute King Henry V. Such staged biographies are not necessarily meant to shine a light into a historical figure but to use that historical figure to shine a light on human nature and current society writ large. This Evita accomplishes that. Beautifully. Brilliantly.
Eric Minton
October 3, 2023
Comment: e-mail editorial@shakespeareances.com
Start a discussion in the Bardroom