The Shakespeareances.com Top 40
My personal most memorable Shakespeareances
{productions through 2013)
[Go back to Top 40 Shakespeareances 1–5]
6. King Lear, Royal Shakespeare Company, Aldwych Theatre, London, 1977.
The first howl emanated from deep in the bowels of the theater (if not out in the alley behind). The second filled the auditorium even before Donald Sinden's Lear had reached the stage. On the third heart-breaking howl, he appeared, carrying the limp body of Cordelia. I lost it. I didn't know this play before my parents took my girlfriend and me to see it on our visit to England; but this production with a cast that would become a who's who of great British actors—Sinden as Lear, Bob Peck as Kent, Tony Church as Gloucester, Michael Pennington as Edgar, John Nettles as Albany, Michael Williams as the Fool (his wife, Judi Dench, had been Regan but left the part on its transfer from Stratford to London) —hooked me on theater and established King Lear as my favorite Shakespeare play. At the time, this was only the third Shakespeare play I had been exposed to, but even today Lear remains perched atop the rest, and I still well-up at that howling end (though, now that I'm older, Cordelia's "no cause" gets me, too).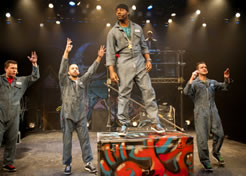 Jackson Doran, JQ, Posell Pringle, and GQ with DJ Clayton Stamper in
Othello: The Remix
. Photo by Michael Brosilow, Chicago Shakespeare Theatre.
7. Othello: The Remix, Chicago Shakespeare Theater, Chicago, Ill. 2013.
This is both great Shakespeare and great rap, and it's exactly what you might expect if Shakespeare today grabbed a microphone and started to flow about Othello, the hip-hop star, and his longtime crewmember, Iago, who seeks revenge for being bumped down to third billing behind boy-band-bopping Cassio. The Q Brothers along with Postell Pringle as Othello and Jackson Doran as Cassio and Emilia are a tight crew and great actors. The rhymes mingle Shakespeare with modern references and many mentions of tennis—trust me, it works. This production is both funny and tragic, in your face and uplifting.Click here to read a review of Othello: The Remix.
8. Antony Sher's Richard III, Royal Shakespeare Company, Barbican Theatre, London, 1985.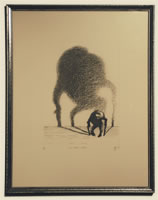 I had read about the scalpers, and in the theater lobby a man offered me twice the face value of our tickets. "Richard III on crutches" was the RSC's monster hit that summer (in the same repertoire as Henry V starring Kenneth Branagh), and it lived up to its hype. Sher drew on the play's "bottled spider" reference, using the crutches and his coat's tails and sleeves to create the illusion of additional legs as he scurried about the stage in such an athletic portrayal the RSC had to scale back the number of performances to reduce his risk of injury. The most arresting moment was in the opening soliloquy. Sher began upstage, speaking softly, contemplatively, leaning back on his crutches, which he kept hidden from the audience. Upon reaching "But I—," he sprang forward, using the crutches to catapult into a somersault, landing downstage and standing in profile to the audience, the blackest widow-maker ever. In addition to acting, Sher is also a painter, and at a show of his works later that year, I purchased his self-portrait pen-and-ink sketch of the bottled spider—not that the mental image of his performance doesn't haunt me still.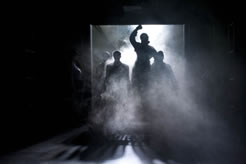 Julius Caesar (Frances Barber) makes her triumph entry through the loading dock of a prison in Donmar Warehouse's production of
Julius Caesar
. Photo by Pavel Antonov, St. Ann's Warehouse.
9. Julius Caesar, Donmar Warehouse, St. Ann's Warehouse, Brooklyn, N.Y., 2013.
Set in a modern women's prison, this all-female production allows you to appreciate Shakespeare's ancient Rome political drama in a most visceral way. The fear surrounding the conspirators is palpable because we see the guards (they are ushers), representing how walls have ears. We appreciate Caesar's tyranny in the performance of Frances Barber. We appreciate Brutus' conundrum in the performance of Harriet Walter. We appreciate Cassius's split personality in the performance of Jenny Jules. Just when you are fully involved in the notion of Rome as a prison, the prison suddenly becomes mere theater, and the Caesar that had been brutally killed earlier (while sitting in the audience) is now there as the play's director. We go with the abrupt shift and soon find ourselves transported along a new allegorical arc when one of the biggest gotchas I've ever seen in live theater—Barber turns out to be playing the prison's warden—brings the play home at a whole new level. It's beyond brilliant; it's such powerful theater that it is still growing in my conscience. Click here for a review of this Julius Caesar.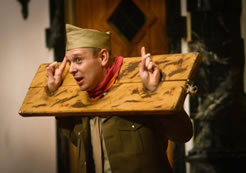 Benjamin Curns as Parolles after his interrogation by the fake enmy in
All's Well That Ends Well
. Photo by Pat Jarret, American Shakespeare Center.
10. All's Well That Ends Well, American Shakespeare Center, Blackfriars Playhouse, Staunton, Va., 2013.
From beginning to end, from top to bottom, and even from side to side, this production was both astute and fun in execution. All's Well has always been one of my favorite plays, and this production proved why it is so. Each cast member in every single role (several double parts) could be singled out for kudos, so expertly did they derive their characters from Shakespeare's lines, which they delivered with perfect touches of humor and pathos. Yet, two in particular deserve singling out: Gregory Jon Phelps for making Lavatch genuinely funny, and Allison Glenzer as the Countess, layering love for a would-be daughter-in-law on disappointment in a son on lingering grief for a lost husband, all in a single moment of pure stillness. Director Ralph Alan Cohen stays focused on the text to bring the play's troublesome plot home with easy believability. And then—and then—when you simply are enjoying the play for the play's sake, a musical interlude of The Decemberists' "The Infanta" takes over the stage before the final scene. I could relive that moment daily. Click here for a review of this All's Well That End's Well.
[Go to Top 40 Shakespeareances 11–15]