"I look forward to helping the company land in a new home—having experienced a similar search and relocation during my time at Woolly."
Link to the WSC Avant Bard:
WSC Avant Bard in News & Announcements:
Arlington Arts Center Evicts Company
Puppets, Lost Characters, a Devil and Dada People 2012-2013 Season Lineup
Klingons and the Wrath of Kahn
Also in Where's Will @?:
News and announcements from theaters
Links to theaters, festivals, and organizations
The Bard on The Boards: What's Playing Where
The Bard on The Boards: Where's Playing What
Web sites devoted to Shakespeare
More About Shakespeareances.com:
List of Shakespeare Productions
The Shakespeareances.com Top 40
Sponsorship and Advertising opportunities
Sign up for free weekly e-mail updates (safe, secure, spamless, and unshared)
Check out the guy behind this website at www.ericminton.com

Find additional Shakespeareances
on Facebook
WSC Avant Bard
WSC Board Selects New Artistic Director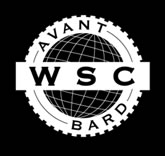 The Board of Directors of WSC Avant Bard in Arlington, Va., has named Tom Prewitt as the company's new artistic director, succeeding long-time Artistic Director Christopher Henley.
Upon the birth of his twins in July, first-time-father Henley told the board he wanted to take a less-active role in WSC and asked that it begin the search for a successor. "With Tom Prewitt, we're confident we've found exactly the right person to take over and lead WSC Avant Bard toward a bright future," Board President Marc Okrand said in a press release. "It's an exciting time for all of us."
Prewitt has been a fixture of the Washington, D.C., theatre and arts community for more than 28 years. He served as artistic director of D.C.'s Serenity Players from 2005–2011 and has also served as executive leader of two other nonprofit organizations, City at Peace D.C., a youth theatre company, and the D,C. Arts and Humanities Education Collaborative, an arts advocacy organization. From 1997–2005, he served as senior associate artistic director at Woolly Mammoth Theatre Company, where he assisted in all facets of artistic programming and developed the theater's award-winning education and outreach programs.
As a director, Prewitt has staged more than 50 professional productions around the country, including Off-Broadway at The Public Theater, Drama Department, Jean Cocteau Rep, and Blue Heron Theatre, as well as regionally for Woolly Mammoth (11 productions), Round House (four productions, including Elektra, a Helen Hayes nominee for Outstanding Resident Play), Theater of the First Amendment, Signature Theatre, South Coast Rep, Portland Stage Company, Shakespeare Santa Cruz, Delaware Theatre Company, and New Mexico Rep. His production of The Sins of Sor Juana by Karen Zacarías won the Charles MacArthur Award for Outstanding New Play (Theater of the First Amendment), and his staging of Ian Cohen's Lenny and Lou received Helen Hayes nominations for Outstanding Resident Production and Outstanding New Play (Woolly Mammoth). His production of Nathan the Wise (also nominated for the MacArthur Award) was taped and broadcast by PBS affiliate, WETA.
"For me, this is a dream opportunity to return to my roots in classical theater while promoting some of WSC's recent, essential work on new plays with classical themes—this spring's world premiere of Allyson Currin's Caesar and Dada being a prime example," Prewitt said in the press release. "I look forward to helping the company land in a new home—having experienced a similar search and relocation during my time at Woolly—and to exploring opportunities for new and deeper collaborations and partnerships in the years ahead."
Henley, a founding member of WSC, has served as artistic director for 16 years, championing the company as it grew to a unique fixture of the D.C. theater landscape. Under Henley's leadership, work at WSC received several Helen Hayes nominations (including two for him) and two awards and several Theatre Lobby Mary Goldwater Awards (including one for him and an unprecedented second recognition for WSC).
Henley will take on the new role of artistic director emeritus, remaining active with WSC as an acting company member and an advisor to the board. "Leading WSC has been an immensely enriching and rewarding experience," he said in the press release. "However, nothing can or should go on forever. It is time for somebody else with new energy and insight and instincts to take the company to its next stage. We are exceedingly fortunate that Tom Prewitt will be that person. He has a strong appreciation of the company's mission, history, and identity. His achievements as a director and administrator make him uniquely well positioned to enhance the legacy of WSC, and will enable us to reach our full potential during a challenging time for nonprofits and live performance."
Prewitt's appointment coincides with WSC Avant Bard's preparations for its spring productions and planning for its 24th season.
Founded in 1990, WSC Avant Bard is a performing arts organization dedicated to producing primarily classic works, both time-tested and contemporary; emphasizing a provocative, bold approach in an intimate setting; and training and showcasing the best emerging talent in the region, mentored by seasoned, professional theater artists.
February 22, 2013
If you have Shakespearean news to share, e-mail editorial@shakespeareances.com