"Without the tour component, it now makes more sense to devise a new production for you and all of our friends."
Link to Synetic Theater:
Synetic's Romeo and Juliet On Stage:
Silent Shakespeare Yields Emotional Depth and Visual Electricity
Synetic Theater in Shakespeare News:
Ladies Get Special Night With Romeo & Juliet
Early Discounts Set for Star Force, Dino Camps
Teens and Theater: Focus Group Recruited
From Movement Theater to Fitness Video
Also in Where's Will @?:
News and announcements from theaters
Links to theaters, festivals, and organizations
The Bard on The Boards: What's Playing Where
The Bard on The Boards: Where's Playing What
Web sites devoted to Shakespeare
More About Shakespeareances.com:
List of Shakespeare Productions
The Shakespeareances.com Top 40
Sponsorship and Advertising opportunities
Sign up for free weekly e-mail updates (safe, secure, spamless, and unshared)
Check out the guy behind this website at www.ericminton.com

Find additional Shakespeareances
on Facebook
Synetic Theater
Sleepy Hollow Replaces Lear as Opener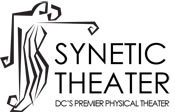 Synetic Theater, the movement-based company in Arlington, Virginia, has made a switch in its announced 2018–2019 season by swapping out its previously scheduled opening show, a revival of its "wordless Shakespeare" production of King Lear, with an adaption of Sleepy Hollow.
The company had received an invitation to perform King Lear in in Moscow this September. The play is one of 13 wordless William Shakespeare adaptations Synetic has staged, and the company had decided to couple the tour with a revival as the season-opening production.
However, the King Lear tour has been postponed, Synetic Founding Artistic Director Paata Tsikurishvili wrote in an email to patrons. "Without the tour component, it now makes more sense to devise a new production for you and all of our friends," he wrote. "We are pleased to take this opportunity to bring you something that our team has long wanted to tackle—the mysterious, supernatural Sleepy Hollow. I am extremely excited to stage this American classic ghost story in Synetic's unique style that no other theater can do. Perfect for Halloween!"
The rest of the season schedule remains intact, including the company's ongoing progression through Shakespeare's canon with a production of Richard III next spring. Currently, Titus Andronicus is playing on Synetic's stage.
Synetic's King Lear was on the itinerary of Shakespeareances.com's Shakespeare Canon Project: 38 Plays, 38 Theaters, 1 Year. A replacement production and other impacts of Synetic's schedule change on the Canon Project are covered in the Canon Project Journal (Click here).
May 19, 2018
If you have Shakespearean news to share, e-mail editorial@shakespeareances.com