"It works your entire body, makes you sweat, as well as learning a couple of really great moves that we use on stage here at our shows."
Link to Synetic Theater:
Synetic Theater in Shakespeare News:
Early Discounts Set for Star Force, Dino Camps
Teens and Theater: Focus Group Recruited
Twin Night among Special 12th Night Events
Synetic Takes King Lear to Republic of Georgia
Also in Where's Will @?:
News and announcements from theaters
Links to theaters, festivals, and organizations
The Bard on The Boards: What's Playing Where
The Bard on The Boards: Where's Playing What
Web sites devoted to Shakespeare
More About Shakespeareances.com:
List of Shakespeare Productions
The Shakespeareances.com Top 40
Sponsorship and Advertising opportunities
Sign up for free weekly e-mail updates (safe, secure, spamless, and unshared)
Check out the guy behind this website at www.ericminton.com

Find additional Shakespeareances
on Facebook
Synetic Theater
From Movement Theater to Fitness Video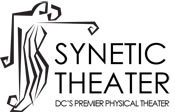 Many theaters provide acting classes. Synetic Theater does that, but, being a dance and movement theater, the Arlington, Va., company also offers fitness classes and is now providing home fitness videos on YouTube.
In its debut video, company member Tori Bertocci coaches you through a core-strengthening workout. After all, not only is a strong core vital for such daily household chores as lifting boxes, "We use our cores all the time on stage here at Synetic," Bertocci says on the video.
Filmed in the company's rehearsal studio, the first video lasts about seven minutes, with Bertocci demonstrating various core-strengthening exercises and providing various tips on their execution. It's good stuff but, as she says, it is "just a snippet of what Synetic has to offer." What it has to offer is a series of fall fitness classes. "Synetic Fitness is awesome," Bertocci says on the video. "It works your entire body, makes you sweat, as well as learning a couple of really great moves that we use on stage here at our shows."
Synetic Fitness classes run Mondays, 6-7 p.m., Sept. 8–Nov. 24 with Synetic star Alex Mills (Romeo, Puck, Grumio) teaching. Bertocci teaches the 12-week Wednesday evening classes, also 6-7 p.m. Spring classes run Jan. 26–April 26, 2015. Fee is $180.
Synetic's fall curriculum also includes two acting classes for adults. Synetic Technique for adults is "a highly specialized class that focuses on developing a heightened sense of body awareness and corporeal expression through a series of interdisciplinary physical vocabularies," says a company brochure, Mondays 7-8:30 p.m., Sept. 8–Nov. 29, $270. Acting for Physical Theater for adults is "an intensive and immersive class that focuses on advanced acting concepts and their application to movement, character, and environment, while re-examining foundational skills through a physical lens," Thursdays 7-9 p.m., Sept. 8–Nov. 29, $360. A Synetic Flex Pass of $400 provides access to all three classes.
Synetic is also offering fall classes for teens in movement, voice, devising, and acting I and II, and Elementary Adventures in Acting for kids ages 6 to 9. All begin the week of Sept. 8 and run through November. Fee for the kids class is $180. For the teens, each class is $270, but multiclass discounts are also available: $405 for two classes, $575 for three, $720 for all four.
For more information on classes, visit http://www.synetictheater.org/studio/. To see the first fitness video, click here.
August 25, 2014
If you have Shakespearean news to share, e-mail editorial@shakespeareances.com