"We are proud to be the first American theater company to tour in Georgia and showcase American artists."
Link to Synetic Theater:
Synetic Theater in Shakespeare News:
Early Discounts Set for Star Force, Dino Camps
Teens and Theater: Focus Group Recruited
From Movement Theater to Fitness Video
Twin Night among Special 12th Night Events
Also in Where's Will @?:
News and announcements from theaters
Links to theaters, festivals, and organizations
The Bard on The Boards: What's Playing Where
The Bard on The Boards: Where's Playing What
Web sites devoted to Shakespeare
More About Shakespeareances.com:
List of Shakespeare Productions
The Shakespeareances.com Top 40
Sponsorship and Advertising opportunities
Sign up for free weekly e-mail updates (safe, secure, spamless, and unshared)
Check out the guy behind this website at www.ericminton.com

Find additional Shakespeareances
on Facebook
Synetic Theater
Synetic Takes King Lear to Republic of Georgia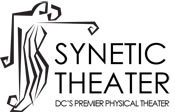 Becoming the first American theater company to perform in the Republic of Georgia, Synetic Theater, based in Arlington, Va., will perform its productions of King Lear and Host and Guest at the Rustaveli Theatre in Tbilisi from November 3–10.
Synetic's founder and artistic director, Paata Tsikurishvili, is a native of Georgia. "I am excited to come back to Georgia, my birth country, after 20 years in absence," he said in a press release. "We are proud to be the first American theater company to tour in Georgia and showcase American artists."
The tour to the Republic of Georgia is supported by the U.S. Department of State, the Mid-Atlantic Arts Foundation, and the Trust for Mutual Understanding.
Rustaveli State Theatre is the largest theater in the Republic of Georgia. It has three stages including the main stage, with about 800 seats, which will host the Synetic performances. Robert Sturua, a famous Georgian theater director who gained international acclaim for his interpretation of Brecht, Shakespeare, and Chekhov, was based at the Rustaveli for more than 20 years.
Founded in 2001 by the husband and wife team of Paata and Irina Tsikurishvili, Synetic Theater is a physical theater fusing dance, mime, acrobatics, music, and sets to tell stories without dialogue. Its "Silent Shakespeare" series has won the company many local and national awards and garnered a strong fan base in the Washington, D.C., area.
This is a step further in the company's evolving touring activities. Synetic last toured in 2011 when it took its production of A Midsummer Night's Dream to Williams College in Massachusetts. Prior to that, Synetic toured in New York City, Philadelphia, and Lancaster, Pa.
November 5, 2012
If you have Shakespearean news to share, e-mail editorial@shakespeareances.com