"It's been tough, but acting is what I do here on Earth. I am not going to sit around and wait for death. I am having as much fun as possible."
Link to the Oregon Shakespeare Festival:
Other articles on OSF in Shakespeare News:
$5 Mil Gift Boosts Artistic Opportunity Fund
OSF Hosts Asian-American Theater ConFest
An Open Letter to Our Community

Shakespeare Part of 2017 Season's Diversity
Also in Where's Will @?:
News and announcements from theaters
Links to theaters, festivals, and organizations
The Bard on The Boards: What's Playing Where
The Bard on The Boards: Where's Playing What
Web sites devoted to Shakespeare
More About Shakespeareances.com:
List of Shakespeare Productions
The Shakespeareances.com Top 40
Sponsorship and Advertising opportunities
Sign up for free weekly e-mail updates (safe, secure, spamless, and unshared)
Check out the guy behind this website at www.ericminton.com

Find additional Shakespeareances
on Facebook
Oregon Shakespeare Festival
Cancer Claims Veteran Actor G. Val Thomas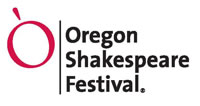 Gregory Valmont Thomas, a 14-season member of the Oregon Shakespeare Festival (OSF) acting company in Ashland, Oregon, passed away early on Monday, Dec. 18, in Ashland after a battle with cancer. OSF's 2018 season will be dedicated to the man who worked under the name G. Valmont Thomas but was better known to his friends and colleagues as G. Val.
"G. Val passed away surrounded by many of the family and friends who have taken such good care of him during his illness," OSF Artistic Director Bill Rauch said in a company release. "I am filled with gratitude to have known this man so great of artistry and so generous of spirit. Indeed, one of his last acts was to make a donation to OSF's Rex Rabold Fund in order to 'pay back' the company for the care and help he received from so many."
G. Valmont Thomas as Falstaff in
Henry IV, Part One.
Photo by Jenny Graham, Oregon Shakespeare Festival.
Besides being the only OSF actor to have played Sir John Falstaff in all three Shakespeare plays that feature that character, he displayed his versatility in the breadth of his roles in both classic and new work. Thomas performed approximately 60 roles in his 14 years at OSF. His first season at the Festival was in 1998, when he played Francis Flute in A Midsummer Night's Dream and Snake in The School for Scandal. He remained a member of the OSF acting company every season through 2012, appearing in a wide range of roles including Simonides in Pericles (1999), Mistress Quickly in Henry IV, Part Two (1999), Feste in Twelfth Night (2000), Macbeth in Macbeth (2002), Boy Willie in The Piano Lesson (2003), Lincoln in Topdog/Underdog (2004), Falstaff in The Merry Wives of Windsor (2006), Solly Two Kings in Gem of the Ocean (2007), Gabriel in Fences (2008), Soothsayer in Antony and Cleopatra (2003), Melchior in On the Razzle (2007) and Blue in Party People (2012). He also served as assistant director of The African Company Presents Richard III (2011).
In 2017, Thomas returned to the OSF company to play Falstaff in Henry IV, Parts One and Two. In October of this year, the Ashland Daily Tidings reported on Thomas's stage IV prostate cancer battle and shared news of a crowd-funding campaign set up by friends that ultimately raised over $53,000 for his medical care.
"They knew the risks," Thomas, who was diagnosed in 2013, said of OSF in the article. "With chemo, my hair would fall off during performances. I thought it was spiders in my ears, but I would just deal with it. It's been tough, but acting is what I do here on Earth. I am not going to sit around and wait for death. I am having as much fun as possible."
Thomas was slated to perform the role of Capulet in 2018's Romeo and Juliet, and was to take part in his third Black Swan Lab, OSF's primary play development incubator.
Thomas also worked at A Contemporary Theatre in San Francisco and several Seattle theaters, where he won Gregory Awards for Outstanding Actor in a play (2013) and Outstanding Supporting Actor in a play (2016). He also served on the faculty of The Johnny Carson School of Theatre and Film at the University of Nebraska, Lincoln.
In addition to his acting accomplishments, Thomas had a passion for music and took part in three seasons of the OSF Green Show. In 2014, when he performed "a musical look at the influence of Blues and R&B" on his life with a group billed as "G. Val and Friends," Thomas shared these thoughts in his Green Show biography: "Black Americans brought forth Blues music from the experiences they went through and were going through. The music it became had the strength to hold the entire country on its shoulders."
Gregory Valmont Thomas was born Dec. 15, 1959, into an American military family in Nuremburg, Germany. After a childhood of frequent military moves, Thomas spent his teenage years in Washington state. He received a bachelor's in Theatre Arts from Western Washington University and an MFA in Directing for the Theatre from Pennsylvania State University. He is survived by his daughter Aria Thomas; son Langston Thomas; brother Raymon E. Thomas, sister-in-law Deborah and their child Blair; sister Bronwyn K. Thomas, her children Morgan and Zachary, brother-in-law Jay and two great nephews. Thomas was preceded in death by his parents, Henry R. Thomas Jr. and Kathryn C. Thomas (nee Hollingsworth).
December 19, 2017
If you have Shakespearean news to share, e-mail editorial@shakespeareances.com