"Nicky is one of our country's finest stage directors, as his glittering and sensitive production of Pygmalion demonstrates."
Link to The Old Globe:
The Old Globe in News & Announcements:
Adrian Noble Tackles Merchant, Stoppard
For 2013 Old Globe Shakespeare Season
Public's Shakespearean Expert Edelstein Moving to San Diego As Artistic Director
Grant Allows Old Globe to Launch Community Playwriting Initiative
Grinch to Get an Autism-Friendly Staging
Also in Where's Will @?:
News and announcements from theaters
Links to theaters, festivals, and organizations
The Bard on The Boards: What's Playing Where
The Bard on The Boards: Where's Playing What
Web sites devoted to Shakespeare
More About Shakespeareances.com:
List of Shakespeare Productions
The Shakespeareances.com Top 40
Sponsorship and Advertising opportunities
Sign up for free weekly e-mail updates (safe, secure, spamless, and unshared)
Check out the guy behind this website at www.ericminton.com

Find additional Shakespeareances
on Facebook
The Old Globe
Director Martin Named Associate Artist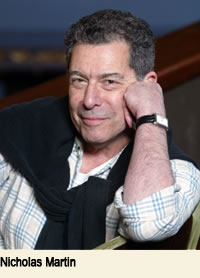 San Diego's Old Globe has named director Nicholas Martin an Associate Artist of The Old Globe. He is the 56th artist to receive the honor, recognizing more than half a century of his unique contributions to the institution both on- and offstage.
After making his acting debut in 1957 as the Fool in King Lear, Martin went on to appear on the Globe stage in 18 additional productions, including The Merry Wives of Windsor (1965), The School for Scandal (1989), and Hamlet (1960 and 1990). As a director, he helmed the Globe productions of Later Life, Full Gallop, Overtime, Macbeth, and The Mask of Moriarty. Martin directed the Broadway productions of Present Laughter, Butley, Match, Hedda Gabler, The Rehearsal, and You Never Can Tell, and he has helmed several plays Off-Broadway and at many regional theaters. He served as Artistic Director of Williamstown Theatre Festival and Huntington Theatre Company and directed numerous productions at both. Martin is the recipient of the Norton Award for Sustained Achievement.
"Michael Murphy and I, along with the entire Globe community, are truly honored to express our gratitude to the multitalented Nicholas Martin for his contributions to the Old Globe," Artistic Director Barry Edelstein said in a press release. "Nicky is one of our country's finest stage directors, as his glittering and sensitive production of Pygmalion demonstrates. His generous wit and warmth bring out the best from the artists in his charge, and he is an enthusiastic mentor to the next generation of theater-makers. We adore him, and we look forward to welcoming him back to the Globe again and again."
The Old Globe is currently celebrating the 100th anniversary of George Bernard Shaw's Pygmalion with Martin's production of Shaw's masterwork running through Feb. 17. The production features five Old Globe associate artists: actors Kandis Chappell, Don Sparks, Deborah Taylor, and Paxton Whitehead, and costume designer Robert Morgan.
Make that six Old Globe associate artists with Martin.
February 8, 2013
If you have Shakespearean news to share, e-mail editorial@shakespeareances.com