"She is a loud and passionate voice for our field, fighting for the values, importance, and transformative power of the arts for young people."
Link to New Victory Theater:
New Victory Theater in Shakespeare News:
White House Honors After-School Programs
Kids Camps Feature Comedy, Theater, Circus
Family Benefit Features Alien Show, Party
Also in Where's Will @?:
News and announcements from theaters
Links to theaters, festivals, and organizations
The Bard on The Boards: What's Playing Where
The Bard on The Boards: Where's Playing What
Web sites devoted to Shakespeare
More About Shakespeareances.com:
List of Shakespeare Productions
The Shakespeareances.com Top 40
Sponsorship and Advertising opportunities
Sign up for free weekly e-mail updates (safe, secure, spamless, and unshared)
Check out the guy behind this website at www.ericminton.com

Find additional Shakespeareances
on Facebook
New Victory Theater
Arts for Youth Conference Honors NV's Lloyd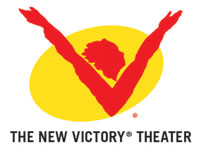 Mary Rose Lloyd, director of artistic programming for The New Victory Theater, was honored with the Mickey Miners Lifetime Achievement Award at the 2014 International Performing Arts for Youth (IPAY) Conference in Pittsburgh, Pa., for her significant impact and contribution to the field of the performing arts for young audiences.
"Mary was one of the first people I met in this industry and she has been a mentor, an inspiration, and a friend ever since," Jeremy "Boomer" Stacey, executive director of IPAY—a global membership organization that focuses on servicing and supporting the professional community of performing arts for young audiences—said in a press release. "More importantly, she is a loud and passionate voice for our field, fighting for the values, importance, and transformative power of the arts for young people. This award also shines a spotlight on the outstanding work that The New Victory Theater and its entire staff does every single day. I am proud of Mary and look forward to what else she will accomplish in her many years ahead."
This is the 12th year for the award, named for the former curator of performing arts for children at the Detroit Institute of the Arts. Recent recipients of this award include Saskia Janse and Onny Huisink (Speeltheater Holland) in 2013, Jim Morrow (Mermaid Theatre of Nova Scotia) in 2012, and David Gonzalez (RainArt Productions) in 2011.
As director of artistic programming for The New Victory Theater, Lloyd annually programs a full season of approximately 15 companies with a mix of performing arts genres and age ranges to appeal to The New Victory Theater audience base. She and her team travel around the world, visiting international, national, and local performing arts festivals and venues in order to present exciting and engaging works of quality production value to New Yorkers and their families. They also receive and view numerous submissions, comb arts listings and reviews, and cultivate relationships with artists to keep abreast of the newest and coolest performing arts for young audiences.
Lloyd also stands at the helm of New Victory LabWorks, a groundbreaking initiative designed to spur the development of original productions for young audiences. This unparalleled program, created in New York City, aims to significantly expand the landscape of quality performing arts for young people and challenge professional artists in all disciplines to create their highest caliber of work with a family audience in mind. The 2013—2014 artists-in-residence include Julian Crouch in collaboration with Saskia Lane, Parallel Exit, Shoehorn Theater Company, and Fiasco Theater.
As an invited guest, speaker, panelist, and juror, Lloyd attends numerous arts festivals and conferences annually and was recently asked to join the curatorial selection team for the 2013 Made in Scotland program at the Edinburgh Festival Fringe. She has been a part of international delegations for curatorial research, and her writing has been featured on many platforms including Inside Arts and TYA Today. Lloyd has been a board member of TYA/USA (formerly ASSITEJ USA) and IPAY, and was chairman of IPAY's Artist Showcase Selection Committee from 2006–2009. She has also served on assorted grant-giving and funding panels, including the Lower Manhattan Cultural Council and Pennsylvania Performing Arts on Tour.
Lloyd has an MFA in Arts Management from the Yale School of Drama where she received the Morris Kaplan Award for Excellence in Arts Administration.
February 21, 2014
If you have Shakespearean news to share, e-mail editorial@shakespeareances.com