New Victory Theater
Family Benefit Features Alien Show, Party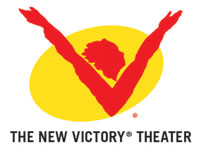 The 12th Annual New Victory Family Benefit on April 14 will feature a performance of the sci-fi, live-action graphic novel serial The Intergalactic Nemesis and an afternoon of adventure as the New York City theater hosts a family-friendly party throughout three levels of the theater.
The annual event raises critical funds for the award-winning New Victory education programs, which serve more than 33,000 school kids each season, and the New Vic/New 42 Youth Corps, a job-training program that provides more than 27,000 hours of paid employment and professional development to high-school and college-age youth each year. The New Victory front-of-house staff works with the education department to oversee this program.
"The arts are as vital to a child's education experience as mathematics or athletics," Honorary Co-Chairs Cynthia Nixon and Christine Marinoni said in a news release. The couple are longtime advocates of arts education. "Having my mother take me to the theater was one of the great joys of my childhood, and there's no theater for young people anywhere with such a consistently high level of quality performing arts as The New Victory Theater," said Nixon, an award-winning Broadway, film, and television actress.
The New Victory Family Benefit will begin at 1 p.m. with a special excerpt of The Intergalactic Nemesis, an out-of-this-world adventure by The Robot Planet from Austin, Texas. Featured on Late Night with Conan O'Brien and NPR's "All Things Considered," The Intergalactic Nemesis is a combination of comic book, radio serial, and live theater. Three actors, a Foley artist, and musician perform all the voices, sound effects, and music for more than 1,000 hand-drawn, full-color-and-larger-than-life comic book panels projected onto a screen. The first installment of The Intergalactic Nemesis series, Book One: "Target Earth," will run at The New Victory Theater April 5–13.
At just under an hour, this unique alien encounter is great for everyone ages 6 and older. Immediately following the benefit performance, a party throughout three levels of the theater will feature food, fun, and New Victory teaching artists.
Tickets to the New Victory Family Benefit are $500 for Prime Orchestra/Mezzanine seats and $300 for Rear Orchestra/Mezzanine Seats. All events will take place at The New Victory Theater (209 West 42nd St.). For more information and tickets, visit www.NewVicFamilyBenefit.org or call 646-223-3082.
The multidisciplinary and international productions on New Victory stages inform and inspire the work of the New Victory education programs through a dynamic combination of school and public programs. Through the New Victory Partnership Program, 33,000 students in grades pre-K through 12 annually visit The New Victory Theater at just $2 per ticket (the same price as when The New Victory opened in 1995) and participate in free classroom workshops taught by an exceptional team of New Victory Teaching Artists. Many Education Partners are NYC-area Title I schools, with a high percentage of students who would be unable to experience live theater if it weren't for The New Victory. Families who attend the New Vic together pair their visit with New Victory Family Workshops, as well as in-theater arts activities. Together, these programs exemplify the theater's long-standing commitment to the intrinsic value of cultural participation in the lives of young people and families.
Since The New Victory Theater opened its doors in 1995, it has become a cultural rite of passage for young New Yorkers, their families, and schoolmates. The New Victory presents sophisticated, thought-provoking, and professional productions, at low ticket prices, that are as artistically rich as they are entertaining, resulting in season after season of multidisciplinary works from around the globe and close to home. The theater's contributions to the cultural landscape of the city were celebrated by the prestigious New York critics' organization, The Drama Desk, which presented The New Victory Theater with a 2012 Special Award for "providing enchanting, sophisticated children's theater that appeals to the child in all of us, and for nurturing a love of theater in young people."
The New Victory Family Benefit is co-chaired by Sharon Coplan Hurowitz and Heather Georges. The Family Benefit Committee includes Kate and Christopher Allen, Yildiz and Richard Blackstone, Donya and Scott Bommer, Carlo Bronzini Vender and Tanya Traykovski, Andrea Crane and Sam Hoffman, Brenda Earl, Henry and Alexia Fernandez, Andrew Georges, Jeanne Greenberg Rohatyn and Nicolas Rohatyn, Richard Hurowitz, Nathalie Kaplan, Stefanie Katz-Rothman and James Rothman, Cindy and Steve Ketchum, Simone and David W. Levinson, Kamie and Rich Lightburn, Margaret Munzer Loeb and Daniel Loeb, Kate and Brad Peck, Fiona and Eric Rudin, Mara and Ricky Sandler, and Elizabeth and Adam Zoia.
March 21, 2013
If you have Shakespearean news to share, e-mail editorial@shakespeareances.com