Home-grown productions and collaborations are touring to Europe, Asia, Africa, and Australia this season.
Link to the Chicago Shakespeare Theater:
Other articles on the Chicago Shakespeare Theater in Shakespeare News:
Gala Raises $1.1 Mil, Lauds Sondheim, Daley
Free Comedy of Errors Tours City Parks
Pairs of Shakespeare, Sondheim Top 13–14 Bill
CST Hosts Future Education Symposiums
Also in Where's Will @?:
News and announcements from theaters
Links to theaters, festivals, and organizations
The Bard on The Boards: What's Playing Where
The Bard on The Boards: Where's Playing What
Web sites devoted to Shakespeare
More About Shakespeareances.com:
List of Shakespeare Productions
The Shakespeareances.com Top 40
Sponsorship and Advertising opportunities
Sign up for free weekly e-mail updates (safe, secure, spamless, and unshared)
Check out the guy behind this website at www.ericminton.com

Find additional Shakespeareances
on Facebook
Chicago Shakespeare Theater
Chicago Shakespeare Takes In the World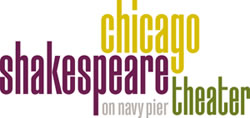 A bit of Chicago Shakespeare goes out to the world, and the world comes to Chicago Shakespeare. Home-grown productions and collaborations are touring to Europe, Asia, Africa, and Australia this season. Fully committed to cultural exchange, CST will also introduce groundbreaking international companies to Chicago audiences.
Following its wildly successful Chicago homecoming, playing to sold-out audiences through three extensions, Othello: The Remix marked CST's South Korean debut when it opened the Daejeon Arts and Culture Festival, outside of Seoul, in August. This month, the production traveled back to London for a month-long engagement at the Unicorn Theatre—steps from Shakespeare's Globe where it premiered as part of the 2012 London Cultural Olympiad—before continuing on to the Sydney Festival in Australia this winter. CST's modern hip-hop adaptation of Shakespeare's masterpiece, created by Chicago rap artists The Q Brothers along with Rick Boynton, has now entered its second year of an acclaimed world tour, previously having performed in England, Germany, and Scotland.
Chicago Shakespeare's co-production with The Market Theatre of Johannesburg, Cadre, recently opened in Scotland's Edinburgh Festival Fringe, the largest arts festival in the world. Now in its U.K. premiere, the production is being featured as part of the Traverse Theatre's landmark 50th anniversary season of new works. Cadre, which had its world premiere in Chicago and went on to a successful extended run at The Market Theatre in Johannesburg last spring, is written and directed by South African artist Omphile Molusi in collaboration with CST's Creative Producer Rick Boynton. The production also traveled to Grahamstown, South Africa, in early July as part of the National Arts Festival, the most expansive annual celebration of the arts on the African continent.
Complementing the export of Chicago's world-class theater abroad, this season CST also hosts the Chicago debuts of two groundbreaking companies from the United Kingdom. In October, London's Blind Summit brings its Bunraku-inspired production of The Table to the theater Upstairs at Chicago Shakespeare. The theatrical innovators of Blind Summit created puppetry for Anthony Minghella's production of Madama Butterfly and Danny Boyle's 2012 Olympic Opening Ceremony in London. With The Table, multiple puppeteers—who are visible to the audience—bring to life a two-foot-tall, cantankerous puppet named Moses to hilarious and profound effect.
Next spring, Cornwall, England's visionary theatrical collective Kneehigh bring their unique humor and perspective to the legendary love story Tristan & Yseult in CST's Courtyard Theater. In a new tour marking its 10th anniversary, this seminal production first catapulted Kneehigh onto the international stage. Quintessential of Kneehigh's eclectic and adventurous style, The Guardian proclaims, "If this show doesn't make you fall in love with theatre, there's no potion on Earth that can help you."
September 28, 2013
If you have Shakespearean news to share, e-mail editorial@shakespeareances.com